Republicans
Where is the so-called liberal media?
Not too long ago, I pointed out the (more than) obvious lies of the Republican Party as it relates to Medicare and seniors. Just this past week, I was watching C-SPAN as the Senate debated and voted on a few amendments. In the course of events, Senator John McCain (R-AZ) led the charge as a number of Republican legislators demonstrated a politically common, but unfortunate, phenomenon coined as "doublethink"—that is to hold two contradictory realities to be simultaneously true. It is either this, or they are consciously and flagrantly lying. There are no other possibilities. So here we go again… Continue reading →
Representative Todd Akin (R-MO) lead the Pledge of Allegiance at a rally protesting the Democratic health care reform bills. He gave a short statement beforehand on the importance of the phrase "under God." He then invited everyone to join in the recitation of the Pledge because it "drives the liberals crazy." This statement shouldn't be surprising coming from a member of a party committed to nationalist overtones and calling into question the patriotism of anyone who dares to dissent from their claims of what is "patriotic." Yet Rep. Akin made a fool out of himself when it was time to actually recite the Pledge.
Sure, he simply had an honest stumble. I am sure we all do it. But it is quite hilarious that it took place after he sanctimoniously claimed some sort of patriotic high ground for conservatives because liberals apparently hate our country. So much for his credibility. . .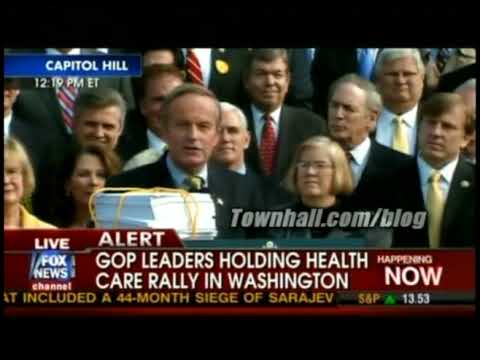 Similarly, House Minority Leader John Boehner was fired up against the Democrats at a Tea Party rally. He went to invoke the Founding Fathers who wrote in the preamble of our Constitution: "We hold these truths to be self-evident…"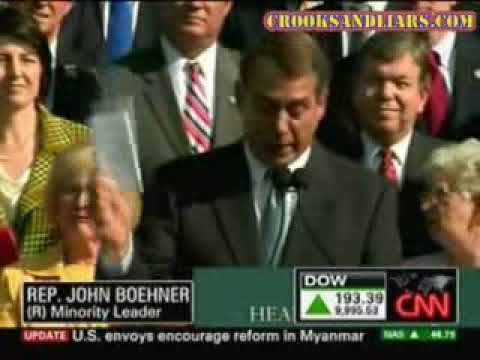 Oops.
Mr. Boehner does not appear to know the difference between the United States Constitution and the Declaration of Independence. Better luck next time.  
This past week, I began reading the novel 1984. For those who have not read it, it is a futuristic novel describing a society that lives under the rule of a totalitarian government described as "the Party."  The government controls and monitors every aspect of human life and even practices historical revisionism quite literally—burning books and re-writing history—to have everything reflect whatever it (the government) happens to be saying. The agencies within the government are all a blatant contradiction. The Ministers of Truth re-write history and instigate direct government propaganda through always-on "telescreens" found literally everywhere in society that don't turn off; the Ministers of Peace advocate war; the Ministers of Plenty plan economic shortages, and the Ministers of Love carries out the government's "corrective" punishment and torture of its rebellious citizens.
In one scene, there is a Hate rally (which occurs regularly to inspire hatred within the people for the enemies of the Party) and at the rally the Party shifts its diplomatic allegiance, so the nation it has been warring with is suddenly its ally, and the former ally is now the enemy. Despite the obvious contradiction when the speaker changes the nation he refers to as the enemy during his speech, the crowd simply accepts the change without question and even is embarrassed that they brought wrong signs to the event. Just in the same way people accept the ministries conducted by the Party aforementioned even though they blatantly contradict their titles in their action. What is with the collective intellectual schizophrenia? How can people look right passed the most obvious facts? This theme that runs throughout 1984 is about a troublesome little tendency to believe or argue for some truth that obviously and patently contradicts other truths.
In the ongoing health care debate, this same sort of schizophrenia has come about. I almost shouted "yes!" in a public library when finally I saw the political contradiction pointed out in the Washington Post:
After years of trying to cut Medicare spending, Republican lawmakers have emerged as champions of the program, accusing Democrats of trying to steal from the elderly to cover the cost of health reform. Continue reading →
For political junkies like me, tomorrow begins the political season for 2010 with gubernatorial elections in Virginia, New Jersey and the special congressional election in New York 23.    There is also a special congressional election in California 10, but that is in the San Francisco metro area and everyone, except for the Republican running, David Harmer,  believes that is going to be won by the Democrat, Lieutenant Governor John Garamendi, and I join in that consensus, although I suspect it might be surprisingly close.
In regard to the three competitive races, here are my predictions: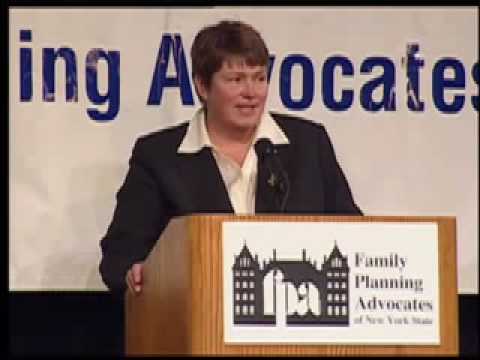 Take this with more than a grain of salt, since the Club for Growth supports him, but in the latest poll by the Club for Growth Doug Hoffman, the pro-life Conservative Party candidate  in the special election in the New York 23rd Congressional District endorsed by Sarah Palin and other Republican Party luminaries, leads with 31.3% of the vote to 27% for Bill Owens the Democrat and 19.7% for the pro-abort leftist Republican Dede Scozzafava., with 22% undivided.
Yesterday The Nation's John Nichols wrote a rather scathing piece about President Obama: the piece is entitled "Whiner-in-Chief" and the first line reads, "The Obama administration really needs to get over itself."
Of course, I tend to agree with perspectives like that.
  But near the end of the piece Nichols tries to argue that the country isn't as divided as the White House thinks, and along the way, he makes a heckuva non sequitur:
Health care reform has been at the forefront of the American political discourse in the past few months. One of the most difficult tasks in this debate is to discern an authentically Catholic approach to reform efforts. The Catholic Church takes no official position as to how a health care system ought to be structured, but rather presents enduring moral principles that must be present in public policy.
Adhering to the richness of Catholic social teaching, the ultimate goal for Catholics must be to establish a system that is capable of universal access and coverage for all American citizens, one way or another. Any number of schemes might achieve universal health insurance and preferences will differ based on political philosophy, but the end result seems to be a Catholic moral obligation. In this sense, no Catholic ought to oppose universal health care, if it means achieving coverage for all Americans citizens either through market schemes, government assistance, "third sector" non-profit organizations, co-operatives efforts (co-ops), or some combination of these depending on the social need, the ethical principles at stake, and the resources each solution offers.
Catholic social teaching treats health care as a profound social interest and essential for the common good. Health care, because of this, ought not to be viewed as a mere commodity. The poor and vulnerable, by default, are immediately disadvantaged as health care costs increase. The United States, we are told, has the most technologically advanced and best quality medical care. But, one must inquire: at what cost? Other consumer "goods" are not essential safeguards to the indispensable good of human life in the same way as medical care.
Health care markets that are laissez-faire, an inherently utilitarian mechanism, do not necessarily yield nor are they ordered toward natural justice. Natural law theory is alien to such a mechanism— it is not intrinsic to it, neither is solidarity or preferential option for the poor, though these things are not necessarily excluded by it.
It is self-evident that different spheres of society appropriately employ different standards of distribution. College professors assign grades based on merits of achievement; athletic competition employs the same principle. Parents might distribute slices of cake at a birthday party to strict equality. In the same way, numerical equality governs votes in a democratic society. Food, clothing, shelter, electronic goods, clothing, automobiles, jewelry, etc, receive unequal distribution by market mechanisms—sometimes justly, sometimes not.
Need is one of those principles of distribution (and one of those things often argued about) recognized in some spheres, but not others. Need is terrible for distributing grades, but the proper principle for distributing emergency food supplies. Need, arguably, is a proper principle for the distribution of health care. Health is necessary for a community's proper functioning. Justice, in terms of health care, will require a redeveloped way of distributing health care based on personal responsibility, collective interest, and legitimate need—the weakest and most vulnerable among us first and foremost.
Many important areas of life must resist "commodification," at least in the same sense as dispensable goods. This could not be more evident than by the fact that people are becoming commodities to other people. Children are the prime example of this, from abortion to assisted reproduction. Fundamentally, justice demands that we re-examine our consumerism for it is the heart of the issue and I believe, the life-source of the "Culture of Death." Continue reading →
Blackadder has had a couple very interesting posts lately arguing that a public health insurance program wouldn't sound the death-knell to private insurance companies (and hence competition for the consumer) which many have been arguing it would.
What I find interesting is the vehemence of the left regarding a public option… consider this quote from a WaPo story today: Continue reading →
I am not interested in having future fruitless arguments over whether or not the Republican or Democratic Party is pure evil or not. It is like the old canard comparing some contemporary American politician to Adolf Hitler- it is a deal-breaker. I am one who believes that truth in politics is pretty spread out among the various major and minor political parties- there are some huge moral gaps in all, so the choice of party for me is not based on trying to find the perfect Party of God here in America.
The Washington Post reported Sunday here, hattip to Instapundit, that the White House is getting nervous about the political fallout from the unprecedented spend-and-borrow binge upon which  Obama has placed the country.
"Results from a Gallup survey released last week show that although more than six in 10 Americans approve of Obama's overall job performance, fewer than half say they approve of how he is handling the deficit and controlling federal spending. The poll also shows a decline from the previous month in the percentage of Americans who approve of Obama's handling of the economy, although a majority still does."