Republican
Published
Friday, May 21, A.D. 2010
|
By
Tim Shipe
I have decided to take some time away from my Democratic Party membership- this includes resigning as Vice President of Florida Democrats for Life. I have been a Democrat in spirit from the age of 13, when I took the initiative to volunteer many hours for the 1976 Jimmy Carter presidential campaign.This decision is not a flippant one. I will not trade one major party for another, I am going in an Independent direction and would like to found an American-version, Common Good Party, when time permits.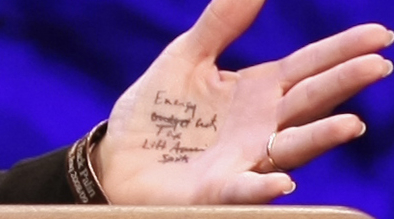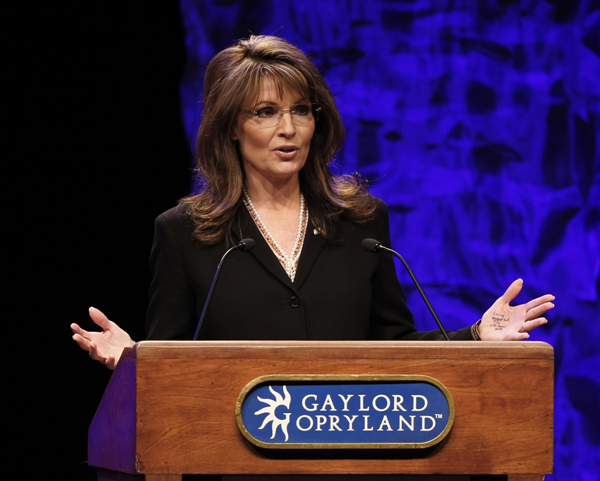 Sarah Palin in her speech at the Tea Party Convention mocked President Obama's use of teleprompters. She herself was however caught with notes written on her left hand. The words "Energy", "Tax," and "Lift American Spirits" are clearly visible. There also appears to be the phrase "Budget Cuts" with the word "budget" crossed out.
To be clear, these notes were not for her speech, for which she used prepared remarks, but for the Q&A session that followed afterward, during which she glanced at her hand. Inevitably one must ask, how is this not worse?
Nothing in her hand is specific, but rather just general concepts of things that she supports as a political conservative. This same woman on "FOX News Sunday" declared she won't "close the door" on a presidential bid in 2012.
Put another way: the leading contender, according to a recent poll, for the GOP nomination in 2012 cannot remember her own core principles as a conservative and must employ a cheat-sheet when asked about her beliefs.
In all honesty, I would vote for copy toner before I would ever think of voting for this woman.