Republican Party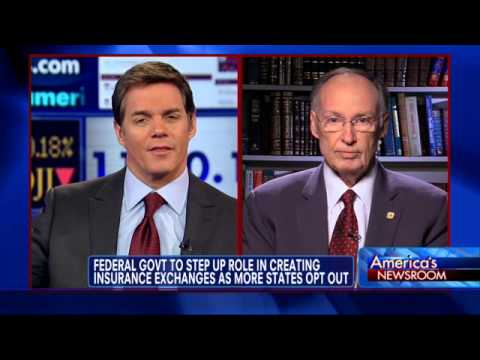 It is an odd thing about the United States that the activities of the Federal government tends to dominate news coverage, while the activities of the States get short shrift.  I say this is odd, because State government still tends to impact the lives of most Americans far more than the Federal government.  This can give us a rather distorted view of what is going on in the country.  Conn Carroll in an editorial in the Washington Examiner, reports on a largely unknown story as far as most of the national media is concerned:
The United States faces a crisis in our political system," the Washington Post's E.J. Dionne wrote last December, "because the Republican Party is no longer a normal, governing party."
Dionne is half-right. The United States does face a crisis in our political system. Last week, Pew released a new study showing that trust in the federal government remains near all-time lows. Worse, for the first time ever, Pew found that a majority of Americans believe the federal government threatens their personal rights and freedoms.
And it is not just Republicans who now see the federal government as a threat. A full 55 percent of independents agree with them, up from just 50 percent only two years ago.
But the story is completely different at the state and local level. According to a September 2012 Gallup poll, a full 65 percent of Americans trust their state government — a 14-point jump in confidence from 2009.
Why is Americans' confidence in state and local government surging while their frustration and fear of the federal government are growing? Maybe it has something to do with the fact that Republicans govern at the state level.
Republicans currently occupy the governor's mansions in 30 states, representing 58 percent of the U.S. population. They control both the governorship and legislature in 25 states, representing 52 percent of all Americans. Democrats enjoy such control of only 14 states, representing just 33 percent of the country. Continue reading →
After every major Republican defeat the party plays a game of lifeboat which boils down to:  "If we just dump over those rascals I have never agreed with, everything would be hunky dory."  After a few months of this, the party settles down, learns from its defeats, the Democrats fall on their face, and the party comes roaring back.  In the present period of Republican angst, some commentators have been calling for the social conservatives to go into the deep blue political void.  Bret Stephens of the Wall Street Journal is typical.
Fellow conservatives, please stop obsessing about what other adults might be doing in their bedrooms, so long as it's lawful and consensual and doesn't impinge in some obvious way on you. This obsession is socially uncouth, politically counterproductive and, too often, unwittingly revealing.
Also, if gay people wish to lead conventionally bourgeois lives by getting married, that may be lunacy on their part but it's a credit to our values. Channeling passions that cannot be repressed toward socially productive ends is the genius of the American way. The alternative is the tapped foot and the wide stance.
Also, please tone down the abortion extremism. Supporting so-called partial-birth abortions, as too many liberals do, is abortion extremism. But so is opposing abortion in cases of rape and incest, to say nothing of the life of the mother. Democrats did better with a president who wanted abortion to be "safe, legal and rare"; Republicans would have done better by adopting former Indiana Gov. Mitch Daniels's call for a "truce" on social issues.
I always find the sheer political fantasy land of such proposals amusing.  Social conservatives are  the core of the Republican party.  No one can be involved with the Republican party for long without noticing that most of the volunteers in Republican campaigns are social conservatives.  They are the ones who do the door to door canvassing, put up yard signs, man the phones, etc.  Without them any Republican campaign would be a mere shell.  Yes, it would be a masterstroke for Republicans to alienate their most devoted supporters. Continue reading →
The Democrat platform on abortion:
The President and the Democratic Party believe that women have a right to control their reproductive choices. Democrats support access to affordable family planning services, and President Obama and Democrats will continue to stand up to Republican efforts to defund Planned Parenthood health centers. The Affordable Care Act ensures that women have access to contraception in their health insurance plans, and the President has respected the principle of religious liberty. Democrats support evidence-based and age-appropriate sex education.
The Democratic Party strongly and unequivocally supports Roe v. Wade and a woman's right to make decisions regarding her pregnancy, including a safe and legal abortion, regardless of ability to pay. We oppose any and all efforts to weaken or undermine that right. Abortion is an intensely personal decision between a woman, her family, her doctor, and her clergy; there is no place for politicians or government to get in the way. We also recognize that health care and education help reduce the number of unintended pregnancies and thereby also reduce the need for abortions. We strongly and unequivocally support a woman's decision to have a child by providing affordable health care and ensuring the availability of and access to programs that help women during pregnancy and after the birth of a child, including caring adoption programs.
President Obama and the Democratic Party are committed to supporting family planning around the globe to help women care for their families, support their communities, and lead their countries to be healthier and more productive. That's why, in his first month in office, President Obama overturned the "global gag rule," a ban on federal funds to foreign family planning organizations that provided information about, counseling on, or offered abortions. And that is why the administration has supported lifesaving family planning health information and services.
The Republican party platform on abortion: Continue reading →
My compatriot Paul Zummo posts: Assertion Without Evidence.
Here find my reply.
Mr. Zummo writes:
"Show, don't tell"  is an admonition often given to writers. Usually it applies to fiction, but it works with non-fiction as well. If you make an assertion about someone's beliefs, it is generally good form to provide evidence supporting your argument, at least if you want to be taken seriously. It is true that the blogopshere doesn't necessarily allow for extended treatises, yet it's still possible within the confines of a few hundred words or more to demonstrate credible evidence of your assertions.

When it comes to Paul Ryan and his evil Randian ways, however, such worries are cast aside.
The claim is that there is no evidence to support the assertion that Paul Ryan is "Randian." That is, that he ascribes to the philosophy of Ayn Rand.
First, it is very clear that, in recent years, Paul Ryan was an avid supporter of what he called the "morality of capitalism" as defined specifically by Ayn Rand. (Video here.)
Secondly, when political blowback was clear, Ryan stated that the claims that he supports Ayn Rand are "urban legend." The term "urban legend" is commonly understood to describe a myth. In other words, his reply was that the claims are "not true," but we have the video, don't we? Robert Costa added undue credibility to Ryan's assertion:
These Rand-related slams, Ryan says, are inaccurate and part of an effort on the left to paint him as a cold-hearted Objectivist.
It is ironic that Ryan will not acknowledge that the poor are "due" assistance, even as he is given undue credibility by Costa and National Review. More troubling indeed is Costa's assertion that the source of this "lie" is political opponents on the Left. This gives the impression that Ryan is a person of privilege who will be defended by National Review, which is heavily-staffed with Catholic columnists, even against true claims against him. In this way, the credibility of Catholic conservatives is eroded. That is something I certainly do not want to see.
Let it be noted that I have never claimed that Ryan is an Objectivist, per Costa's article, but only that he is opposed to the preferential option for the poor. I would love to see any quote from Ryan claiming that the poor are "due" economic assistance from those who have more. Certainly, Rick Santorum would tell you that the poor are "due" assistance by virtue of the fact that they are poor. He would say it a thousand times without flinching, though he may disagree with some on the structures it takes to make that happen effectively. Ryan appears to have no belief that the poor are "due" assistance.
Finally, on the main point about whether Ryan is "Randian," if we assume that he's had a "conversion" from Rand, then a couple of things would be required to make it an actual conversion. First, you would have to convert "to" something else. Secondly, you would have to demonstrate somehow that you actually believe that philosophy that you've converted to.
Ryan claims that he follows St. Thomas Aquinas, not Ayn Rand.
"I reject her philosophy," Ryan says firmly. "It's an atheist philosophy. It reduces human interactions down to mere contracts and it is antithetical to my worldview. If somebody is going to try to paste a person's view on epistemology to me, then give me Thomas Aquinas," who believed that man needs divine help in the pursuit of knowledge. "Don't give me Ayn Rand," he says.
If he follows Aquinas, as claimed, this would make him a proponent of Distributism. Try quoting Aquinas' remarks on Distributism to any conservatives who have not read them before and ask them what it sounds like to them. I'll be shocked if they don't call it "socialism."
As stated above (Article 1), in distributive justice something is given to a private individual, in so far as what belongs to the whole is due to the part, and in a quantity that is proportionate to the importance of the position of that part in respect of the whole. Consequently in distributive justice a person receives all the more of the common goods, according as he holds a more prominent position in the community. This prominence in an aristocratic community is gauged according to virtue, in an oligarchy according to wealth, in a democracy according to liberty, and in various ways according to various forms of community. Hence in distributive justice the mean is observed, not according to equality between thing and thing, but according to proportion between things and persons: in such a way that even as one person surpasses another, so that which is given to one person surpasses that which is allotted to another.

Aquinas goes on to say that it is the poor, as Jesus said, who are to be considered to have the more prominent position in the community. G.K. Chesterton was a proponent of Distributism. No heretic, he.
Several times today alone, I have shared the above quote from Aquinas with conservatives and have been told it is "redistribution of wealth," the term frequently employed by conservatives to describe socialism. I would argue that most people would say the quote above describes Obama policy better than it describes Ryan policy. Herein lies the conundrum of ignorance which plagues us and foments division in the Church through political confusion. Not one among us who call ourselves conservative would let Barack Obama get away with saying that he follows Aquinas, but if Paul Ryan says it, no one bats an eyelash? Well, not me. Not me. And so, here I am before you asking you not to let any man get away with claiming he follows Aquinas when he does not, least of all a candidate for high office, and especially so when it is a candidate for high office who identifies as Catholic on the national stage.
Certainly, Ryan's philosophy continues to more closely resemble the philosophy of Ayn Rand than of Aquinas. CLICK HERE to see why that is so dangerous to the Church in America, and yes, even to Western Civilization itself.
As for Mr. Zummo's attempt to compare Paul Ryan to Rick Santorum, there is no comparison. They are vastly different, as stated above, but also considering the fact that Paul Ryan endorsed Mitt Romney, who is running on a solely economic platform, over his fellow Catholic Rick Santorum in Wisconsin. This action effectively knocked Rick Santorum out of the GOP presidential primary for good and certainly indicates strongly that the two are not at all on the same page economically. At the very least, it's clear that Paul Ryan prefers Romney economics to Santorum economics. Mitt Romney believes those who work are "due" what they work for. Fine, fine, but Rick Santorum believes, in addition to that, that the poor are "due" assistance in some form. It's a philosophy that is consistent with our Catholic Faith, whereas Ryan's philosophy is not.
There was no "assertion without evidence." To the contrary, there is a great deal of evidence, and we ignore it at our peril.
Jackie Hogan, head of the Sociology department at Bradley University in Peoria, wrote a piece for the Christian Science Monitor in which she argued that Abraham Lincoln would have difficulty in winning the presidential nomination of the modern Republican Party.  The article cries out for a fisk, and I am happy to oblige:
1. Lincoln 'invented' income tax
While Republican candidates today win kudos for signing Grover Norquist's anti-tax pledge, it is unlikely that Lincoln would sign on, since he, in effect, invented income tax. That is to say he was the first American president to sign federal income tax into law. And not only that, but it was a progressive income tax, with the wealthiest Americans paying a higher rate.
He made no distinctions between earned income and capital gains – money made was money earned – and Lincoln's administration needed its cut to pull the nation back from the brink of collapse. Strike one against Honest Abe.
Actually current Republicans would hail the Lincoln income tax.  It had two rates, 3% and 5%.  Many Republicans have been calling for a flat tax for years, and Lincoln's two tier system with very low rates would receive thunderous  approval from a GOP audience.
2. He didn't advertise his faith
Strike two: He didn't advertise his faith. Debate over Lincoln's religious beliefs is heated. But there's good evidence that he questioned Christian orthodoxy, perhaps not so surprising at a time when Biblical verses were routinely used to defend slavery, an institution he found morally repugnant.
While it's true that Lincoln frequently evoked the Divine in his speeches, he never took up membership in a church, and certainly never spoke publicly about his personal relationship with Christ.
I find this to be simply bizarre.  Few Presidents have invoked God more frequently than Lincoln.  This section from the Second Inaugural would certainly brings calls for Lincoln's impeachment from the American Civil Liberties Union:
 Both read the same Bible and pray to the same God, and each invokes His aid against the other. It may seem strange that any men should dare to ask a just God's assistance in wringing their bread from the sweat of other men's faces, but let us judge not, that we be not judged. The prayers of both could not be answered. That of neither has been answered fully. The Almighty has His own purposes. "Woe unto the world because of offenses; for it must needs be that offenses come, but woe to that man by whom the offense cometh." If we shall suppose that American slavery is one of those offenses which, in the providence of God, must needs come, but which, having continued through His appointed time, He now wills to remove, and that He gives to both North and South this terrible war as the woe due to those by whom the offense came, shall we discern therein any departure from those divine attributes which the believers in a living God always ascribe to Him? Fondly do we hope, fervently do we pray, that this mighty scourge of war may speedily pass away. Yet, if God wills that it continue until all the wealth piled by the bondsman's two hundred and fifty years of unrequited toil shall be sunk, and until every drop of blood drawn with the lash shall be paid by another drawn with the sword, as was said three thousand years ago, so still it must be said "the judgments of the Lord are true and righteous altogether." Continue reading →
In articles, interviews and addresses, U.S. Representative Paul Ryan is defending — not without controversy — his 2013 budget proposal (see "The Path to Prosperity: A Blueprint for American Renewal") as an application of Catholic social teaching, inspired by his Catholic faith.
In an April 10 interview with CBN News, Ryan responded:

To me, the principle of subsidiarity, which is really federalism, meaning government closest to the people governs best, having a civil society of the principal of solidarity where we, through our civic organizations, through our churches, through our charities, through all of our different groups where we interact with people as a community, that's how we advance the common good. By not having big government crowd out civic society, but by having enough space in our communities so that we can interact with each other, and take care of people who are down and out in our communities.

Those principles are very very important, and the preferential option for the poor, which is one of the primary tenants of Catholic social teaching, means don't keep people poor, don't make people dependent on government so that they stay stuck at their station in life. Help people get out of poverty out onto life of independence.
U.S. Rep. Paul Ryan, R-Wis. , Chairman of the House Budget Committee speaks to a meeting of the Wisconsin Faith & Freedom Coalition. 3/31/12. Source:
AP
The U.S. Bishops Conference conveyed their thoughts on the FY2013 Budget and spending bills, which in their words "repeated and reinforced the bishops' ongoing call to create a "circle of protection" around poor and vulnerable people and programs that meet their basic needs and protect their lives and dignity.":

Bishops Blaire [chairman of the bishops' Committee on Domestic Justice and Human Development] and Pates reaffirmed the "moral criteria to guide these difficult budget decisions" outlined in their March 6 budget letter:

1.Every budget decision should be assessed by whether it protects or threatens human life and dignity.

2.A central moral measure of any budget proposal is how it affects "the least of these" (Matthew 25). The needs of those who are hungry and homeless, without work or in poverty should come first.

3.Government and other institutions have a shared responsibility to promote the common good of all, especially ordinary workers and families who struggle to live in dignity in difficult economic times…

Just solutions, however, must require shared sacrifice by all, including raising adequate revenues, eliminating unnecessary military and other spending, and fairly addressing the long-term costs of health insurance and retirement programs.

In April 16 and April 17 letters to the House Agriculture Committee and the House Ways and Means Committee addressing cuts required by the budget resolution, Bishop Blaire said "The House-passed budget resolution fails to meet these moral criteria."
Marc Thiessen defended the congressman from "a bishop's unjust attack" (Washington Post, 4/23/12) along with (Fr. Robert Sirico (of the Acton Institute) — the latter, however, disagreeting with Ryan's equasion of subsidiarity with federalism.
This past week, U.S. Representative Paul Ryan further presented his case in a column for the National Catholic Register: Applying Our Enduring Truths to Our Defining Challenge, April 25, 2012):

As a congressman and Catholic layman, I am persuaded that Catholic social truths are in accord with the "self-evident truths" our Founders bequeathed to us in the founding ideas of America: independence, limited government and the dignity and freedom of every human person. As chairman of the House Budget Committee, I am tasked with applying these enduring principles to the urgent social problems of our time: an economy that is not providing enough opportunities for our citizens, a safety net that is failing our most vulnerable populations, and a crushing burden of debt that is threatening our children and grandchildren with a diminished future. … [read more]
On April 26th, Paul Ryan gave a lecture at Georgetown University, entitled "America's Enduring Promise", in which he once again addressed the challenge of America's exploding federal debt, which he characterized as "the overarching threat to our society today":

The Holy Father, Pope Benedict, has charged that governments, communities, and individuals running up high debt levels are "living at the expense of future generations" and "living in untruth."

We in this country still have a window of time before a debt-fueled economic crisis becomes inevitable. We can still take control before our own needy suffer the fate of Greece. How we do this is a question for prudential judgment, about which people of good will can differ.

If there was ever a time for serious but respectful discussion, among Catholics as well as those who don't share our faith, that time is now.
Ryan's appearance at Georgetown was prefaced by a scathing letter from some 80 members of the faculty irate over his alleged "continuing misuse of Catholic teaching to defend a budget plan that decimates food programs for struggling families, radically weakens protections for the elderly and sick, and gives more tax breaks to the wealthiest few." An organized protest of Ryan on the actual day of the event was distinguished by a notable lack of participation. Continue reading →
Mitt Romney is running as a conservative now, but in the general, we can expect a flip-flop. It was made clear already by a top Romney campaign adviser saying he will erase his conservative views as with an "Etch-A-Sketch" once the general election comes around,  if he is the nominee. Tonight, Romney's Maryland campaign chair said that women will see Mitt Romney's "real views" in the general election.
From  CNN, transcript:
Piers Morgan: Obviously, Governor Romney's got a problem in the polling with women, not entirely surprising given the social issue debates that have been raging in the Republican Party have been pretty negatively received. How does he rebuild trust in the female vote?

Romney's Maryland Campaign Chair, Bob Ehrlich: I think that's more a function of the Santorum campaign, quite frankly, and the Democrats using some of Senator Santorum's verbiage to their electoral advantage, to their partisan advantage. I think, when the general election, again, when you have one-on-one election, a general election, and they see again, are reminded of Governor Romney's real views, that gender gap will dissipate rather quickly.
Why do people vote for this? Mass insanity, that's why. People have rejected moral reasoning, and when you reject moral reasoning, you don't think reasonably. Believe me, I know about this in living technicolor as I live with Bipolar Disorder. If I don't find my identity in God's truth, I will go quite literally crazy. Healthy brains can do the same thing when they reject moral reasoning.
From Pope Benedict XVI"s Chrismas 2010 address:
Alexis de Tocqueville, in his day, observed that democracy in America had become possible and had worked because there existed a fundamental moral consensus which, transcending individual denominations, united everyone. Only if there is such a consensus on the essentials can constitutions and law function. This fundamental consensus derived from the Christian heritage is at risk wherever its place, the place of moral reasoning, is taken by the purely instrumental rationality of which I spoke earlier. In reality, this makes reason blind to what is essential. To resist this eclipse of reason and to preserve its capacity for seeing the essential, for seeing God and man, for seeing what is good and what is true, is the common interest that must unite all people of good will. The very future of the world is at stake.
"Eclipse of reason." "The very future of the world is at stake." Is the Pope being "over the top" here? No. It is all plain as day to the faithful.
This is why I always say that we have to elect Rick Santorum because "the future of the world is at stake." It really is. Either we embrace moral reasoning, or we sink into the abyss.
I've been saying since long before Rick Santorum decided to run for president that America is rejecting moral reasoning and that we are headed for a dark age if we don't get our bearings back. Seeing people fall for the "Etch A Sketch" candidate and seeing the full weight of the Republican Party establishment out to destroy Rick Santorum's hopes for the nomination is no surprise to me. America will elect Rick Santorum or it's game over.
Catholics, particularly, who vote for Mitt Romney should be ashamed of themselves. The man stood on stage before a national audience and, in order to save his own political skin, told a blatant and horrific falsehood about the Catholic Church. He said that the Church voluntarily submitted to subsidizing child murder. He's clearly a man who will say and do anything to gain power, even tell such a lie about the Church before a national audience, and yet…Catholics are voting for him. "Eclipse of reason."
I'm ashamed of Catholic Republicans who are voting for this impostor, but then, the Church has been through worse. We'll get through this as we have gotten through far worse things, albeit losing many souls along the way. God, help us.
Think I'm going overboard? I don't have to win elections. I only have to remain close to Christ, because He is all. I don't lose any sleep over the possibility that Rick Santorum may not win. As he told me tonight after losing in Maryland, Wisconsin and D.C., "God is good."  Indeed, God is good, and God will remain eternally good, even if America rejects Him. She will get what she deserves, but it is my hope that she works hard to deserve freedom by helping to elect a man of principle – Rick Santorum.
Rick Santorum is taking some heat in various places for some remarks he made about the failure of the Left to understand where our rights come from. In this case, as in so many other positions Santorum expounds on throughout his campaign, his views are informed by a belief about human nature that was shared by America's Founding Fathers and by all who believe man was Created by a loving God. First, let's listen to what Santorum said that he is being criticized for, in some circles. Then, I'll explain the main disconnect between those who agree with the views Santorum is expressing here and those who disagree with them .
Transcript excerpt:
When you marginalize faith in America, when you remove the pillar of God-given rights, then what's left is the French Revolution. You are a bigot and a hater because there's no rational reason. What's left is a government that gives you rights. What's left are no inalienable rights. What's left is a government that will tell you who you are, what you'll do, and when you'll do it…and France became the guillotine. Ladies and gentlemen, we're a long way from that, but, if we do, and follow the path of President Obama and his overt hostility to faith in America, that we are headed down that road.
The criticism is that Rick Santorum is using a "slippery slope fallacy" either to intentionally scare people or because of ignorance on his part. The slippery slope fallacy is also referred to as the Camel's Nose:
When the camel's nose enters the tent, can the rest of the camel be far behind?
In order for a slippery slope argument to be a fallacy, it must lack an argument for inevitability. Most people probably understand that the Camel's Nose proverb is indeed a fallacy because most of us probably know that a camel may very well stick his nose into a tent without ever entering the tent. We might say it's common sense. It does take some awareness of camel behavior to know whether or not this is a fallacy, and enough information is known by most people for them to recognize that the argument fails. The "nature of the camel" is something that one must know in order for the Camel's Nose argument to be recognized as a fallacy. So it is with Rick Santorum's argument about the HHS mandate. One must know something about human nature in order to understand that evil actions do set one's feet on a path toward even more seriously evil actions.
If you do not have a good understanding of human nature, you will probably believe Rick Santorum's argument is a fallacy. Naturally, you will come up with alternative explanations for his claim, such as that he is either ignorant or willfully scaring people. Logically speaking, if human nature is not at all what Rick Santorum believes it to be, then it would mean that he is ignorant. But if Rick Santorum is "ignorant" about human nature, then so is the Catholic Church and so are America's Founding Fathers because his view is in keeping with both.
From the Declaration of  Independence, we have a reference to human nature in the quote about Natural Law [Emphasis mine]:
When in the Course of human events it becomes necessary for one people to dissolve the political bands which have connected them with another and to assume among the powers of the earth, the separate and equal station to which the Laws of Nature and of Nature's God entitle them, a decent respect to the opinions of mankind requires that they should declare the causes which impel them to the separation.
From the Catholic Church we can look to the Summa Theologica in which St. Thomas Aquinas explained that when man commits evil acts, he will develop a habit of evil, and when he practices virtuous things, he will develop virtuous habits. Certainly, we Catholics believe also that God's grace is both necessary and available to us in this process, but most parents, Catholic or not, can tell you that letting a child get away with bad behavior will result in the child developing bad habits. So it is for each of us because we all have human nature. We should hope and pray that this is still common sense, because if it is not, America is in deep trouble.
As for Rick Santorum's reference to the French Revolution, I have heard him make this case many times on the campaign trail. He underscores the difference between the American Revolution and the French Revolution in the context of each country's claim about where rights come from. As previously noted, the American Founders stated that our rights come from God by virtue of our being created by Him. Not so, with the French.
From the Declaration of the Rights of Man and of the Citizen, 1789:
The principle of all sovereignty resides essentially in the nation. No body nor individual may exercise any authority which does not proceed directly from the nation.
It is the above principle that Rick Santorum claims, and rightly so, that the Left in America believes in, as opposed to the American Founders' contention that the fact that we have rights (our sovereignty) resides in the fact that we were created by God and that no nation may legitimately usurp those rights.
The claim of the Left is that it is important for the Obama Administration to force the Catholic Church to pay (through healthcare coverage) for contraceptives, including abortifacients, as a matter of "fairness" to women. This is generally what the Left in America claims to be about: "Fairness". In this, they are claiming that they are "fair" and the Catholic Church is "not fair." As such, they are claiming that Catholic teaching is unjust. They believe that they decide what is "just" and what is "unjust" and have decreed that the Church is opposed to their view of justice. If such a precedent were allowed to remain in "good standing" in American law, that the Catholic Church is unjust and must be oppressed wherever the state determines it to be unjust, could the guillotine really be so far away as Rick Santorum claims? This would be my only criticism of Santorum's claim, that we are "a long way" from the guillotine.
It is precisely because so many in America, and certainly Santorum's political opponents, fail to understand human nature and apply their erroneous understanding to their positions on the law that he will face a challenge in making the argument to the American people that the Left is not about "fairness" at all. Rather, they are about deciding for us what our rights are even though they are incompetent on the matter of human nature which was so clearly understood by those who Founded our country and penned the Bill of Rights based on that understanding.
We really do have a choice now, in this election, to choose the Constitution and the reasoning behind the rights it delineates, or to choose a view of rights that history has already shown us will lead to the guillotine.
I choose Rick Santorum.