Religious Freedom
Nothing like getting all your 30 pieces of silvers' worth!
Pope Benedict, judging from this address on January 19 to American bishops in Rome, apparently understands the high stakes in the outcome of this year's election, even if many American Catholics do not:
Dear Brother Bishops,
I greet all of you with fraternal affection and I pray that this pilgrimage of spiritual renewal and deepened communion will confirm you in faith and commitment to your task as Pastors of the Church in the United States of America. As you know, it is my intention in the course of this year to reflect with you on some of the spiritual and cultural challenges of the new evangelization.
One of the most memorable aspects of my Pastoral Visit to the United States was the opportunity it afforded me to reflect on America's historical experience of religious freedom, and specifically the relationship between religion and culture. At the heart of every culture, whether perceived or not, is a consensus about the nature of reality and the moral good, and thus about the conditions for human flourishing. In America, that consensus, as enshrined in your nation's founding documents, was grounded in a worldview shaped not only by faith but a commitment to certain ethical principles deriving from nature and nature's God. Today that consensus has eroded significantly in the face of powerful new cultural currents which are not only directly opposed to core moral teachings of the Judeo-Christian tradition, but increasingly hostile to Christianity as such. Continue reading →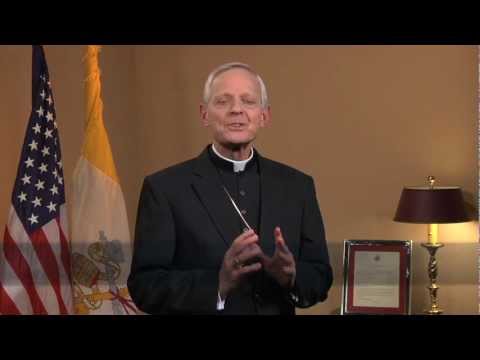 As mankind become more liberal they will be more apt to allow that all those who conduct themselves as worthy members of the community are equally entitled to the protection of civil government.  I hope ever to see America among the foremost nations in examples of justice and liberality.  And I presume that your fellow-citizens will not forget the patriotic part which you took in the accomplishment of their Revolution, and the establishment of their government; or the important assistance which they received from a nation in which the Roman Catholic faith is professed.
George Washington, March 15, 1790
Catholics in this country have long enjoyed complete religious liberty.  The experience of that freedom in this country was one one of the factors that caused Popes to embrace the concept of religious liberty as enshrined in the documents of Vatican II.  Maryland, the Catholic colony, was the first colony to proclaim religious freedom in the New World.
Now that precious liberty that so many Americans have fought and died for down through the centuries is under siege by local and state governments and the Obama administration.  The Bishops of Maryland have spoken out against this evil trend.  Go here to read their 16 page statement. Continue reading →
President Obama mocked Catholic bishops at a St. Louis fundraiser last night as he was touting the new Health & Human Services regulations that would require Catholic institutions to go against the teachings of Jesus.
"Darn right!" an audience member at the fundraiser shouted as Obama described the regulation.

"Darn tooting!" Obama said back.
The contempt that President Obama has shown towards Christians is almost palpable.
This is a man that worships himself on Sundays by lifting weights instead of attending a Church service.
It is becoming imperative that President Obama needs to be voted out of office next year due to this incident and many other policies that he has implemented.
I would like to continue our conversation regarding The Ground Zero Mosque, Religious Freedom, and Interfaith Dialog with Islam. Earlier posts on this topic can be found here (Part One, Part Two, & Part Three).
Johan Bonny has written what I consider to be a very helpful article entitled "Christian Witness and Ecumenism in a Society with a Muslim Majority". (HT Stephen Hand ~ Time Out of Joint)  I especially appreciate how he deals with the issue of violence and how he refers folks to the life of Brother Charles de Foucauld.  I encourage everyone to read the entire article, but here are some highlights for your reference.
Christian and ecumenical witness is first of all related to the heart of the Gospel, to the example and the commandment of Jesus Christ. How can Christians live and profess together the essence of Christian faith: this is the key question in any ecumenical reflection. This question, however, leads to a deeper one: what is then the essence, the very heart of Christian faith? What is the specific genius of Christianity among the three monotheistic religions, that has Abraham as their common father in faith: Judaism, Christianity and Islam?

…The dialogue between Christianity and Islam will certainly become a major challenge of the new millennium. No dialogue, however, has a chance, unless it is based on friendship and mutual trust. How can personal trust and friendship be improved, where Christians and Muslims are living together, day after day?
In my previous posts on this topic (Part One and Part Two) and the comments contained therein, one of the things which I feel is missing in this discussion is a dialog about the humanity of Muslims. Are Muslims human? Do Muslims have a religious sense? Do Muslims desire for truth, beauty and goodness? In stead of writing about this, I am going to show you. Watch this entire 60 Minutes program and judge it. It is simply amazing. Let us dialog about it in the comments.
Since publishing my original article on this topic, I have received a lot of feedback on it, both positive and negative. The article was cross-posted at The American Catholic, Il Sussidiario, and Catholic Online. A local version of the article ran in my hometown newspaper as well. Too be sure my article has provoked an important dialog. Due to the critical judgment that I have received from Catholic friends whom I admire I would like to clarify some of my thoughts. The overall position I took in supporting the building of the Ground Zero Mosque remains the same though.
First, I recognize the building of the Ground Zero Mosque is a prudential matter in which good Catholics, Christians, and Americans can agree to disagree upon. It is prudential matter and both sides have legitimate reasons to either support or oppose its construction at the current location.
It's important that I address my use of the word "support." My intention in using this word has caused unnecessary confusion on exactly what I meant by it. By support I do not mean Catholics should monetarily support the construction or operation of it. Construction workers who are Catholic can legitimately refuse to work on this project. It would be more precise to say that I would "allow" or "permit" it to be built. Catholic do not have to actively support it in any other way.
I am currently reading through one of the most fascinating and relevant books of our time, America Alone, by Mark Steyn. One of Steyn's most provocative and convincing arguments is that demographics  will decide the future of Western civilization and the entire world.
Steyn argues that while the entire planet is or will be entering a phase of birth rate decline, some areas decline faster than others. America's birth rate is falling, but Europe's is falling faster, and Russia's faster still. Meanwhile countries throughout the non-Western world are falling from much higher birth rates and will take decades to match our levels. Falling birth rates are bad news for everyone, but especially bad news for those who fall further and faster.
An analogous situation can be seen in the decline of the Church, and Christianity in general, at least with respect to the Western world. The number of Americans identifying as Christian or Catholic has decreased in recent years, but it will take some time for that number to reach abysmally low European levels. Here however I think it is important to move beyond a pure numbers game and look at some of the more qualitative  aspects of Christian/Catholic decline as well.
Last week I wrote here about the firing of Dr. Kenneth Howell who had the audacity, in a class about the Catholicism, to actually state Catholic doctrine about homosexuality.  There has been enough of a furor since that the University of Illinois is acting, according to this story in the Chicago Tribune:
A faculty group at the University of Illinois' flagship campus will review the decision to fire an adjunct religion professor for saying he agreed with Catholic doctrine on homosexuality.
Urbana- Champaign campus Chancellor Robert Easter said Monday he hopes to have a decision on the firing of Kenneth Howell from the Faculty Senate's Committee on Academic Freedom and Tenure by the time fall classes start. The review is to determine whether Howell's academic freedom was violated.
"We want to be able to reassure ourselves there was no infringement on academic freedom here," new university President Michael Hogan told members of the Faculty Senate on Monday. "This is a very, very important, not to mention a touchy and sensitive, issue. Did this cross the line somehow?" Continue reading →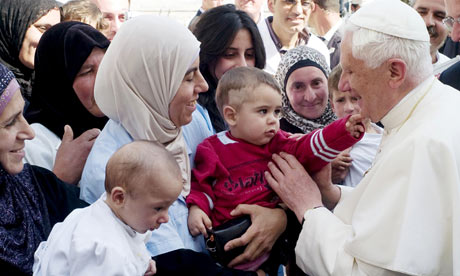 The Vatican  released a working paper during Pope Benedict XVI's pilgrimage to Cyprus to prepare the way for a crisis summit of Middle East bishops in Rome. What I take away from this- along with the Holy See's call for lifting the blockade of Gaza- is something of a vindication for my more raw views urging for a sea change in American Catholic opinion and action regarding the overall situation in the Middle East, and in Israel-Palestine in particular.