Protestantism
UPDATE  Check Back On Monday To See What Time The Scheduled Appearance On The Al Kresta Show Will Take Place. Al Kresta Is Heard On EWTN Radio ( Over 100 Affiliate Stations) Check Your Local Listings Or Click Here To Listen Live
The LeBron James saga was particularly painful for those of us who live in Ohio and are Cavaliers fans. However a cursory glance at some of the national columnist's reaction, to the week-long ego charade broadcasted by ESPN, gives me hope that many others have seen through this smoke screen as well. (Check these columns here here and  here.) What we witnessed Thursday night and the excuses made for it, along with sucking up by some of the national powers that be, gives us some insight on a world full of instant gratification and the desire to party on in South Beach, rather than roll up their sleeves in places like Cleveland. Talk about a metaphor for the Catholic Church.
For years now many faithful orthodox minded Catholics have painfully watched friends and loved ones leave the Catholic Church for either the local hoopty do mega church (Mother Angelica's words,) or for no church at all, claiming they needed to feel better. They didn't like a Church who couldn't get with the times, had too many sinners in the pulpit, or talked to much about sin and not enough about heaven. Perhaps the LeBron James fiasco has given us the perfect recipe for what we should do; give it right back to them.
I grew in a small town (or city depending upon your classification) full of hard working class folks (and farmers who came into town from the outlying areas) where flowery words were few and far between and one would be easily called out for his actions. Now we all know the Church has had some difficult times in the last few years. However, this is because we wanted to be liked, instead of doing it God's way, whether that was politically correct or not.
Today we have a new crop of orthodox-minded young seminarians, priests and women religious who are pious, but not above calling people out concerning their phony excuses for not taking their Faith more serious by not practicing it, or leaving it all together. In my book, The Tide is Turning Toward Catholicism, I outline the increase in vocations, especially in dioceses which are more openly orthodox in their approach. The Father McBrien's and Kung's of the world are being replaced by younger versions of Father Corapi and Father Pacwa. Though these two priests have different approaches, they are not above calling out the phony reality show world we often seem to celebrate in our culture and religion. Continue reading →
I read a comment[1] a few weeks ago on GetReligion.org attempting to explain why John Paul Stevens was the last Protestant in the U.S. Supreme Court which simply said that Catholics and Jews have a tradition of being immersed in law (Canon Law and Halakha respectively for Catholics and Jews as an example).
This struck me as interesting because at first glance it kind of makes sense.
Of course there is much more to why the current make-up of the U.S. Supreme Court, 6 Catholics, 2 Jews, and an Episcopalian, is as it is.[2]
But I thought it was an interesting enough topic to dive into.
Lisa Wangsness of the Boston Globe chimes in with her two cents worth [emphases mine]:
Evangelical Protestants have been slow to embrace, or to feel welcomed by, the elite law schools like Harvard and Yale that have become a veritable requirement for Supreme Court nominees. One reason for this, some scholars say, is because of an anti-intellectual strain within evangelicalism.
As Ronald Reagan would say, there you go again, pushing the liberal theory that Christians are stupid (at least Evangelical Protestants).
Lets get beyond these stereotypes done by liberals to Christians.
As we work our way through Lent 2009, we need to rejoice in the turning tide. Though there has been much negative news about the Catholic Church this past decade, much of the negative news had its roots in actions taken during the 1960s and 1970s. Yet, the seeds of the good news planted during the pontificates of Pope John Paul II and now Pope Benedict XVI is just now seeing its shoots and blossoms become visible to the naked eye.
What are the shoots and blossoms?  They can be seen in increasing vocations to the priesthood and religious life, and the strong orthodox nature of these new, young priests. A new crop of Catholic bishops is also boldly showing their orthodoxy, which often befuddles and mystifies the mainstream media and the secular culture in which we live. In addition to this, many in the laity have for years now been writing and blogging about the desperate need for Catholic orthodoxy in a world full of hurt and self absorption. Many ask how can the Church possibly grow when the Church's active laity, especially the young along with those who serve her in ordained and professed ministries, are so different from the culture in which they live? It is that culture in which they live that causes them to see the wisdom in Christ's words and the Church He started through the first pope, the Apostle Saint Peter.
There were fewer shoots and blossoms in the 1970s when the seriousness of the Catholicism was questioned after the Church seemed to be trying to be relative, whether it was related or not, thousands of priests and nuns left their vocations. However, starting in 1978 with the election of Pope John Paul II, the tide began to turn. All of the Polish pontiff's hard work began to be seen in the shoots and blossoms of events like World Youth Day 1993, which was held in Denver. Later in his pontificate thanks to events like World Youth Day, vocations to the priesthood and religious life began to increase.
The title of this article almost sounds surreal. At first one could be forgiven for thinking it was some sort of low budget End Times movie seen on some local cable access channel. However, the information contained within this article is real, fortunately, as believers and specifically those of us who are Catholic we know that Jesus promised that His Church would not fall despite the attempts of those working for the evil one. God is the truth and God is love, but the mere fact that He is both has caused many rebellions against him literally from day one. Sadly, those who often claim to be the smartest act the most childish, by at first claiming God doesn't exist and then claiming if He does exist, He doesn't make sense at least to them. This article will look at this behavior from the world's earliest moments, but will mainly focus on what has happened in the last few years, right up until this very moment.
There is a undercurrent in American society that somehow believes that if the mafia ran things, the country would be better off. There was one city (Newark, New Jersey) where the mafia once controlled much of the city. When their grip on power was done, the city was in tatters. The same could be said for liberals running religion.
The faithful on earth, through the communion of saints, should honor the blessed in heaven and pray to them, because they are worthy of honor and as friends of God will help the faithful on earth. — The Baltimore Catechism, 1941
I am trying these days, as best I can, to come to terms with the Church's reform of the liturgy. But when one truly examines the differences between the "Tridentine" liturgy and the "Novus Ordo" liturgy, and furthermore, compares the "Novus Ordo" liturgy to what Protestant "reformers" (if that's what you want to call violent iconoclasm) have tried to introduce into the liturgy for the past 500 years, it is hard to remain sympathetic.
On the surface the liturgical revisions of Vatican II were aimed at "increasing participation" of the congregation in the liturgy. I'll leave aside my complaints about that motive for now. If this were indeed the goal, however, what I cannot understand are some of the other changes that were made, changes that apparently, to my untrained eye anyway, have nothing to do with participation. When, however, I reflect upon the some statements made by Annibale Bugnini, who was at the forefront of liturgical revisions during Vatican II, the changes do make sense. Bugnini is often quoted as having said:
"We must strip from our … Catholic liturgy everything which can be the shadow of a stumbling block for our separated brethren, that is, for the Protestants."
For many Christians today, the thought that the leaders of the Protestant Reformation believed in the Immaculate Conception of Mary or her bodily Assumption into heaven would seem ludicrous, even more bewildering would be the devotions many of the Reformation's leaders had for the Blessed Mother. Believe or not it, they did. In this month of December when Catholics celebrate three feast day's commemorating the Mother of our Lord, perhaps it is time to remind our separated brethren of the truths their founder's believed.
Sometime ago when I was writing my book, The Tide is Turning Toward  Catholicism,  I showed a friend of mine, who is an Evangelical, a homily about the Virgin Mary delivered in the 1500s. I asked him who gave that homily, "probably some pope," he exclaimed. No, I said it was Martin Luther. He replied, "Dave I trust in almost everything you say, but I am going to have to call you out on this one. I mean isn't that what the Reformation was all about, ending superstitions like those about Mary?" His mouth dropped when I showed him the passages. I am sure many of today's Evangelicals, especially of the Calvinist lineage, would have the same reaction.
Witnessing the continued implosion of the Anglicans and the ELCA over matters of Christian morality, I am intrigued by the way present circumstances have inspired renewed consideration of tradition, authority and obedience.
As I wrote a few months ago ("On the troubles within the ELCA" American Catholic September 7, 2009): "What is interesting, at least from this Catholic perspective, is the extent to which the critics of recent decisions recognize the seeds of their present troubles woven into the very fabric of their tradition."
In a recent post to First Things' "On the Square", Rusty Reno described the crisis of those experiencing "the agony of mainline Protestantism" thus:
One either recommits oneself to the troubled world of mainline Protestantism with articulate criticisms, but also with a spirit of sacrifice, as he so powerfully evokes. Or one stumbles forward-who can see in advance by what uncertain steps?-and abandons oneself, not to "orthodoxy" or "true doctrine" or "good theology," but to the tender care of Mother Church.
As Joe Carter (First Things) noted, as with the Anglicans, so a faction of Lutherans have chosen a third route — forming a new Lutheran church body separate from the Evangelical Lutheran Church in America.
Meanwhile, it appears that the homosexuality debate is fanning faculty and student protests at Calvin College — the furor instigated by a memo reminding faculty that they were bound to the confessional documents of the Christian Reformed Church: Continue reading →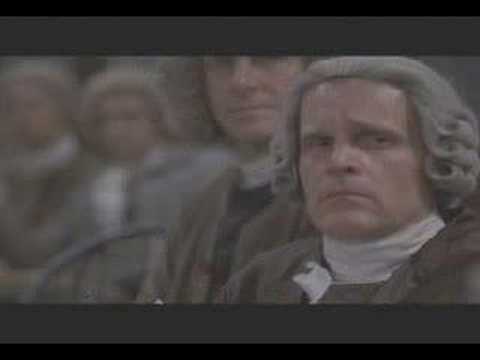 John Adams, second President of these United States, was a man of very firm convictions.   Once he decided to support a cause, most notably American independence, nothing on this Earth could convince him to change his mind.  In regard to religion he was raised a Congregationalist.  Although described as a Unitarian, I find the evidence ambiguous in his writings and I suspect he remained at heart a fairly conventional Protestant.  As such he was unsympathetic to the Catholic faith by heredity, creed and conviction.  However, he did attend Mass on occasion, and his writings about these visits show attraction mixed with repulsion.
On October 9, 1774 Adams and George Washington attended a Catholic chapel in Philadelphia during the First Continental Congress.  He reported his thoughts about the visit to his wife and constant correspondent Abigail:
"This afternoon, led by Curiosity and good Company I strolled away to Mother Church, or rather Grandmother Church, I mean the Romish Chapel. Heard a good, short, moral Essay upon the Duty of Parents to their Children, founded in justice and Charity, to take care of their Interests temporal and spiritual.
This afternoon's entertainment was to me most awful (Adams here means awe-inspiring and not the more colloquial use of the term common in our time.) and affecting. The poor wretches fingering their beads, chanting Latin, not a word of which they understood, their Pater Nosters and Ave Marias. Their holy water– their crossing themselves perpetually– their bowing to the name of Jesus wherever they hear it– their bowings, and kneelings, and genuflections before the altar. The dress of the priest was rich with lace– his pulpit was velvet and gold. The altar piece was very rich– little images and crucifixes about– wax candles lighted up. But how shall I describe the picture of our Saviour in a frame of marble over the altar, at full length, upon the cross in the agonies, and the blood dropping and streaming from his wounds.
The music consisting of an organ, and a Choir of singers, went all the afternoon, excepting sermon Time, and the Assembly chanted– most sweetly and exquisitely.
Here is everything which can lay hold of the eye, ear, and imagination. Everything which can charm and bewitch the simple and the ignorant. I wonder how Luther ever broke the spell."
All too often I hear the familiar refrain; "how can the tide be turning if the world seems to be increasingly at odds with the Church?"  The skeptics of my book, The Tide is Turning Toward Catholicism refer to many newsworthy stories in their query of my thesis. They point to elected officials and government czars seemingly supportive of ideas that not only challenge the core of Catholic beliefs, but conventional societal beliefs about the family as well. The skeptics of my thesis point to the latest Hollywood Cause Célèbre which involves rallying around a man (famed Film Director Roman Polanski) who has admitted to raping a child of 13 when he was 45 years old. They also point to the outright mockery of the Catholic Church at the hands of the entertainment industry by those who believe the tide is turning in their direction. In addition, the skeptics of my thesis also point to stories that barely get any media attention such as an abortion clinic who prominently displayed a crucifix in their window with Jesus replaced on the cross by a chicken. Another sign in the window of the same abortion clinic read "no job too big or too small." How could the tide be turning if this is what we see and don't see on television news, the morning paper or on the internet they asked? Thankfully, there are many reasons that tide is turning, and we need to look no further than the young to understand why.
Keep in mind that while the tide is turning for the Church, it is turning in the wrong direction for for the world. The Church is the only one who can save the world and it is something which has already been done many times in history, which is why the enemies of the Church are so upset. If the enemies of religion would be as kind to us as they are toward the liberal mainline Protestant churches, one would have cause to be worried. However unlike the mainline Protestant churches, the Catholic Church's numbers are not in a free fall and vocation numbers are on the increase.
I attended a Lutheran (ELCA) college, where I majored in theology and philosophy. Much of my junior and senior year, however, were spent engaged in study of Catholic teaching (thanks to the fortunate discovery of Dorothy Day and Cardinal Ratzinger), culminating in my conversion.
In much the same manner as my familial background leads me, even as a convert, to take an interest in Mennonite affairs, I try to stay abreast of Lutheran matters and Lutheran-Catholic relations.
News of late has made for rather grim reading.
Orientalium Ecclesiarum (Decree on the Eastern Catholic Churches) truly deserves more attention, as it remains vital to the self-understanding of the Catholic Church and for the prospect of Christian ecumenism in general.
Eastern Catholics are non-Latin Rite Christians who, at some point in the last thousand years, entered into communion with Bishop of Rome—though technically, some like the Italo-Albanian and Maronite churches, may have never left that communion. These Christians of the East are many, part of several churches, in communion with the Roman church. It is often forgotten that the Catholic Church, founded on the See of Peter, is a communion of twenty-two churches.
These Eastern-rite churches are significant to any real ecclesiology because their Catholic reality—their theological tradition, liturgy, spirituality, discipline, and customs—does not derive from Western influence. As a matter of fact, their Catholicism has its own apostolic foundations as old as, or even older than, those of Rome itself. Therefore, the way the Roman church understands its relationship to Eastern churches and the way in which it lives out that understanding is a clear marker to the shape a reunified Church will take in the future. Continue reading →