Pro-Life
Just recently, Arizona joined Kansas, North Carolina, and Texas in cutting off all funding to Planned Parenthood. For Governor Brewer, it is a simple matter of "common sense", respecting the repeated desire of the majority of Americans to be exempt from funding abortion with their tax dollars. For pro-life advocates, it is about scoring another direct hit against the largest symbol of "abortion rights" in the United States. Here is how Planned Parenthood sees it, however:
"Many in the legislature will never know what it's like to feel a lump in their breast and have to worry about the cost of a doctor's visit," said Bryan Howard, president and chief executive of Planned Parenthood Arizona.

"This is the reality with which many Arizona women are faced, at the hands of a legislature determined to reduce access to prevention care while pursuing its ideological political agenda," he said.
Why should those of us who are pro-life deny it? We are pursuing an ideological political agenda, as of course are they. Our ideology, if you really want to call it that (and I typically don't), is that every human being has a right to life from the moment of conception until the moment of death. Some of us differ on whether or not, or under what circumstances, a human life may be justly taken, but we all agree that the killing of innocent children inside or outside of the womb is a grave moral evil and cannot be tolerated by a just and humane society. This is an "ideological political agenda" worth pursuing, and I'm not ashamed to say so. Without respect for human life, society will degenerate into something more cruel and callous than the jungle.
Anti-Catholic bigot, homosexual activist and Episcopalian minister Harry Knox is back in the news.  Long time readers of this blog will recall that President Obama appointed Knox to his Advisory Council on Faith Based and Neighborhood Partnerships back in 2009.  Go here to read a post on that appointment.
Knox has recently become the head of  the Religious Coalition for Reproductive Choice.  He has a post on the Huffington Post explaining why religious people should support the slaying of children in the womb, a post which proves, once again the truth of Socrates' adage that an unexamined life is a tragedy.  Christopher Johnson, a non-Catholic  former Episcopalian, and a man who has taken up the cudgels so frequently in defense of the Church that I have designated him Defender of the Faith, gives one of the arguments of Mr. Knox a proper response:
A homosexual Episcopal minister named Harry Knox is set to become Führer und Reichskanzler of the national organization of Einsatzgruppen America the Religious Coalition for Reproductive Choice and while explaining why "religious" people should be celebrating abortion rather than mourning it, wrote one of the five or six stupidest statements I've read this year:
The harsh and condemning judgments of some religious leaders are troubling. They suggest that abortion is morally wrong, while ignoring the fact that miscarriages and unwanted pregnancies are common.  They deny that God is present in these times
Let's take that one out for a spin, shall we?
(1) The harsh and condemning judgments about dropping a nuclear bomb on Tehran are troubling.  They suggest that the complete annihilation of Iran's largest city and every single man, woman and child in it is morally wrong while ignoring the fact that hurricanes and tsunamis regularly destroy cities and kill innocent people.  They deny that God is present in these times
(2) The harsh and condemning judgments about setting off that bomb in a crowded city are troubling.  They suggest that terrorism is morally wrong while ignoring the fact that volcanoes regularly explode, killing thousands of people all over the world.  They deny that God is present in these times.
(3) Your harsh and condemning judgments about me boinking your wife are troubling.  They suggest that adultery is morally wrong while ignoring the fact that more men and women have sex outside of so-called "wedlock" than in it.  They deny that God is present in these times. Continue reading →
Over at the Huffington Post a diarist blogging under the name Sasharusa helps explain why babies in utero are treated like so much disposable garbage by so many people in our society:
This is Giardia lamblia. It is an intestinal parasite that is very common and is a pain in the ass to rid of.
I know, I know, it doesn't look like a precious little baby. I know. It looks scary, and gross, and looks like it will bite your head off. But we're not talking about looks. Who knows, maybe aliens think we're ugly as f–k but this parasite would be labeled Miss Universe in their culture? Who knows! Anyway, I am sorry for plastering this as the very first thing in my diary. Consider this just like those exploited photos of miscarried late term fetuses that Anti- Choicers parade around.
Anyways, back to the whole fetus= parasite thing. That is how I see them. I don't see them as cute and cuddly. I see them as terrifying and scary. I see pregnancy the same way. Continue reading →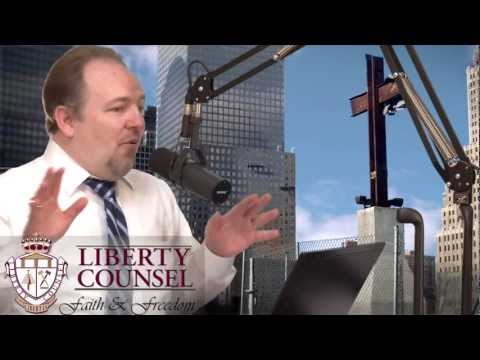 Hattip to Tina Korbe at Hot Air.  The complete contempt that the Obama administration has for the civil liberties of Americans was exemplified in its prosecution of pro-life protestor Mary Pine.
The Justice Department has dropped an appeal in Holder v. Pine against pro-life sidewalk counselor Mary "Susan" Pine, who is represented by the civil rights firm Liberty Counsel. The DOJ has agreed to pay $120,000 for this frivolous lawsuit which, as the evidence indicated, was intended to intimidate Ms. Pine and send a shot over the bow of pro-lifers around the country.
Mr. Holder unsuccessfully sought thousands of dollars in fines against Ms. Pine, as well as a permanent injunction banning her from counseling women on the public sidewalk outside the Presidential Women's Center (PWC) abortion mill (or any other "reproductive services" clinic).
After 18 months of litigation, the DOJ's case was thrown out of federal court, and the department was chastised in a scathing ruling by U.S. District Judge Kenneth Ryskamp for filing a case with no evidence.
Judge Ryskamp wrote that Holder's complete failure to present any evidence of wrongdoing, coupled with the DOJ's cozy relationship with PWC and their apparent joint decision to destroy video surveillance footage of the alleged "obstruction," caused the court to suspect a conspiracy at the highest levels of the Obama administration. "The Court is at a loss as to why the Government chose to prosecute this particular case in the first place," wrote Judge Ryskamp. "The Court can only wonder whether this action was the product of a concerted effort between the Government and PWC, which began well before the date of the incident at issue, to quell Ms. Pine's activities rather than to vindicate the rights of those allegedly aggrieved by Ms. Pine's conduct." Continue reading →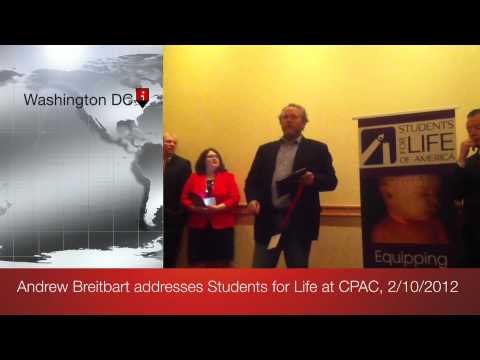 At C-PAC on January 10, 2012 Andrew Breitbart, who died today, explains how he became pro-life.  Brietbart always understood that the struggle over the culture was more important that the political battles, although they were very important.  Adopted as an infant, and the father of four kids, Breitbart understood how the pro-abort dominance of the arts and entertainment helps sustain the pro-abort cause.  Something for us all to remember and to work to change.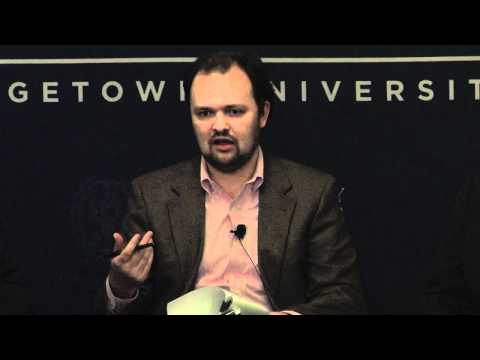 I can easily imagine from their comments how much it galls the typical readers of the New York Times to read opinion pieces by Ross Douthat.  Today he explains to his reader the extreme media bias on the issue of abortion.
Conservative complaints about media bias are sometimes overdrawn. But on the abortion issue, the press's prejudices are often absolute, its biases blatant and its blinders impenetrable. In many newsrooms and television studios across the country, Planned Parenthood is regarded as the equivalent of, well, the Komen foundation: an apolitical, high-minded and humanitarian institution whose work no rational person — and certainly no self-respecting woman — could possibly question or oppose.  
Go here to read the rest.    To pro-lifers this is very old news.  It is hysterically funny however to read the comments to his piece: Continue reading →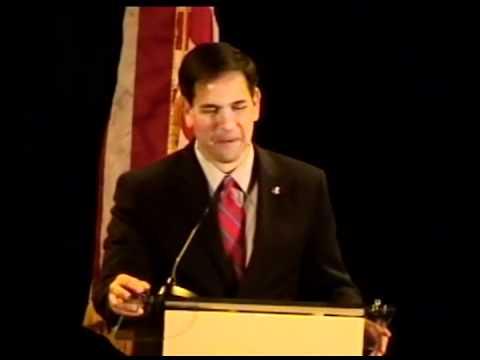 This is an issue that, especially for those that enter the public arena and refuse to leave our faith behind, speaks to more than just our politics. It speaks to what we want to do with the opportunity we have been given in our life, to serve and to glorify our Creator.
                                                                         Marco Rubio
Video of Senator Marco Rubio (R. Fla.) delivering the keynote address on February 1, 2012 at the Susan B. Anthony List Fifth Gala for Life.  If  Rubio isn't the Republican vice-president nominee this year, despite his disclaiming of any interest in the office, the GOP leadership is crazy.  He is eloquent, youthful and a brilliant defender of life.  His nomination will seal up Florida, gain the Republicans a larger share of the Hispanic vote than they have ever garnered before in a Presidential race and bring enthusiasm and hope to the ranks of social conservative voters.
Tying this speech in with his sponsorship of  the Religious Freedom Restoration Act of 2012 this week, Rubio is clearly signaling that if he is placed on the ticket he intends to champion issues near and dear to the hearts of Catholics.  Obama decides to use the Church as a punching bag in order to appease his leftist base.  Rubio counters with a defense of the Church and Life to draw a stark contrast.  Obama will soon have his Yamamoto moment:
Continue reading →
The bias of most of the main stream media is well known, but a current example by CBS is beyond parody:
Over the years, pro-life activists have come to accept that the media isn't interested in their annual March for Life in Washington D.C. protesting abortion, even though it routinely attracts hundreds of thousands of people. But this year's photo slideshow hosted on a local Washington CBS website has activists scratching their heads in disbelief.
 Currently the March for Life slideshow of seven photos features protesters who actually support abortion; none of the photos actually feature pro-life marchers. Continue reading →
Hattip to Pat Archbold at Creative Minority Report for the video gently lampooning the twisted language employed by pro-aborts to attempt to deny the humanity of the unborn.
George Orwell, who literally wrote the book on how totalitarian regimes use language to serve evil ends, would have loved the video.  Although an agnostic and an opponent of the Catholic Church, Orwell was also not only an enemy of the dishonest use of euphemisms, but also an ardent foe of abortion.  This section of his novel Keep the Aspidistra Flying (1936) indicates how deeply he hated abortion: Continue reading →