Pro-Abortion
Politicians make asinine statements all the time, but sometimes there is one that stands out from the crowd for its sheer cluelessness, duplicity and perversity.  Patrick Kennedy, yep, one of Teddy Kennedy's sons, a Democrat member of Congress from Rhode Island, lambasted the Church for not falling into line behind ObamaCare. Here is a statement that he made  to CNSNews.
"I can't understand for the life of me how the Catholic Church could be against the biggest social justice issue of our time, where the very dignity of the human person is being respected by the fact that we're caring and giving health care to the human person–that right now we have 50 million people who are uninsured," Kennedy told CNSNews.com when asked about a letter the U.S. Conference of Catholic Bishops (USCCB) had sent to members of Congress stating the bishops' position on abortion funding in the health-care bill.
Father Roger J. Landry concludes here that the strategy of the Church to privately persuade Catholic pro-abort pols of the errors of their ways has been a flat failure.
"Let us take an honest look at the numbers. When we survey the long list of pro-choice Catholic politicians from both parties — Kennedy, Kerry, Giuliani, Schwarzenegger, Daschle, Dodd, Durbin, Leahy, Mikulski, Pelosi, Delahunt, Capuano, Markey, McGovern, Meehan, Granholm, Sebelius, Pataki, Richardson, Cellucci, Cuomo, and Biden to name just a handful — is it possible to say that the strategy has worked with any of them? Over the last three and a half decades, can we point to even one success story?
Another way to assess the results of the education-alone strategy is to measure the direction that pro-choice Catholic politicians have moved over the years. Even if they haven't experienced a total conversion, have they moved closer toward limiting abortions or toward making abortions easier to access? The facts show that the vast majority of personally opposed, publicly pro-choice Catholic legislators have become far less personally opposed and far more publicly in favor over the duration of the strategy.
In the initial years after Roe versus Wade, publicly pro-choice Catholic legislators generally whispered their support for abortion. They displayed a palpable sense of shame, letting their abortion position out just enough so that it wouldn't cost them the votes of abortion supporters. That discomfort began to dissipate after Governor Mario Cuomo's 1984 pro-choice defense at Notre Dame. We've now come to a situation when pro-choice Catholic legislators vigorously curry the favor of Planned Parenthood, NARAL Pro-Choice America and Emily's List;  scores of Catholics in Congress have the chutzpah to co-sponsor the Freedom of Choice Act, which would eliminate almost every abortion restriction ever passed at the federal or state level; and 16 out of 25 Catholic Senators vote against conscience protections to prevent their fellow Catholics in the medical field from being forced to participate in abortions and sterilizations."
Father Landry ends by suggesting a new approach, perhaps we might call it the "more than hot air" approach:
"Jesus spoke of a different way in the Gospel (Mt 18:15-18). It involves not merely general educational statements that we hope offenders will apply to themselves in conscience, but the type of one-on-one instruction traditionally called fraternal correction. If that fails, and fails repeatedly, Jesus enjoined us to regard the offender as someone who no longer belongs to the community, who is no longer a member in good standing. This may seem harsh, but we should remember that Jesus always seeks nothing but the best for his Church and for individual sinners, even obstinate sinners. Implied in Jesus' strategy is that education involves not just information, but formation, and that you can't form disciples without discipline. This is a lesson that, after four decades of the undeniable failure of another approach, we need to consider anew."
Hattip to my friend the ever vigilant Jay Anderson at Pro Ecclesia,  and please go here to read his comments on Father Landry's argument.
Hattip to the ever alert Jay Anderson of Pro-Ecclesia.  Because Congressman Tim Ryan (D.Ohio) abandoned his pro-life position, Democrats for Life of America removed him from their national advisory board. This news story demonstrates Ryan's transition to voting pro-abortion.  Interesting that Ryan abandoned the pro-life cause after the Democrats took control of the House in 2006.  I suspect that he is ambitious and decided that in a House run by pro-abort Democrats being a pro-lifer was not a career enhancer.  At any rate, as a pro-life Conservative Republican I salute the action of these pro-life Democrats.  It would have been better to boot him in 2008 after his changed voting record had become clear, but the main thing is that Democrats for Life have acted now.  Their action lends credence to the seriousness with which they view the issue of abortion.  Bravo!  (Two articles praising Democrats in two days by me?  I'm going soft!)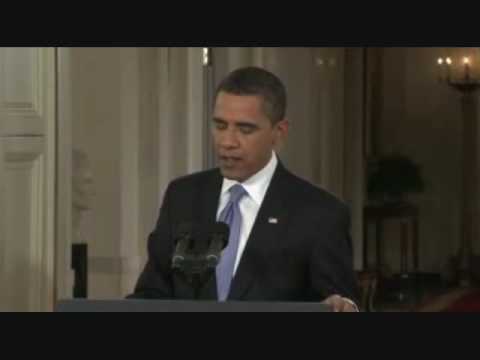 Probably the most interesting part of the press conference last night.  Ed Morrissey at Hot Air has an interesting take on it.  Obama remains an ardent pro-abort, but I think he is beginning to realize that while that position may be popular among a majority of his supporters, it is much less so with the country at large.  I daresay all the upcry over Obama Day at Notre Dame is also having an impact upon him.  The Freedom of Choice Act* has tumbled from the "first thing he would sign" at the White House to "not the highest legislative priority".   The message to the pro-life movement is clear.  Stay active, stay noisy and expose every pro-abort move that this administration makes to the public at large.  Obama is paying attention and he will back down in the face of determined opposition.
 * FOCA
Hattip to The Catholic Key Blog. Comments of President Obama at the Holocaust Memorial in Washington.
"It is the grimmest of ironies that one of the most savage, barbaric acts of evil in history began in one of the most modernized societies of its time, where so many markers of human progress became tools of human depravity: science that can heal used to kill; education that can enlighten used to rationalize away basic moral impulses; the bureaucracy that sustains modern life used as the machinery of mass death — a ruthless, chillingly efficient system where many were responsible for the killing, but few got actual blood on their hands."
Today, Tuesday, April 1, 2009, Gov. Kathleen Sebelius appeared before the Senate HELP Cmte. for the first of two hearings to be confirmed as the United States Secretary of Health and Human Services.
Sebelius, as we all know, is a pro-choice Catholic who's position on sanctity of life issues is troublesome given her future task, if confirmed, to lead in a health care reform overhaul that is expected to be introduced and brought to a congressional vote at the end of this year.
Hattip to commenter cminor.  Send a letter to our pro-abort President and let him know what you think of abortion.  The color of the envelope?  Why red of course.  This is a purely symbolic gesture, but as we approach the Passiontide let us remind Obama that it is time to end the shedding of innocent blood in abortion clinics throughout the US.
Bishop John M. D'Arcy of the Diocese of Fort Wayne-South Bend is planning to release a statement tomorrow, March 24, on the intention of Notre Dame to pay homage to Obama on May 17, 2009.  Assuming that the Bishop condemns the visit this would not be his first clash with the powers that be at Notre Dame.  On February 24, 2004 he condemned the annual presentation at Notre Dame of the Vagina Monologues.  Notre Dame ignored him, and, under President Jenkins, the department sponsored Vagina Monologues performances continue, with his about face on that issue indicating Jenkins' complete lack of willingness to defend Catholic teaching and morality.  On  April 30, 2006 and again on March 2008, Bishop D'Arcy released statements about the ongoing performances of the Vagina Monologues, highlighting his intense disagreement with Jenkins.    The Bishop has also condemned the "Queer Film Festival" sponsored by Notre Dame.
The pic above certainly sums up the damage this scandal by the president of the University of Notre Dame Fr. John Jenkins has caused.
Seems the President of Notre Dame, Fr. John Jenkins, comprimised everything he lives and stands for for a few pieces of silver.
The University of Notre Dame announced today that President Obama will be the commencement speaker this year and receive an honorary degree.  Leaving aside the spit in the face insult to Our Lady that this invitation constitutes, the bishops of this country* spoke on this point in 2004:
"The Catholic community and Catholic institutions should not honor those who act in defiance of our fundamental moral principles. They should not be given awards, honors or platforms which would suggest support for their actions."
I hope that faithful Catholics will do their best to persuade the administration of Notre Dame to rethink this invitation.  If the administration does not, I hope that enough faithful Catholics show up on May 17, 2009 to make the protest of the speech a memorable one.  I also trust that the students of Notre Dame who take their Faith seriously will also find means during the speech to express their displeasure over the choice of speaker known.
* United States Conference of Catholic Bishops or USCCB
Update I:  As usual, Ed Morrissey at Hot Air is on top of the story.
Update II:  Totus chimes in.
Update III:  For those of you who would like to make your views known to the president of Notre Dame, click here.
Update IV:  Good.  There is a website set up to organize resistance to this invitation.
Tiller the Killer, a/k/a George Tiller, the foremost practitioner in this country of the disguised infanticide known as late term abortion, goes on trial today.  The attorneys for Tiller the Killer have attempted every legal maneuver known to man to stop this trial, but to no avail.
You've done so much to advance the Culture of Death.
(Biretta Tip: St. John's Valdosta Blog)