President Ronald Reagan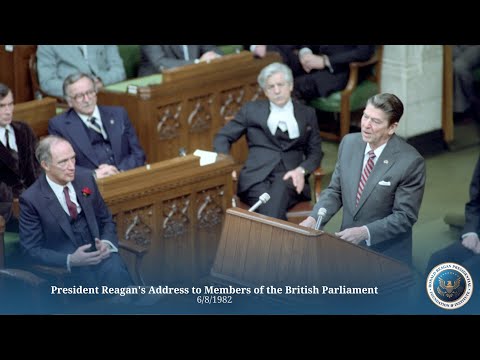 Today is my 56th birthday.  I share my birthday with the greatest president of my lifetime:  Ronald Reagan.  I thought he was a great president at the time, but as the years roll by my admiration for President Reagan only grows.  The above video is the famous "ash-heap of history" speech to the British parliament on June 8, 1982.  Widely derided by critics at the time, Reagan's speech was eerily prophetic as the Soviet Union swiftly landed on the ash-head of history.  Here is the text of the speech:
Continue reading →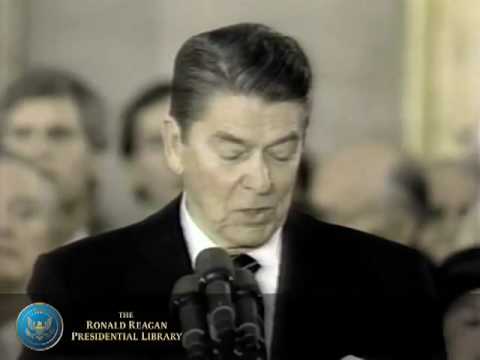 For some reason on this day I am thinking of a Presidential second inaugural, that of Ronald Reagan!  He summed up the theme of his Presidency well with this observation in his speech that day:
Four years ago, I spoke to you of a new beginning and we have accomplished that. But in another sense, our new beginning is a continuation of that beginning created two centuries ago when, for the first time in history, government, the people said, was not our master, it is our servant; its only power that which we the people allow it to have.
That system has never failed us, but, for a time, we failed the system. We asked things of government that government was not equipped to give. We yielded authority to the National Government that properly belonged to States or to local governments or to the people themselves. 
Here is the text of the speech of President Reagan 28 years ago:
Continue reading →
There are millions of heroes and heroines who helped bring about the downfall of Communism in Europe in the Twentieth Century, from those who acted in the full spotlight of History, to those who are known only to God and who were executed for their resistance and tossed into mass graves.  At the very top of the list History will record two names:  Pope John Paul II and President Ronald Reagan.  The people of a free Poland remember them:
GDANSK, Poland (AP) — Polish officials unveiled a statue of former President Ronald Reagan and Pope John Paul II on Saturday, honoring two men widely credited in this Eastern European country with helping to topple communism 23 years ago.
The statue was unveiled in Gdansk, the birthplace of Lech Walesa's Solidarity movement, in the presence of about 120 former Solidarity activists, many of whom were imprisoned in the 1980s for their roles in organizing or taking part in strikes against the communist regime.
The bronze statue, erected in the lush seaside President Ronald Reagan Park, is a slightly larger-than-life rendering of the two late leaders. It was inspired by an Associated Press photograph taken in 1987 on John Paul's second pontifical visit to the U.S.
The photographer who took the picture, Scott Stewart, expressed satisfaction that one of his pictures has helped immortalize "a wonderful moment in time between the two men."
"In the news business we're used to having a moment and then that moment being gone a day later. This is one image that should last for a good long time," Stewart, who now teaches graphic design and photography at Greenville Technical College in South Carolina, said in a phone interview a day before the ceremony. "I'm happy that it's been chosen as the seminal moment to represent the relationship of these two people to Poland."
Reagan and John Paul shared a conviction that communism was a moral evil, not just a bad economic system. And Lech Walesa, founder of the Solidarity movement that led the anti-communist struggle in Poland, has often paid homage to both men and told the AP in a recent interview that he deeply respected Reagan.
"Reagan should have a monument in every city," Walesa said. Continue reading →
Twenty-five years ago, on June 12, 1987, President Ronald Reagan challenged Premier Gorbachev of the Soviet Union to tear down the Berlin Wall.  Just a little over two years later, on November 9, 1989, the Berlin Wall did fall, a casualty of the movement for liberation in Eastern Europe, started by Solidarity in Poland, and supported throughout the Eighties by President Reagan and Pope John Paul II.  Those who were not alive during those days, or too young to remember the events, I suspect have a difficult time understanding how truly miraculous those events seemed to those of us who grew up during the Cold War.  The Soviet Union and the Communist regimes it imposed in Eastern Europe seemed like a permanent fixture of the World.  Reagan however, never believed this.
In a speech in the House of Commons on June 8, 1982, President Reagan made this startling prediction:
Since 1917 the Soviet Union has given covert political training and assistance to Marxist-Leninists in many countries. Of course, it also has promoted the use of violence and subversion by these same forces. Over the past several decades, West European and other Social Democrats, Christian Democrats, and leaders have offered open assistance to fraternal, political, and social institutions to bring about peaceful and democratic progress. Appropriately, for a vigorous new democracy, the Federal Republic of Germany's political foundations have become a major force in this effort.
We in America now intend to take additional steps, as many of our allies have already done, toward realizing this same goal. The chairmen and other leaders of the national Republican and Democratic Party organizations are initiating a study with the bipartisan American political foundation to determine how the United States can best contribute as a nation to the global campaign for democracy now gathering force. They will have the cooperation of congressional leaders of both parties, along with representatives of business, labor, and other major institutions in our society. I look forward to receiving their recommendations and to working with these institutions and the Congress in the common task of strengthening democracy throughout the world.
It is time that we committed ourselves as a nation — in both the pubic and private sectors — to assisting democratic development.
We plan to consult with leaders of other nations as well. There is a proposal before the Council of Europe to invite parliamentarians from democratic countries to a meeting next year in Strasbourg. That prestigious gathering could consider ways to help democratic political movements.
This November in Washington there will take place an international meeting on free elections. And next spring there will be a conference of world authorities on constitutionalism and self-government hosted by the Chief Justice of the United States. Authorities from a number of developing and developed countries — judges, philosophers, and politicians with practical experience — have agreed to explore how to turn principle into practice and further the rule of law.
At the same time, we invite the Soviet Union to consider with us how the competition of ideas and values — which it is committed to support — can be conducted on a peaceful and reciprocal basis. For example, I am prepared to offer President Brezhnev an opportunity to speak to the American people on our television if he will allow me the same opportunity with the Soviet people. We also suggest that panels of our newsmen periodically appear on each other's television to discuss major events.
Now, I don't wish to sound overly optimistic, yet the Soviet Union is not immune from the reality of what is going on in the world. It has happened in the past — a small ruling elite either mistakenly attempts to ease domestic unrest through greater repression and foreign adventure, or it chooses a wiser course. It begins to allow its people a voice in their own destiny. Even if this latter process is not realized soon, I believe the renewed strength of the democratic movement, complemented by a global campaign for freedom, will strengthen the prospects for arms control and a world at peace.
I have discussed on other occasions, including my address on May 9, the elements of Western policies toward the Soviet Union to safeguard our interests and protect the peace. What I am describing now is a plan and a hope for the long term — the march of freedom and democracy which will leave Marxism-Leninism on the ash-heap of history, as it has left other tyrannies which stifle the freedom and muzzle the self-expression of the people.
Run of the mill politicians deal with crises as best they can, usually on an ad hoc basis.  True statesmen have a vision that allows them to shape the future, and to leave the World better than they found it.  Reagan was a statesman.  Here is the text of his Tear Down This Wall speech: Continue reading →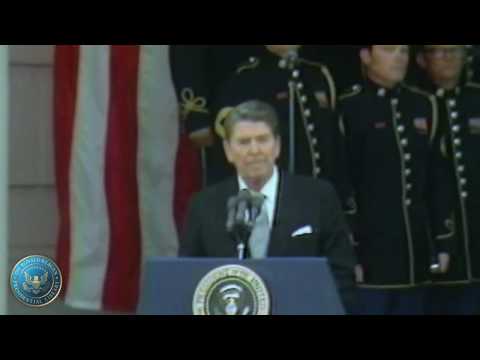 Freedom is not only a gift, but also a summons to personal responsibility. Americans know this from experience – almost every town in this country has its monuments honoring those who sacrificed their lives in defense of freedom, both at home and abroad.
                                        Pope Benedict XVI
My fellow Americans, Memorial Day is a day of ceremonies and speeches. Throughout America today, we honor the dead of our wars. We recall their valor and their sacrifices. We remember they gave their lives so that others might live.
We're also gathered here for a special event—the national funeral for an unknown soldier who will today join the heroes of three other wars.
When he spoke at a ceremony at Gettysburg in 1863, President Lincoln reminded us that through their deeds, the dead had spoken more eloquently for themselves than any of the living ever could, and that we living could only honor them by rededicating ourselves to the cause for which they so willingly gave a last full measure of devotion.
Well, this is especially so today, for in our minds and hearts is the memory of Vietnam and all that that conflict meant for those who sacrificed on the field of battle and for their loved ones who suffered here at home.
Not long ago, when a memorial was dedicated here in Washington to our Vietnam veterans, the events surrounding that dedication were a stirring reminder of America's resilience, of how our nation could learn and grow and transcend the tragedies of the past.
During the dedication ceremonies, the rolls of those who died and are still missing were read for three days in a candlelight ceremony at the National Cathedral. And the veterans of Vietnam who were never welcomed home with speeches and bands, but who were never defeated in battle and were heroes as surely as any who have ever fought in a noble cause, staged their own parade on Constitution Avenue. As America watched them—some in wheelchairs, all of them proud—there was a feeling that this nation—that as a nation we were coming together again and that we had, at long last, welcomed the boys home.
"A lot of healing went on," said one combat veteran who helped organize support for the memorial. And then there was this newspaper account that appeared after the ceremonies. I'd like to read it to you. "Yesterday, crowds returned to the Memorial. Among them was Herbie Petit, a machinist and former marine from New Orleans. 'Last night,' he said, standing near the wall, 'I went out to dinner with some other ex-marines. There was also a group of college students in the restaurant. We started talking to each other. And before we left, they stood up and cheered us. The whole week,' Petit said, his eyes red, 'it was worth it just for that.'"
It has been worth it. We Americans have learned to listen to each other and to trust each other again. We've learned that government owes the people an explanation and needs their support for its actions at home and abroad. And we have learned, and I pray this time for good, the most valuable lesson of all—the preciousness of human freedom. Continue reading →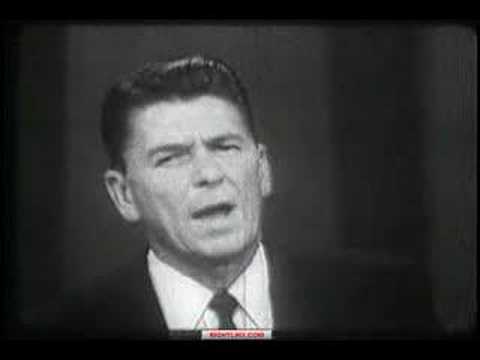 We in America have learned bitter lessons from two world wars: It is better to be here ready to protect the peace, than to take blind shelter across the sea, rushing to respond only after freedom is lost. We've learned that isolationism never was and never will be an acceptable response to tyrannical governments with an expansionist intent.
Ronald Reagan
Ditto.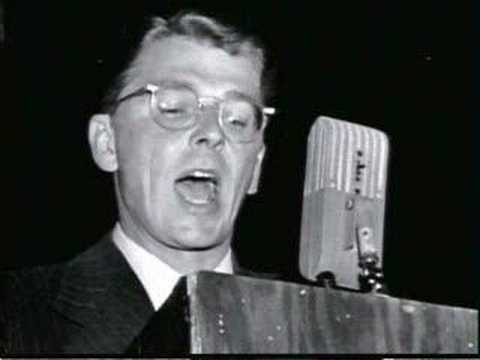 Freedom is never more than one generation away from extinction. We didn't pass it to our children in the bloodstream. It must be fought for, protected, and handed on for them to do the same, or one day we will spend our sunset years telling our children and our children's children what it was once like in the United States where men were free.
Ronald Reagan
Today is my 55th birthday and the 101rst birthday of Ronald Reagan, the man who gets my vote as the best president of my life time.  As the video clip above indicates, Reagan was a liberal Democrat for the first half of his life.  He often referred to this, sometimes humorously: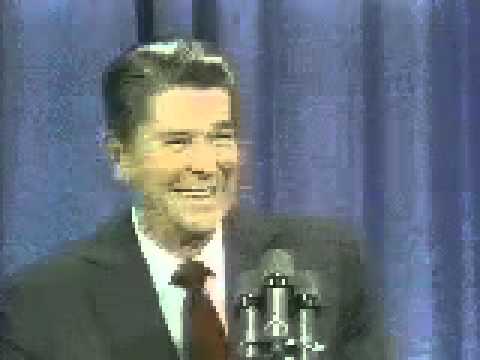 Sometimes seriously:
The classic liberal used to be the man who believed the individual was, and should be forever, the master of his destiny. That is now the conservative position. The liberal used to believe in freedom under law. He now takes the ancient feudal position that power is everything. He believes in a stronger and stronger central government, in the philosophy that control is better than freedom. The conservative now quotes Thomas Paine, a long-time refuge of the liberals: 'Government is a necessary evil; let us have as little of it as possible.'
I of course lived during the time of Reagan's life after he had become a conservative.  When I was seven years old I watched on television a speech, often referred to by Reagan biographers as The Speech, that Reagan gave in support of Barry Goldwater.  That speech led me to become a conservative.  The clip below is from a section of the speech that I have recalled all of my life:
Continue reading →