President Obama
I did not watch President Obama's speech last night, nor any of the memorial service turned pep rally, but I have read the transcript.  After reading through it I have to concur with the majority sentiment that this was a very good if not excellent speech. In fact this is perhaps the best one the President has given, granted that is a pretty low bar.  President Obama's speeches can most charitably be described as vague, but this one contained a very clear message and was very appropriate for the occasion.  I was struck in particular by this passage:
You see, when a tragedy like this strikes, it is part of our nature to demand explanations, to try to impose some order on the chaos, and make sense out of that which seems senseless.  Already we've seen a national conversation commence, not only about the motivations behind these killings, but about everything from the merits of gun safety laws to the adequacy of our mental health systems. And much of this process, of debating what might be done to prevent such tragedies in the future, is an essential ingredient in our exercise of self-government.

But at a time when our discourse has become so sharply polarized – at a time when we are far too eager to lay the blame for all that ails the world at the feet of those who happen to think differently than we do – it's important for us to pause for a moment and make sure that we're talking with each other in a way that heals, not a way that wounds.

Scripture tells us that there is evil in the world, and that terrible things happen for reasons that defy human understanding. In the words of Job, 'when I looked for light, then came darkness.' Bad things happen, and we have to guard against simple explanations in the aftermath.

For the truth is that none of us can know exactly what triggered this vicious attack. None of us can know with any certainty what might have stopped these shots from being fired, or what thoughts lurked in the inner recesses of a violent man's mind.
Naturally there's been some blowback by some conservatives horrified at the notion that anything President Obama has done or said could ever garner praise by fellow conservatives.  For example, just read the comments to any number of blog postings on the Corner last night.  Almost all of the NRO contributors praised the speech, drawing the ire of a large band of followers (though not all, certainly).  I'm not really sure what more the President could have said.  If there's any criticism due this speech it is that it does seem a bit over-long.  It's almost like one of those homilies where it feels like the Priest is vamping in order to hit some pre-conceived notion of how long the talk should be.  But it is foolish to have  expected the President to have delivered a full-blown attack on leftists who engaged in any "blood libel."  The tenor of his remarks were certainly appropriate for the occasion.
I don't think that President Obama's political career is suddenly going to be rejuvenated because some right-wing pundits like one speech that he gave.  If this wasn't your cup of tea, fine.  I've found myself disliking many an Obama oration that others have drooled over, so opinions may vary.  But to me this was a speech well worth the praise it has received.
I will not tone down my rhetoric.
I will not apologize for my political views.
I will not give up my guns, or my right to purchase more.
I will not give up my right to free speech.
I will not take responsibility for the actions of a dope-smoking, devil-worshiping, Marx and Hitler-loving psychopath.
I will not take seriously anyone who blames an old political ad posted on Facebook for those actions.
I will reject as the contemptible hypocrites and cowards that they are those who refuse to acknowledge the hate and violence in the rhetoric of the left, including the violent phrases and metaphors used repeatedly by Barack Hussien Obama.
I will not listen to lectures on violence by anyone who supports increasing the coercive power of the state over the lives of American citizens, families, and communities.
I will not listen to lectures on violence by anyone who is a sycophantic apologist for the party that escalated the Vietnam War or cheered the bombing of Serbia.
I will not listen to lectures on violence and a "climate of hate" from people who have made the most horrible, violent, and threatening statements imaginable regarding Sarah Palin and her family. There is no hatred more intense in this country than the hate that leftists have for Sarah Palin.
I will not listen to lectures on violence by anyone who supports the "right" to violently dismember innocent unborn children in their mother's wombs.
I will never again listen to calls not to "rush to judgment" when a Muslim fanatic murders American citizens from anyone on the left.
I will not trade God-given, constitutionally-protected liberties for a false and futile sense of security.
I will not accept the idiotic belief that more laws, more regulations, and more police can solve problems of the human soul.
I will continue to advocate for limited government, state's rights, popular sovereignty, free markets, individual and family rights, religious liberty, and a Culture of Life.
I will not be silenced.
Who's with me?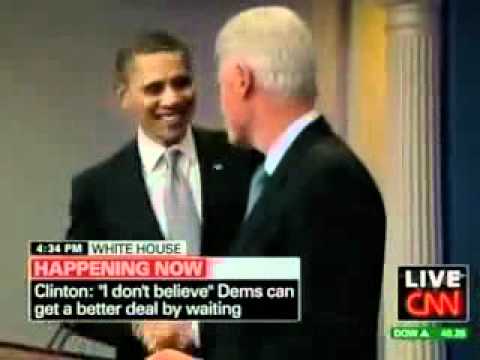 From the Internet's only reliable news source.  President Obama exits a press conference early, leaving former President Clinton in charge in order to promote a tax deal that is unpopular with most of his base.
Wait, this isn't an Onion video?  You mean President Obama really did this?
Well, I guess it's official.  The administration has descended into self-parody.
I'll leave it up to others on the blog to discuss the merits of the compromise on taxes and unemployment benefits recently reached between President Obama and Congressional Republicans.  For what it's worth, I'd probably vote for it were I a member of Congress (shudder), but I do think that the Republicans could have pushed a little harder on certain measures.
What fascinates me as a student of American history are some of the reactions, and also some of the reactions to the reactions.  First of all,  Congressional Democrats have rejected the measure in a non-binding caucus vote.  This has caused Jim Geraghty to ponder:
I understand the White House line is that today's rejection is part of the "normal process." Really? Is it normal for a majority of the president's own party to vote against deals he makes?
Normal?  No.  But I think this is a positive development in a way. Continue reading →
Picture it: Upper East Side of Manhattan, November 9, 1994.  There is a buzz throughout the halls of Regis High School, and it's not just because today is student exchange day and there will actually be girls in our school.  The previous night the Republicans had won control of the House of Representatives for the first time in 40 years, and my friends and I – little Republicans in training that we all were – were quite joyous.
First period was US History, and our teacher knows that I am certainly excited about the election.  So he writes on the board the following:
1994=1946
His point?  As was the case in 1946, the Republican victory would be short-lived.  Republican gains in 1946 were wiped out – and then some – in 1948.  On top of that, Harry Truman was re-elected.  History would repeat itself.
I scoffed at this ridiculous notion.  There was certainly no way that Slick Willy Clinton could possibly earn a second term as US President.  I had been counting the days to his 1996 electoral humiliation since roughly November 7, 1992.  Surely this was the first stage on the road to that inevitable defeat.
Fast forward to November 5, 1996.  Needless to say I was as disappointed on that night as all us Regians were at the end of that November day in senior year. (I mean come on, we're talking about a bunch of nerdy kids from an all boys school.  It took most of us a full year of college before we could properly talk to members of the opposite sex.)  Mr. Anselme was right.
But not entirely.  Though Bill Clinton had indeed won re-election, the election was not a total repeat of 1948.  The Republicans lost a few seats, but in the end they retained control of both houses of Congress – something they had not done in successive cycles since the Hoover administration.
History is informative, and we certainly should be aware of the lessons of elections past when we think about what will happen down the line.  But we should refrain from assuming that events will necessarily repeat themselves. Continue reading →
By Charles E. Rice
Fr. Norman Weslin, O.S., at the complaint of Notre Dame, was arrested in May 2009 and charged as a criminal for peacefully entering the Notre Dame campus to offer his prayer of reparation for Notre Dame's conferral of its highest honor on President Obama, the most relentlessly pro-abortion public official in the world.  The University refuses to ask the St. Joseph County prosecutor to drop the charges against Fr. Weslin and the others arrested, still known as the ND 88 although one, Linda Schmidt, died of cancer this past March.  Judge Michael P. Scopelitis, of St. Joseph Superior Court, recently issued two important orders in this case.
The first order denied the State's motion to consolidate the cases of multiple defendants.  That motion would have denied each separate defendant his right to a separate jury trial.  The order did permit consolidation of the trials of twice-charged defendants on the separate offenses with which that defendant was charged; a defendant charged, for example, with trespass and disorderly conduct would therefore not have to appear for two trials.  Judge Scopelitis also denied the prosecution's attempt to force each defendant to return to South Bend for each proceeding in the case, which would have coerced the defendants to abandon their defense.  Instead, the Judge permitted the defendants to participate by telephone in pre-trial conferences.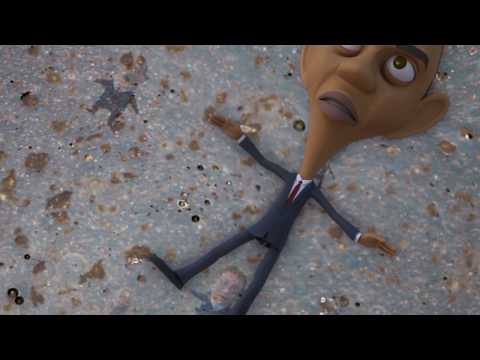 (Biretta tip: PolitiZoid)
It will come as no surprise to readers of this blog that I hold President Obama in very low regard.  I believe he is a man completely out of his depth, has shown little leadership,  has sponsored fiscal and economic policies that are disastrous for the country, and is an enthusiastic supporter of  abortion.   It may come as a surprise to some of our readers that I believe one of Obama's critics should be fired from his job.
General Stanley McChrystal is the head of US and Nato forces in Afghanistan.  He unwisely agreed to be interviewed for a story about him in Rolling Stones.  The article may be read here.  In the article the General is fairly uncomplimentary about Obama and most of the Obama officials he has encountered:
When Barack Obama entered the Oval Office, he immediately set out to deliver on his most important campaign promise on foreign policy: to refocus the war in Afghanistan on what led us to invade in the first place. "I want the American people to understand," he announced in March 2009. "We have a clear and focused goal: to disrupt, dismantle and defeat Al Qaeda in Pakistan and Afghanistan." He ordered another 21,000 troops to Kabul, the largest increase since the war began in 2001. Taking the advice of both the Pentagon and the Joint Chiefs of Staff, he also fired Gen. David McKiernan – then the U.S. and NATO commander in Afghanistan – and replaced him with a man he didn't know and had met only briefly: Gen. Stanley McChrystal. It was the first time a top general had been relieved from duty during wartime in more than 50 years, since Harry Truman fired Gen. Douglas MacArthur at the height of the Korean War.
Even though he had voted for Obama, McChrystal and his new commander in chief failed from the outset to connect. The general first encountered Obama a week after he took office, when the president met with a dozen senior military officials in a room at the Pentagon known as the Tank. According to sources familiar with the meeting, McChrystal thought Obama looked "uncomfortable and intimidated" by the roomful of military brass. Their first one-on-one meeting took place in the Oval Office four months later, after McChrystal got the Afghanistan job, and it didn't go much better. "It was a 10-minute photo op," says an adviser to McChrystal. "Obama clearly didn't know anything about him, who he was. Here's the guy who's going to run his f—–g war, but he didn't seem very engaged. The Boss was pretty disappointed." Continue reading →