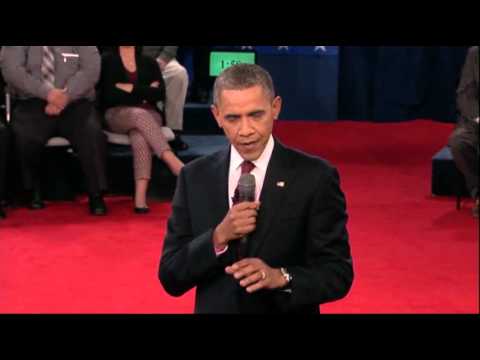 Predictably Obama was very aggressive tonight.  Less predictably perhaps, Romney was just as aggressive.  Here are some thoughts:
1.  Wired Obama-Obama came loaded with talking points and spoke rapidly throughout the debate to get them all out.
2.  Face Time-Classic political theater with Obama and Romney having a few face to face clashes during the debate.
3.  Crowley Hearts Obama-Candy Crowley attempted to come to the rescue of the President in misstating that Obama blamed the Benghazi attack on terrorism in his rose garden statement.  That is incorrect.  The operative phrase in Obama's statement:   Since our founding, the United States has been a nation that respects all faiths.  We reject all efforts to denigrate the religious beliefs of others.  But there is absolutely no justification to this type of senseless violence.  None.  The world must stand together to unequivocally reject these brutal acts.  Crowley's intervention indicated that she was not a moderator but rather an Obama partisan.
4.  Romney the Good-Romney gave another good debate performance and I expect he will do just as well in the third debate.  If Obama is hoping for Romney to stumble or commit a gaffe, I think he will wait in vain.
5.  Boxing match-Although the back and forth got a bit tiresome to me after a while, I did like the way in which both candidates talked directly at each other.  Romney did make the mistake of asking too many questions of Obama, as if he were going to get any forthright answers. →']);" class="more-link">Continue reading →