President Barack Obama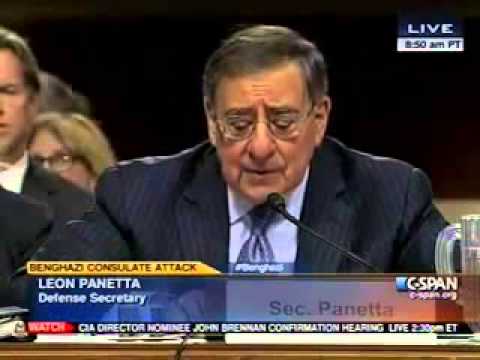 Yesterday, upon the stair,
I met a man who wasn't there
He wasn't there again today
I wish, I wish he'd go away
Hughes Mearnes
From Leon Panetta's testimony yesterday on Benghazi:
Under questioning from Sen. Kelly Ayotte (R-NH) Panetta says that President Obama knew "generally" what US military assets were deployed in the region, but did not ask for specifics. He left the strategy, according to Panetta, "up to us," meaning himself and military leadership. Panetta says that after the initial briefing, which took place at about 5 pm Washington time, he had no further communications at all with President Obama that night. The president never even called to ask how the attack was progressing. No one from the White House ever called later that night, according to Panetta, to inquire about the attack. President Obama went to bed that night not even knowing whether the Americans under assault had survived the attack. Continue reading →
Forty years ago today the Supreme Court rendered its Roe v. Wade decision. Those who believe in the sanctity of human life and long to see America embrace a culture in which innocent life is honored and protected continue to look for a day when humanity is again deemed valuable, where we cherish even those who would be born in "less than ideal circumstances." Children are our most precious resource and remain the greatest symbol of hope God has given us. This is just one reason why the annual March for Life has been such a powerful aspect of the pro-life movement. This year's event is Friday, January 25th, and once again a multitude of Americans will gather in Washington, D.C. to show their support for precious little ones.
Our Founding Fathers declared: "We hold these truths to be self-evident, that all men are created equal, that they are endowed by their Creator with certain unalienable rights, that among these are Life, Liberty, and the pursuit of Happiness." However, since 1973, millions of children have been denied the basic right upon which all the others hinge: the right to life.
Lately, President Obama has taken to boldly highlighting children in his speeches. Using kids as the backdrop for his gun control speech, the President claimed his commitment to young ones. "If there's even one life that can be saved, then we've got an obligation to try," he said. He then outlined why gutting our Second Amendment is the means by which he believes we accomplish this. Every law-abiding citizen's heart is broken when children are the target of men hell-bent on committing acts of evil, and we agree that the safety and protection of innocent life is paramount. Continue reading →
The Las Vegas Review Journal, the largest paper in Nevada, in its endorsement of Mitt Romney for President minces no words:
U.S. Ambassador to Libya Chris Stevens and three other Americans died in a well-planned military assault on their diplomatic mission in Benghazi seven weeks ago, the anniversary of the 9/11 terrorist attacks. So why are details surfacing, piecemeal, only now?
The Obama administration sat by doing nothing for seven hours that night, ignoring calls to dispatch help from our bases in Italy, less than two hours away. It has spent the past seven weeks stretching the story out, engaging in misdirection and deception involving supposed indigenous outrage over an obscure anti-Muslim video, confident that with the aid of a docile press corps this infamous climax to four years of misguided foreign policy can be swept under the rug, at least until after Tuesday's election.
Charles Woods, father of former Navy SEAL and Henderson resident Tyrone Woods, 41, says his son died slumped over his machine gun after he and fellow ex-SEAL Glen Doherty – not the two locals who were the only bodyguards Secretary of State Hillary Clinton and the Obama administration would authorize – held off the enemy for seven hours. Continue reading →
Some 20 years ago as I was finishing graduate school, I worked for a polling company. It was longer than I wanted to but it gave me some valuable insights on that business before I moved into the line of work that I wanted. I got to know the man who ran the company; he ran polls for national and international companies and occasionally dabbled into political polling. He was meticulous and it became very clear that this job was his life. Now I don't know his politics but I would guess that he was left of center, at least on social issues. However, he was nearly fanatical about being impartial and getting the true response. Some twenty years later, all of this helps me to understand how political polling works, and believe me it is very difficult. In other words, if political polling isn't done exactly right it becomes a terrible slanted mess.
Here's how live polling works. Automated computer dialers call randomly generated phone numbers, which are often are disconnected, faxes and or not in service. In a four hour shift you would be lucky to get 8-10 complete surveys per poll taker in a hotly contested political race. Now mind you that was 20 years before cell phones, my understanding is that now because of cell phones and caller id many polling agencies are using brief computer automated voices to ask questions. Most polling agencies have given up on live survey results on such things as your favorite bar of soup, breakfast cereal, shoe company etc. Believe me there were nights that we would put in a four hour shift and call over 150 people and get one or two complete surveys concerning your favorite shampoo.
When it comes to political polling my old boss (who is a Ph.D and widely respected across the country) would fret about the way we ask each question, our tone and our attitude. He would drill into us that he needed unbiased surveys for his clients. He would remind us, and this is very important in today's world, that conservative oriented people don't like polling as much as liberals because liberals believe in proselytizing their views while conservatives feel their views are a reflection of their values, as well as their cultural and religious upbringing. This is why liberals tend to be oversampled in polling. By and large they don't hang up on pollsters and surveys because they view it as their duty and mission to get the word out. Again, my boss was not a conservative and he could see this 20 years ago. Continue reading →
I have to give the Republican National Committee credit this year when it comes to being quick off the dime in producing web videos.  The above was put out immediately in the aftermath of the debate contrasting the calm demeanor of Romney from the somewhat frenetic and combative stance of Obama.  This clip was typical of the entire debate:
Continue reading →
President Barack Obama's debate performances could never equal the expectations of the secular faithful. Many on the far left envisioned an American society where religion was about as important to the populace and politically influential as it is in Sweden. The land of the midnight sun has been a great hope to liberals ever since religion began to erode there in the 1950s and abortion became commonplace in the 1960s. Governor Michael Dukakis famously poured over Sweden's great Welfare state enterprise to see what he might learn, which of course led to his electoral demise in 1988.
With all of his rhetorical skills, President Obama could never make Americans have a come to Pierre Trudeau, Willy Brandt, Jose Luis Zapatero (pick your favorite Western Democratic Socialist) moment like many Americans have a Come to Jesus moment over failings in their lives. Instead of realizing that not everyone can be suckered into buying Big Government swampland, the Left has taken their frustrations out on the President. If only he were talking more about rising and falling oceans and making them believe we are the ones we have been waiting for; the Left attacks the messenger and not the message.
Frank Rich, the New York Times columnist laments about this in a long New York magazine  article. The writer for the Old Gray Lady states the Americans are somehow too dumb to become like Europeans and surrender their lives to government and not God. He sees little hope and concludes the Tea Party will always prevail in the American persona rather than government control. Talk about a brain trust, can you imagine the anti-religious nuggets thrown around the water cooler when Bill Keller, the former New York Times editor was present. You may recall Keller infamously dubbed himself a "Collapsed Catholic," fortunately reported to us by former Newsweek Religion Editor Kenneth Woodward, who is not Catholic and hardly a friend of conservatives, but a principled man who couldn't take any more of the Times' hypocrisy directed at the Church. I would strongly suggest you read this The New York magazine article for if conservatives mouthed these same thoughts about minorities instead of suburbanites and rural residents, we would be blacklisted.
In my just released book, The Catholic Tide Continues to Turn, I note how the Left turned on Al Smith (the first Catholic standard bearer) after he formed the Liberty League in the mid and late 1930s and told Americans he could no longer support President Roosevelt. This startling development occurred after a number of questionable instances came to light including the Supreme Court Packing Case and the Roosevelt 1938 purge of Conservative Democrats. By 1940 unemployment was still at 14% and if had not been for World War II who knows how long unemployment would have remained in double digits. Continue reading →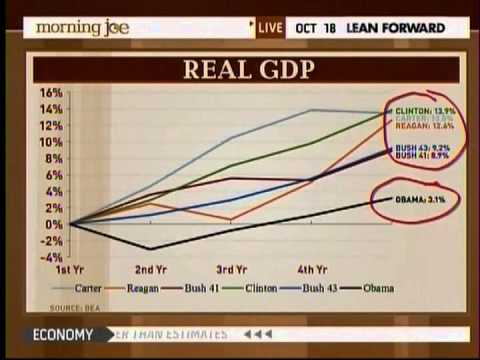 Hattip to Ed Morrissey at Hot Air.  Steve Rattner, Obama's former car czar, explains in the video above how economic growth under Obama is in the toilet along with Obama's re-election prospects.
Steve Rattner, the former "car czar" for Barack Obama, explains why voters may have narrowly given Obama the edge in the debate on Tuesday night, but give Mitt Romney a 31-point advantage on the economy.  You have to go all the way back to the 1930s, Rattner explains after Willie Geist presses the point, to find a President with a worse record on economic growth in a first term. Continue reading →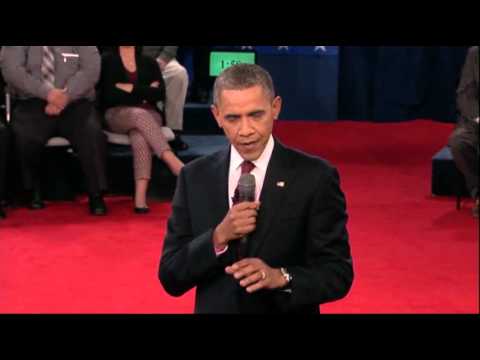 Predictably Obama was very aggressive tonight.  Less predictably perhaps, Romney was just as aggressive.  Here are some thoughts:
1.  Wired Obama-Obama came loaded with talking points and spoke rapidly throughout the debate to get them all out.
2.  Face Time-Classic political theater with Obama and Romney having a few face to face clashes during the debate.
3.  Crowley Hearts Obama-Candy Crowley attempted to come to the rescue of the President in misstating that Obama blamed the Benghazi attack on terrorism in his rose garden statement.  That is incorrect.  The operative phrase in Obama's statement:   Since our founding, the United States has been a nation that respects all faiths.  We reject all efforts to denigrate the religious beliefs of others.  But there is absolutely no justification to this type of senseless violence.  None.  The world must stand together to unequivocally reject these brutal acts.  Crowley's intervention indicated that she was not a moderator but rather an Obama partisan.
4.  Romney the Good-Romney gave another good debate performance and I expect he will do just as well in the third debate.  If Obama is hoping for Romney to stumble or commit a gaffe, I think he will wait in vain.
5.  Boxing match-Although the back and forth got a bit tiresome to me after a while, I did like the way in which both candidates talked directly at each other.  Romney did make the mistake of asking too many questions of Obama, as if he were going to get any forthright answers. Continue reading →