Poverty
One of the many divides among modern Catholics is between what we might call the "moralizers" and the "justice seekers". "Moralizers" are those who emphasize the importance of teaching people moral laws and urging them to abide by them. "Justice seekers" seek to mitigate various social evils (poverty, lack of access to health care, joblessness, etc.) and believe that if only these social evils are reduced, this will encourage people to behave better.
Moralizers tend to criticize the justice seekers by pointing out that following moral laws is apt to alleviate a lot of the social evils that worry the justice seekers, arguing, for example, that if one finishes high school, holds a job and gets married before having children, one is far less likely to be poor than if one violates these norms.
Justice seekers reply that the moralizers are not taking into account all the pressures there work upon the poor and disadvantaged, and argue that it's much more effective to better people's condition than to moralize at them (or try to pass laws to restrict their actions) because if only social forces weren't forcing people to make bad choices, they of course wouldn't do so.
(I'm more of a moralizer myself, but I think that we moralizers still need to take the justice seeker critique into account in understanding where people are coming from and what they're capable of.)
One area in which the justice seeker approach seems to come into particular prominence is the discussion of abortion. We often hear politically progressive Catholics argue that the best way to reduce abortions is not to attempt to ban or restrict them, but rather to reduce poverty and make sure that everyone has access to health care. There's an oft quoted sound bite from Cardinal Basil Hume (Archbishop of Westminster) to this effect:
"If that frightened, unemployed 19-year-old knows that she and her child will have access to medical care whenever it's needed, she's more likely to carry the baby to term. Isn't it obvious?"
You'd think that it was obvious, but I'm suspicious of the idea that having more money or resources makes us better or less selfish people (an idea which strikes me as smacking of a certain spiritual Rousseauian quality that doesn't take fallen human nature into account) so I thought it would be interesting to see if there's any data on this.
I was not able to find data on the relationship of abortion to health insurance, but I was able to find data on the relation of abortion to poverty, and it turns out that the Cardinal, and conventional wisdom, are wrong.
Continue reading →
Every so often one hears about people doing the "food stamp diet" in order to see what it's like to be poor in America. The idea is to subsist for some period of time (often a week) on the amount typically given to members of the "food stamp" program. Here's one example, prepared by the Food Research and Action Center back in 2007. That one challenges you to live on $21/week. Here's an annual challenge run by the San Francisco Food Bank. There the amount is $33.04 per person per week.
These amounts vary not only due to region and inflation over time (food inflation has actually been pretty high over the last five years, grocery store prices are up 6% from last year) but also because these are different attempts to model how the food stamp program works. Food stamp benefits are based on the idea of supplementing a family's income so that the family can (according to the program's rationale) afford to consume the amount of food budgeted according to the "thrifty plan" from the USDA "cost of food at home" guidelines. Of course, since food stamps can't be used for anything other than approved food items, and they're given to people who are already very short of money, the effective result is that people are often trying to get all their food off just the food stamp amount, even if the program is assuming it's only a supplement.
What got me thinking about the topic is that I saw one of these "hunger challenges" linked to some time ago, via some Catholic organization which was encouraging people to take part "in solidarity with the poor". I saw the amount mentioned in the San Francisco challenge of $33 per person per week and thought, "Wait a minute, for our family of seven that would be $231. That's more than we spend per week on food, and we're around the top 20% line in family income." In normal times, we were spending around $200/wk on food. Since we've been on a tight budget paying off the boiler, we've managed to get that down to $100-$150 depending on the week (including household cleaners, diapers, toilet paper, paper towels, etc.)
So, is being on food stamps really cushy? Are these challenges just designed wrong? Being a chronic number cruncher, I had to get into it a bit. Continue reading →
The old saw is that there are lies, damned lies, and statistics, as if statistics were in some way a variety of lie. Of course, the issue is not so much that statistics are lies, as that statistics represent an attempt to simply quantify a terribly complex reality, and with simplification comes the opportunity for error — often error confirming the biases of the person doing the analysis.
The other day I ran into a very interesting exploration of one of those statistics which is often discussed — that "more families are in poverty" after the last three decades than was the case in the past. In 2006 Hoynes, Page and Stevens authored a paper entitled "Poverty in America: Trends and Explanations" which was published in the Journal of Economic Perspectives. One of the interesting things they do is look at the trends in poverty by family type. The findings are fascinating:
This article originally appeared on The New Theological Movement written by Reginaldus on July 29, 2010 Anno Domini.  Re-posted with permission.
18th Sunday in Ordinary Time, Luke 12:13-21
The rich man of this Sunday's Gospel is blessed with a bountiful harvest. Rather than thanking God for this gift, he hoards the grain in his barns – his heart is possessed by his possessions. At the moment of death, the Lord calls him a fool, for he was not rich in what matters to God.
The Fathers of the Church, and St. Thomas Aquinas following them, see in this parable a strong teaching of social justice. Their teachings have in turn been integrated into the Social Doctrine of the Church. Here we will consider St. Thomas' exposition of the doctrine as well as several important quotations from the Church Fathers.?
The common destination of all goods and right to private property
We must first affirm that man has a right to own private property. All men have a natural right to make use of material goods. According to positive human law, men also have a right to private property – this is necessary for the good order of society and the proper care of the goods themselves, it also serves as a means of restraining greed and inciting toward generosity (a man can give alms only if he has some property of his own).
However, it is equally clear in the Church's Tradition, as expressed by the Fathers of the Church and magisterial teachings, that the right to private property is subordinate to the universal destination of all goods. That is, the right to private property cannot be extended to the point of depriving others of the basic material necessities of life. Every man has the right to the material necessities of life – when he is deprived of these, while another has excess wealth, a grave injustice has occurred.
Catholic Social Thought has long recognized the right to a "just wage" (sometimes called a "living wage"), which is defined as a wage "sufficient to enable [a man] to support himself, his wife and his children." CA 8. One common objection to the idea of the just wage is what might be called the calculation problem. Sure, the criticism goes, everyone would agree in the abstract that wages should be sufficient to support oneself and one's family, but how are we to decide what is sufficient? What, specifically, is the minimum wage that a man may be paid without violating his right to a just wage?
For answers, I went to Father John Ryan's A Living Wage, which is the classic American text in defense of the right to a just wage. Chapter five of the book, A Concrete Estimate of A Living Wage, tackles the calculation problem head on, and Father Ryan offers a specific estimate of the amount of wages a man must be paid as his due in justice (in what follows all figures appear to assume a five person family of husband, wife, and three children).
In the first edition of A Living Wage (published in 1906), Father Ryan gave $600 a year (or $14,143.39 in 2009 dollars*) as the minimum wage necessary to qualify as a just wage in the United States. Father Ryan opined that this wage was "probably" sufficient in certain parts of the country (such as the South) where the cost of living was lower, and was possibly sufficient elsewhere, though he noted that there were "certainly" parts of the country where it was insufficient.
The Oregonian features an article on how Chinese workers who spent years working in factories for American brands like Nike and Columbia Sportswear have become a major source of business startups and wealth in China's rural interior.
WUHU, China — Years after activists accused Nike and other Western brands of running Third World sweatshops, the issue has taken a surprising turn.

The path of discovery winds from coastal factory floors far into China's interior, past women knee-deep in streams pounding laundry. It continues down a dusty village lane to a startling sight: arrays of gleaming three-story houses with balconies, balustrades and even Greek columns rising from rice paddies.

It turns out that factory workers — not the activists labeled "preachy" by one expert, and not the Nike executives so wounded by criticism — get the last laugh. Villagers who "went out," as Chinese say, for what critics described as dead-end manufacturing jobs are sending money back and returning with savings, building houses and starting businesses.

Workers who stitched shoes for Nike Inc. and apparel for Columbia Sportswear Co., both based near Beaverton, are fueling a wave of prosperity in rural China. The boom has a solid feel, with villagers paying cash for houses.

"No one would take out a mortgage to build a house," said Wang Jianguo, 37, who returned after a factory injury in a distant province to the area near Wuhu, west of Shanghai. "You wouldn't feel secure living in a house you didn't own."
Continue reading →
The Dominican Sisters of Mary, Mother of the Eucharist is based in Ann Arbor, Michigan.  They are a new order that arose from Pope John Paul II's call for a new evangelization.  They are devout and orthodox in our Catholic faith which explains why the average age of a nun is 26 and they are already turning back inquiries since they are packed to capacity in their new convent.
They recently made an appearance on the Oprah Winfrey Show this past Tuesday, February 9.  I've only seen some of the show online and my assumptions were validated.  That being they were knowledgeable about our faith, energetically orthodox, and calm in their disposition.
I strongly advice you to watch all four videos that I have been able to track down of the entire show.  Some of the videos have a few seconds where the digital relay distorts the picture, but the sound is not disturbed.
Part I:  I love hearing the sisters talk about their faith unapologetically, ie, you hear "God called me", "I am married to Jesus Christ", etc, etc.  Simply beautiful!
[Update at the bottom of this post]
The scandal that has engulfed the U.S. Conference of Catholic Bishops (USCCB) shows no sign in abating.
Today we learn even more incriminating facts that continue to tarnish the image of the USCCB.
In the latest RealCatholicTV.com program Michael Voris explains the deep entanglement of Democratic Party and anti-Catholic operatives that hold high positions within the USCCB.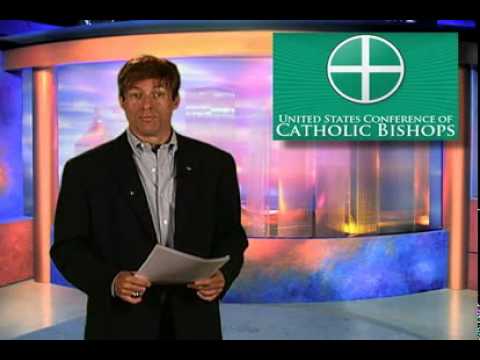 A 7.0 earthquake rocked Port-au-Prince in Haiti earlier today.


Haiti is a desperately poor nation at the best of times. Weaker and older structures will mean even worse damage and loss of life, and in a nation where hunger is routine the disaster will only worsen the situation.
If you have the ability to provide monetary help, Food For The Poor has a Haiti earthquake donation page.
As you can clearly see, I have been bitten by the writing bug. This will be my last post for a little while, so I wanted to make it a good one. Starting Monday my contributions to the discussion will be sporadic at best for at least a week.
Consider it yet another fulfillment of my promise to certain commentators here to get back to economic issues so we can continue our disagreements after so much agreement on life issues and the liturgy
Darwin Catholic's post about the educational system and the possible benefits of promoting a myth of equality got me thinking about the essential differences between liberals and at least the kind of conservative I think I am becoming.
That is, a kind of conservative that is opposed to excessively concentrated wealth in private hands, for the following reasons: 1) it can easily lead to concentrated political power that is less accountable, 2) in the midst of poverty – even if one wishes to argue that it is not a cause of poverty – it inspires class envy and hatred, 3) it has the potential to be terribly and sinfully wasted on frivolities instead of charity and/or social investment.
At the request of my friend and fellow contributor to The American Catholic, Darwin Catholic, I will elaborate more on some of the general points I introduced to the discussion over his latest post about economic morality. For those who did not follow the exchange (of me versus everyone, understandable on this somewhat more conservative blog), I questioned the accuracy of any scientific theory of economics that did not take into account class conflict (or, as some insist on saying, "class struggle"). Darwin and others responded by questioning the validity of the very category of class. Hence, we have a great deal of ground to cover – I hope you will bear with me, and that we all end up learning something.