Pope Pius XI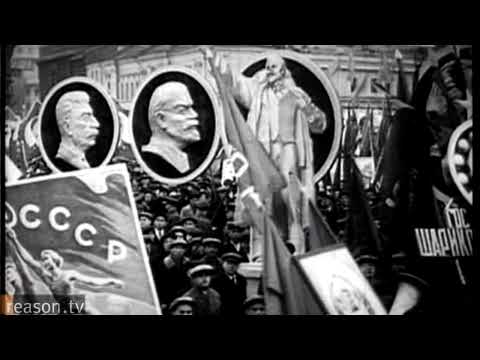 "Over half a century ago, while I was still a child, I recall hearing a number of older people offer the following explanation for the great disasters that had befallen Russia: 'Men have forgotten God; that's why all this is happening.' Since then I have spent well-nigh fifty years working on the history of our revolution; in the process I have read hundreds of books, collected hundreds of testimonies, and have already contributed eight volumes of my own toward the effort of clearing away the rubble left by that upheaval. But if I were asked today to formulate as concisely as possible the main cause of the ruinous revolution that swallowed up some sixty million people, I could not put it more accurately than to repeat; 'Men have forgotten God; That's why all this happened.'"

Alexander Solzhenitsyn
Today is the feast day of Saint Joseph the Worker, instituted by Pope Pius XII on May 1, 1955  as an alternative to the Communist May Day marches.  Today is also the Victims of Communism Day.  Hattip to Ilya Somin at The Volokh Conspiracy who began the campaign to make this day a day to remember the some one hundred million men, women and children murdered by Communist regimes and movements.
On this day we honor the victims of applied Marxism, but we also honor  Pope John Paul II, Ronald Reagan, Alexander Solzhenitsyn, Lech Walesa, Cardinal Mindszenty, Harry Truman, the American fighting man and his gallant allies, and all those other men and women, many known only to God, who led the ultimately successful fight against this abominable tyranny.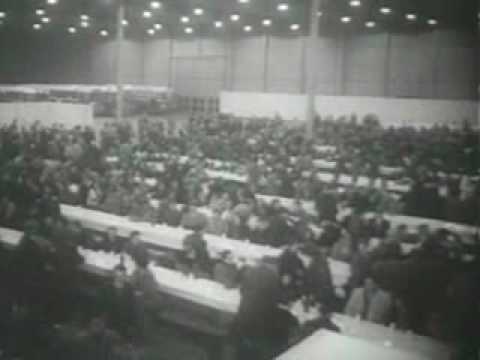 This is a good day to reread Divini Redemptoris, the encyclical, issued on the feast day of Saint Joseph in 1937, in which Pope Pius XI set forth that Communism and Christianity were completely antithetical. Continue reading →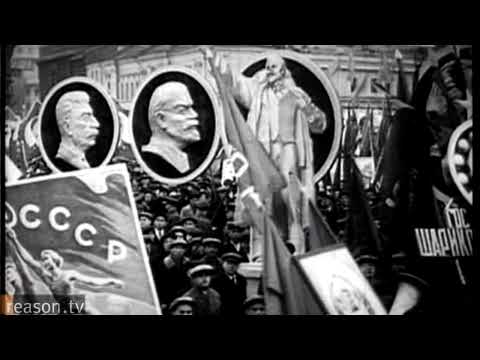 "Over half a century ago, while I was still a child, I recall hearing a number of older people offer the following explanation for the great disasters that had befallen Russia: 'Men have forgotten God; that's why all this is happening.' Since then I have spent well-nigh fifty years working on the history of our revolution; in the process I have read hundreds of books, collected hundreds of testimonies, and have already contributed eight volumes of my own toward the effort of clearing away the rubble left by that upheaval. But if I were asked today to formulate as concisely as possible the main cause of the ruinous revolution that swallowed up some sixty million people, I could not put it more accurately than to repeat; 'Men have forgotten God; That's why all this happened.'"

Alexander Solzhenitsyn
Today is the feast day of Saint Joseph the Worker, instituted by Pope Pius XII on May 1, 1955  as an alternative to the Communist May Day marches.  Today is also the beatification of John Paul II.  (I will have much more on Blessed John Paul II tomorrow.)  Today is also the Victims of Communism Day.  Hattip to Ilya Somin at The Volokh Conspiracy who began the campaign to make this day a day to remember the some one hundred million men, women and children murdered by Communist regimes and movements.
Neither praise nor threats will distance me from God.
Blessed Clemens von Galen
The Nazis hated and feared Clemens August Graf von Galen in life and no doubt they still hate and fear him, at least those now enjoying the amenities of some of the less fashionable pits of Hell.  Going into Lent, I am strongly encouraged by the story of Blessed von Galen.  I guess one could come up with a worse situation than being a Roman Catholic bishop in Nazi Germany in 1941, and confronting a merciless anti-Christian dictatorship that was diametrically opposed to the Truth of Christ, but that would certainly do for enough of a challenge for one lifetime for anyone.  (Hitler privately denounced Christianity as a Jewish superstition and looked forward after the War to "settling accounts", as he put it, with Christianity in general and Roman Catholicism in particular.)
Priests who spoke out against the Third Reich were being rounded up and shipped off to concentration camps.  What was a bishop to do in the face of such massive evil?  Well, for the Bishop of Munster, Clemens von Galen, there could be only one answer.
A German Count, von Galen was from one of the oldest aristocratic families in Westphalia.  Always a German patriot, the political views of von Galen would have made my own conservatism seem a pale shade of pink in comparison.  Prior to becoming a bishop, he was sometimes criticized for a haughty attitude and being unbending.  He was chosen Bishop of Munster in 1933 only after other candidates, no doubt recognizing what a dangerous position it would be with the Nazis now in power, had turned it down.  I am certain  it did not hurt that he was an old friend of Cardinal Eugenio Pacelli, the future Pope Pius XII.
Von Galen immediately demonstrated that he had not agreed to become Bishop of Munster in order to avoid danger.  He successfully led a fight against the Nazi attempt to take over Catholic schools, citing article 21 of the Concordat between the Vatican and Nazi Germany.  He then began a campaign, often using humor and ridicule, against the Aryan racial doctrines proposed by Alfred Rosenberg, chief Nazi race theorist, and a man even some high level Nazis thought was little better than a crank.  Von Galen argued that Christianity totally rejected racial differences as determining how groups should be treated, and that all men and women were children of God and brothers and sisters in Christ.  The Bishop spoke out against Nazi attacks on the "Jewish Old Testament" stating that Holy Writ was Holy Writ and that the Bible could not be altered to suit current prejudices.
In early 1937 he was summoned by Pope Pius XI to confer with him on an encyclical in German, highly unusual for an encyclical not to be written in Latin as the primary language, that the Pope was in the process of drafting.  The encyclical was the blistering Mit Brennender Sorge (With Burning Heart) that the Pope ordered be read out in every parish in Germany on Palm Sunday 1937.  A head long assault on almost every aspect of National Socialism, it may be read here.
The language in the encyclical was blunt, direct and no doubt benefited from von Galen's input and his experience from the battles he was waging with the Nazis. Continue reading →
We here at The American Catholic, along with conservative Catholics in general, have been accused many times of "Calvinism" by certain writers at Vox Nova. I am going to go out on a limb and suggest that this accusation is nothing more than a massive projection made by people who harbor Calvinist theological assumptions themselves, of which they may or may not be fully aware. Particularly, I think in their constant shilling for big government programs, for slavishness before all forms of authority, for the unlimited extension of "rights" (i.e. entitlements), and the rest of the statist agenda, the leftists at Vox Nova and throughout American political landscape have absorbed a perverse Calvinist doctrine of their own, namely that of the total depravity of man.
I have actually written about this before: the process by which radical leftism transformed from a project rooted in optimism, in a fanatical belief in man's goodness and reason (apart from God of course), to one of utter pessimism and misanthropy. The first communists, and particularly Marx – for all of their deep flaws, errors, and hatreds – retained a belief in man's goodness that they had mistakenly come to believe Christianity had rejected through the heresies of the Protestant rebellion.
My second favorite living historian, Michael Burleigh, who has written stunningly original works on subjects as diverse as Nazi Germany, religion and politics in the last two centuries,  terrorism, and morality and World War II,  has taken up the cudgels against the despicable attitude of many Brits of the chattering classes regarding the visit of the Pope to the Island next to Ireland.
Under normal circumstances, one might say "welcome" rather than "receive". But the multiple sexual scandals that have afflicted parts of the Catholic Church have created a window of opportunity for sundry chasers of limelight – including human rights militants, crusading gays, Islamist fanatics, and celebrity God-botherers – to band together to "arrest" the Pope under laws so obscure that few knew they existed. Because child abuse is involved, rather than the more widespread phenomenon of homosexual predation on young men, these manifestations will receive much media attention, especially from the BBC, to the guaranteed perplexity of a less involved general public in a nominally Protestant country. It will require some effort of mind to tune out this noise to hear what the Pope will be saying.
I'll begin by stating that part of the blame or praise for this post ought to go to Christopher Blosser and David Jones for their excellent overview and commentary on the ongoing political/economic dispute between Catholic Distributists and Catholic libertarians.
I wish I could easily come up with a logical, smooth flow to all of these points. But really I just want to get them out there, no matter how disjointed in appearance.
Finally, I really mean it this time: we will have a respectful discussion on this topic, or none at all. That means certain people and their comments will likely be banned from the discussion. It will not be possible to avoid charges of "being afraid" to debate with such indestructible champions of the one true political philosophy, given their amazing ability to rule out all other possible reasons, including their coarse and offensive personal behavior, as to why no one wishes to engage in discussions with them. C'est la vie.
The best way to contribute here, though, is to ask questions that I can answer for this FAQ!
*
Where does the word "Distributarian" come from?
The word "Distributarian" was pejoratively applied to me and a few others who have attempted to blend libertarian and Distributist ideas by those not so enamored with the project. Since I see it as a good thing, I don't mind wearing the label as a badge of honor.
What is a Distributarian?
It is one who does not see a necessary conflict between the basic propositions of Distributism and libertarianism, and insofar as possible, seeks to incorporate both of them into their social vision.
What are these propositions?
The following propositions are both necessary and sufficient for each ideology:
Of Distributism: property should be as widely distributed as possible.
Of libertarianism: social relationships should be as voluntary as possible.
Naturally some doctrinaires will dislike the wording "as ___ as possible"; why should we care about what is possible when great ideas are at stake? Either they exist full-fledged without imperfection in the world or they may as well not exist at all! If we move past this childish expectation and begin with the possible, I think we will find that there is no contradiction between these propositions.
Distributism and libertarianism challenge each other in a good way. Distributism challenges libertarianism to move beyond individual autonomy and articulate a vision of the common good; libertarianism challenges Distributism to clearly articulate how property distribution ought to come about – through force, or through consent?
Not only do they challenge each other; they compliment each other. Property owners will thrive in an environment of economic freedom; genuine liberty will thrive as it is rooted in solid social institutions based upon private property. As property ownership will increase the self-sufficiency of individuals, families, and communities, it will decrease dependency upon the state.
Read the rest and comment here.
And please note that this is a work in progress!
This article originally appeared on The New Theological Movement written by Reginaldus on July 29, 2010 Anno Domini.  Re-posted with permission.
18th Sunday in Ordinary Time, Luke 12:13-21
The rich man of this Sunday's Gospel is blessed with a bountiful harvest. Rather than thanking God for this gift, he hoards the grain in his barns – his heart is possessed by his possessions. At the moment of death, the Lord calls him a fool, for he was not rich in what matters to God.
The Fathers of the Church, and St. Thomas Aquinas following them, see in this parable a strong teaching of social justice. Their teachings have in turn been integrated into the Social Doctrine of the Church. Here we will consider St. Thomas' exposition of the doctrine as well as several important quotations from the Church Fathers.?
The common destination of all goods and right to private property
We must first affirm that man has a right to own private property. All men have a natural right to make use of material goods. According to positive human law, men also have a right to private property – this is necessary for the good order of society and the proper care of the goods themselves, it also serves as a means of restraining greed and inciting toward generosity (a man can give alms only if he has some property of his own).
However, it is equally clear in the Church's Tradition, as expressed by the Fathers of the Church and magisterial teachings, that the right to private property is subordinate to the universal destination of all goods. That is, the right to private property cannot be extended to the point of depriving others of the basic material necessities of life. Every man has the right to the material necessities of life – when he is deprived of these, while another has excess wealth, a grave injustice has occurred.
Despite their obvious potential advantages, employee owned businesses tend to be rare. In 2004, there were an estimated 300 worker owned cooperatives in the United States. If that sounds impressive, consider that in 2001, there were over 18.3 million nonfarm proprietorships in the U.S. Nor is the situation much different overseas. The Mondragon Cooperative Corporation is typically cited as an example of a successful worker cooperative, and it is indeed quite successful . . . for a co-op. Compared to other types of businesses, however, Mondragon performs well, but not stellar. It is the seventh largest corporation in Spain, and despite being a conglomeration of more than a 100 different companies, it accounts for less than 4% of the GDP of the Basque region of Spain where it is located. When one considers that Mondragon is in all likelihood the most successful worker cooperative on the planet, the idea that the co-op's success proves the viability of worker cooperatives generally begins to seem doubtful.
There's nothing legally preventing people from choosing to start a workers-owned cooperative rather than some other form of business, and in fact cooperatives receive more favorable tax treatment than do standard business corporations. Why then, aren't they more common? The question has actually inspired a fair amount of research, which has identified at least four obstacles to the success of worker owned businesses.
Justice exalteth a nation: but sin maketh nations miserable. – Proverbs 13:34
Is there such a thing as a "social sin"? It is out of a respect for my friend Brendan/Darwin that I want to examine and critique his rejection of the idea of social sin, with which I partially agree, but which I believe also leaves out some crucial facts. This is not a point against Brendan/Darwin, since I don't believe he intended his post to be a treatise on the issue. It is rather a point in his favor, since his general considerations give us the opportunity to explore the question in greater detail.
It must be said at the outset that there are obviously different things that one might mean by "social sin." Brendan/Darwin begins his argument with the observation that there are those who become "frustrated" with the emphasis many Christians place on individual failings to the neglect of "social or political sin." There is a significant difference, however, between social and political behavior. My intention is not to split-hairs in order to undermine a valid point (which it is), but rather to highlight the extent to which society and the body politic have become indistinguishable from one another. In my recent essay on the social effects of abortion, I make a distinction between organic and artificial social bonds; the former are those that necessarily follow from man's social nature, while the latter are those created through politics, i.e. laws. Because we are imperfect and often malicious beings, some artificial authority will always be required for men to attain "the highest good." But human laws are not foundational – they are supplemental to natural and divine laws, or at least they were in most places in the Western world until the 19th century.
"Our wholehearted paternal sympathy goes out to those who must pay so dearly for their loyalty to Christ and the Church; but directly the highest interests are at stake, with the alternative of spiritual loss, there is but one alternative left, that of heroism." Pius XI from Mit Brennender Sorge
We Americans tend to be an outspoken lot.  We give voice to our opinions freely and many of us enjoy raucous debate, as can be seen on most American blog sites, including this one.  We are fortunate to live in a free society where there is no penalty for expressing ourselves.  But what if we didn't live in a free society?  What if we lived in a vicious dictatorship where dissent is a one way trip to a concentration camp and then to an unmarked grave?  How many of us would then have the courage to speak out, especially if almost everyone else were keeping their heads down and not saying anything?  For many people throughout history this has not been a game of what if.
Born in Ohlau in the province of Silesia in Germany on December 3, 1875, Bernard Lichtenberg studied theology at the seminary in Innsbruck, Austria and was ordained a priest in 1899.  He served as a  priest in Berlin, becoming the parish priest of the Sacred Heart parish in the Berlin suburb of Charlottenburg in 1913.  Ever an energetic priest, he laid the foundations for five parishes and a monastery in Berlin.  Somehow he also found the time to be active in the Catholic Centre Party, and was for a time a member of the Berlin regional parliament after World War I.  He also carried out missionary and charitable works among the poor of Berlin.
He was made a canon of the Cathedral Chapter by the first Bishop of the newly created diocese of Berlin, Christian Schreiber, in 1931.  In 1932 he became pastor of Saint Hedwig's Cathedral in Berlin.  He also attracted the ire of the Nazis by his support of the pacifist Peace League of German Catholics, and was denounced by Hitler's propaganda chief Joseph Goebbels in the Nazi paper Der Angriff.
After the Nazis came to power in 1933, Father Lichtenberg attempted unsuccessfully to convince Cardinal Bertram, the president of the German Bishop's conference, to protest against the Nazi boycott of Jewish businesses.  In 1935 he protested to Herman Goering against the treatment of the Jews.  Goering denied everything and demanded that Lichtenberg be taken into "protective custody" for spreading lies about the German state.
In 1937 Father Lichtenberg helped to distribute clandestinely throughout Germany copies of the blistering condemnation of the Nazis by Pius XI, Mit Brennender Sorge.  After Kristallnacht, a Nazi led pogrom throughout Germany against the Jews, he said from the pulpit of Saint Hedwig's:  'we know what happened yesterday. We do not know what tomorrow holds. However, we have experienced what happened today. Outside, the synagogue burns. That is also a house of God.' From that time forward, Father Lichtenberg prayed publicly during evening prayers, in the heart of Nazi Germany, for the Jews and Christians of Jewish descent.
The so-called American conservative movement is not conservative in the sense that many of its proponents would suggest. In reality, American conservatism, in many ways seeks to preserve and reassert classical liberalism. In fact, the entirety of the American political spectrum is liberal in different ways and varying degrees—but it is unmistakably and manifestly liberal.
This should come as no surprise since many of the Founding Fathers were men of the Enlightenment and there is no more obvious case than that of Thomas Jefferson, the author of that quintessential Enlightenment masterpiece The Declaration of Independence. The philosophical paradigm by 1776 had already shifted—anthropology was evolving toward an increasingly false view of man and the natural law (because the philosophical concept of "nature" was changing) was something different than that articulated by classical philosophers, which had been incorporated into the Christian tradition.
The American legal tradition seeking to adhere to the letter of the social contract, i.e. The Constitution of the United States of America, seems to have individual liberty at issue in every question of law. This, to be sure, is not something to be regarded as a problem in and of itself, insofar as the operative definition of liberty is not philosophically false and the norms of justice, in the classical sense, are not contradicted.
To the learned mind, it is patently clear that the predominant philosophical paradigm, anthropological assumptions on human nature, concept of the nation-state, view of society, of freedom, of responsibility, and so forth found in the Western world is undoubtedly borne of Enlightenment thinking. The United States is most certainly no exception. In America, across the political spectrum, there is a dubious philosophical premise, that of an abstract ideal of autonomy, which, no matter how admirable or attractive it may seem, is radically incomplete. Indeed, man does possess a free will, but the form of freedom requires content. Continue reading →
QUAS PRIMAS
ENCYCLICAL OF POPE PIUS XI
ON THE FEAST OF CHRIST THE KING
TO OUR VENERABLE BRETHREN THE PATRIARCHS, PRIMATES,
ARCHBISHOPS, BISHOPS, AND OTHER ORDINARIES
IN PEACE AND COMMUNION WITH THE APOSTOLIC SEE.
Venerable Brethren, Greeting and the Apostolic Benediction.
In the first Encyclical Letter which We addressed at the beginning of Our Pontificate to the Bishops of the universal Church, We referred to the chief causes of the difficulties under which mankind was laboring. And We remember saying that these manifold evils in the world were due to the fact that the majority of men had thrust Jesus Christ and his holy law out of their lives; that these had no place either in private affairs or in politics: and we said further, that as long as individuals and states refused to submit to the rule of our Savior, there would be no really hopeful prospect of a lasting peace among nations. Men must look for the peace of Christ in the Kingdom of Christ; and that We promised to do as far as lay in Our power. In the Kingdom of Christ, that is, it seemed to Us that peace could not be more effectually restored nor fixed upon a firmer basis than through the restoration of the Empire of Our Lord. We were led in the meantime to indulge the hope of a brighter future at the sight of a more widespread and keener interest evinced in Christ and his Church, the one Source of Salvation, a sign that men who had formerly spurned the rule of our Redeemer and had exiled themselves from his kingdom were preparing, and even hastening, to return to the duty of obedience. Continue reading →