Pope Paul VI
Sadly it often takes tragedies for religious faith to grow. It seems an unfortunate part of our fallen nature. We have been hit by a spate of tragedies as of late; in its wake we often see churches full of worshippers seeking answers where once there were but a few. Following both world wars, there existed a religious resurgence that unlike the recent tragedies did not ebb and flow. It remained constant due in large part to the horrific loses of human life.
Modernism was alive and well and condemned by the likes of Pope Pius X even before the Guns of August began in 1914. The Catholic and Protestant churches were increasingly seeing relativistic elements entering their seminaries. However unlike recent times, they were quickly addressed. Though we are gaining the upper hand, it has been 40 years since Pope Paul VI lamented that "The Smoke of Satan" had entered the Church. In my just released book; The Catholic Tide Continues to Turn, I speak about the positive events occurring within the Church, as well as those movements who aim to do us harm. In addition, the book delves into how we got into this mess in the first place.
Following World War I there was a great return to religious devotions, especially those having to do with the Blessed Mother. The events of Fatima which had occurred during the war and were being followed closely around the Catholic globe. As I mentioned in my article on the Schoenstatt Movement, the likes of Father Josef Kentenich chastised theological authorities who were giving short shrift to these devotions as well as those who dismissed popular devotions to those who recently passed away like the future Saint Therese of Lisieux (The Little Flower.) Father Kentenich reminded these scoffers that Jesus did indeed say that we must become like little children if we are to enter the Kingdom.
The well heeled of Europe and many American ex pats found their way to Paris to rebel against the religious side of the equation. On the whole, they were a gloomy lot who seemed to drown their sorrows in all matter of drink and sexual exploits which only made them more unbearable. Some even found their way to more exotic locales like Casablanca, as did the fictional Rick Blaine (Humphrey Bogart) in the epic film Casablanca. Continue reading →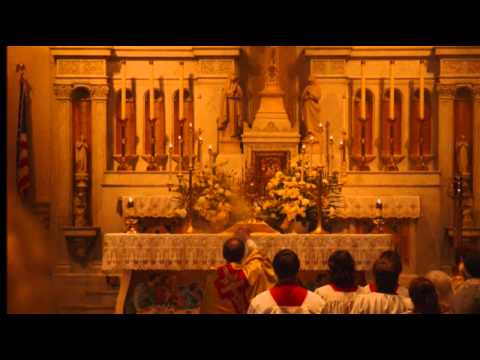 (A guest post from Don the Kiwi on the backstory regarding the institution of the feast of Corpus Cristi.)
Last Sunday we celebrated the feast of Corpus Cristi, which literally means the body of Christ, in solemn commemoration of the Holy Eucharist.   As with many of the great feasts of the Church there is a fascinating history associated with the establishment of this holy day, which involves a saint and a miracle.
God's instrument on this occasion was a woman known to history as Saint Juliana of Liege, or Julian of Mount Comillon where she was educated as a girl by the Augustinian nuns at the convent there, after the death of her parents when she was only five.  She was accepted into the order, made her religious profession, and became the mother superior of the convent.
Juliana had an ardent love of Our Lady, and also cultivated an extraordinary devotion to the Blessed Sacrament.  As she grew in her vocation, she increasingly longed for a special feast in honor of the Sacrament.  She had a vision of the Church as a full moon with one dark spot, symbolizing the lack of such a feast.  Juliana expressed her to desire to the Bishop of Liege and the Archdeacon of Liege, who received her request favorably.  In 1246 the Bishop at a synod of bishops from lands now in the country of Belgium, successfully proposed that a feast in honor of the Blessed Eucharist  be instituted in the dioceses respresented at the Synod.  The Archdeacon of Liege, Jacques Pantaleon, in time became the Bishop of Verdun, then Patriarch of Jerusalem, and, on August 29, 1261, was elected Pope under the name of Urban IV.
Shortly after this, in an example of that synchronicity that often reveals the Hand of God in history, one of the great Eucharistic miracles of the Church occurred.  In 1263 Peter of Prague, a German priest, stopped at a town called Bolsena while on pilgrimage to Rome.  He was a pious priest but had difficulty in believing that Christ was truly present in the consecrated host.  While celebrating Mass in the Church of Saint Cristina, he finished saying the words of consecration, when blood started to seep from the consecrated host and trickled over his hands and onto the altar cloth and corporal Continue reading →
We have all seen the supposed polls indicating that 99% of Catholic women use birth control. However, has anyone ever bothered to look at who conducted the poll? It was the Guttmacher Institute; the driving force behind abortion and other leftist social movements.  Finally someone in the Mainstream Media (The Washington Post) has weeks after the fact realized the untruthful nature behind this canard. This is just one of many red herrings thrown at religious conservatives to discredit and mock them. It seems some in mainstream media are making it their mission to ask former Pennsylvania Senator and Republican Presidential candidate Rick Santorum every question imaginable with regard to birth control. Whatever happens to Santorum in the primary race, it does seem as if the Hand of Providence is helping bring up the topic of birth control and the faithful alternative of Natural Family Planning.
While there is some dispute between Catholics and some Evangelicals on birth control; there are signs that many Evangelicals are seeing what Catholics and some Orthodox Jews have long believed about birth control. In my previous book and forthcoming book; The Tide Continues To Turn Toward Catholicism, I cite quotes from Chuck Colson and R Albert Mohler, two towering figures in the Evangelical world. They have genuine affection for Pope Paul VI's 1968 prophetic encyclical Humanae Vitae which cemented the Catholic view on birth control in the modern birth control pill era. If you want to really rile up a militant secularist you might mention that it wasn't until 1930 that the first religious group (the Anglican Church) even approved of birth control. The Progressive Teddy Roosevelt said the idea of birth control was "ridiculous" and even liberal hero Dr Sigmund Freud said the whole concept was "narcissistic."
Dorothy Day (1897-1980) the late women's rights activist, who used birth control back before any religious group approved of it, spoke out forcefully against abortion and birth control once she converted to Catholicism later in life. She told men and women that in using birth control they were becoming engaged in a culture that was disconnecting them from God's plans, along with not using their bodies in accordance with the Holy Spirit. Though her women's rights and libertarian economic views remained, she became a social conservative, who lashed out at Margaret Sanger and Planned Parenthood, something you aren't likely to hear or read in the mainstream media.
Families that adhere to the clinically proven facts of Natural Family Planning are treated as if they are some sort of religious nuts. Militant secularists in the corridors of power (Legislative and Fourth Estate) have even thrown out their favorite term "sexually repressed." Now this term is so widely repeated in our popular culture, perhaps we should examine where it came from. Herbert Marcuse (1898-1979) of the infamous Marxist "Frankfurt School" came up with the term. Marcuse left pre-World War II Germany and taught at Columbia. Marcuse believed in free love and surmised that the more narcissistic society was with regard to sexual relations, the better the world would become. Before his death, he claimed his prized student was 1960s militant radical Angela Davis. Marcuse was way out in left field in his day and yet the militant secularists in our pop culture have made him seem as mainstream as Dr. Phil. When societies turn away from religion they embrace the crazies like Marcuse; sadly something has to fill the vacuum and it is usually the ideas which come from the half baked among us that do so. Continue reading →
The militant secular left thinks they have won a victory with President Barack Obama's "Accommodation" with regard to the Health and Human Services (HHS) Mandate ordering religious based institutions to provide contraceptives, sterilizations and the morning after abortion pill. Some of the left couldn't contain their glee, one guest on MSNBC described President Obama's move as "brilliant." In their distorted thinking they surmise that since not all Catholics adhere to the Church's teachings, especially on birth control, they can cause a split in the Church.
First of all, the militant secular left continually cites the Guttmacher Institute's polling, which is about as accurate as the daily pronouncements of Syria's Bashar Assad. Secondly, it is one thing for Catholics to go against the Church's teachings, it is quite another to say they are proud of it and want more Big Government telling them what they and the Catholic Church to do. The sheer nuttiness of this was illustarted in a discussion which occurred on Sean Hannity's the Great American Panel seen on Fox News last week. One of the participants Jehmu Greene told fellow panelist Andrea Tantaros that without birth control she wouldn't be here. When the incredulous Tantaros wondered how that could logical be, Greene went on a tirade that demeaned women who have children and or decide to work at home.
For years the militant secular left has treated pregnancy as a disease and families as inconvenient truths interfering with their own narcissistic ends. Powerhouse television shows like Sex and City helped to illustrate this point. Katharine Jean Lopez of the National Review wrote some time ago how disgusted she felt seeing men demeaned as objects in the Sex and City movie, the very treatment feminists have railed about for years.
However with the narcissistic Sex and City lifestyle comes another reality playing out in the streets of Athens, Greece and soon to come to a city or country near you in the western world. The declining birth rate means the youngest among us will have to eventually have to pay for a culture that aborted or contracepted itself into oblivion. The generous benefits demanded by those cultures, especially from the militant secular left can only last so long. As the old saying goes; "The problem with Socialism is eventually you run out of other people's money." The ancient Greek world gods who hailed narcissism and hedonism and whose lifestyle was proselytized by the Epicureans seem as irrelevant as ever as the pall of smoke hangs over the Acropolis, a fitting metaphor for what the militant secular left has wrought. Continue reading →
(When we went with our new format in November of last year, some of our earlier posts didn't carry over, including this one.  I am republishing it today with some slight modifications so that it may not be lost in internet oblivion eventually, and in the spirit of Blessed John Henry Cardinal Newman's Advent series of sermons on the Anti-Christ which may be viewed here, here, here and here.  I have always thought that Advent is a good time to look at evil, since it is at this time of the year that we are reminded of the ultimate triumph of good through Christ.)
I have long heard about Pope Paul VI having referred to the "smoke of Satan" having entered the Church.  Usually most references to it do not mention when it was said and in what context.  The quote apparently was said on June 29, 1972 by Pope Paul VI on the ninth anniversary of his coronation during a homily given at a mass for the solemnity of Saint Peter and Saint Paul.  The Italian text is here.  As far as I know there is no official translation.  On November 13, 2006 Jimmy Atkin posted at his blog  a translation done of the homily by Father Stephanos Pedrano.  Please note that the text that is translated is a summary of what the Pope said and not a word for word transcript of what the Pope said.  Father Pedrano's translation is as follows (I have placed in red the portion of the text that refers to Satan):
Continue reading →
Last week, Pope Benedict XVI told the annual gathering of his "Study Group" (some of his former students) to ask God's forgiveness on behalf of generations of "cradle Catholics" who have failed to transmit the faith to others.
No doubt, evangelizing others is an important dimension of Catholic life, as Pope Paul VI reminded the Church in his 1975 apostolic exhortation, Evangelii nuntiandi:
…what matters is to evangelize man's culture and cultures (not in a purely decorative way, as it were, by applying a thin veneer, but in a vital way, in depth and right to their very roots), in the wide and rich sense which these terms have in Gaudium et spes, always taking the person as one's starting-point and always coming back to the relationships of people among themselves and with God. (#20)
Where evangelization first takes place is in the home as parents evangelize their children in the Roman Catholic faith and its practice.  Today, the most-often heard lament is that Roman Catholic parents, in general, are not evangelizing their children and, of those who do, they are not evangelizing their children in the Roman Catholic faith and its practice but in some generic form of Christianity that emphasizes democratic values and aspirations.
As the New York Times remembers Hiroshima, Richard Fernandez asks us to name the two greatest losses of civilian life in the Pacific war. ("Hint. In both cases the civilian casualties were greater than Hiroshima's. In one case the event took place on American soil.")
Meanwhile, Donald Sensing (Sense of Events) thinks it's past time for Western churches to stop treating Japan as victim every Aug. 6 and 9:
I refuse on principle to pollute God's ears with prayers dedicated only to Hiroshima Day and the dead of those cities while ignoring the tens of millions of Japanese-murdered souls who cry for remembrance, but do not get it, certainly not from the World Council of Churches and its allies who have no loathing but for their own civilization. If the prayers of the WCC's service are to be offered, let them be uttered on Aug. 14, the day Japan announced its surrender, or on Sept. 2, the day the surrender instruments were signed aboard USS  Missouri. Let our churches no longer be accessories to Japan's blood-soaked silence but instead be voices for the  millions of murdered victims of its bloodlust, imperialist militarism.
(HT: Bill Cork).
This article originally appeared on The New Theological Movement written by Reginaldus on July 29, 2010 Anno Domini.  Re-posted with permission.
18th Sunday in Ordinary Time, Luke 12:13-21
The rich man of this Sunday's Gospel is blessed with a bountiful harvest. Rather than thanking God for this gift, he hoards the grain in his barns – his heart is possessed by his possessions. At the moment of death, the Lord calls him a fool, for he was not rich in what matters to God.
The Fathers of the Church, and St. Thomas Aquinas following them, see in this parable a strong teaching of social justice. Their teachings have in turn been integrated into the Social Doctrine of the Church. Here we will consider St. Thomas' exposition of the doctrine as well as several important quotations from the Church Fathers.?
The common destination of all goods and right to private property
We must first affirm that man has a right to own private property. All men have a natural right to make use of material goods. According to positive human law, men also have a right to private property – this is necessary for the good order of society and the proper care of the goods themselves, it also serves as a means of restraining greed and inciting toward generosity (a man can give alms only if he has some property of his own).
However, it is equally clear in the Church's Tradition, as expressed by the Fathers of the Church and magisterial teachings, that the right to private property is subordinate to the universal destination of all goods. That is, the right to private property cannot be extended to the point of depriving others of the basic material necessities of life. Every man has the right to the material necessities of life – when he is deprived of these, while another has excess wealth, a grave injustice has occurred.
A new film, Under the Roman Sky, starring James Cromwell as Pius XII, details the heroic efforts of Pius XII to save the Jews of Rome from the Nazis, after Rome came under Nazi occupation subsequent to the fall of Mussolini following the Allied invasion of southern Italy in 1943.
Rabbi David G. Dalin, in his review of a Moral Reckoning, a tome by Daniel Goldhagen which sought to blame Catholicism for the Holocaust, details the efforts of the Pope to save the Jews of Rome:
Goldhagen's centerpiece is the outrageous allegation that Pius XII "did not lift a finger to forfend the deportations of the Jews of Rome" or of other parts of Italy "by instructing his priests and nuns to give the hunted Jewish men, women and children sanctuary."  Much of this is lifted straight from anti-Pius books like Susan Zuccotti's Under His Very Windows–and thus Goldhagen repeats the errors of those books and adds extras, all his own, in his determined attempt to extend their thesis into over-the-top railings against the sheer existence of Catholicism.