Pope Leo XIII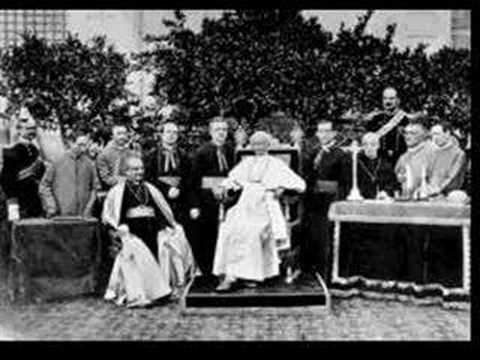 In 1947 Father Domenico Pechenino related what he had witnessed over six decades before.
"I do not remember the exact year. One morning the great Pope Leo XIII had celebrated a Mass and, as usual, was attending a Mass of thanksgiving. Suddenly, we saw him raise his head and stare at something above the celebrant's head. He was staring motionlessly, without batting an eye. His expression was one of horror and awe; the colour and look on his face changing rapidly. Something unusual and grave was happening in him.
"Finally, as though coming to his senses, he lightly but firmly tapped his hand and rose to his feet. He headed for his private office. His retinue followed anxiously and solicitously, whispering: 'Holy Father, are you not feeling well? Do you need anything?' He answered: 'Nothing, nothing.' About half an hour later, he called for the Secretary of the Congregation of Rites and, handing him a sheet of paper, requested that it be printed and sent to all the ordinaries around the world. What was that paper? It was the prayer that we recite with the people at the end of every Mass. It is the plea to Mary and the passionate request to the Prince of the heavenly host, (St. Michael: Saint Michael the Archangel, defend us in battle) beseeching God to send Satan back to hell."

Cardinal Giovanni Batista Nassalli Rocca di Corneiliano wrote in his Pastoral Letters on Lent:  "the sentence 'The evil spirits who wander through the world for the ruin of souls' has a historical explanation that was many times repeated by his private secretary, Monsignor Rinaldo Angeli. Leo XIII truly saw, in a vision, demonic spirits who were congregating on the Eternal City (Rome). The prayer that he asked all the Church to recite was the fruit of that experience. He would recite that prayer with strong, powerful voice: we heard it many a time in the Vatican Basilica. Leo XIII also personally wrote an exorcism that is included in the Roman Ritual. He recommended that bishops and priests read these exorcisms often in their dioceses and parishes. He himself would recite them often throughout the day."
The Prayer written by the Pope is of course the famous prayer to Saint Michael:
Sancte Michael Archangele,
defende nos in proelio;
contra nequitiam et insidias diaboli esto praesidium.
Imperet illi Deus, supplices deprecamur:
tuque, Princeps militiae Caelestis,
satanam aliosque spiritus malignos,
qui ad perditionem animarum pervagantur in mundo,
divina virtute in infernum detrude.
Amen. Continue reading →
The so-called American conservative movement is not conservative in the sense that many of its proponents would suggest. In reality, American conservatism, in many ways seeks to preserve and reassert classical liberalism. In fact, the entirety of the American political spectrum is liberal in different ways and varying degrees—but it is unmistakably and manifestly liberal.
This should come as no surprise since many of the Founding Fathers were men of the Enlightenment and there is no more obvious case than that of Thomas Jefferson, the author of that quintessential Enlightenment masterpiece The Declaration of Independence. The philosophical paradigm by 1776 had already shifted—anthropology was evolving toward an increasingly false view of man and the natural law (because the philosophical concept of "nature" was changing) was something different than that articulated by classical philosophers, which had been incorporated into the Christian tradition.
The American legal tradition seeking to adhere to the letter of the social contract, i.e. The Constitution of the United States of America, seems to have individual liberty at issue in every question of law. This, to be sure, is not something to be regarded as a problem in and of itself, insofar as the operative definition of liberty is not philosophically false and the norms of justice, in the classical sense, are not contradicted.
To the learned mind, it is patently clear that the predominant philosophical paradigm, anthropological assumptions on human nature, concept of the nation-state, view of society, of freedom, of responsibility, and so forth found in the Western world is undoubtedly borne of Enlightenment thinking. The United States is most certainly no exception. In America, across the political spectrum, there is a dubious philosophical premise, that of an abstract ideal of autonomy, which, no matter how admirable or attractive it may seem, is radically incomplete. Indeed, man does possess a free will, but the form of freedom requires content. Continue reading →
Jesus of Nazareth: Liar, Lunatic, Lord—or Historical Victim?
A student at a Catholic university—if it faithfully abides by Pope Leo XIII's Aeterni Patris and Cardinal Newman's The Idea of a University—will constantly be informed that modern philosophy has committed "crimes of reason." This philosophical shift, a consequence of a movement borne in a period called "the Enlightenment," has tremendously affected all the other disciplines of academia, particularly the natural and social sciences. This reflects my own experience and how I was educated to think.
Yet this bad philosophy that has pervaded all of academia was largely unexamined in how it affected Christian theology in my academic experience. Certainly, we took notice of its more self-evident effects; the most obvious being the work of dissenting theologians supporting women's ordination, who didn't believe in Hell, who argue for the moral legitimacy of artificial contraception, and so forth—in other words, manifestations where the underlying philosophy is clearly not Catholic—but there never was any exhaustive attempt to uncover how "bad philosophy" has infiltrated Christian theology. In many ways, the question was addressed, but only in broad strokes at points where the question at hand was not the focal point. In other words, this question was addressed insofar as it can be by talking about it considering another perspective or point of interest. It was not addressed for me except by a sole professor by the name of Fr. Robert Barringer, to whom I am deeply indebted.
Everyone here at the American Catholic hoped that you all have had a happy Labor Day weekend.
The principle of Subsidiarity states that government should undertake only those initiatives which exceed the capacity of individuals or private groups acting independently.
Pope Leo XIII developed the principle in his AD 1891 encyclical Rerum Novarum.  The principle was further developed by Pope Pius XI in his AD 1931 encyclial Quadragesimo Anno.
_._
To learn more about Subsidiarity click here.
To read Pope Leo XIII's encyclical Rerum Novarum click here.
To read Pope Pius XI's encyclical Quadragesimo Anno click here.
For more Dilbert funnies click here.
[Updates at the bottom of this posting.]
The much anticipated new encyclical that Pope Benedict XVI recently signed, his third, on June 29th titled Caritas in Veritate, or Charity in Truth, will be released soon by Ignatius Press (the English version) on July  6th or 7th of 2009 A.D.  In searching for information regarding this encyclical I found bits and pieces here and there but nothing exhaustive or concise that came close to satisfying my curiosity.  So I've gathered all of my information and have presented it the best way possible in this posting.  With tongue in cheek I labeled this preview of Caritas in Veritate as an 'Exclusive Sneak Peek'*.
Caritas in Veritate will be a social encyclical examining some of the social changes that have occurred since Pope Paul VI's encyclical Populorum Progressio, particularly globalization.  The encyclical will have Pope Benedict XVI articulating the need to bolster humanism that brings together the social and economic development of humans and to reduce the disproportionate gap between poor and rich.  One other major theme of this encyclical will be that of global justice.
I am going to provide everyone with a nice blast from the past- everyone I know respects Pope John Paul II- most orthodox Catholics refer to him as John Paul the Great. So I think what he thought officially as Pope on the question of Capital/Labor/State as part of the tradition deriving from Pope Leo XIII's Rerum Novarum- is incredibly interesting and relevant. Here is Chapter One of Centesimus Annus with no personal commentary- let the "man" speak without any interference from me:
Having recently re-read one of the most insightful critiques of the socially destructive effect of mass pornography I have ever come across, I was struck by how the central message was actually present in George Orwell's 1984. The article is titled "The Politics of Porn", authored by Robert R. Reilly, and the important message to take away from it is summarized in the following lines:
No matter how democratic their institutions, morally enervated people cannot be free. And people who are enslaved to their passions inevitably become slaves to tyrants.
The mass production and consumption of pornography, Reilly argues, has "morally enervated" the American public and poses a serious threat to the true foundations of liberty – personal virtue.
I've noticed a few posts dealing with the problems of taxation and government spending. With the social teaching of our Church clearly warns against the dangers of burdensome taxation, it nonetheless remains that tax rates have been cut dramatically in the last 30 years, even as government spending has increased. The losses of tax revenue were offset by a massive accumulation of debt, because a society such as ours requires a great deal of wealth to continue functioning.
I will be the one to point out, then, that far more perilous to the position of the working American family is the stagnation and overall decline of real wages – wages adjusted for inflation – during that same stretch of time. Both global pressures as well as corporate and government offensives against the social position of the American worker have contributed to a decline in real wages and have caused a build up of consumer debt that rivals the government's debt.
We were told by endless propaganda no different in its shrillness and anxiousness that cutting taxes on the incomes of the wealthy, on dividends and capital gains, on estates and every other business venture, would create jobs and prosperity for all.
(Originally published at InsideCatholic.com)
It might surprise some to learn that the basic idea behind the "welfare state" did not originate with either Marxist revolutionaries or bleeding-heart liberals, but rather with a head of state usually identified with conservatism: Otto von Bismarck. Faced with a growing threat from the German socialist movement, in the 1880s Bismarck established four programs that were essentially the minimum of the socialist program: health insurance, accident insurance (or workmen's compensation), disability insurance, and a retirement fund for the elderly. By implementing these programs, the German leader hoped to steal some of the thunder from the socialists and prevent a revolutionary uprising.
In the United States, a similar motivation guided the architects of the New Deal, Social Security, and other programs now grouped under the broad heading "welfare state." One might never know, based on today's heated political rhetoric, that the idea behind the welfare state was to prevent, not bring about, socialism. Yet since the 2008 campaign, welfare, along with regulation and redistribution, have become synonymous with "socialism" in America.
Catholics have been as divided over these issues as the nation at large, with nearly everyone interested in the political debate combing the social doctrines of the Church to support one theory at the expense of another. So where precisely does the Church stand on the issue of welfare?
Hattip to commenter Blackadder who brought this to my attention in a post on Vox Nova last year.  On the 277th birthday of George Washington, it is appropriate to recall these words of Pope Leo in regard to the Father of our Country:
"Nor, perchance did the fact which We now recall take place without some design of divine Providence. Precisely at the epoch when the American colonies, having, with Catholic aid, achieved liberty and independence, coalesced into a constitutional Republic the ecclesiastical hierarchy was happily established amongst you; and at the very time when the popular suffrage placed the great Washington at the helm of the Republic, the first bishop was set by apostolic authority over the American Church. The well-known friendship and familiar intercourse which subsisted between these two men seems to be an evidence that the United States ought to be conjoined in concord and amity with the Catholic Church. And not without cause; for without morality the State cannot endure-a truth which that illustrious citizen of yours, whom We have just mentioned, with a keenness of insight worthy of his genius and statesmanship perceived and proclaimed. But the best and strongest support of morality is religion."