Pope John Paul II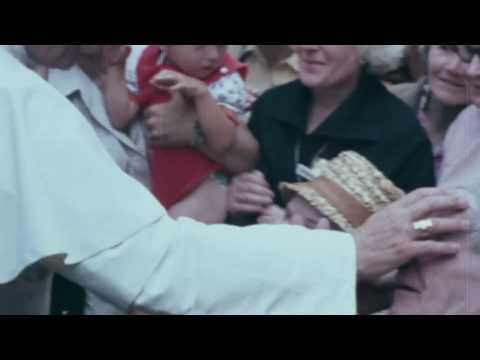 Nine Days That Changed the World is a film produced by Citizens United, Newt Gingrich's, former Republican Speaker of the House and Catholic convert, group.  That Gingrich produced it will probably reduce the number of people who will see the film, due to the fact that Gingrich is subject to legitimate criticism for his past infidelities to his first two wives, and because he is a devil figure for the Left.  That is a shame because this film is a thoughtful look at one of the pivotal events in the last century:  the unraveling of the Soviet domination of Eastern Europe, which began in Poland and was directly sparked by the visit of John Paul II in 1979 who inspired Lech Walesa and other Poles to found Solidarity and give voice to the Polish cry for freedom that ultimately prevailed.
In his address to the civil authorities in Poland on June 2, 1979, the Pope touched upon the never ending desire of the Poles for their independence:
We Poles feel in a particularly deep way the fact that the raison d'être of the State is the sovereignty of society, of the nation, of the motherland. We have learned this during the whole course of our history, and especially through the hard trials of recent centuries. We can never forget that terrible historical lesson—the loss of the independence of Poland from the end of the eighteenth century until the beginning of the twentieth. This painful and essentially negative experience has become as it were a new forge of Polish patriotism. For us, the word "motherland" has a meaning, both for the mind and for the heart, such as the other nations of Europe and the world appear not to know, especially those nations that have not experienced, as ours has, historical wrongs, injustices and menaces. And thus the last World War and the Occupation, which Poland experienced, were still for our generation such a great shock thirty-five years ago when this war finished on all fronts. At this moment there began the new period of the history of our motherland. We cannot however forget everything that influenced the experiences of the war and of the Occupation. We cannot forget the sacrifice of the lives of so many men and women of Poland. Neither can we forget the heroism of  the Polish soldier who fought on all fronts of the world "for our freedom and for yours".
We have respect for and we are grateful for every help that we received from others at that time, while we think with sadness of the disappointments that we were not spared.
Happy Independence Day, folks! — Here is a roundup of some choice reads as we commemorate the birth of our nation:
Following are two books which I heartily recommend for some engaging historical reading of the American Revolution and our founding fathers. Continue reading →
In a few days the FIFA World Cup, which is one of -if not the- premier sporting events in the world, begins so I thought it might be a good time to reflect on the good of sports for those who don't play them.
In modern sports, sometimes it's hard to see this good. In sports today, we have college football conferences raiding each other in pursuit of the all-mighty dollar, destroying the wonderful regional nature of the game. We have Kobe Bryant, one of the all-time divas, two games away from yet another title. As Henry Karlson pointed out in a post a while ago, sports stars often find themselves in a position of privilege-both in terms of financial wealth and in terms of our excusal of their poor behavior (though I would attribute this in large part not solely to sports but also to the cult of celebrity we have today, which is another post for another day). We even had a stampede in anticipation of the World Cup.
In the face of an ever-emerging "culture of death," the ancient truth that death is a mystery and not a "problem" is needed more than ever. To designate death as a problem implicitly suggests a need for a remedy, which underlines the modern assumption of possession of the resources necessary to exercise technical mastery over the "problem"—in this case, death. The predominance of the technical solution over the respectful awe rightly due in the face of something greater than us puts mankind in quite a predicament.
The Church, as Pope John Paul II attentively reminded us in Redemptor Hominis, is the guardian of transcendence. This image of the Church is particular fitting in dealing with complex ethical questions of life and death. In recent times, the very mystery of death—real death—has been debated extensively as it relates to the theory of "brain death," which is effectively interrelated to ethical questions regarding organ donation.
Catholics see death in the light of divine revelation. Death, the fruit of original sin, now exists as the means by which we participate in the Passover of Our Lord, passing from death into new life. Death is not the end of our human existence; to say otherwise would be an embrace of the fallacious pagan trap of modern philosophical thought overflowing with agnostic existential anxiety over this very unsettling question.
At a time when so many are down on the Church, it's interesting to see through the eyes of a young girl — a blind girl who had mystical vision.
Let's back up and say this comes from a book by a medical doctor named Dr. John Lerma, who specializes at the Houston Medical Center Hospice in tending to patients as they near death.
Dr. Lerma has had tremendous experiences with these patients — documenting the many who see angels or deceased loved ones and have glimpses of the eternal as they approach the threshold.
But what we'd like to focus on today is a different kind of supernatural experience that occurred when a ten-year-old girl named Sarah who had been blind since birth as a result of atrophic optic nerves was taken to St. Peter's Basilica in Rome. This was an Easter Sunday nearly two decades ago.
"I marveled at the multitude of loving sounds that Bernini's dramatic design was exuding," recalled Sarah nineteen years later as she lay dying of cancer. "As I walked through the towering, ornate door of St. Peter's Basilica, I was drawn by an alluring vibration toward the chapel to my right.
"What I was allowed to hear was beyond awe.
"The vibrations and frequencies, now a part of my entire being, were the remnant echoing sounds of sadness replaced by utter joy and exuberant love from the statue where Jesus was heard to be lying on His mother's lap after being crucified. I knew I was now standing in front of Michelangelo's most honored statue, the 'Pieta.' Feeling some unfamiliar loving force take hold of my hand, I took hold of my mother's and followed with total faith. I told my mom not to worry and to trust me, as there was an angel leading us to our next spiritual experience."
I've been asking myself that question as I've read the discussions about the sex abuse scandal and asked it again while I read Ross Douthat's editorial at the NYT this morning. The most pertinent part is this:
But there's another story to be told about John Paul II and his besieged successor. The last pope was a great man, but he was also a weak administrator, a poor delegator, and sometimes a dreadful judge of character.

The church's dilatory response to the sex abuse scandals was a testament to these weaknesses. So was John Paul's friendship with the Rev. Marcial Maciel Degollado, the founder of the Legionaries of Christ. The last pope loved him and defended him. But we know now that Father Maciel was a sexually voracious sociopath. And thanks to a recent exposé by The National Catholic Reporter's Jason Berry, we know the secret of Maciel's Vatican success: He was an extraordinary fund-raiser, and those funds often flowed to members of John Paul's inner circle.

Only one churchman comes out of Berry's story looking good: Joseph Ratzinger. Berry recounts how Ratzinger lectured to a group of Legionary priests, and was subsequently handed an envelope of money "for his charitable use." The cardinal "was tough as nails in a very cordial way," a witness said, and turned the money down.

This isn't an isolated case. In the 1990s, it was Ratzinger who pushed for a full investigation of Hans Hermann Groer, the Vienna cardinal accused of pedophilia, only to have his efforts blocked in the Vatican. It was Ratzinger who persuaded John Paul, in 2001, to centralize the church's haphazard system for handling sex abuse allegations in his office. It was Ratzinger who re-opened the long-dormant investigation into Maciel's conduct in 2004, just days after John Paul II had honored the Legionaries in a Vatican ceremony. It was Ratzinger, as Pope Benedict, who banished Maciel to a monastery and ordered a comprehensive inquiry into his order.

So the high-flying John Paul let scandals spread beneath his feet, and the uncharismatic Ratzinger was left to clean them up. This pattern extends to other fraught issues that the last pope tended to avoid — the debasement of the Catholic liturgy, or the rise of Islam in once-Christian Europe. And it extends to the caliber of the church's bishops, where Benedict's appointments are widely viewed as an improvement over the choices John Paul made. It isn't a coincidence that some of the most forthright ecclesiastical responses to the abuse scandal have come from friends and protégés of the current pope.
Douthat is not alone here; most have pointed out (including Rod Dreher, who left the Church b/c of his disappointment w/ the abuse scandals) that Benedict has gone to great lengths to clean up the mess that his predecessor made. But does a "great" make that kind of mess?
Now I certainly think that JPII is a saint. I don't think that's in question. Interestingly enough, I have not gathered from the media's coverage that they would disagree with that. In fact, I would say that he probably merits very serious consideration as a doctor of the Church for Fides et Ratio and "man and Woman He Created Them: a theology of the body" Heck, I even have a poster of him in my living room (which is useful for showing to Mormon missionaries when they ask if I'm religious).
But having the title of "the great" means something extra than sainthood, doesn't it?
Of course, this is difficult b/c "the great" title has no requirements, no set guidelines. This can be a big deal, as often the rules determine the result (for example: the importance you attach to Superbowl wins affects whether you think Manning or Brady is superior. of course this question is irrelevant b/c Brees is better than both of them but I digress).
Adding further difficulty is determining how significant this scandal is. While I'm sure this has profoundly affected those who have suffered from child abuse, I'm not sure if this will be a big deal thirty, fifty, a hundred years down the road. Right now of course it seems huge but how many people will be aware of it in the coming generations?
For JPII to not be determined great, it would have to be that the sex abuse scandal made enough of a dent in his legacy. This is not a minor feat, as JPII deserves significant credit for stabilizing the Church following Vatican II (setting the stage for the current traditonalist revival), excellent contributions to theology (including Fides et Ratio and Theology of the Body), an excellent charismatic approach that changed the nature of the papacy, and-oh yeah-helping to peacefully bring down the Soviet Union.
I tend to think that in the end, he will be deemed great though for the moment I hesitate to use the term. In the end, I think this storm will pass and we'll be left with the memories of a great man with great accomplishments. But I think it's possible that in reflecting on the failures of JPII's papacy that perhaps we'll choose not to use the term, and that's not a possibility many were entertaining 5 years ago when JPII came into eternal life.
I would really like to know how other people are approaching this problem. Please leave comments.
Of course, one has to think that if Benedict is doing better than JPII, and JPII is "the great", ought perhaps Benedict be up for the term? Food for thought.
In light of the fascinating discussion of personal and social sin kicked off most recently by Darwin here (make sure and read the comments) and followed up by Joe here, I thought it would be worth posting article 16 of John Paul the Great's post-synodal Apostolic Exhortation Reconciliatio et Paenitentia, entitled "Personal and Social Sin". It's obviously very pertinent, yet unless I missed it, no one has referenced it yet. The actual text is below the break. As the reader will note, one point relevant to the discussion here is that sin properly speaking is an act on the part of an individual person. Yet while social sin is such only in an analogous sense, JPII makes clear that it does describe something real. Now, on to the text.
The entire country, including and especially the blogosphere, is ablaze with commentary, debate, and verbal warfare over the merits and potential consequences of Obamacare's passage into law on Tuesday. Among us Catholics debate has been particularly intense, since the American Church played a key role in opposing Obamacare due to its anti-life provisions, though I can't say that I agree at all with the bishops when they suggest that the bill was otherwise acceptable.
I opposed, and continue to oppose Obamacare for many reasons, abortion funding being only one of them. Indeed, while the absence of the Hyde language from the bill is certainly troubling, the truth is that Catholic taxpayers have been funding "medically necessary" or "exceptional" abortions at the state level through Medicaid for decades – abortions which are still offenses against life according to the teaching of the Church. Some Catholics have also been doing so through their participation in private health care plans that cover abortion. In modern America, we may as well forget about any kind of meaningful "conscience protection."
It occurs to me that there are – among several others – two major problems that I have not seen adequate coverage of in the news that will result from Obamacare, though I admit, I can't read everything, so if someone can direct me to analysis of these issues, I would be grateful.
A traditional Anglican priest-theologian observing the internal life of the American Catholic Church from the outside commented that American Catholicism is becoming increasingly just another form of Protestant Christianity. This suggestion gave me pause and in fact, for quite some time, this observation has remained in the forefront of my thoughts.
The Anglican clergyman in question observed that the America, as far as he could ascertain, really had no cultural identity. What does it mean to be an American? What exactly are "American values?" There probably are as many answers to this question as there are American people. "We the people…" have never been monolithic in our way of life.
The American political experiment and social ethos is by and large a Protestant experiment. There was never a point where Protestant Christianity had to establish itself against innumerable generations of Catholic intellectual, spiritual, and moral heritage as was the case in Europe. This is a characteristic that is very unique to America, both for good and for ill. Protestant Christians share with Roman Catholics a great deal, but certain Protestant tendencies, for the lack of a better term, such as an emphasis on freedom, individual conscience, self-determination (versus self-discovery), etc, which sets itself against, historically speaking, the authority of the Church with a sola scriptura mentality has imprinted a certain social individualist ethos on the American experiment. This, of course, inevitably affects Catholics living within the United States.
Pope Benedict has appointed Cardinal Ruini to head a commission of inquiry under the Congregation for the Doctrine of the Faith to investigate the alleged apparitions in Medjugorje.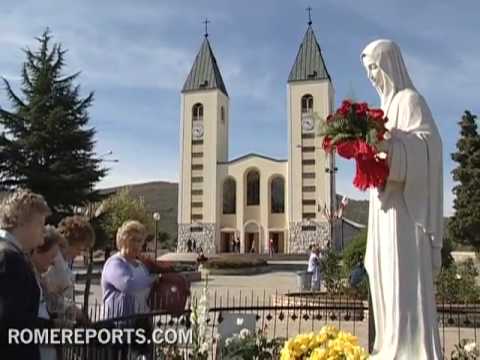 This has been a long time coming and should be comprehensive and decisive.
It has been said that the late Pope John Paul II wanted to believe in the Marian apparitions while Pope Benedict has withheld judgment with reservation. We know Pope Benedict has visited Medjugorje incognito in the past.
Medjugorje has been controversial from the very beginning and it will be interesting to see what the CDF has to say.
_._
Thank you Rome Reports for the video.
There are some whom denigrate soldiers and policemen and the plan God has for them in Salvation.  I disagree completely and there are many examples of saints and popes who have honored the soldier and policeman in defense of justice and peace.
I found this quote by Servant of God Archbishop Fulton J. Sheen's Wartime Prayer Book:
"The great French Lacordaire once said the vocation of a soldier is next in dignity to the priesthood, not only because it commissioned him to defend justice on the field of battle and order on the field of peace, but also because it called him to the spirit and intention of sacrifice."
As we work our way through Lent 2009, we need to rejoice in the turning tide. Though there has been much negative news about the Catholic Church this past decade, much of the negative news had its roots in actions taken during the 1960s and 1970s. Yet, the seeds of the good news planted during the pontificates of Pope John Paul II and now Pope Benedict XVI is just now seeing its shoots and blossoms become visible to the naked eye.
What are the shoots and blossoms?  They can be seen in increasing vocations to the priesthood and religious life, and the strong orthodox nature of these new, young priests. A new crop of Catholic bishops is also boldly showing their orthodoxy, which often befuddles and mystifies the mainstream media and the secular culture in which we live. In addition to this, many in the laity have for years now been writing and blogging about the desperate need for Catholic orthodoxy in a world full of hurt and self absorption. Many ask how can the Church possibly grow when the Church's active laity, especially the young along with those who serve her in ordained and professed ministries, are so different from the culture in which they live? It is that culture in which they live that causes them to see the wisdom in Christ's words and the Church He started through the first pope, the Apostle Saint Peter.
There were fewer shoots and blossoms in the 1970s when the seriousness of the Catholicism was questioned after the Church seemed to be trying to be relative, whether it was related or not, thousands of priests and nuns left their vocations. However, starting in 1978 with the election of Pope John Paul II, the tide began to turn. All of the Polish pontiff's hard work began to be seen in the shoots and blossoms of events like World Youth Day 1993, which was held in Denver. Later in his pontificate thanks to events like World Youth Day, vocations to the priesthood and religious life began to increase.