Pope Benedict XVI
Joan was a being so uplifted from the ordinary run of mankind that she finds no equal in a thousand years. She embodied the natural goodness and valour of the human race in unexampled perfection. Unconquerable courage, infinite compassion, the virtue of the simple, the wisdom of the just, shone forth in her. She glorifies as she freed the soil from which she sprang.
                                               Sir Winston Churchill
One of the examples of the direct intervention of God in human affairs, the brief history altering life of Saint Joan of Arc has attracted the admiration of the most unlikely of men, including the Protestant Sir Winston Churchill, and the agnostic Mark Twain who called his book on Joan of Arc the finest thing he ever wrote.  She was not canonized until 1920, but almost all of her contemporaries who met her had no doubt that she was a saint sent by God.  Some of the English who were present as she was burned at the stake cried out that they were all damned because she was a saint.   Jean Tressard, the Treasurer of Henry VI, King of England, wrote the following soon after the execution of Joan:   "We are all lost for it is a good and holy woman that has been burned. I believe her soul is in the hands of God, and I believe damned all who joined in her condemnation".  With Saint Joan humanity came into contact with a messenger from God, and the result to her was as predictable as it was lamentable.  However, the outcome of her mission was exactly as she had predicted.  The weak Dauphin that she had crowned would reign as Charles VII and end the Hundred Years War in victory for France, something that none of his contemporaries thought remotely possible before Joan embarked on her mission.
On January 26 of this year Pope Benedict spoke of Saint Joan: Continue reading →
We have an awesome Pope.
Pope Benedict XVI wrote a letter to Cardinal Zenon Grocholewski, Chancellor of the Pontifical Institute of Sacred Music, on the occasion of the institution's 100th anniversary. In this letter the Pope highlights the importance of sacred music and the type of music that is at the heart of proper worship.
The Pope then emphasized how, since St. Pius X until today, "even though evolving naturally, there has been a substantial continuity of the Magisterium on sacred music". In particular he cited Paul VI and John Paul II who "in light of the conciliar constitution 'Sacrosanctum Concilium', reiterated the purpose of sacred music, that is to say, 'the glory of God and the sanctification of the faithful' and the fundamental criteria of the corresponding tradition…: a sense of prayer, dignity, and beauty; full adherence to liturgical texts and expressions; the assembly's participation and, therefore, the legitimate adaptation to local culture, at the same time maintaining the universality of language; the primacy of Gregorian chant as the supreme model of sacred music and the careful assessment of other expressive forms that make up the historical-liturgical patrimony of the Church, especially but not just polyphony; and the importance of the 'schola cantorum', particularly in cathedral churches".

"However, we always have to ask ourselves: Who is the true subject of the liturgy? The answer is simple: the Church. It is not the individual or the group that celebrates the liturgy, but it is primarily God's action through the Church with its history, its rich tradition, and its creativity. The liturgy, and thus sacred music, 'lives from a correct and constant relationship between healthy traditio and legitimate progressio', keeping always in mind that these two concepts … are interwoven because 'tradition is a living reality that, therefore, encompasses within it the very principle of development and progress'", the Pope concluded.
In just a couple of paragraphs Pope Benedict XVI superbly describes what the Mass is all about.
Did I mention that we have an awesome Pope?
Last fall, Pope Benedict issued the post-synodal apostolic exhortation Verbum Domini, On the Word of God in the Life and Mission of the Church. With a handful of exceptions, the response of the American Catholic blogosphere (and the Catholic commentariat in general) was crickets.
It seems that unless a papal document somehow touches on an issue of the culture wars, near-silence is the response.
So, why do popes bother?
The question is rhetorical, of course. The fact of the matter is, Catholics ought to be reading these documents, and not just "professional Catholics" or clerics, but all of us. Look at whom Verbum Domini is addressed to, for example: bishops, clergy, the consecrated, and the lay faithful. Virtually every other major magisterial text is similarly addressed (curiously, one of the more technical ones which does get greater attention — JPII's Veritatis Splendor — is addressed only to bishops), yet all too often, even informed, orthodox Catholics seem to fail to read them.
Why is that?
Look at the documents of Vatican II… both before and after they were elected to the See of Peter, Popes John Paul II and Benedict were emphatic that the renewal of the Church which the Council hoped for would not happen unless the members of the Church actually read the documents and internalized them. Even in his apostolic letter closing the Great Jubilee (Novo Millenio Ineunte), John Paul called for the further implementation of the Council, again, with the actual reading of the texts. Have these calls been heeded?
With Lent nearly upon us, now seems an appropriate time to prayerfully discern which one of these gifts of the Magisterium we might take up and read.
When former Senator Rick Santorum, a faithful Catholic who appears to be preparing to run for president, made some comments recently in a speech in South Carolina, they were taken out of context in an article by Andy Barr at Politico. While Santorum's remarks about historical revisionism of the Crusades were highlighted, Politico left out clarifying remarks which express Santorum's views, albeit in a simple analogy, on what Christians should be doing to counter Islamic jihad. It should be noted that these remarks are in keeping with the advice of the Vatican for Christians faced with Islamic aggression.
'From my perspective, I run a Christian school that has a liberal arts-focused education,' said Oakbrook Headmaster Adair Hinds. 'The students we had here … We're trying to make them think. Having somebody make strong statements and take a stance, whether our students believe it or not or agree with it or not is not my concern. My concern is that our students are listening to what people say, listening to their opinions, and running it through their own mind, and basing their decisions on integrity.'
In other words, Santorum endorses the free exchange of ideas in an environment that is not hostile to dissent. This is an important point that was missed, probably because the leftist media really has no earthly idea what we are dealing with in the Islamic version of fundamentalism, not to mention ignorance of both history and the Vatican's official position on these matters.
There is talk of "Crusades" in the air, as of late. We see hype in leftist political media, warnings in anti-Catholic Christian media, and Islamopologetics about the historic Crusades in leftist Catholic media. Considering the reality of continuous Christian slaughter in the Muslim world by Islamists who kill even for what they define as blasphemy, it's time to set the record straight.
There will be no 'Crusades' ordered by the Pope. Anyone who believes otherwise is delusional. It's important to understand why this is so, in order to put this talk to rest, so that we can understand the reasonable way to 'fight' Islamic jihad.
On the Crusades, Santorum's main point was that they were defensive wars, which is true. Further, the history of mankind has been a very long journey of coming to a fuller understanding of what human rights are. The idea of human rights began with the Creation story in Judaism and has progressed over time. It is the Judeo-Christian ethic upon which all human rights have their foundation through the course of history. History shows mankind evolving in his coming to a fuller knowledge about human rights gradually over time, beginning from the basic due process that God offered Adam and Eve in the Garden.
The fact of the matter is that the world was once a place where few human rights were recognized. It is not reasonable, then, for us to apply our understanding of human rights to the people of the Medieval Age.
What we can do is look at the core teachings of Judaism, Christianity and Islam and see what they are. Forced conversions have never been a part of the teachings of Judaism and Christianity, no matter what any of their members may have done as a result of their fallen nature and ignorance. For this reason, we can be sure that nothing like the popular understanding of the "Crusades" (as "Christian conquest" carried out by the Catholic Church) ever really did happen because the lens the vast majority of us are looking through distorts the picture.
If Andy Barr of Politico paid attention to the Vatican as much as I expect Santorum does, he might have been able to sort out what Santorum was attempting to present despite Santorum's fumbling a bit over the issue. The actual plan of the Vatican is in keeping with what Santorum stated in regard to his Christian school. In order to 'combat' Islamic jihad, we must all commit to using our gift of reason in a manner that respects basic human dignity. In other words, we must commit to debating our disagreements in an atmosphere that is devoid of hostility. It should be called a "Crusade of Words" as it is limited to the arena of ideas. This is what Pope Benedict XVI has continually spoken out for during these troubling times by encouraging countries around the world — particularly Iraq, Egypt and Pakistan — to please respect religious freedom and provide security for religious minorities.
In a controversial speech delivered at Regensburg in 2006, Pope Benedict XVI pointed out that Christian theology requires the use of reason whereas Islamic theology rejects reason. In his 2010 "state of the union address" to the Catholic Cardinals, Pope Benedict warned of an 'eclipse of reason' that is advancing now in the world. Though human beings in diverse cultures may disagree on many things, one thing is certain: if we lose our ability to reason with each other in a manner that respects human dignity — which, at minimum, includes our commitment not to kill each other because we disagree — then we will not prevail against the Islamists who have rejected both human dignity and the importance of reason in debates about that dignity.
This is the only 'crusade' that you will see promoted by the Vatican — a 'Crusade of Words' that acknowledges the basics of the dignity of the human person. In lands where Christians are being brutalized, you can be sure that they will ask for their religious freedom wherever there is hope in attaining it. Otherwise, they will flee, as in Libya, or die as so many are dying now in Egypt, Pakistan, Sudan and elsewhere in the Muslim world.
I am a contributor at NewsReal Blog and I disagree with some of my compatriots there on many issues. Many of these issues are serious issues that have to do with human dignity. One thing is certain, though. If you ask anyone at NewsReal Blog if the use of reason is important in order to defend basic human dignity — though we may define human dignity differently — I am certain that they will all answer in the affirmative. This is a 'crusade', of sorts, and we continually call on others to join us. We must arm ourselves not with violence but with reason and with true tolerance in the arena of ideas. Otherwise, the Islamists win.
It really is that simple.
~~~
In a January 31 press briefing, White House press secretary Robert Gibbs offered the first acknowledgement from the Obama Administration that the White House wants the Muslim Brotherhood, which spawned both Hamas and Al Qaeda, to have a place at the table as Egypt seeks to form a new government. Meanwhile, there has been continued silence on whether or not the Christians in Egypt should have any voice. Never before has this silence been so deafening as now.
As the Egyptian military launches RPGs against Christian monasteries, there remains no word from President Obama on the basic human rights of Christians. So, too, there remains no reporting in the Western "mainstream media" about these attacks even as Christians have marched to Tahrir Square to request religious freedom. Further, this morning comes news that Al-Qaeda leader Ayman Muhammad Rabaie al-Zawahiri has called for violence against Christians in Egypt. Why does the Obama Administration acknowledge the voice of the Muslim Brotherhood in Egypt but ignore the voices of Christians, in the midst of this brutal assault? Is it due to incompentence? Or is the Obama Administration more sympathetic to Islamists than to Christians? It's a question that deserves to be answered clearly.
Nina Shea reports this morning about a letter from an Egyptian friend stating that Al-Qaeda leaderAyman Muhammad Rabaie al-Zawahiri has decided to take a strong leadership role, if you will, regarding Christians in Egyptian society.
Al-Qa'ida's number two leader . . . Egyptian born Ayman al-Zawahiri has issued (actually yet to be released!!!!) a three-part message commenting on events in Egypt. In his second part of the message series, Zawahiri spends considerable time inciting violence against Coptic Christians and the Coptic Church. Zawahiri stated that Copts were one of the main problems leading to the situation facing Egypt today.
The Washington Post reports that the Egyptian military cabinet, which many who are concerned about radical Islam had hoped would maintain power when Mubarak stepped down, has "reshuffled" its membership. While two of these new members are Coptic Christians, the situation remains fluid as "tens of thousands" of protesters in Tahrir Square are demanding continued "reform" of the  military cabinet. Clearly, it is no longer reasonable to give any kind of blanket approval to Egypt's military cabinet as it is unknown what loyalties will be in the hearts of those who ultimately populate it. Meanwhile, as noted, troops on the ground are wreaking havoc on the Christian community in Egypt. The future of Christians in Egypt appears painfully hopeless in the face of these changes.
It is important to consider that al-Zawahiri is an Egyptian who was trained from his youth in the Muslim Brotherhood. He is the grandson of Rabi'a al-Zawahri, the former grand imam at Cairo's Al-Azhar University which has been described as the "world's leading center of Sunni Islamic thought". Just prior to the Egyptian uprising, the top scholars at Al-Azhar University broke off dialogue with the Vatican in protest of Pope Benedict XVI's protest of the massacre at Our Lady of Deliverance Church in Alexandria.
In specifically supporting a Muslim Brotherhood presence in Egypt's government, President Obama has effectively aligned himself with Ayman al-Zawahiri and Al-Qaeda against the Christians of Egypt who are today under continued attack even in the Coptic monasteries. Considering, too, the presence of Muslim Brotherhood front groups right here in America, whose representatives can be found rubbing elbows with the President, making a joint statement for "tolerance" with some of our American Catholic bishops, and continually defended by the President's leftist political base, how can we not be alarmed?
On January 7, 2010, President Obama said, "We are at war; we are at war with al Qaeda." Americans certainly understand that we are at war with al Qaeda, but with his offering of support for the Muslim Brotherhood, an ally of Ayman Muhammad Rabaie al-Zawahiri who calls for the murder of Christians, we must ask, does President Obama prefer Al Qaeda to the Christians of Egypt?
We deserve a clear answer to that question.
In my first article The Coming Open Rebellion Against God, I spoke of a time where God would reveal his omnipotence and some would simply leave their faith behind.  Why? Because just as in John 6, some would say it simply doesn't make sense and walk away. Some have prayed that if only God would show His omnipotence; many would fall on their knees and believe. I truly believe the time is coming when some of our intelligentsia, including clergy will see the hand of God and say; "No thanks, this doesn't mesh with my worldview."
Father Dwight Longenecker recently wrote a review of the movie The Rite Starring Sir Anthony Hopkins, a movie somewhat inspired by a real life Italian exorcist. The movie was given praise by many Catholic writers including Father Longenecker for actually showing the Church in a positive light. Perhaps this was due to the film's producers using a California based exorcist Father Gary Thomas who actually was present at the filming of the movie. In a key passage Father Longenecker pondered the fact that far too many in this modern rationalistic world see the idea of the devil and demonic possession as beyond them, even though if they truly followed their rationalistic approach, they would come to see that there simply was no medical or scientific explanation for some cases. Sadly, for too many the sin of pride all too often is their downfall.
Recently Father Gary Thomas was interviewed by Leticia Velazquez of Catholic Exchange; some of his remarks about the way in which the teachings of the Church with regard to evil were defiantly rebuked by some within the Church including bishops were more than a little disconcerting. This movie review of The Rite by Father Raymond Schroth SJ associate Editor of America Magazine is one such example. As you can see, the devil is so passé to Father Schroth SJ. It hardly jibes with the high mindedness of those to which he and his urbane friends associate. Check out the comments section in the article, some of the comments left are as elitist and depressing as his treatise on who God is and who He should be.
George Weigel has noted the sad state of some quasi dissident bishops that Pope John Paul II and now Pope Benedict XVI have had to confront. They came from a mindset that preferred the adulation of the dissident intelligentsia of the Ivy League rather than the working class Catholic roots from which many came.
With regard to Jesus and the devil, Jesus spent a good deal of his time fighting the devil and his minions, but alas those who don't believe in such things seem to indicate that Jesus and the Gospel writers got it wrong, Jesus was not fighting demonic powers but those who were dealing with bouts of depression and epilepsy. According to these liberal dissident elites, Jesus was the precursor to Dr Phil and Deepak Chopra helping those poor seemingly possessed people get their groove back and find their Zen destiny. Never mind what the Church teaches on the subject or the fact that both Pope John Paul II and Pope Benedict XVI have specifically spoken of evil and the needs for more exorcists in the Church, these elites know better. Talk about hutzpah, Pope John Paul II and Pope Benedict XVI have been labeled as intellectually brilliant, even by their detractors, but no matter to those who don't believe in such archaic things as the devil. Perhaps we should ask those in the Church, especially in the Church Hierarchy, if you don't believe what Jesus said about the devil and the manifestation of evil, what else don't you believe? Continue reading →
"Where disagreement becomes a death sentence" – Zenit news interviews Shaheryar Gill, a Pakistani-born lawyer providing "an insider's look" at Pakistan's anti-blasphemy laws. On December 3rd, a hardline, pro-Taliban Pakistani Muslim cleric on Friday offered a reward for anyone who kills a Christian woman sentenced to death by a court on charges of insulting Islam.

Meanwhile, in Iraq, an elderly Christian couple was killed in their home Sunday night in Baghdad, days before they were to finalize the transaction on their house and join an exodus of Christians fleeing to the safety of the North.

Earlier this month, a young Syrian Orthodox engineer was abducted from his shop and murdered, provoking the representatives of the Christian communities to withdraw in protest from the conference on Social Coexistence and Tolerance, organized by the Iraqi Ministry for Human Rights.

Muslim leaders are also sounding the alarm, calling on the Baghdad government and U.S. forces to provide safety for the Christian community.

In Iran, Youcef Nadarkhani, a pastor of a church of about 400 people, was convicted of apostasy and has been sentenced to death for allegedly renouncing his Muslim faith. According to CNN, In the southern city of Shiraz, another Christian pastor, Behrouz Sadegh-Khanjani, 35, is facing a possible indictment for apostasy.
In his book-length interview Light of the World, Pope Benedict emphasized that, with respect to Muslims:

"The important thing here is to remain in close contact with all the current within Islam that are open to, and capable of dialogue, so as to give a change of mentality a chance to happen even where Islamism still couples a claim to truth with violence."
Earlier in November, he renewed his call for religious freedom in Muslim countries Continue reading →
It seems every time a kerfuffle pops up in the Catholic Church, many in engage in hand wringing and doom and gloom scenarios. The latest occurred with Pope Benedict XVI's remarks on condoms, which were wildly taken out of context in his interview with Peter Seewald turned book Light of the World. Following these remarks, some of us have probably been peppered with questions from family and friends as to what this means, and if the Church has changed her teachings in the arena of birth control. Those of us who have welcomed the new orthodoxy taking place within in the Church during the last ten or twenty years, probably have wished this latest kerfuffle had never taken place. However, this in no way shape of form means the orthodoxy movement has stalled. Oddly, I received some gleeful e-mails from some who surprisingly seemed ecstatic to point out that my book; The Tide is Turning Toward Catholicism couldn't possibly be correct. Hopefully, this article will point out that Catholic orthodoxy is alive, well and here to stay.
Church liberals who had long pilloried Pope Benedict XVI even before he was a cardinal, a simple university professor in the famed German town of Tubingen, seemed perplexed on how to treat the latest uproar. Some felt that he was moving in the right (or in their case left direction.) However, the more cynical among them knew that the Holy Father hadn't changed a thing. They in turn left posts at the National Catholic Reporter decrying the German pontiff's lack of pastoral ministry. Though I don't know which saint said it, I am sure someone who was canonized uttered something along these lines; "God please save your Church from these overly pastoral pastors."
The Holy Father was merely engaging in an abstract theological conversation much like a bunch of guys at a sports bar might conjecture what would happen if modern team x played historical team y for a mythical championship. Yet, the mainstream media along with some in the Catholic media went into a frenzy. The Holy Father was changing nothing in the Church's teachings concerning birth control. The fault lie with those in the Vatican's Public Relations Department in making sure the ubiquitous editor Giovanni Vian didn't somehow put the Holy Father's abstract scenarios into an excerpt for the L'Osservatore Romano. The comedy of errors in the Vatican could make one's hair fallout.
Yet, I remember the words of a priest who once spent a considerable amount of time at the Holy See. He told me that the amount of miracles and jaw dropping examples of God's Grace, that he personally witnessed behind the Vatican's walls, still amazes him to this day. However, on the flip side the amount of sinister almost demonic style attacks amazes him to this day as well. The evil one knows where his primary target is located and he does his best to cause mayhem. Continue reading →
[Updated Below]
Wikileaks information has been disclosed by Rome Reports that the U.S. intelligence services were completely caught off guard and surprised at the election of then Joseph Cardinal Ratzinger, now Pope Benedict XVI.
[Found another YouTube video that works]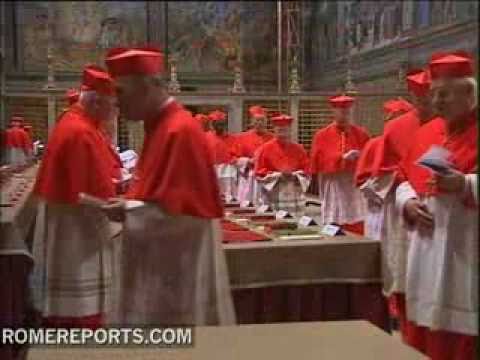 Updated as of 10:40am Central time, 11-30-2010 AD:
U.S. intelligence was expecting a Latin American as the next pope, and predicted that then Joseph Cardinal Ratzinger would have lost in the first round voting.
The rest from Father Zuhlsdorf:
Before the election the staff of the US embassy to the Holy See sent speculations to Washington about the one to be elected.
"The first factor will be age, the cardinals will seek someone who is neither too young nor too old, because they don't want to have another funeral and conclave quickly" but "they also want to avoid having a long pontificate like that of John Paul II."  Furthermore, "it will be a person in reasonably good health".  Another element will be "linguistic ability" and he will have to know Italian.
Mark Brumley is the president of Ignatius Press, which today published a little book by a little German which is generating a little buzz.
Yesterday at IP's official website for the book Mark posted a "summary interview" regarding the condom controversy. I highly encourage anyone interested in better understanding what the heck is going to read this interview.
I have placed together another roundup of the better informed among us in the Catholic blogosphere concerning the Pope's comments on the use of condoms (to build upon a previous similar post).
In my personal opinion, the more I read up on this issue, the more confused I become.
For the record, I am no philosophy or theological expert.  I have a more rudimentary understanding of the teachings of the Church, ie, I clearly understand what and why, not necessarily the minutiae and nuance.
So I comprehend what the pope meant that if the person in question (example of a male prostitute in the act of fornication) decides to use a condom to protect a client, thus indicating that said person is heading in the right moral direction.  Which then begs the question, then it is ok (or is it understandable) to use condoms in certain circumstances, despite Church teaching (Vatican document), ie, Humanae Vitae (Wikipedia entry), to the contrary?
Nonetheless, one cannot come away thinking that the pope himself has allowed for the use of a condom. Period!
This point is obvious enough that Damian Thompson of the Daily Telegraph is breaking his own arm from patting himself on the back so hard from this discovery (here, here, and here)!
Before I give the impression that Pope Benedict has given his blessings to the rise of a brave new condom nation, His Holiness was not speaking ex-cathedra.
But considering the weight of the papal office and the high standing the Church herself holds as a pillar of morality in a depraved world, the comments are disconcerting to the average (practicing) Catholic.
Anyone Can Use a Condom? – Steve Kellmeyer, The Fifth Column
Clarification of Pope's 'Male Prostitute' Reference – John Thavis, CNS
Deflating the NY Times Condom Scoop – George Weigel, Natl Rev Online
When Are Points Not Worth Making on Pope & Condoms – Darwin
Wisdom of The Cross: Benedict & Contraception – Reginaldus, NTM
Ed Peters: L'Osservatore Romano as Origin of Problem – Fr. Z
Did Pope 'Endorse' Condoms? – Steve Kellmeyer, Fifth Column
Confusion On Pope's Condom Views – N. Squires/J. Bingham, Tlgrph
Stop the Presses! – Steve Kellmeyer, The Fifth Column
(Hat tip:  The Pulpit)
The media firestorm swirling around Pope Benedict's discussion of morality and condom use seems like a good illustration of the problem of great trouble and anguish being caused by making completely true and reasonable points. The pope's comment itself is both true and sensible: there is nothing magically wicked about condoms in and of themselves, rather it is using them in order to render sexual relations sterile which is immoral. However, because the pope is such a uniquely high-profile figure in the world, both those (inside and outside the Church) who are desperately eager for the Church to approve artificial contraception as morally licit, and those who live in constant fear that the faith will somehow be betrayed to the ravening hoards outside, immediately went into full freak-out mode. Continue reading →