Pope Benedict XVI
"There is not one single social or economic principle or concept in the philosophy of the Russian Bolshevik, which has not been realised, carried into action, and enshrined in immutable laws a million years ago by the White Ant."
                                                              Winston Churchill
Let us pray today for Pope Benedict while he is in Cuba that, like Moses, he may help lead a people in bitter bondage out of slavery.  Pope Benedict XV named Our Lady of Charity patroness of Cuba in 1916, and therefore we will beseech her aid:
Our Lady of Charity, we humbly ask you to intercede with Our Lord, Your Son, for your suffering people in Cuba.  Inspire the hearts of your people to turn to God and pray for their deliverance from sin and from the tyranny that has deprived them of their freedom for more than five decades.  Strengthen Pope Benedict as he brings the truth of Christ to your people of Cuba longing for that truth and for spiritual and temporal freedom.  Let this year O Lady, if it be the will of God, be a year of Jubilee and Freedom for all Cubans.  We ask this in the name of the Father, and of the Son and of the Holy Spirit.  Amen.
The divide between the truth of the election results and the punditry of the mainstream media is seemingly growing every major primary election night. Perhaps none more than the recent Super Tuesday results, especially those of Ohio. How could it possibly be that Rick Santorum, the former Pennsylvania Senator won the youth vote, all voters under 44, and the married women vote? If one listens to the mainstream media, especially that of NBC, MSNBC and the New York Times one would think the only people voting for Rick Santorum would be rust belt pre-Vatican II ordained Catholic priests, and an amalgamation of southern characters such as Jed Clampett, Mr. Haney, as well as some assorted extras from the set of Deliverance. However, the true exit poll results tell us something quite different.
The mainstream media seemed shocked that Rick Santorum didn't win the Catholic vote and won the Evangelical Vote as well as the others I indicated earlier; young people and married women. I want to delve into the nitty grtty of the statistics and demographics in a few paragraphs but first let me give you some background on those in the heartland who became liberals even though they grew up in GOP circles and folks like myself who became conservative after growing up in a Democratic household.
I grew up in a working class steel and railroad town in Ohio. My family, like many around us was Democrat in party affiliation and social conservative in our mindset. I was educated in Catholic schools (during the 1970s & 80s) and though it was the warm fuzzy era of Catholic education, our nuns and lay teachers never completely bought into the liberal model that was so the rage in cool, upscale areas. Continue reading →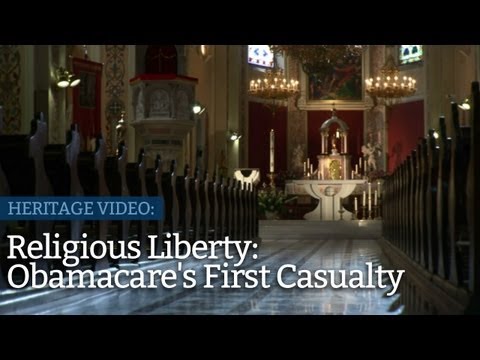 "Enlightened statesmen will not always be at the helm."
James Madison, Federalist 10
The video above is from the Heritage Foundation and incisively sets forth how ObamaCare is at war with religious liberty.  The Founding Fathers made it clear that they viewed freedom of religion as being at the core of the framework of what they were seeking to accomplish:
"We have abundant reason to rejoice that in this Land the light of truth and reason has triumphed over the power of bigotry and superstition, and that every person may here worship God according to the dictates of his own heart.  In this enlightened Age and in this Land of equal liberty it is our boast, that a man's religious tenets will not forfeit the protection of the Laws, nor deprive him of the right of attaining and holding the highest Offices that are known in the United States."
George Washington
"That religion, or the duty which we owe to our Creator, and the manner of discharging it, can be directed only by reason and conviction, not by force or violence; and therefore all men are equally entitled to the free exercise of religion, according to the dictates of conscience; and that it is the mutual duty of all to practice Christian forbearance, love, and charity towards each other."
Patrick Henry
The Religion then of every man must be left to the conviction and conscience of every man; and it is the right of every man to exercise it as these may dictate. This right is in its nature an unalienable right. It is unalienable, because the opinions of men, depending only on the evidence contemplated by their own minds cannot follow the dictates of other men: It is unalienable also, because what is here a right towards men, is a duty towards the Creator. It is the duty of every man to render to the Creator such homage and such only as he believes to be acceptable to him. This duty is precedent, both in order of time and in degree of obligation, to the claims of Civil Society.
James Madison
"Without morals a republic cannot subsist any length of time; they therefore who are decrying the Christian religion, whose morality is so sublime and pure (and) which insures to the good eternal happiness, are undermining the solid foundation of morals, the best security for the duration of free governments."
Charles Carroll of Carollton
Pope Benedict recognizes the threat to religious freedom that exists in our country:
In the light of these considerations, it is imperative that the entire Catholic community in the United States come to realize the grave threats to the Church's public moral witness presented by a radical secularism which finds increasing expression in the political and cultural spheres. The seriousness of these threats needs to be clearly appreciated at every level of ecclesial life. Of particular concern are certain attempts being made to limit that most cherished of American freedoms, the freedom of religion. Many of you have pointed out that concerted efforts have been made to deny the right of conscientious objection on the part of Catholic individuals and institutions with regard to cooperation in intrinsically evil practices. Others have spoken to me of a worrying tendency to reduce religious freedom to mere freedom of worship without guarantees of respect for freedom of conscience.
Here once more we see the need for an engaged, articulate and well-formed Catholic laity endowed with a strong critical sense vis-à-vis the dominant culture and with the courage to counter a reductive secularism which would delegitimize the Church's participation in public debate about the issues which are determining the future of American society. The preparation of committed lay leaders and the presentation of a convincing articulation of the Christian vision of man and society remain a primary task of the Church in your country; as essential components of the new evangelization, these concerns must shape the vision and goals of catechetical programs at every level. Continue reading →
In a bizarre way President Barack Obama, through his Health and Human Services Mandate (HHS) has united religious orthodoxy across the spectrum as never before. In its wake liberal religiosity is going the way of striped pants, bell bottoms and lava lamps; something that is only seen on rare occasions usually when too much alcohol is flowing. At the precipice stands liberal Catholicism, for soon there will be no need for them to retain any religious presence. Liberal Catholic mouthpieces like the National Catholic Reporter are destined to go the way of so many other products whose users outgrew the usefulness of what they read and believed.  Mainline liberal churches have imploded all the while the numbers of Catholics and Evangelicals continue to grow. Apparently the liberal religious elite are so smart, they have disappeared into the mists of history.  Even if the current baby boomers remain religious, their liberal minded children have by and large abandoned the faith to the whims of Hallmark and Deepak Chopra styled spirituality.
In my last book The Tide is Turning Toward Catholicism, I noted that having worked in the Church with a good deal of liberals I cannot think of a single instance in which their children retained their liberal views and also practiced their Catholic faith. I have met their children and while some have become Evangelicals and others have seen the light and come over to orthodox minded Catholicism; those who have remained liberal would only darken a church door if a close relative passed away. Sadly not only have they left their faith but many can't find a single good thing to say about it. Their compliments are reserved for Big Government and Libertinism.
I am not writing this to sound clever or flippant or negative, simply to relate what I see. In many ways, the tide is turning like never before, and we can't say that Jesus didn't tell us that wheat would be separated from the chaff. Indeed we can't serve two masters and the liberals by and large have thrown their lot in with the Herod's of the world. While the liberal elite pretend to live oh so sophisticated lives; they in reality are nothing more than a fallen character in a 1980s hair band ballad video, succumbing to the vices on Sunset Boulevard that the liberal elite relegated to some degenerative red state tourist. As angry as we may be at the religious left's venom and their apostasy, they most certainly need our prayers and we should never forget that supposedly wise people can be fooled as much as anyone by the dark side.
In my previous article, I noted the striking metaphor of the pall of smoke hanging over the Acropolis in Athens caused by rioting Greeks who could no longer pay for their extravagant lifestyle. They are merely the first example of a culture that has aborted and contracepted itself into oblivion, prophetically predicted by Pope Paul VI in his encyclical Humanae Vitae. For the Greeks, Big Government had the answers and their Epicurean ancestors had the lifestyle that seemed oh so appealing. However in reality they couldn't pay the bills because charged with the simple mission of reproducing they felt it too complicated of a task. Continue reading →
The militant secular left thinks they have won a victory with President Barack Obama's "Accommodation" with regard to the Health and Human Services (HHS) Mandate ordering religious based institutions to provide contraceptives, sterilizations and the morning after abortion pill. Some of the left couldn't contain their glee, one guest on MSNBC described President Obama's move as "brilliant." In their distorted thinking they surmise that since not all Catholics adhere to the Church's teachings, especially on birth control, they can cause a split in the Church.
First of all, the militant secular left continually cites the Guttmacher Institute's polling, which is about as accurate as the daily pronouncements of Syria's Bashar Assad. Secondly, it is one thing for Catholics to go against the Church's teachings, it is quite another to say they are proud of it and want more Big Government telling them what they and the Catholic Church to do. The sheer nuttiness of this was illustarted in a discussion which occurred on Sean Hannity's the Great American Panel seen on Fox News last week. One of the participants Jehmu Greene told fellow panelist Andrea Tantaros that without birth control she wouldn't be here. When the incredulous Tantaros wondered how that could logical be, Greene went on a tirade that demeaned women who have children and or decide to work at home.
For years the militant secular left has treated pregnancy as a disease and families as inconvenient truths interfering with their own narcissistic ends. Powerhouse television shows like Sex and City helped to illustrate this point. Katharine Jean Lopez of the National Review wrote some time ago how disgusted she felt seeing men demeaned as objects in the Sex and City movie, the very treatment feminists have railed about for years.
However with the narcissistic Sex and City lifestyle comes another reality playing out in the streets of Athens, Greece and soon to come to a city or country near you in the western world. The declining birth rate means the youngest among us will have to eventually have to pay for a culture that aborted or contracepted itself into oblivion. The generous benefits demanded by those cultures, especially from the militant secular left can only last so long. As the old saying goes; "The problem with Socialism is eventually you run out of other people's money." The ancient Greek world gods who hailed narcissism and hedonism and whose lifestyle was proselytized by the Epicureans seem as irrelevant as ever as the pall of smoke hangs over the Acropolis, a fitting metaphor for what the militant secular left has wrought. Continue reading →
Pope Benedict, judging from this address on January 19 to American bishops in Rome, apparently understands the high stakes in the outcome of this year's election, even if many American Catholics do not:
Dear Brother Bishops,
I greet all of you with fraternal affection and I pray that this pilgrimage of spiritual renewal and deepened communion will confirm you in faith and commitment to your task as Pastors of the Church in the United States of America. As you know, it is my intention in the course of this year to reflect with you on some of the spiritual and cultural challenges of the new evangelization.
One of the most memorable aspects of my Pastoral Visit to the United States was the opportunity it afforded me to reflect on America's historical experience of religious freedom, and specifically the relationship between religion and culture. At the heart of every culture, whether perceived or not, is a consensus about the nature of reality and the moral good, and thus about the conditions for human flourishing. In America, that consensus, as enshrined in your nation's founding documents, was grounded in a worldview shaped not only by faith but a commitment to certain ethical principles deriving from nature and nature's God. Today that consensus has eroded significantly in the face of powerful new cultural currents which are not only directly opposed to core moral teachings of the Judeo-Christian tradition, but increasingly hostile to Christianity as such. Continue reading →
Susan Sarandon comes out at a film festival and calls our German Shepherd a Nazi.
Words can't describe what I want so say, so I'll just print the excerpt from The Hollywood Reporter:
Sarandon was interviewed by Bob Balaban at the Bay Street Theatre in Sag Harbor on Saturday. She said she sent the pope a copy of the anti death penalty book, Dead Man Walking, authored by Sister Helen Prejean. Sarandon starred in the 1995 big-screen adaptation.

"The last one," she said, "not this Nazi one we have now."
Tofu anyone, while trying to digest the latest from Hollywood?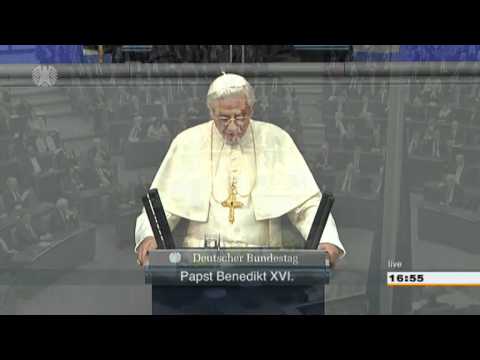 In the history of the Church we have had brilliant Popes, and not so brilliant Popes, an agile mind not necessarily being first on the list of priorities of the Holy Spirit when it comes to choosing Pontiffs.  Without a doubt, our current Pope is brilliant, his acute intelligence shining through his writings and his speeches.  This attribute of Pope Benedict was on full display when the Pope addressed the German Bundestag (national parliament) this week.  He gave a truly fascinating lecture on how what we mean by law has changed in modern times.  I suspect it went over the heads of most of his immediate audience, but it deserves study by all Catholics, and particularly those Catholics who, as I am, are connected with the law professionally.  Here is the speech of the Pope, interspersed with color commentary by me: Continue reading →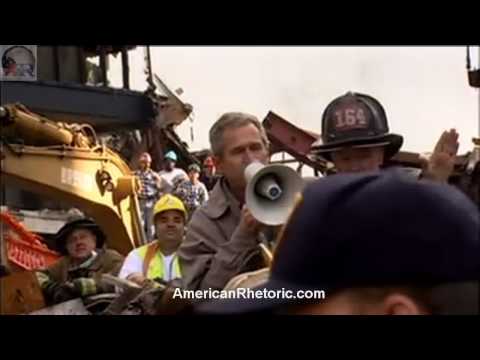 Yesterday while almost all Americans were recalling 9/11 with sadness, mixed with pride for the heroism and self-sacrifice amply displayed by so many of their fellow citizens that dark day, economist Paul Krugman in his blog, hilariously entitled Conscience of a Liberal,  at the, where else, New York Times, posted this:
The Years of Shame
Is it just me, or are the 9/11 commemorations oddly subdued?
Actually, I don't think it's me, and it's not really that odd.
What happened after 9/11 — and I think even people on the right know this, whether they admit it or not — was deeply shameful. Te atrocity should have been a unifying event, but instead it became a wedge issue. Fake heroes like Bernie Kerik, Rudy Giuliani, and, yes, George W. Bush raced to cash in on the horror. And then the attack was used to justify an unrelated war the neocons wanted to fight, for all the wrong reasons.
A lot of other people behaved badly. How many of our professional pundits — people who should have understood very well what was happening — took the easy way out, turning a blind eye to the corruption and lending their support to the hijacking of the atrocity?
The memory of 9/11 has been irrevocably poisoned; it has become an occasion for shame. And in its heart, the nation knows it.
I'm not going to allow comments on this post, for obvious reasons. Continue reading →
Last week, Pope Benedict XVI told the annual gathering of his "Study Group" (some of his former students) to ask God's forgiveness on behalf of generations of "cradle Catholics" who have failed to transmit the faith to others.
No doubt, evangelizing others is an important dimension of Catholic life, as Pope Paul VI reminded the Church in his 1975 apostolic exhortation, Evangelii nuntiandi:
…what matters is to evangelize man's culture and cultures (not in a purely decorative way, as it were, by applying a thin veneer, but in a vital way, in depth and right to their very roots), in the wide and rich sense which these terms have in Gaudium et spes, always taking the person as one's starting-point and always coming back to the relationships of people among themselves and with God. (#20)
Where evangelization first takes place is in the home as parents evangelize their children in the Roman Catholic faith and its practice.  Today, the most-often heard lament is that Roman Catholic parents, in general, are not evangelizing their children and, of those who do, they are not evangelizing their children in the Roman Catholic faith and its practice but in some generic form of Christianity that emphasizes democratic values and aspirations.

On the 6th of June, 1944, when the landing of the allied troops in German-occupied France commenced, a signal of hope was given to people throughout the world, and also to many in Germany itself, of imminent peace and freedom in Europe.  What had happened?  A criminal and his party faithful had succeeded in usurping the power of the German state. In consequence of such party rule, law and injustice became intertwined, and often indistinguishable. The legal system itself, which continued, in some respects, still to function in an everyday context, had, at the same time, become a force destructive of law and right. This rule of lies served a system of fear, in which no one could trust another, since each person had somehow to shield himself behind a mask of lies, which, on the one hand, functioned as self defense, while, in equal measure, it served to consolidate the power of evil.  And so it was that the whole world had to intervene to force open this ring of crime, so that freedom, law and justice might be restored.
We give thanks at this hour that this deliverance, in fact, took place. And not just those nations that suffered occupation by German troops, and were thus delivered over to Nazi terror, give thanks. We Germans, too, give thanks that by this action, freedom, law and justice would be restored to us.  If nowhere else in history, here clearly is a case where, in the form of the Allied invasion, a justum bellum worked, ultimately, for the benefit of the very country against which it was waged.