Pope Benedict XVI
Is dissident and disgraced theologian Hans Küng calling Pope Benedict a sedevacantist?
Hat tip: The Pulpit/Photo credit: The Curt Jester
Cardinal Dolan yesterday released this statement regarding Obama's announcement that he had "evolved" and now, as he did in 1996 when first asked about it, supports gay marriage:
May 9, 2012 WASHINGTON—Cardinal Timothy Dolan, president of the U.S. Conference of Catholic Bishops (USCCB), issued the following statement:
President Obama's comments today in support of the redefinition of marriage are deeply saddening. As I stated in my public letter to the President on September 20, 2011, the Catholic Bishops stand ready to affirm every positive measure taken by the President and the Administration to strengthen marriage and the family. However, we cannot be silent in the face of words or actions that would undermine the institution of marriage, the very cornerstone of our society. The people of this country, especially our children, deserve better. Unfortunately, President Obama's words today are not surprising since they follow upon various actions already taken by his Administration that erode or ignore the unique meaning of marriage. I pray for the President every day, and will continue to pray that he and his Administration act justly to uphold and protect marriage as the union of one man and one woman. May we all work to promote and protect marriage and by so doing serve the true good of all persons.
When the Tokugawa shogunate was stamping out Christianity in Japan, it made use of Fumi-e (stepping on pictures).  Regime officials would place pictures of Jesus or Mary before suspected Christians and order them to step on them.  Refusal to do so, if persisted in, would end in execution.  In our own country we are seeing the growth of a movement just as antithetical in theory to Catholicism and traditional Christianity as the Tokugawa shogunate, and it finds its home in the Democrat party. 
What we have seen over the past few decades is the evolution of the Democrat party into an overtly anti-Catholic party.  The Obama administration is the culmination of this trend.  This of course is deeply ironic, because the Democrat party is a major party in this country with the help of the votes of tens of millions of purported Catholics.
In the past four decades the Democrats, with honorable exceptions, have championed abortion which is anathema to the teachings of the Church.  The embrace of homosexuality followed, which has caused governments around the nation to drive the Church out of adoptions because the Church refuses to arrange adoptions by homosexual couples.  In California, a state wholly controlled by the Democrat party, homosexual indoctrination, masquerading as education, is now mandated in public schools.  For cynical political purposes the Obama administration this year has proposed that Catholic institutions, and individual Catholic employers, be required to provide "free" contraceptive coverage, and is quite willing to run roughshod over the First Amendment to accomplish this goal.  Now we have the President's support of gay marriage, although, until he further "evolves" I guess, he "generously" stated his opinion that churches opposed to gay marriages should not be required to officiate at them.  These changes in society are the modern Fumi-e by which believing Catholics and traditional Christians are made to renounce, in effect, the teachings of Christ step by step. Continue reading →
His epitaph is Athanasius contra mundum, "Athanasius against the world." We are proud that our own country has more than once stood against the world. Athanasius did the same. He stood for the Trinitarian doctrine, "whole and undefiled," when it looked as if all the civilised world was slipping back from Christianity into the religion of Arius—into one of those "sensible" synthetic religions which are so strongly recommended today and which, then as now, included among their devotees many highly cultivated clergymen. It is his glory that he did not move with the times; it is his reward that he now remains when those times, as all times do, have moved away.
                                                        CS Lewis
Saint Athansius stood for the Trinity at a time when the Emperor, Constantius, was Arian, and much of the Church in the East had embraced some form of Arianism.  Exiled five times by Constantius and his successors, Athanasius was a pillar of iron who never bended and tirelessly proclaimed the Truth, no matter the forces arrayed against the Truth.  His relevance for our day needs no elaboration from me.  Here is Pope Benedict on Saint Athanasius: Continue reading →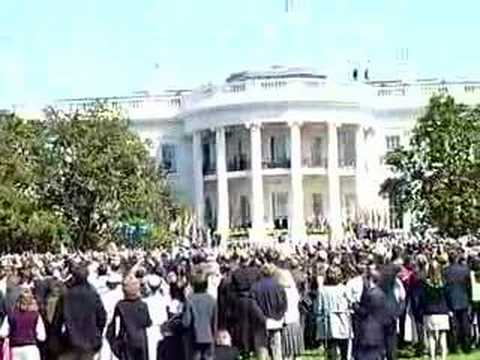 As the trend in the ballots slowly made me realize that — in a manner of speaking the guillotine would fall on me — I started to feel quite dizzy. I thought that I had done my life's work and could now hope to live out my days in peace. I told the Lord with deep conviction, 'Don't do this to me. You have younger and better (candidates) who could take up this great task with a totally different energy and with different strength.' Evidently, this time he didn't listen to me.
Pope Benedict XVI
Happy 85th birthday your Holiness!  If I attain that age in 3o years and have a quarter of your mental acuity I will consider myself deeply blessed!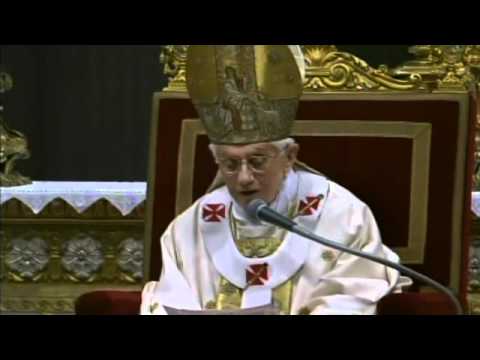 Dear Brothers and Sisters,
  Easter is the feast of the new creation.  Jesus is risen and dies no more.  He has opened the door to a new life, one that no longer knows illness and death.  He has taken mankind up into God himself.  "Flesh and blood cannot inherit the kingdom of God", as Saint Paul says in the First Letter to the Corinthians (15:50).  On the subject of Christ's resurrection and our resurrection, the Church writer Tertullian in the third century was bold enough to write: "Rest assured, flesh and blood, through Christ you have gained your place in heaven and in the Kingdom of God" (CCL II, 994). Continue reading →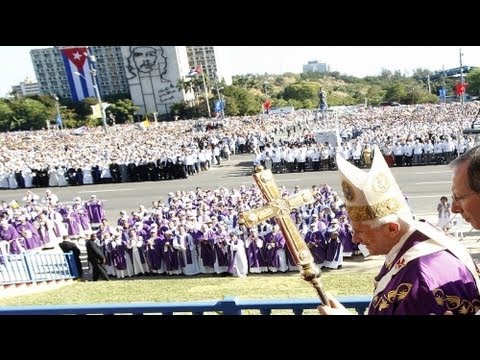 Yesterday Pope Benedict capped off his visit to Cuba with a huge mass in Revolution Square in Havana.  The theme of his homily, freedom, probably made the Cuban officials at the mass squirm, at least I certainly hope so.  Here is the text of the Pope's homily:
Dear Brothers and Sisters,
"Blessed are you, Lord God…, and blessed is your holy and glorious name" (Dan 3:52). This hymn of blessing from the Book of Daniel resounds today in our liturgy, inviting us repeatedly to bless and thank God. We are a part of that great chorus which praises the Lord without ceasing. We join in this concert of thanksgiving, and we offer our joyful and confident voice, which seeks to solidify the journey of faith with love and truth.
"Blessed be God" who gathers us in this historic square so that we may more profoundly enter into his life. I feel great joy in being here with you today to celebrate Holy Mass during this Jubilee Year devoted to Our Lady of Charity of El Cobre.
I greet with cordial affection Cardinal Jaime Ortega y Alamino, Archbishop of Havana, and I thank him for the kind words which he has addressed to me on your behalf. I extend warm greetings to the Cardinals and to my brother Bishops in Cuba and from other countries who wished to be in this solemn celebration. I also greet the priests, seminarians, men and women religious, and all the lay faithful gathered here, as well as the civil authorities who join us.
In today's first reading, the three young men persecuted by the Babylonian king preferred to face death by fire rather than betray their conscience and their faith. They experienced the strength to "give thanks, glorify and praise God" in the conviction that the Lord of the universe and of history would not abandon them to death and annihilation. Truly, God never abandons his children, he never forgets them. He is above us and is able to save us by his power. At the same time, he is near to his people, and through his Son Jesus Christ he has wished to make his dwelling place among us in.
"If you continue in my word, you are truly my disciples, and you will know the truth, and the truth will make you free" (Jn 8:31). In this text from today's Gospel, Jesus reveals himself as the Son of God the Father, the Saviour, the one who alone can show us the truth and give us genuine freedom. His teaching provokes resistance and disquiet among his hearers, and he accuses them of looking for reasons to kill him, alluding to the supreme sacrifice of the Cross, already imminent. Even so, he exhorts them to believe, to keep his word, so as to know the truth which redeems and justifies. Continue reading →
"There is not one single social or economic principle or concept in the philosophy of the Russian Bolshevik, which has not been realised, carried into action, and enshrined in immutable laws a million years ago by the White Ant."
                                                              Winston Churchill
Let us pray today for Pope Benedict while he is in Cuba that, like Moses, he may help lead a people in bitter bondage out of slavery.  Pope Benedict XV named Our Lady of Charity patroness of Cuba in 1916, and therefore we will beseech her aid:
Our Lady of Charity, we humbly ask you to intercede with Our Lord, Your Son, for your suffering people in Cuba.  Inspire the hearts of your people to turn to God and pray for their deliverance from sin and from the tyranny that has deprived them of their freedom for more than five decades.  Strengthen Pope Benedict as he brings the truth of Christ to your people of Cuba longing for that truth and for spiritual and temporal freedom.  Let this year O Lady, if it be the will of God, be a year of Jubilee and Freedom for all Cubans.  We ask this in the name of the Father, and of the Son and of the Holy Spirit.  Amen.