Planned Parenthood
Hattip to Creative Minority Report.
If Tim Roach questioned his own manhood after six months of unemployment, consider the question asked and answered. Tim Roach is a man, a good man.
In mid February, Tim, got a call from his local union with the news every laid off worker longs to hear — a job offer.

It couldn't have come at a better time. Tim's unemployment benefits were about to run out. He could hardly believe what the voice on the other end was presenting to him — an offer to be a job foreman for at least 11 months, with a salary of $65,000 to $70,000 a year.

Perfect, Tim thought. Then came the bad news — he would be working on construction of a new Planned Parent­hood Clinic in St. Paul on University Avenue. The highest of highs became the lowest of lows as he quickly turned down the offer.
Tim's Union rep tried to get him to reconsider saying he wasn't sure if abortions would be performed there but he simply responded, "It's a Planned Parenthood. No."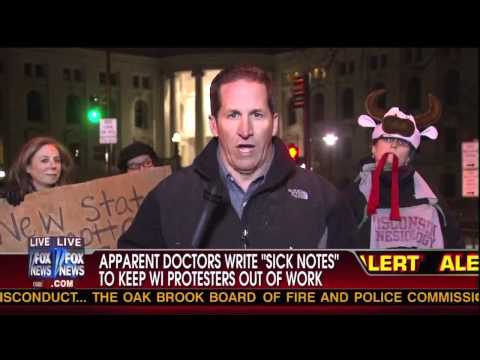 The Catholic blogosphere has been debating the morality of the Lila Rose sting operation against Worse Than Murder, Inc. a\k\a Planned Parenthood, with a diverse crop of conclusions ranging from Mark Shea and our own Joe Hargrave who are opposed to this as an example of lying to be condemned, to Dr. Peter Kreeft and myself who find absolutely nothing wrong with it.  This of course obscures the fact that most Catholics understand that deceit in most circumstances is to be condemned.
Now, in one of those examples of synchronicity regarding events which help establish to me that God has an infinite sense of humor, we have an example of lying that I think all Catholics would condemn.  Teachers have taken the lead in the protests against the public employees union legislation proposed by Wisconsin governor Scott Walker.  Thousands of teachers have called in sick to attend the rallies.  Doctors, as shown in the video above, have been passing out certificates to teachers, falsely indicating that they have examined the recipient of the certificate and that the teacher is ill.  To me lying to save innocent human life is one thing, lying to allow an employee to avoid work is quite another, even if one might be sympathetic to the employee on political grounds. Continue reading →
This issue just won't die. In the ongoing debates among Catholics on the Internet over the methods of Live Action, a blog post titled "The Lila Enigma: Selective Outrage?" by Dr. Gerard M. Nadal is making the rounds. Since I am on the other side of the debate, I want to answer some of the claims he makes in his post on this controversy, and I invite him to comment here if he cares to respond. I will put his comments in block quotations, followed by my responses.
After beginning with a list of the serious damages done to Planned Parenthood as a direct or indirect result of the Live Action expose, Dr. Nadal writes,
This coupled with the most pro-life Congress since Roe v Wade who were ramping up to defund Planned Parenthood, and the Catholic blogosphere erupts in spasms of indignation at…

Not Planned Parenthood…

But Lila Rose.
In my view this is a disingenuous statement, especially when the title implies that this indignation is "selective", as if those who are questioning Lila Rose are not also outraged at Planned Parenthood. It is really unfortunate that there may be left-wing groups falsely claiming to be Catholic that seize upon arguments against lying to bolster their utterly inhuman and anti-Christian agenda. Given their reprehensible positions on abortion, they have no credibility when they speak about the morality of lying.
But there are many of us, and I will gladly lump myself in with Mark Shea and others on this question, who have had nothing but contempt for Planned Parenthood and in our writings and other works have sought to oppose the efforts of the abortion industry. There is absolutely nothing "selective" about what I won't even call "outrage" – since Lila's methods do not "outrage" us. Quite the contrary, it is because we are consistent, or trying to be at any rate, in our application of moral principles and our observance of God's law that we have raised objections, not "outrage", in response to these deceptive methods.
Some time ago I wrote a post expressing some of my reservations about the activities of Lila Rose and her organization, Live Action. In light of their most recent undercover sting operation, it is a good time to revisit some of the objections and debates that came up earlier.  Initially I believed that Live Action's activities were morally questionable in some cases, and definitely wrong in others.
I have to say that I stand by this assessment today, for several reasons I will state below.
First I want to make clear that I am 100% pro-life; I make no exceptions for rape, incest, or "to save the life of the mother", for it is never permissible to kill an innocent human being to save another human being. At the legislative level I would like to see Roe v. Wade overturned, in which case many pre-Roe abortion bans would immediately regain their full force in many states.
Some pro-lifers expressed fear that New Jersey Governor Chris Christie was a bit of a moderate on social issues, especially with regards to abortion.  Well Governor Christie has done something that few other governors and other political leaders have done, namely veto funding for Planned Parenthood.  And now he's done it again.
Following the release of a video that has received nationwide attention showing Planned Parenthood staff at a New Jersey abortion center helping alleged sexual traffickers cover up their crimes with abortions and STD testing, Governor Chris Christie has vetoed a bill funding Planned Parenthood.

A new undercover video shows Planned Parenthood officials in New Jersey telling a pimp and his prostitute assistant how they can get abortions for young teenage girls who, Planned Parenthood officials are informed, are Asians in the country illegally and forced into the sex trade. The staffer was later fired for her actions.

The Perth Amboy abortion center where the video is filmed is the second-largest Planned Parenthood center operated by Planned Parenthood of Central New Jersey and the abortion business plans to double its number of abortion centers in the state.

Christie has already yanked state taxpayer funding for Planned Parenthood but the state legislature sent him a bill to restore the taxpayer funds.
I'm not sure that this is directly related to the sting videos.  As mentioned, Christie had already vetoed funding for Planned Parenthood before and most likely would have done it again anyway.  Whatever the case, kudos to Governor Christie.
I also suggest that this this is further proof that economic and social conservatism need not and should not be divorced from one another.  In other words, no truce required.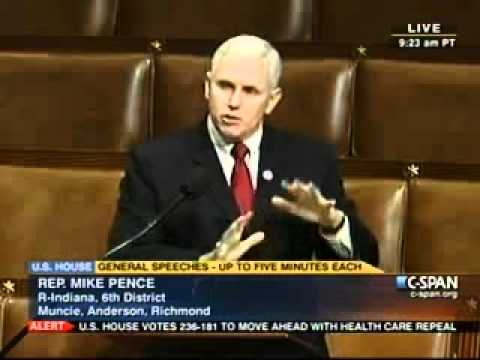 Congressman Mike Pence (R.Ind), has been a tireless advocate of driving Worse Than Murder, Inc, a\k\a Planned Parenthood away from the Federal trough.  Last week on January 7, he reintroduced his bill to defund Planned Parenthood.  Here is his statement:
"It is morally wrong to end an unborn human life by abortion.  It is also morally wrong to take the taxpayer dollars of millions of pro-life Americans and use them to promote abortion at home or abroad.
As we enter a new year, I want to offer some thoughts on both recent events pertaining to the struggle to roll back abortion and the Culture of Death, as well as the historical significance of these ongoing efforts. In a sense, I will be delivering first the somewhat bad news, but then the encouragingly good news.
The disappointment lies in the political defeats of the 2010 election season, though to be quite honest, I and many others fully anticipated these defeats. In Nevada, Missouri, California, Florida and Montana, and there may be other instances I'm not aware of, propositions that would establish that life begins at conception (known as "personhood" or "human life" initiatives/amendments) failed to even appear on the ballot. Activists could not obtain the required number of signatures in these states.
The one personhood/human life amendment that did make it to the ballot, Colorado's Proposition 62, was rejected by 70% of the voters in that state. One bright spot was to be found in Alaska, where a parental notification measure was passed with 55% of the vote. These defeats echo a similar wave of defeats suffered in 2008 across several states. Though this strategy has obviously failed, in almost every instance pro-life activists are preparing for another round of personhood propositions in 2012.
Please understand that I have nothing but admiration and respect for the pro-life activists who engage in these campaigns. They give up time and money to participate in the greatest moral cause of our generation, and for that alone they are to be commended.
But it is now time for the leaders and activists in the pro-life movement to reject the "personhood" ballot initiative movement.  These efforts have failed more than once, they have diverted scarce financial, political and human capital away from more realistic pursuits, and the continued defeats could easily lead to a chain-reaction of demoralization within and desertion from the pro-life ranks.
I have managed to come upon a fund-raising letter sent out by Planned Parenthood.  It is a fascinating look inside an insidious organization, and it's quite revealing.  It is a paper copy, so I unfortunately can't link to it (if only my PDF-making and linking skills were superior).  The intro is quite unintentionally hilarious in its over-the-top rhetoric.
Dear Friend,
Let's be clear about what we're facing in America today.  Over the past year, the divisions in this country have grown sharper, uglier, and increasingly dangerous.

Anti-choice, anti-women rhetoric that once was considered wildly extreme has seeped into the mainstream.  And, following the November 2nd elections, the national anti-choice movement is not just a potent lobbying force on Capitol Hill – anti-choice members have increased their ranks in Congress itself – a Congress soon to be led by a virulently anti-choice Speaker of the House.

Already, some of the Congressional opponents of women's health [ed: I simply love this part.  We've managed to go from anti-choice to anti-woman, and now, anti- women's health.  I wonder if this includes female opponents of abortion - whoops, I said the a-word.  But more on that in a moment.] are organizing to defund Planned Parenthood.  Their goal: make it virtually impossible for Planned Parenthood to play the critical role we have in millions of women's lives.  [Of course we're talking about federal funding of Planned Parenthood.  How many other organizations get to enjoy the comforts of tax-payer subsidies?  I mean if what they do is so critical and vital to women's "health," I'm sure they'd be able to survive solely off of the generosity of their millions of supporters, not to mention the fees paid by its victims clients.]

These developments threaten to undermine the work we do every day.  And they make it absolutely essential that you make Planned Parenthood a high priority in your personal year-end giving.  [Yes, certainly Planned Parenthood has got to be at the top of anyone's list for Holiday-season giving.  Tricycle for little Bernadette?  Check.  Gifts for all my nieces and nephews?  Check.  A little extra for the Church?  Check.  Money to fund the murder of unborn children?  Triple check!!!]
And it goes on and on and on.  It's actually quite predictable that Planned Parenthood would rely on scare-mongering to rally the base and solicit funds for . . . what exactly is it soliciting funds for?  Let's look at some of the language used in the remainder of this lovely letter.
Governor Chris Christie of New Jersey, a man who is rapidly becoming my favorite male politician, has successfully cut state funds for Worse Than Murder, Inc, a\k\a Planned Parenthood.
After the New Jersey state Senate defeated an attempt to override the decision of Gov. Chris Christie to cut off state taxpayer funding of Planned Parenthood abortion businesses, the first facility run by the national abortion giant is closing.
The Cherry Hill Courier Post newspaper says a Planned Parenthood facility located on Haddonfield Road and operated by Planned Parenthood of Southern New Jersey will close down.
PP-SNJ stands to lose as much as $160,000 in taxpayer funds because of Christie's decision and the upholding of his veto. With the closing of the Cherry Hill center, Planned Parenthood customers seeking abortions or other "services" must go to PP centers in Camden, Bellmawr, and Edgewater Park.
Parenthood of Southern New Jersey president Lynn Brown told the newspaper, "We are in think mode and creative mode and we are doing all that we can to try and salvage to see as many people as we need to see."
"We all know it's strictly ideological," Brown said of the funding cuts to the abortion business. "This is a very frustrating and perplexing time for us."
While the Cherry Hill center does not do abortions, it gives abortion referrals to Planned Parenthood offices in Hamilton Square, Princeton, and Trenton where abortions are done on women and unborn children.
Marie Tasy, the head of New Jersey Right to Life, told LifeNews.com she applauded the state Senate for not overriding Christie's veto of the Planned Parenthood funding bill.
"We applaud the Senators who voted No to override Governor Christie's veto of S2139," she said. "This debate was never about health care, it is about advancing a political agenda and rewarding 'friends' and a radical special interest group with our tax dollars."
"We commend Governor Christie for his steadfast opposition to eliminate waste, fraud and abuse and for working to promote the best health care for all NJ citizens," Tasy added.
Christie won the praise of pro-life advocates in July by vetoing a bill that would restore the family planning funds his administration cut from the state budget because of deep economic troubles. Continue reading →
And they cried with a loud voice, saying:  How long, O Lord (holy and true) dost thou not judge and revenge our blood on them that dwell on the earth? Apocalypse 6:10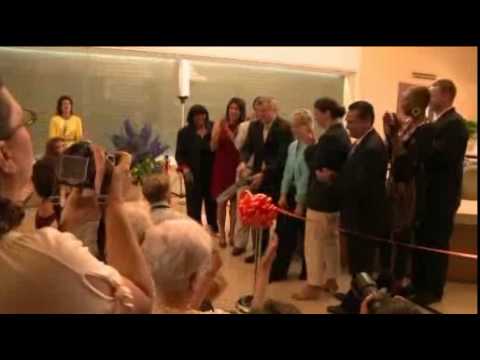 If you listen closely you can hear the attendants (which include the mayor of our fine city of Houston Anise Parker) at this "dedication" commenting on their newly "sacred and holy" ground. They are speaking of the largest abortuary in the United States.
If we are moving toward, or already in, a post-Christian civilization then should we be surprised that those who promote and support abortion and other anti-life policies impart a religious sheen on their actions?  After all, human sacrifice was present in almost all pagan religions to some extent with the Aztec sacrifices being among the most infamous.  These people are willing and proud worshipers of Baal and, unless we pray, fast and offer Masses in reparation for these sins, we will only allow this evil to grow and ever more innocents slaughtered at the altar of "Choice".
The American Life League (ALL) is making a strong case of placing most of the blame for passage of ObamaCare squarely on the shoulders of the U.S. Conference of Catholic Bishops (USCCB).
What the ALL is alleging is that the USCCB was very desperate to push for universal health coverage that they compromised on some key principles.  One of which was that of abortion where instead of fighting against abortion they decided to stick their heads in the ground and use "abortion neutral" language.