Planned Parenthood
Hattip to Robert Stacy McCain at The Other McCain.  Worse Than Murder, Inc., a/k/a Planned Parenthood, decided to offer a discount on their blood money services on the day after Thanksgiving in two of their affiliates in South Florida:
A Planned Parenthood abortion clinic in southern Florida is offering a black Friday discount — including $10 off a visit to the abortion center today.   Planned Parenthood of South Florida and the Treasure Coast offered the special, saying, "Visit our West Palm Beach or Kendall Health Center for special after Thanksgiving savings on Friday, November 23rd."
Pro-life blogger Jill Stanek noticed the Black Friday discount and responded, "Planned Parenthood brings new meaning to the term, "Black Friday," doesn't it?"   This is the same abortion business where the chair of the national Democratic party headlined a small rally last year.
Congresswoman Debbie Wasserman Schultz was named by pro-abortion President Barack Obama recently to take over as the head of the Democratic Party. At the time of her appointment to the position, Planned Parenthood president Cecile Richards praised Wasserman Schultz as a "heroine" for her extensive abortion advocacy. The appointment made it clear Obama would not run from his lengthy pro-abortion record. Continue reading →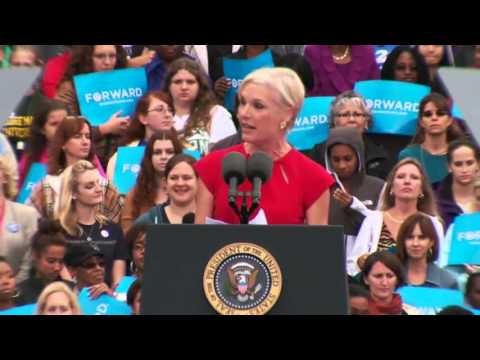 In the movie Patton, there is a somewhat eerie scene where Patton indicates why he knows that the Third Reich is on the ropes:
"I had a dream last night. In my dream it came to me…that right now the whole Nazi Reich is mine for the taking." "You know how I'm sure they're finished out there? The carts. They're using carts to move their wounded and the supplies. The carts came to me in my dream. I couldn't figure it out. Then I remembered. . . . .that nightmare in the snow. The agonizing retreat from Moscow. How cold it was. They threw the wounded and what was left of the supplies in the carts. Napoleon was finished. Not any color left. Not even the red of blood. Only the snow."
You know that a Democrat campaign is on the ropes when the focus is placed on abortion.  Democrats, at least most of them, aren't idiots.  They understand that focusing on abortion is going to hurt them as much as it helps them, and, in most states, probably hurt them more.  However, when a Democrat campaign is headed south abortion is often invoked in an attempt to rally the true believers in the right to slay their offspring.  It is a sign of desperation.  Yesterday, Obama had the head of Worse Than Murder, Inc, aka Planned Parenthood, Cecile Richards introduce him at a rally in Virginia.
She also cut this video for Obama that was released yesterday: Continue reading →
The woman formerly known as beautiful and author at Huffington Post, Shannon Bradley-Colleary, had an article recently with the declarative title "Abstinence Got Me Pregnant." It's a "family planning" story meant to demonstrate that people should not be expected to follow a moral code when it comes to sexual intercourse, and probably many women (who don't think about what words mean) can relate.
The author describes how she was raised by religious parents and a father that scared off boys while cleaning his gun, how she fell in love in college and "relinquished" her virginity unexpectedly on Cheez-It crumbs behind a couch in an off-campus apartment while "roommates farted and belched like cannon-fire in adjacent rooms," how she began taking birth control pills and used them for the next five years as a "serial monogamist," how after she had her heart broken and broke a few herself she decided to take a "leave of absence" and become abstinent, how a broken-hearted young man still pursued her with roses, poetry, and silly declarations of love, how she got pregnant and to her relief miscarried so she was "spared, making a choice" that might "haunt" her for the rest of her life, and finally how some ten years later she gave birth to two daughters with her husband "at just the right time, with exactly the right partner." What does she credit for things working out well? Birth control, because abstinence got her pregnant.
Her point: "…sex should NOT BE a MORAL ISSUE, it should be a PRACTICAL ISSUE." [Emphasis hers.]
She plans to take her daughters to Planned Parenthood when they are in high school because although she hopes "they will only give themselves to men who cherish them" she believes it is better to be "practical" and dispense with any "moral imperatives" so they won't ever experience shame or blame. She concludes, "Knowledge is power."
Take a deep breath, relax your face muscles, and let's examine the logic of this statement because this is a serious issue that needs to be clarified. I once thought this way too, until I realized 1) everyone needs a moral code, and 2) words mean things.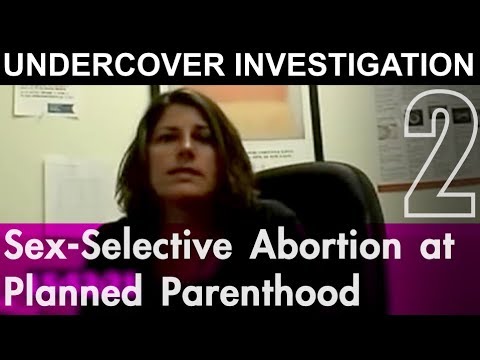 Live Action today released a second video showing that Planned Parenthood, an organization that I have designated  Worse Than Murder, Inc, has no problem with sex selection abortions.  Go here to read my post on the first gendercide video released by Live Action.  Today the House failed to muster the two-thirds vote necessary to pass the  Prenatal Non-Discrimination Act which would have banned this unspeakable evil.  The Obama administration opposed the bill.  Obama has never found any form of abortion he opposes and Planned Parenthood has his complete allegiance.  In the House 276 Republicans voted in favor of the bill, 7 against.   Democrats voted 161 in favor of gendercide and 20 against.
The core of the Democrat party today is abortion.  The vote on gendercide demonstrates just how extreme this allegiance is.  As in the days of slavery, the Democrat party champions the notion that we can, in good conscience, ignore the rights of portions of the human race, and that the unborn, like the slaves of old, are mere property and may be destroyed at the mother's will and whim.  The words of Lincoln should be our battle cry against this old evil in a new form: Continue reading →
SHOCKER: Teens need their mothers. Mothers can help their daughters. Even in crisis.
There's an article forthcoming in the journal Economic Inquiry by Professors of Economics, Joseph Sabia and Daniel Rees, that shows parental notification or consent laws are associated with a 15 to 25 percent reduction in suicides committed by 15- through 17-year-old women. The researchers analyzed National Longitudinal Study of Adolescent Health data collected from 1987 to 2003 and found results that are consistent with the hypothesis that laws requiring parental involvement increase the "expected cost of having unprotected sex," and, consequently, protect the well-being of young females. (Hey, they're economists.)
Here's the reasoning, taken from this paper by the same authors.
Researchers have already found, using state-level data from 1981 through 1998, that parental involvement laws reduced teen gonorrhea rates 12 to 20 percent among teen females. (Klick and Strattman, 2008)
Other recent studies provide evidence that female adolescents who become sexually active at an early age are more likely to suffer from the symptoms of depression. (Hallfors et al. 2004; Sabia and Rees 2008)
Research has shown that multiple sex partners increased the likelihood of substance abuse. (Howard et al. 2004)
It is also been found that adolescent females who had multiple sex partners were 10 times more likely to develop the symptoms of major depression than those who remained abstinent. (Hallfors et al. 2005)
There was no evidence of a similar relationship between male multiple partners and adolescent depression. (Hallfors et al. 2005)
So the hypothesis is: If parental involvement laws discourage minors from risky lifestyles that affect their physical health, then they would promote emotional health of teenage females as well. Analyzing suicide rates will give an indication since there have been many studies that link depression and suicide. The national suicide data was analyzed and that's exactly what they found – a supporting correlation. Parental involvement laws correlate with fewer suicides. Further in support, there was no evidence of a similar relationship among male adolescents, and no correlation between parental involvement laws and suicide for older women because, well, neither group would be affected by those laws.
Makes sense, right? You're probably thinking, "Did we need to pass those laws, wait and see what happened, and then count suicides?" No, we didn't, and there'd be at least some justice if the people opposing those laws would take notice.
You'd think someone who really cares about women would be able to take an objective view of this data and consider it as an appeal to our collective conscience. You'd think someone who parrots, "Trust Women!" would be consistent enough to also trust mothers who are raising teens. When the state comes between teens and their parents, it just follows that the adolescents will not be as close to their parents as they ought to be.
This only affirms what we already know. Parents of teen girls can be trusted - should be trusted for the psychological benefit of a daughter in crisis. The abortion advocate community doesn't seem as concerned about young women, though, as they are about politics and agendas. They instead say that people just want to make it harder for teens to have abortions, and that teens have a "fear of abuse" from unrelenting parents. Oh, and they'll say something about how correlation doesn't equal causation, revealing that they either are ignorant of analytical methods or, even worse, knowledgeable of them but dishonest when the results don't fit their predetermined conclusions. Some will even say that teen women should be trusted to make their own decisions even when the decision for these desperate young women is to end their own lives. Of course, we all know why Planned Parenthood doesn't want the parents involved. Ac$e$$ to abortion.
So I have a little hypothesis of my own. I predict (but would love to be proven wrong) that not a single abortion advocate will come forward and honestly reassess parental consent laws even though there is no body of data to support their premise. Could they admit that maybe, just maybe, the default condition is not that most parents of teens are abusive. Imagine!
If they trust women, why can't they trust mothers and fathers? Where does this automatic distrust of parents come from anyway? Perhaps there's a cost associated with believing that a mother has the right to kill her own child in the womb, and that cost is faith in people to love their children unconditionally at any point in life, even during difficult times.
H/T:  Michael J. New at National Review
Image: Microsoft Powerpoint
The most pro-abortion President in our nation's history salutes Planned Parenthood aka Worse Than Murder, Inc.  Somehow he manages to do this without uttering the A word, but all Planned Parenthood supporters know that when it comes to the sacred right to kill their offspring, Obama will always have their back.  Any pro-lifer who does not think that giving this man his walking papers is priority number one this year, take a good, long, hard look at this video.
Update III:  The USCCB Pro-Life Director Richard Doerflinger and Congressman Chris Smith of New Jersey agree with me that this "accommodation" or "compromise" is unacceptable.  Sadly Sr. Keehan of the the Catholic Health Associate found this "satisfactory".  It looks like Obama will be happy that Sr. Keehan is on board.  Of course, Planned Parenthood and Sr. Keehan agree.
Update II:  Rumor confirmed.  Insurance, that Religious Institutions pay into, will provide contraception, ie, it is still a violation of the First Amendment.
Update I: Rumor is that "Hawaii" compromise will be offered, but the bishops have already rejected this.  So basically it's a poor attempt at stalling and not really offering a solution.
The buzz this morning is that Obama is "caving in" to the pressure and will announce a "compromise" today at 12:15pm Eastern.
The news reports are saying that Religious Organizations won't have to offer birth control, only the insurance companies that these Religious Organizations provide will offer birth control.
Yeah, that's the compromise.
If these reports are true, this is dead on arrival.  Changing the meaning of the words won't do it.
The Susan G. Komen Foundation did not reverse course as many have thought, suggested, or commented all over the Interwebs today.
Even Austin Ruse President of C-FAM is not sure and has issued this press release:
Statement by Austin Ruse on the Susan G. Komen Foundation

"Today the Susan G. Komen Foundation made an announcement that appears that they have reversed themselves on funding of Planned Parenthood. While I do not believe they have reversed themselves, it may turn out to be the case. We do not know.

What happened this week was nothing short of a Mafia shakedown campaign by Planned Parenthood against the Susan G. Komen Foundation.

Planned Parenthood told the Komen Foundation "either give us money or we will destroy you." They were aided and abetted in this hostage taking by the mainstream media.

At this point, pro-lifers should cease their support of the Susan G. Komen Foundation. We should wait and see what happens. We know there are five more Komen grants to Planned Parenthood in the pipeline. If any more come up, we will know we have lost and Planned Parenthood has won.

I do not regret the work I did over the past days on this issue, neither should any pro-lifer. I only regret we could not have done more to make Komen strong and able to fight off the thuggish abortion giant, Planned Parenthood.

What the week has shown is that Planned Parenthood, an organization that is under criminal investigation all over this country, will stop at nothing to maintain their stranglehold on organizations like the Susan G. Komen Foundation.

We should continue to pray for Nancy Brinker and all of her colleagues at the Susan G. Komen Foundation."
The American Papist and Steven D. Greydanus agree with me on this one.
Look at it from Komen's perspective, they're taking a public relations hit by the punks and thugs from Planned Parenthood and their allies.  It's a war, a Culture War out there!