Pieta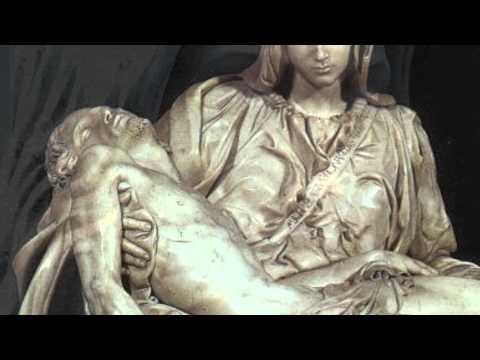 Only God creates. The rest of us just copy.
Michelangelo
Something for the weekend.  What Wondrous Love Is This?  As we begin the Lenten system this video that melds together the hymn and Michelangelo's Pieta strikes me as a good starting point.  I have always loved this sculpture.  Michelangelo I think wanted his Pieta to reflect the great victory gained by the Cross and not the torture that gaining the victory cost Christ.  The body of Jesus is shown as only slightly marred by the Crucifixion, and the Virgin is shown as youthful and beautiful, no doubt as she was at the birth of Christ.  The sculpture is doubtless false to history but true to the spiritual essence of what had just been accomplished:  victory over sin, over death and over the Fall.  May the joy that suffuses the Pieta be with all of us during Lent.
At a time when so many are down on the Church, it's interesting to see through the eyes of a young girl — a blind girl who had mystical vision.
Let's back up and say this comes from a book by a medical doctor named Dr. John Lerma, who specializes at the Houston Medical Center Hospice in tending to patients as they near death.
Dr. Lerma has had tremendous experiences with these patients — documenting the many who see angels or deceased loved ones and have glimpses of the eternal as they approach the threshold.
But what we'd like to focus on today is a different kind of supernatural experience that occurred when a ten-year-old girl named Sarah who had been blind since birth as a result of atrophic optic nerves was taken to St. Peter's Basilica in Rome. This was an Easter Sunday nearly two decades ago.
"I marveled at the multitude of loving sounds that Bernini's dramatic design was exuding," recalled Sarah nineteen years later as she lay dying of cancer. "As I walked through the towering, ornate door of St. Peter's Basilica, I was drawn by an alluring vibration toward the chapel to my right.
"What I was allowed to hear was beyond awe.
"The vibrations and frequencies, now a part of my entire being, were the remnant echoing sounds of sadness replaced by utter joy and exuberant love from the statue where Jesus was heard to be lying on His mother's lap after being crucified. I knew I was now standing in front of Michelangelo's most honored statue, the 'Pieta.' Feeling some unfamiliar loving force take hold of my hand, I took hold of my mother's and followed with total faith. I told my mom not to worry and to trust me, as there was an angel leading us to our next spiritual experience."