Paul Ryan
The usual caveats as to language applies to the above Internet Hitler video.  (What else can one expect from internet Hitler?)  Taking a momentary pit stop in my vacation traveling.  I note with bemusement the debate that has erupted on the blog in regard to Paul Ryan and the attempted questioning of his Catholicism.  I find that utterly bizarre.  In the primaries I supported Rick Santorum.  Santorum has enthusiastically endorsed Romney's pick of Ryan. 
Here is a video below from earlier this year in which Santorum praised Ryan's budget, with the caveat that it did not go far enough in cuts:
Continue reading →
My compatriot Paul Zummo posts: Assertion Without Evidence.
Here find my reply.
Mr. Zummo writes:
"Show, don't tell"  is an admonition often given to writers. Usually it applies to fiction, but it works with non-fiction as well. If you make an assertion about someone's beliefs, it is generally good form to provide evidence supporting your argument, at least if you want to be taken seriously. It is true that the blogopshere doesn't necessarily allow for extended treatises, yet it's still possible within the confines of a few hundred words or more to demonstrate credible evidence of your assertions.

When it comes to Paul Ryan and his evil Randian ways, however, such worries are cast aside.
The claim is that there is no evidence to support the assertion that Paul Ryan is "Randian." That is, that he ascribes to the philosophy of Ayn Rand.
First, it is very clear that, in recent years, Paul Ryan was an avid supporter of what he called the "morality of capitalism" as defined specifically by Ayn Rand. (Video here.)
Secondly, when political blowback was clear, Ryan stated that the claims that he supports Ayn Rand are "urban legend." The term "urban legend" is commonly understood to describe a myth. In other words, his reply was that the claims are "not true," but we have the video, don't we? Robert Costa added undue credibility to Ryan's assertion:
These Rand-related slams, Ryan says, are inaccurate and part of an effort on the left to paint him as a cold-hearted Objectivist.
It is ironic that Ryan will not acknowledge that the poor are "due" assistance, even as he is given undue credibility by Costa and National Review. More troubling indeed is Costa's assertion that the source of this "lie" is political opponents on the Left. This gives the impression that Ryan is a person of privilege who will be defended by National Review, which is heavily-staffed with Catholic columnists, even against true claims against him. In this way, the credibility of Catholic conservatives is eroded. That is something I certainly do not want to see.
Let it be noted that I have never claimed that Ryan is an Objectivist, per Costa's article, but only that he is opposed to the preferential option for the poor. I would love to see any quote from Ryan claiming that the poor are "due" economic assistance from those who have more. Certainly, Rick Santorum would tell you that the poor are "due" assistance by virtue of the fact that they are poor. He would say it a thousand times without flinching, though he may disagree with some on the structures it takes to make that happen effectively. Ryan appears to have no belief that the poor are "due" assistance.
Finally, on the main point about whether Ryan is "Randian," if we assume that he's had a "conversion" from Rand, then a couple of things would be required to make it an actual conversion. First, you would have to convert "to" something else. Secondly, you would have to demonstrate somehow that you actually believe that philosophy that you've converted to.
Ryan claims that he follows St. Thomas Aquinas, not Ayn Rand.
"I reject her philosophy," Ryan says firmly. "It's an atheist philosophy. It reduces human interactions down to mere contracts and it is antithetical to my worldview. If somebody is going to try to paste a person's view on epistemology to me, then give me Thomas Aquinas," who believed that man needs divine help in the pursuit of knowledge. "Don't give me Ayn Rand," he says.
If he follows Aquinas, as claimed, this would make him a proponent of Distributism. Try quoting Aquinas' remarks on Distributism to any conservatives who have not read them before and ask them what it sounds like to them. I'll be shocked if they don't call it "socialism."
As stated above (Article 1), in distributive justice something is given to a private individual, in so far as what belongs to the whole is due to the part, and in a quantity that is proportionate to the importance of the position of that part in respect of the whole. Consequently in distributive justice a person receives all the more of the common goods, according as he holds a more prominent position in the community. This prominence in an aristocratic community is gauged according to virtue, in an oligarchy according to wealth, in a democracy according to liberty, and in various ways according to various forms of community. Hence in distributive justice the mean is observed, not according to equality between thing and thing, but according to proportion between things and persons: in such a way that even as one person surpasses another, so that which is given to one person surpasses that which is allotted to another.

Aquinas goes on to say that it is the poor, as Jesus said, who are to be considered to have the more prominent position in the community. G.K. Chesterton was a proponent of Distributism. No heretic, he.
Several times today alone, I have shared the above quote from Aquinas with conservatives and have been told it is "redistribution of wealth," the term frequently employed by conservatives to describe socialism. I would argue that most people would say the quote above describes Obama policy better than it describes Ryan policy. Herein lies the conundrum of ignorance which plagues us and foments division in the Church through political confusion. Not one among us who call ourselves conservative would let Barack Obama get away with saying that he follows Aquinas, but if Paul Ryan says it, no one bats an eyelash? Well, not me. Not me. And so, here I am before you asking you not to let any man get away with claiming he follows Aquinas when he does not, least of all a candidate for high office, and especially so when it is a candidate for high office who identifies as Catholic on the national stage.
Certainly, Ryan's philosophy continues to more closely resemble the philosophy of Ayn Rand than of Aquinas. CLICK HERE to see why that is so dangerous to the Church in America, and yes, even to Western Civilization itself.
As for Mr. Zummo's attempt to compare Paul Ryan to Rick Santorum, there is no comparison. They are vastly different, as stated above, but also considering the fact that Paul Ryan endorsed Mitt Romney, who is running on a solely economic platform, over his fellow Catholic Rick Santorum in Wisconsin. This action effectively knocked Rick Santorum out of the GOP presidential primary for good and certainly indicates strongly that the two are not at all on the same page economically. At the very least, it's clear that Paul Ryan prefers Romney economics to Santorum economics. Mitt Romney believes those who work are "due" what they work for. Fine, fine, but Rick Santorum believes, in addition to that, that the poor are "due" assistance in some form. It's a philosophy that is consistent with our Catholic Faith, whereas Ryan's philosophy is not.
There was no "assertion without evidence." To the contrary, there is a great deal of evidence, and we ignore it at our peril.
"Show, don't tell"  is an admonition often given to writers. Usually it applies to fiction, but it works with non-fiction as well. If you make an assertion about someone's beliefs, it is generally good form to provide evidence supporting your argument, at least if you want to be taken seriously. It is true that the blogopshere doesn't necessarily allow for extended treatises, yet it's still possible within the confines of a few hundred words or more to demonstrate credible evidence of your assertions.
When it comes to Paul Ryan and his evil Randian ways, however, such worries are cast aside. Already his critics are harping on how the influence of Ayn Rand on Paul Ryan calls his judgment into question. And it's not just the usual suspects making these arguments, Continue reading →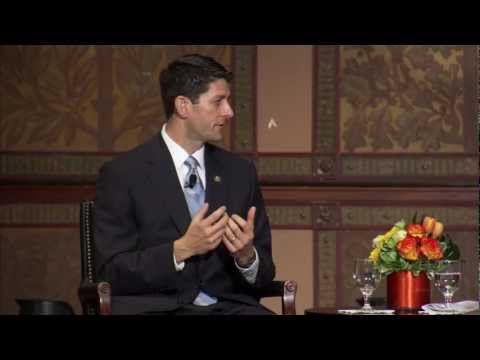 If the average American can't handle complexity in his or her own life, and only government experts can … then government must direct the average American about how to live his or her life. Freedom becomes a diminishing good.?But there's a major flaw in this "progressive'" argument, and it's this. It assumes there must be someone or some few who do have all the knowledge and information. We just have to find, train, and hire them to run the government's agencies.
Friedrich Hayek called this collectivism's "fatal conceit." The idea that a few bureaucrats know what's best for all of society, or possess more information about human wants and needs than millions of free individuals interacting in a free market is both false and arrogant. It has guided collectivists for two centuries down the road to serfdom — and the road is littered with their wrecked utopias. The plan always fails!
Paul Ryan
All the signs point to Mitt Romney selecting today Paul Ryan for the Gop Vice-Presidential Nominee.  Ryan is the Congressman for the first congressional district of Wisconsin.  I am quite familiar with him as his congressional district encompasses Kenosha where my mother-in-law lives.  My family and I will be traveling up to visit her for a few days today as we do every summer.
Ryan, 42, is a Catholic, married and the father of three kids.  He has been in Congress since 1999.  He is most notable for his proposed budget, the Ryan plan, which passed the House on April 15, 2011.  The bill died in the Senate.
A second version of the Ryan budget was passed this year by the House.  The budget came under attack from liberal Catholics and the United States Conference of Catholic Bishops, a majority of the bishops appearing to confuse social justice with a welfare state driving us to national bankruptcy.   Ryan responded to his critics with a lecture at Georgetown which is featured in the video at the beginning of the post.
Continue reading →
In articles, interviews and addresses, U.S. Representative Paul Ryan is defending — not without controversy — his 2013 budget proposal (see "The Path to Prosperity: A Blueprint for American Renewal") as an application of Catholic social teaching, inspired by his Catholic faith.
In an April 10 interview with CBN News, Ryan responded:

To me, the principle of subsidiarity, which is really federalism, meaning government closest to the people governs best, having a civil society of the principal of solidarity where we, through our civic organizations, through our churches, through our charities, through all of our different groups where we interact with people as a community, that's how we advance the common good. By not having big government crowd out civic society, but by having enough space in our communities so that we can interact with each other, and take care of people who are down and out in our communities.

Those principles are very very important, and the preferential option for the poor, which is one of the primary tenants of Catholic social teaching, means don't keep people poor, don't make people dependent on government so that they stay stuck at their station in life. Help people get out of poverty out onto life of independence.
U.S. Rep. Paul Ryan, R-Wis. , Chairman of the House Budget Committee speaks to a meeting of the Wisconsin Faith & Freedom Coalition. 3/31/12. Source:
AP
The U.S. Bishops Conference conveyed their thoughts on the FY2013 Budget and spending bills, which in their words "repeated and reinforced the bishops' ongoing call to create a "circle of protection" around poor and vulnerable people and programs that meet their basic needs and protect their lives and dignity.":

Bishops Blaire [chairman of the bishops' Committee on Domestic Justice and Human Development] and Pates reaffirmed the "moral criteria to guide these difficult budget decisions" outlined in their March 6 budget letter:

1.Every budget decision should be assessed by whether it protects or threatens human life and dignity.

2.A central moral measure of any budget proposal is how it affects "the least of these" (Matthew 25). The needs of those who are hungry and homeless, without work or in poverty should come first.

3.Government and other institutions have a shared responsibility to promote the common good of all, especially ordinary workers and families who struggle to live in dignity in difficult economic times…

Just solutions, however, must require shared sacrifice by all, including raising adequate revenues, eliminating unnecessary military and other spending, and fairly addressing the long-term costs of health insurance and retirement programs.

In April 16 and April 17 letters to the House Agriculture Committee and the House Ways and Means Committee addressing cuts required by the budget resolution, Bishop Blaire said "The House-passed budget resolution fails to meet these moral criteria."
Marc Thiessen defended the congressman from "a bishop's unjust attack" (Washington Post, 4/23/12) along with (Fr. Robert Sirico (of the Acton Institute) — the latter, however, disagreeting with Ryan's equasion of subsidiarity with federalism.
This past week, U.S. Representative Paul Ryan further presented his case in a column for the National Catholic Register: Applying Our Enduring Truths to Our Defining Challenge, April 25, 2012):

As a congressman and Catholic layman, I am persuaded that Catholic social truths are in accord with the "self-evident truths" our Founders bequeathed to us in the founding ideas of America: independence, limited government and the dignity and freedom of every human person. As chairman of the House Budget Committee, I am tasked with applying these enduring principles to the urgent social problems of our time: an economy that is not providing enough opportunities for our citizens, a safety net that is failing our most vulnerable populations, and a crushing burden of debt that is threatening our children and grandchildren with a diminished future. … [read more]
On April 26th, Paul Ryan gave a lecture at Georgetown University, entitled "America's Enduring Promise", in which he once again addressed the challenge of America's exploding federal debt, which he characterized as "the overarching threat to our society today":

The Holy Father, Pope Benedict, has charged that governments, communities, and individuals running up high debt levels are "living at the expense of future generations" and "living in untruth."

We in this country still have a window of time before a debt-fueled economic crisis becomes inevitable. We can still take control before our own needy suffer the fate of Greece. How we do this is a question for prudential judgment, about which people of good will can differ.

If there was ever a time for serious but respectful discussion, among Catholics as well as those who don't share our faith, that time is now.
Ryan's appearance at Georgetown was prefaced by a scathing letter from some 80 members of the faculty irate over his alleged "continuing misuse of Catholic teaching to defend a budget plan that decimates food programs for struggling families, radically weakens protections for the elderly and sick, and gives more tax breaks to the wealthiest few." An organized protest of Ryan on the actual day of the event was distinguished by a notable lack of participation. Continue reading →
I have to say, I'm not the biggest fan of the GOP or most of its politicians. Of course I consider the party to be marginally better than the Democrats on most issues, and so if I grace the polls with my presence, I tend to prefer GOP candidates. But this is hardly a ringing endorsement. Nor can I possibly count my political support for Ron Paul as support for the GOP, since he rejects significant parts of the party platform, rhetoric and practice.
Paul Ryan, however, is someone I have begun paying attention to. Since he has invoked Catholic Social Teaching (CST) as the basic foundation of his approach to the federal budget, he has become quite the person of interest among combatants in the Catholic media and blogosphere.
Ryan recently penned a column which appeared in the National Catholic Register titled "Applying Our Enduring Truths To Our Defining Challenge." It is worth reading. I will quote some of the highlights here. His main point:
As a congressman and Catholic layman, I am persuaded that Catholic social truths are in accord with the "self-evident truths" our Founders bequeathed to us in the founding ideas of America: independence, limited government and the dignity and freedom of every human person.
Absolutely! Human dignity and freedom are indivisible; every assault on a legitimate right or liberty is an affront to human dignity. It is no coincidence that those philosophers who have most despised liberty have also most despised man himself, viewing him as little more than a machine comprised of pleasure and pain receptors.
Ever since Congressman Paul Ryan announced his budget plan, claiming that it was inspired by his understanding of Catholic social teaching (CST) in general and subsidiarity in particular, old debates about the meaning of CST have flared up once again. Michael Sean Winters of NCR blasted Ryan's conception of "subsidiarity"; then Stephen White of Catholic Vote critiqued some of Winter's own oversimplifications. Since everyone and their aunt in the Catholic blogosphere will weigh in on this at some point, I'll get it over with and throw in my two-cents now.
First: I do believe that some of Ryan's statements are oversimplifications. For instance, he claimed that subsidiarity and federalism were more or less synonyms for one another. They are not. Stephen White pointed out that these concepts are complimentary, however, and they are.
Secondly: Winters, and he is not alone in this, repeats Vatican statements about "access" to health care as if they were an exact equivalent with Obamacare or other types of government-run healthcare schemes. As White pointed out, Winters presents his leftist policy preferences as non-negotiable points of CST.
Third: I think the entire framework of this discussion needs a serious overhaul.
This is meant to be a fun post speculating about who might run for the Republican Presidential Nomination. Here's my list, who do you think will run?
Likely Running:
Rick Santorum-former Senator from Pennsylvania
Tim Pawlenty- Governor of Minnesota
Mitt Romney-former Governor of Massachusetts
Still looking into it:
Mike Huckabee- former Governor of Arkansas
Mitch Daniels-Governor of Indiana
Sarah Palin-former Governor of Alaska
Newt Gingrich-former Speaker of the House
Long shots:
Bobby Jindal-Governor of Louisiana
Paul Ryan- Congressman from Wisconsin
Mike Pence-Congressman from Indiana
Tom Tancredo-former Congressman from Colorado
Ron Paul-Congressman from Texas
John Thune-Senator from South Dakota
Jeb Bush-former Governor of Florida
Analysis:
I think potential candidates like Huckabee and Palin have to be considered front runners in Iowa because of that state's social and culture conservative leanings. Pawlenty may have an advantage in Iowa since he governs a neighboring state.  Meanwhile, I think potential candidates like Romney and Daniels will play well in New Hampshire. I think all the candidates are going to have to build their war chests for the remaining candidates. I don't really see any one of the current candidates running away with the nomination early on, so it may be a long drawn out battle. I don't think it will go the distance like Obama-Clinton, but its not going to be wrapped up in a few primaries. What do you think?