ObamaCare
Hattip to Gateway Pundit.  NBC's First Read is reporting that Stupak is considering retirement.
Stupak to call it quits? With just a few days to go before the end of this recess, House Democrats are cautiously optimistic that they could get through it without a single retirement announcement. That said, there is still a concern that some important incumbents in districts that they are uniquely suited could call it quits. At the top of the concern list this week: Michigan Democrat Bart Stupak. The Democrat best known this year as the Democrat who delivered the winning margin of votes for the president's health-care reform bill is said to be simply exhausted. The criticism he received — first from the left, and then from the right — has worn him and his family out. And if he had to make the decision now, he'd probably NOT run. As of this writing, a bunch of senior Democrats (many of the same ones who twisted his arm on the health care vote) are trying to talk him into running. The filing deadline in Michigan is still a month away, but veterans of that state's politics are skeptical anyone other than Stupak can hold that district in this political climate.
I came across this American Thinker article on the exclusion of Amish and Muslims from ObamaCare:
The Senate health care bill just signed contains some exemptions to the "pay-or-play" mandate requiring purchase of Obamacare-approved health insurance or payment of a penalty fine. As Fox News has pointed out, for instance, the Amish are excused from the mandate:
So while most Americans would be required to sign up with insurance companies or government insurance plans, the church would serve as something of an informal insurance plan for the Amish.

Law experts say that kind of exemption withstands scrutiny.

"Here the statute is going to say that people who are conscientiously opposed to paying for health insurance don't have to do it where the conscientious objection arises from religion," said Mark Tushnet a Harvard law professor. "And that's perfectly constitutional."
Apparently, this exemption will apply similarly to believers in Islam, which considers health insurance – and, for that matter, any form of risk insurance – to be haraam (forbidden).
Steve Gilbert of Sweetness & Light calls our attention to the probability that Muslims will also be expempt. According to a March 23 publication on an authoritative Islamic Web site managed by Sheikh Muhammed Salih Al-Munajjid, various fatwas (religious decrees) absolutely forbid Muslim participation in any sort of health care or other risk insurance:
Health insurance is haraam like other types of commercial insurance, because it is based on ambiguity, gambling and riba (usury). This is what is stated in fatwas by the senior scholars.

In Fataawa al-Lajnah al-Daa'imah (15/277) there is a quotation of a statement of the Council of Senior Scholars concerning the prohibition on insurance and why it is haraam:

It says in Fataawa al-Lajnah al-Daa'imah (15/251):

Firstly: Commercial insurance of all types is haraam because it involves ambiguity, riba, uncertainty, gambling and consuming people's wealth unlawfully, and other shar'i

Secondly: It is not permissible for the Muslim to get involved with insurance companies by working in administration or otherwise, because working in them comes under the heading of cooperating in sin and transgression, and Allaah forbids that as He says: "but do not help one another in sin and transgression. And fear Allaah. Verily, Allaah is Severe in punishment"

[al-Maa'idah 5:2]. End quote.

reservations.
And Allaah knows best.
So, it turns out that observant Muslims are not only strictly forbidden from buying any health insurance under the ObamaCare mandate, but may also not even work for any company that provides such insurance or any other form of commercial insurance.
(…)
Being an observant Catholic I don't have to participate because it goes against my faith to kill unborn innocent children?
The 5th, 7th, and 10th Commandments and the Catechism of the Catholic Church (CCC) forbids me from participating.
5th Commandment & CCC 2268-2269: You shall not kill. (ObamaCare kills unborn babies)[1]
I.R.S. looking for a few new agents to fulfill the new ObamaCare regulations.
The entire country, including and especially the blogosphere, is ablaze with commentary, debate, and verbal warfare over the merits and potential consequences of Obamacare's passage into law on Tuesday. Among us Catholics debate has been particularly intense, since the American Church played a key role in opposing Obamacare due to its anti-life provisions, though I can't say that I agree at all with the bishops when they suggest that the bill was otherwise acceptable.
I opposed, and continue to oppose Obamacare for many reasons, abortion funding being only one of them. Indeed, while the absence of the Hyde language from the bill is certainly troubling, the truth is that Catholic taxpayers have been funding "medically necessary" or "exceptional" abortions at the state level through Medicaid for decades – abortions which are still offenses against life according to the teaching of the Church. Some Catholics have also been doing so through their participation in private health care plans that cover abortion. In modern America, we may as well forget about any kind of meaningful "conscience protection."
It occurs to me that there are – among several others – two major problems that I have not seen adequate coverage of in the news that will result from Obamacare, though I admit, I can't read everything, so if someone can direct me to analysis of these issues, I would be grateful.
No one seems to know where Stupak's head it is at from moment to moment. A facebook friend of mine just sent me a twitter from CNN that reads:
Urgent — Rep. Stupak to CNN producer Lesa Jansen: "I'm still a no…There is no deal yet. Its a work in progress."
Any "deal" that is acceptable to the radical pro-abortion bloc of Democrats that have threatened to vote "no" on the bill if substantial pro-life guarantees are included is not good enough.
If Stupak agrees to this absurd idea of an executive order, he will set back the cause of pro-life Democrats and disappoint the millions of pro-life Americans who, many for the first time ever, really believed that a pro-life Democrat could accomplish something in Washington.
Update: It's 1:10 here in CA, and I just heard it from Stupak's mouth on CSPAN – he's made the deal. Obamacare will pass. May God have mercy on our souls!
Catholics have been preoccupied with the possibility that abortions will be paid for by the government, with their tax dollars, if the Democrats gain the votes required to pass their health care bill on Sunday. While I certainly share this concern, I must say that it appears to be too little, too late. In the first place, federal funds already make up 1/3 of Planned Parenthood's budget – in 2008, they received 350 million dollars from the federal government. In the second place, given that 46% of private health insurance companies cover abortion, that means many of us have probably been paying for abortions with our own money as we pay our monthly premiums. Of course, if you use Windows, you've made Bill Gates a richer man, and Gates gives tens of millions of dollars to Planned Parenthood, because he and some of his fellow billionaires are obsessed with population control. Nothing to worry about there.
You might also live in one of the 32 states that fund abortion through Medicaid in the case of rape, incest, or the "health" of the mother, or the 17 states – 13 of which are forced by court orders – to cover all "medically necessary" abortions. If you pay state taxes, you're already funding abortion with your tax dollars, and you have been for decades. Granted, you haven't been funding abortion on demand, at least not on paper. In practice, who knows.
[4 updates at the bottom of this post as of 8:08am CST]
If ObamaCare somehow passes through Congress and signed by President Obama, what can Americans look forward to?
Well the Republican Party's very own potential presidential candidate Mitt Romney did just that as governor of Massachusetts, passing universal health coverage for the entire state.
The results are mixed at best, and scary at worst.
Here are some highlights from the op-ed titled Romneycare model a dud in the Boston Herald by Michael Graham where Massachusetts is "already glowing in the radioactive haze of Romneycare, aka "ObamaCare: The Beta Version." [emphases mine]:
Shouldn't Obama have been bragging yesterday about bringing the benefits of Bay State reform to all of America?
As we prepare to wander into this coming nuclear winter of hyper-partisan politics – one in which we're almost certain
to see widespread political fatalities among congressional Democrats – I have to ask: If bringing Massachusetts-style "universal coverage" to America is worth this terrible price, why doesn't Obama at least mention us once in awhile?
Maybe he thinks of us as the Manhattan Project of medical insurance reform. Too top secret to discuss. More likely, it has something to do with the nightmare results of this government-run debacle. Here are a few "highlights" of the current status of the Obamacare experiment in Massachusetts:
It's exploding the budget: Our "universal" health insurance scheme is already $47 million over budget [imagine it in trillions for American tax-payers] for 2010. Romneycare will cost taxpayers more than $900 million next year alone.
This is a clip of Ronald Reagan warning us of socialized medicine, the very same bill that President Obama and the Democratic Party are trying to ram through congress.
Reagan warns us of how people such as six-time presidential Socialist Party candidate Norman Thomas, and many others, explained how to move their agenda of achieving a socialist state by a Foot-in-the-Door policy of socialized medicine.  Which is eerily similar to what President Obama and the Democrats are doing, against the will of the people with their European socialized health care bill.
In this post I mentioned that the Premier of Newfoundland, Danny Williams, came to the US for heart surgery.  As the video above indicates, Williams is also an ardent support of Canadian Government Health Care, at least for everyone but himself.
Williams is unrepentant for not standing in line with other Canadians awaiting heart treatment.
In an interview with The Canadian Press, Williams said he went to Miami to have a "minimally invasive" surgery for an ailment first detected nearly a year ago, based on the advice of his doctors.
"This was my heart, my choice and my health," Williams said late Monday from his condominium in Sarasota, Fla.
"I did not sign away my right to get the best possible health care for myself when I entered politics."
Some people might say that Williams is a hypocrite.  If he is a hypocrite he is not alone.  Members of Congress, in all their votes on Obamacare, have made certain they will keep their current health care and not be subjected to it.  Members of Congress who vote for Obamacare are thereby implicitly saying:  "Obamacare, it's good enough for the peasants."
[Update at the bottom of this post]
The scandal that has engulfed the U.S. Conference of Catholic Bishops (USCCB) shows no sign in abating.
Today we learn even more incriminating facts that continue to tarnish the image of the USCCB.
In the latest RealCatholicTV.com program Michael Voris explains the deep entanglement of Democratic Party and anti-Catholic operatives that hold high positions within the USCCB.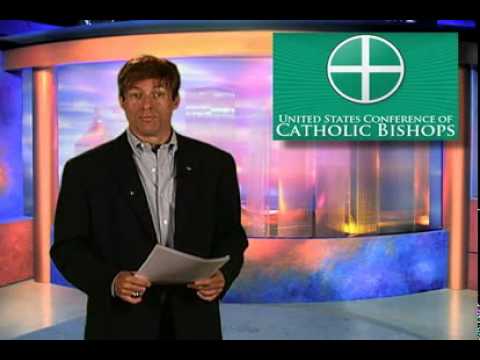 Well Massachusetts has elected a Republican US Senator for the first time in 37 years.  What does this political upset of the century mean?
1.   ObamaCare is dead.  Not only because the Democrats now lack 60 votes to invoke cloture in the Senate, but because opposition to ObamaCare was the signature feature of Scott Brown's campaign and the results of this race in bluest Massachusetts will send chills down the spine of too many Democrats.
2.   We now have further evidence that the Democrats are looking at a political storm of the first magnitude in the Fall.  If a US Senate seat in Massachusetts isn't safe for the Democrats, it is hard to imagine what seat in Congress outside of urban centers they can take for granted in November.
3.   The fundraising success of Scott Brown over the internet was astounding.  A demonstration that the internet fundraising effort of the Democrats in 2008 now has a GOP counterpart.
4.   Look for a wave of Democrat retirements in Congress as more Democrats decide that ending their political careers with a voluntary retirement is preferable to defeat.
5.   More Blue Dog Democrats in Congress will follow the example of Congressman Parker Griffith and announce that they are switching to the Republican Party.
Go here to see the last polls on the Senate race in Massachusetts.  The seat that is up has been in the hands of the Kennedy family since 1953, four years before my birth.   The last time the Republicans won a Federal senate race in Massachusetts was in 1972 when I was 15 years old.  Against all the odds Scott Brown has engineered the political upset of this century.  In November he trailed Martha Coakley by 30 points.  He has run a superb campaign and she has run an abysmal one, but the key issue has been his opposition to ObamaCare.  If ObamaCare is  a losing issue in Massachusetts, in what State in the Union can it be a winning issue?  Brown 52;  Coakley 47;  Kennedy 1.  That is my prediction.   What is yours?