Obamacare Decision
Evidence is beginning to come in to support my contention that the ObamaCare decision of last week was a disaster for the Obama reelection effort.  From Scott Rasmussen the best of the presidential horserace pollsters:
The Rasmussen Reports daily Presidential Tracking Poll for Sunday shows President Obama attracting 45% of the vote, while Mitt Romney earns 45%. Four percent (4%) prefer some other candidate, and six percent (6%) are undecided.
Matchup results are updated daily at 9:30 a.m. Eastern (sign up for free daily e-mail update).
Today's results are the same as they were just before the Supreme Court ruled on the health care law. See tracking history.
However, intensity is up among conservatives. On Thursday morning, 43% of conservative voters were following the presidential race on a daily basis. That's up to 51% today. It remains to be seen whether this is a lasting change, statistical noise, or a temporary response to the health care ruling.
Just 28% of moderates and 31% of liberals are following the race that closely. Those numbers are little changed since the Supreme Court ruling. Interest in a campaign is typically a good early indicator of voter turnout."
→']);" class="more-link">Continue reading →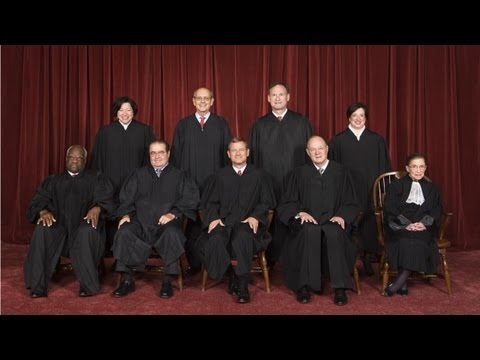 I was primed today for the Obamacare Decision.  I made certain that I had no court hearings today, and my appointments were not starting until 10:00 AM.  Alas my third kidney stone decided to make its appearance at 7:00 AM.  By 9:00 AM I was suffering from truly memorable pain.  I stayed home from the law mines and had my secretary reschedule all my appointments except the 2:00 PM which was in the nature of an emergency.  Nursed by my wife, and my doctor who opened his office early for me, God bless him, I soon had in my system very strong painkillers and Flowmax.  By 1:30 PM I still felt like bayonets were probing my nether regions, but duty is duty and my wife drove me to my office for the 2:00 PM appointment.  By the end of it at 3:00 PM I was feeling semi-human, the pain killers and the Flowmax working their magic.
As for the Obamacare decision, a plain text copy of the decision may be read here, the majority opinion by Chief Justice Roberts is both brilliant and wrong.  His exposition of how th individual mandate violates the Commerce Clause is magnificent.  His transformation of the mandate into a tax was clever and wrong.  The idea that something is a tax if it is used as a penalty to compel behavior is imaginative and absurd.  Go here to read an examination of the decision shorn of legal gobbledygook.  Lost in the hubbub over this part of the decision is that Roberts had a majority of the court rule that states could refuse to take part in the Medicaid expansion, a key part of Obamacare, and that Congress could not punish them by taking away all their Medicaid money.  Go here to read an analysis of that portion of the decision. →']);" class="more-link">Continue reading →