Obama Administration Parable
President Obama seems to carry the world view that of an elite academic, that all the problems this nation faces can be solved with government intervention through high taxes and and legislation that enacts social engineering of a society of independence to that of dependence.
Or as the average layman would say, President Obama is a socialist, plain and simple.
I understand the subtleties of his liberal leanings and his good intentions, but the path to Hell is often made with good intentions.  With the failed Communist experiment in Russia in 1988 and the current economic collapse of Greece with Spain and Portugal on the horizon to experience the same, I don't see how more spending with money we don't have for welfare programs that we don't need will solve our economic woes.
President Obama has replaced General McChrystal with General Petraeus.
I haven't really thought too much about General McChrystal's comments regarding President Obama, but I am of the mind that American generals should have complete respect for the authority and the office of the presidency while in uniform.  We are the United States of America, not a second rate banana republic.
General McChrystal should have been smarter than to express his negative opinions of President Obama, though harmless, it is a small step towards chipping away of the established civilian controlled military.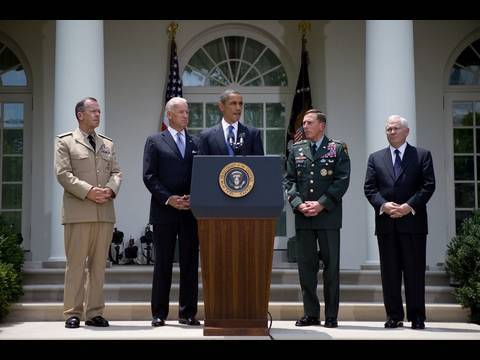 I am almost feeling sorry for my fellow Hawaiian Barry Obama.  His healthcare push has grinded to halt his legislative agenda and the oil spill is ruining his presidency.  He's certain to lose one or both houses of congress this November and then General McChrystal's expresses his private sentiments of an inexperienced presidency which most Americans are coming around to view him as.
During his press statement last week, President Obama said that in dealing with the recent oil spill in the Gulf, he was "examining every recommendation, every idea that's out there, and making our best judgment as to whether these are the right steps to take, based on the best experts that we know of."
That, however, is not entirely true:
A St. Louis scientist who was among a select group picked by the Obama administration to pursue a solution to the oil spill in the Gulf of Mexico has been removed from the group because of writings on his website, the U.S. Energy Department confirmed Wednesday.

Washington University physics professor Jonathan Katz was one of five top scientists chosen by the Department of Energy and attended meetings in Houston last week.

Though considered a leading scientist, Katz's website postings often touch on social issues. Some of those writings have stirred anger in the past and include postings defending homophobia and questioning the value of racial diversity efforts.
[Updates at the bottom of this post as of 4-29-2010 at 8:24pm]
Apparently President Obama is doing his best to paint the Tea Party movement as a group of extremists and racists.
Witness the video below as an army of riot police in full riot gear and snipers on rooftops wield their weapons to intimidate the Tea Party protesters.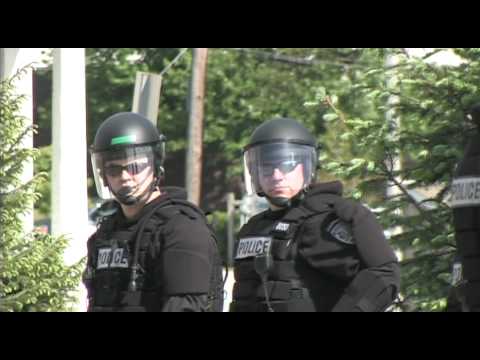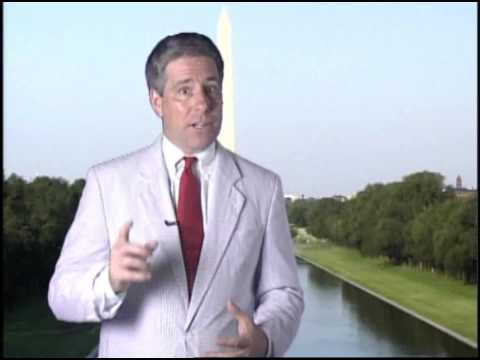 There has been a fair amount of useless discussion among pundits and Obama administration officials about a Value Added Tax, a National Sales Tax, the mainstay of the crumbling welfare states in Europe.  I say this discussion is useless, because Congress would never pass it, as the 85-13 vote in the Senate on an anti-Value Added Tax non-binding resolution indicates.
Today in the Washington Post Robert Samuelson explains why a VAT wouldn't solve our budgetary woes:
The basic budget problem is simple. For decades, the expansion of Social Security, Medicare and Medicaid — programs mostly for the elderly — was financed mainly by shrinking defense spending. In 1970, defense accounted for 42 percent of the federal budget; Social Security, Medicare and Medicaid were 20 percent. By 2008, the shares were reversed: defense, 21 percent; the big retirement programs, 43 percent. But defense stopped falling after Sept. 11, 2001, while aging baby boomers and uncontrolled health costs keep retirement spending rising.
Left alone, government would grow larger. From 1970 to 2009, federal spending averaged 20.7 percent of the economy (gross domestic product). By 2020, it could reach 25.2 percent of GDP and would still be expanding, reckons the Congressional Budget Office's estimate of President Obama's budgets. In 2020, the deficit (assuming a healthy economy with 5 percent unemployment) would be 5.6 percent of GDP. To cover that, taxes would have to rise almost 30 percent.
A VAT could not painlessly fill this void. Applied to all consumption spending — about 70 percent of GDP — the required VAT rate would equal about 8 percent. But the actual increase might be closer to 16 percent because there would be huge pressures to exempt groceries, rent and housing, health care, education and charitable groups. Together, they account for nearly half of $10 trillion of consumer spending. There would also be other upward (and more technical) pressures on the VAT rate.
Does anyone believe that Americans wouldn't notice 16 percent price increases for cars, televisions, airfares, gasoline — and much more — even if phased in? As for a VAT's claimed benefits (simplicity, promotion of investment), these depend mainly on a VAT replacing the present complex income tax that discriminates against investment. That's unlikely because it would require implausibly steep VAT rates. Chances are we'd pay both the income tax and the VAT, making the overall tax system more complicated.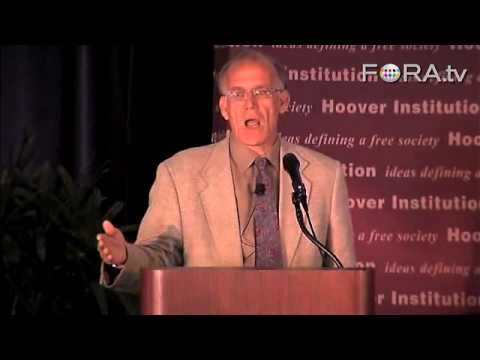 One of my favorite living historians is Victor Davis Hanson.  I have read every book he has written and most of his articles.  Trained as a classicist and historian of antiquity, he has written on a broad range of topics, from the hoplites of ancient Greece, ancient Greek agriculture, a searching examination of the Peloponnesian War, the farming crisis of the 80′s, the history of warfare and culture, the teaching of the classics and the debacle of our non-policy on immigration, and I have been astonished at how skillfully this man writes and with what intelligence, and very dry humor, he cuts to the essence of whatever subject he addresses.  He moonlights as a pundit on current events and in that capacity I have found a recent column of his intriguing on the question of just why the Obama administration is hellbent on compiling such huge annual deficits.  Here is a portion of the column:
We are going to pile up another $3 trillion in national debt in just the first two years of the Obama administration. If the annual deficit should sink below $1.5 trillion, it will be called fiscal sobriety.
Why, when we owe $12 trillion, would the Obama administration set out budgets that will ensure our collective debt climbs to $20 trillion? Why are we borrowing more money, when Medicare, Social Security, the Postal Service, Amtrak, etc. are all insolvent as it is?
What is the logic behind something so clearly unhinged?
I present seven alternative reasons — some overlapping — why the present government is hell-bent on doubling the national debt in eight years. Either one, or all, or some, or none, of the below explain Obama's peculiar frenzied spending.
1) Absolutely moral and necessary?
The country is in need of massive more entitlements for our destitute and near to poor. Government is not big, but indeed too small to meet its moral obligations. Deficits are merely record-keeping. Throwing trillions into the economy will also help us all recover, by getting us moving again and inflating the currency. And we can pay the interest easily over the next 50 years. Just think another World War II era — all the time.
So big spending and borrowing are genuine efforts of true believers to make us safe, secure, and happy.
2) "Gorge the beast"
The spending per se is not so important, as the idea of deficits in general will ensure higher taxes. Nationalized health care, cap and trade, new initiatives in education, more stimulus — all that and more is less important than the fact that huge defects will require huge new taxes, primarily from the upper-classes. I see no reason why the total bite from state income, federal income, payroll, and health care taxes cannot soon in theory climb to 70% of some incomes (e.g., 10% state, 15.3% FICA, 40% federal, 3-5% health care). In other words, "redistributive change" is the primary goal. This aim is premised on the notion that income is a construct, if not unfairly calibrated, then at least capriciously determined — requiring the more intelligent in the technocracy to even out things and ensure an equality of result. After all, why should the leisured hedge-funder make all that more after taxes than the more noble waitress?
So big spending and borrowing mean big deficits, and that means taxing the greedy and giving their ill-gotten gains to the needy.
3) Big Brother?
Or does rampant borrowing for government spending reflect our despair over the inability of millions to know what is best for themselves? For democracy to work, all of us must fully participate. But because of endemic racism, sexism, class bias, and historical prejudices, millions of Americans do not have access to adequate education and enlightenment. Therefore, a particular technocratic class, with requisite skill and singular humanity, has taken it upon themselves to ensure everyone gets a fair shake — if only government at last has the adequate resources to fix things. If it proves problematic for one to register and vote, then there will be a program to make 100% participation possible. If some of us are too heavy and too chair-bound, we can be taught what and how to eat. If some of us do not study, we can adjust academic standards accordingly. In one does something unwise, like buying a plasma TV rather than a catastrophic health care plan, then we still can ensure he is covered. In other words, an all-knowing, all-powerful, all-moral guardian class requires resources to finish the promise of participatory America. After all, why would we allow the concrete contractor to "keep" 70% of his income only to blow it on worthless things like jet skis or a Hummer in his garage or a fountain in his yard — when a far wiser, more ethical someone like Van Jones could far more logically put that now wasted capital to use for the betterment of the far more needy?
Tax day is a day when all Americans are reminded about the importance of politics and think about the importance of the political future so they can adjust their budgets accordingly. Most of the time in politics we have a reasonably good idea of what's going on: what the issues are going to be, who the favorites in the next election are, who are the main blocs, etc. Of course, there are always surprises and upsets.
Get ready for Obama appointment, Round 2.
Supreme Court Justice Stevens announces he will retire in the summer.
Not sure how the timing will work on this, especially as Obama and the Democrats try to avoid being too contentious right before the November elections. That might play in our favor as far as getting a more moderate nominee. It will also be interesting to see if the GOP can or will delay the nominee as they have the 41 votes to filibuster.
The names being thrown around are the same ones being thrown around before; we'll see where he goes with this pick. Time to start praying again.
When Catholics justified their decision to vote for Obama, they did so on two grounds: healthcare and foreign policy. The premise was Obama would actually save lives through healthcare and through his more peaceful foreign policy, thus outweighing the damage he would do through his promotion of abortion.
I never found that premise convincing. Not only did I think they underestimated the damage abortion does, but I also believed that they were ignoring what Barack Obama was actually promoting in his foreign policy. To make a long story short, I think most people assumed that since Obama was a Democrat who had opposed the war in Iraq that he would be the opposite of Bush when in truth their positions are very similar.
Since taking office, Obama has largely followed the lead of his predecessor. However today news is coming out that he has surpassed his predecessor in circumventing due process: Obama has authorized the CIA to kill a US citizen believed to be involved in terrorism (H/t Vox Nova).
The idea that an American citizen can be killed without a trial outside of battle is a troubling one, regardless of whether you voted for Obama or not. The death penalty is something that should be used only rarely (if at all-I'm w/ the bishops that it's not good in modern America), and if used then used in the context of a trial. The rights of trial are not merely procedural technicalities but safeguards designed to protect the dignity of life: that is, regardless of what someone has done, freedom & human life itself are so precious that we take it away only after a deliberate and careful process.
To take away human life outside of self-defense is a power no one, including the President, possesses. One will hope that the media will publish this and emphasize it so that public pressure will dissuade Obama from taking this course of action. Unfortunately, one has to doubt that that hope will be realized.
Simon Heffer of London's Daily Telegraph wrote this timely piece on President Obama's inability to govern America.  Here are some snippets [emphases mine]:
It is a universal political truth that administrations do not begin to fragment when things are going well: it only happens when they go badly, and those who think they know better begin to attack those who manifestly do not. The descent of Barack Obama's regime, characterised now by factionalism in the Democratic Party and talk of his being set to emulate Jimmy Carter as a one-term president [We can only hope], has been swift and precipitate. It was just 16 months ago that weeping men and women celebrated his victory over John McCain in the American presidential election. If they weep now, a year and six weeks into his rule, it is for different reasons.
"Obama's big problem," a senior Democrat told me, "is that four times as many people watch Fox News as watch CNN." The Fox network is a remarkable cultural phenomenon which almost shocks those of us from a country where a technical rule of impartiality is applied in the broadcast media [Like the BBC is a bastion of impartiality my left foot]. With little rest, it pours out rage 24 hours a day: its message is of the construction of the socialist state, the hijacking of America by "progressives" who now dominate institutions, the indoctrination of children, the undermining of religion and the expropriation of public money for these nefarious projects. The public loves it, and it is manifestly stirring up political activism against Mr Obama, and also against those in the Republican Party who are not deemed conservatives. However, it is arguable whether the now-reorganising Right is half as effective in its assault on the President as some of Mr Obama's own party are.
If I can tear myself from the election results tonight, I plan on watching the pilot of the new V series on ABC which will premier at 7:00 PM central tonight.  I wrote about this new V series here in a post last May, a remake of a cheesy, yet entertaining, alien invasion show from the Eighties.