Newt Gingrich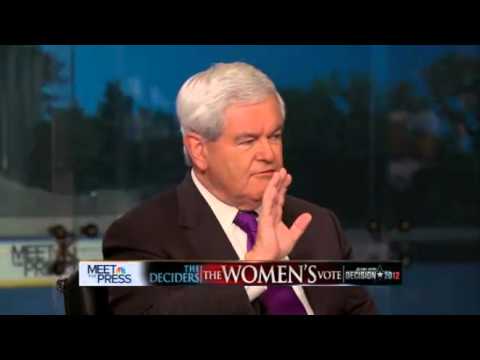 Newt Gingrich was a very flawed candidate in the Republican primary race, but no one is better than he is at pointing out blatant media bias.  He did so on Sunday on Meet the Press, pointing out the extreme media bias on abortion.  Tom Friedman, who amazingly gets good money to write columns for the New York Times, then, hilariously, underlined by his pro-abort response that Gingrich's criticism was completely on target:
DAVID GREGORY: Understanding, Mr. Speaker, the difference between Todd Akin talking about rape versus the abortion plank of the platform, I understand there is that distinction. Nevertheless, the question, social issues versus economic issues as being a big motivator for women, is a question.
NEWT GINGRICH: Let me just take a second to disagree with Carly [Fiorina]. I think Todd Akin was the choice of the people of Missouri. I think Todd Akin has publicly apologized, and the last poll shows he's beating the Democratic senator. I think that we ought to go on from that. Karl Rove said some terrible things on Friday for which he has apologized, which should remind us, people make mistakes.
GREGORY: He was joking about if he shows up murdered somewhere–
GINGRICH: In the age of Gabby Giffords, it is not a joke to say that a member of Congress ought to get murdered. And I'm frankly fed up with the one-sided bias, OK? Let me give you two examples. Vice president of the United States goes to a black audience and says, 'If the Republicans win, you will be in chains.' How can Biden remain as vice president? Where's the outrage over overt, deliberate racism? We talk about people saying things, they ought to get off tickets. How come Biden shouldn't get off the ticket?
Second example: The Democratic Party plank on abortion is the most extreme plank in the United States. The president of the United States voted three times to protect the right of doctors to kill babies who came out of an abortion still alive. That plank says tax-paid abortion at any moment, meaning partial-birth abortion. That's a 20 percent issue. The vast majority of women do not believe that taxpayers should pay to abort a child in the eighth or ninth month. Now why isn't it shocking that the Democrats on the social issue of abortion have taken the most extreme position in this country, and they couldn't defend that position for a day if it was made clear and vivid, as vivid as all the effort is made to paint Republicans.
THOMAS FRIEDMAN: I'm a Planned Parenthood Democrat on the issue of choice, and I think that that is where the country should be, that is where many, many women in this country are, and I am glad there are people running for the presidency who will defend that position. Period, paragraph, end it.
GREGORY: Newt, I guess the question too is whether you're seeking, even in the Akin example, to seek an equivalency between that and, say, Biden, who was using language that Republicans have used about the regulatory shackles as opposed to making an overt racial–
GINGRICH: Biden was not talking to a black audience about regulatory shackles, OK? Let me go back to Tom's point. So, you think it's acceptable to have a party committed to tax-paid abortion in the eighth and ninth month? And you think that's a sustainable position in the United States? If the news media spent as much time on the extremism of the Democrats as they spend trying to attack us, they would not be able to adopt that plank this week.
FRIEDMAN: I do believe that's a defensible position, but I also believe I'm here as a journalist. I'll let the Democratic Party defend it. Continue reading →
As was tweeted by a few individuals, it is remarkable that a conservative, Catholic, Republican – who largely rejects JFK's sentiments on religion in the public square to boot – won primaries in Alabama and Mississippi.  It's also becoming evident that exit polling means squat with regards to Rick Santorum.
Mitt Romney continues to be the weakest front-runner imaginable.  It was funny to listen to John Batchelor and his parade of insiders smugly dismiss Santorum's victories and chat away about the inevitability of Romney's nomination while Santorum was winning two southern states in which Romney finished third.  Yes, Romney still has an edge, and with victories in American Samoa and Hawaii Santorum's delegate edge last night was minimal.  But Romney has far from sealed the deal.
Speaking of Romney, his gaggle of supporters truly marked themselves by their utter gracelessness in defeat.  As Mark Levin said, Romney supporters are quickly becoming as obnoxious as Ron Paul supporters.  It's true that partisans of all of the candidates can be particularly blind to their own candidate's faults and to exaggerate the foibles of the others, but Romney supporters in all corners of the internet have been particularly bitter and have done little to actually sway others to their side.  What might explain this phenomenon is that unlike the others, Romney voters aren't particularly enamored with their candidate and are instead motivated by either dislike of the other candidates and/or fear that any other candidate would lose the general election.  So they don't really have any convincing arguments to make on behalf of Romney, but instead they kick and stomp their feet every time Romney fails to win a primary.  I would suggest that calling those of us who don't vote for Romney a bunch of hayseed hicks, and suggesting that social cons be banished from consideration this election might just not be a winning strategy.  Just saying.
As for Newt, there is absolutely no compelling reason for him to stay in this race.  He won his home state, the state neighboring his home state, and has otherwise been a distant consideration save for the states he lost last night in the south.  Rick Santorum already had a slight lead in Louisiana, and I think that last night's victories just about clinches the state for him (though that's a rather dangerous prediction considering the wildness of this primary season thus far).  That being said, his reasoning for staying in is not all that outrageous.  He suggested that he didn't want Romney to concentrate all of his fire on Santorum, something I said not that long ago.  And while he has no realistic shot to win the nomination before or even during the Republican convention – is a brokered convention really going to nominate the guy with the third most delegates coming in? – he might be able to prevent Romney from securing the necessary number of delegates, and that seems to be his primary goal.  After all, not all of his supporters will switch to Santorum.  By staying in the race he is hurting Santorum, but he's also hurting Romney by picking off a few delegates.  Take away Gingrich from last night, and both Santorum and Romney would have won more delegates.  That would have inched Romney closer to the nomination.
On the other hand, I don't suppose Gingrich contributors are going to be all that enthused to continue propping up a candidate who has no intention of actually winning, and is instead motivated by nothing more than spite.  Also, as was discussed last night, even if Romney fails to secure the precious 1,044 delegates by the time Tampa rolls around, he'll still be the favorite at a brokered convention if he is significantly ahead of Santorum.  There is no magical candidate that will emerge from the ashes of a brokered convention.  It's either going to be Romney or it's going to be Santorum.  Every delegate that Santorum doesn't win from here until the convention is just as good as a delegate for Romney under a brokered convention scenario.  If Santorum remains fairly close in the delegate count while neither candidate has the necessary majority, then Gingrich can play kingmaker at the convention.  He would be well-advised to drop out sooner than later if he wants to achieve his twin objection of derailing Romney and having a hand in deciding the eventual nominee.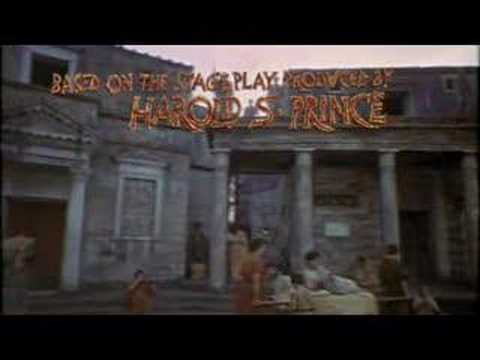 Well, all of the remaining candidates in the Republican fight for the presidential nomination had something to brag about, and to worry about, after last night.
1.  Rick Santorum:
Brag About:  Major bragging rights go to Santorum.  He battled to almost a tie in Ohio, after being outspent four to one by Mitt Romney, in a truly remarkable demonstration that fervent volunteers can largely negate a money advantage.  His wins in Oklahoma, North Dakota and  Tennessee demonstrated that where the Republican party is strongest, unless there is a substantial Mormon population., Santorum also tends to be strongest, and that he has an appeal to the Republican base that is not limited to geography.  He came in a strong second in Alaska, and weak seconds in Idaho and Massachusetts.
Worry About:  He did not win in Ohio and thus any momentum from a near defeat in the Buckeye State will be much less.   Gingrich is giving no sign that he is leaving the race and his vote totals deprive Santorum of victory after victory.
2.  Mitt Romney, a/k/a the Weathervane:
Brag About:  He dodged a bullet by winning, barely, the big prize of Ohio last night.  He won overwhelmingly in Massachusetts.  Toss in victories in Virginia, Alaska, Vermont  and Idaho and it is impossible to argue, as much as I would like to, that Super Tuesday was not a very good night for the Weathervane.  He ran a strong second in Oklahoma, and weak seconds in Tennessee, Georgia and North Dakota.  He continues to amass the most delegates and to be the clear favorite to get the nomination.
Worry About:  Unless his money mud machine is fully deployed, the Weathervane has a great deal of difficulty in winning against a strong candidate, the prime example last night being Ohio where he eked out a one point victory with only a four to one spending advantage.  His victory in Virginia, where 40% of Republicans voted for Doctor Delusional since he was the only not Romney on the ballot, is also troubling for the Weathervane as it shows the depth of the anti-Romney sentiment among rank and file Republicans in a key state in the fall, and is mirrored throughout the nation. Continue reading →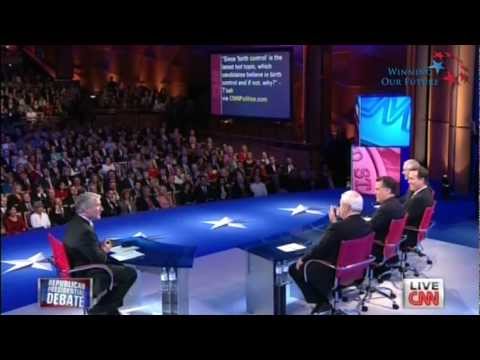 No one is better than Gingrich in pointing out the wretched double standard of the Mainstream Media:
I want to make two quick points, John. The first is there is a legitimate question about the power of the government to impose on religion activities which any religion opposes. That's legitimate. But I just want to point out, you did not once in the 2008 campaign, not once did anybody in the elite media ask why Barack Obama voted in favor of legalizing infanticide. Continue reading →
I wanted to followup on Don's post from yesterday about National Review urging Gingrich to exit the race.  As I said in the comments, I owe NRO a slight mea culpa.  I thought that by including Santorum (and Huntsman) with Romney as the candidates they thought worthy of the nomination they were merely blowing smoke.  Yet they have given Santorum fairly favorable coverage, so much so that angry Romney fanboys like Old Fan think that NR is in the tank for Santorum.  I still think the hatchet piece on Gingrich was out of line, so I'm not totally ready to forgive them for that.
As for the actual meat of their suggestion, there is much merit to it.  There have been nine primaries and caucuses thus far.  Gingrich was the landslide winner in South Carolina, but has otherwise done terribly.  He's finished a distant second twice, and has barely hovered around ten percent in the other contests.  Right now one poll has Gingrich in fourth place behind Ron Paul, and other polls show a clear trend towards Rick Santorum as the favorite among the anti-Romneys.  Now, polls have shifted mightily throughout the campaign season, so Gingrich shouldn't head for the exits quite yet.  But poor showings in Arizona and Michigan should just about do it for Newt.  Considering the fact that the bulk of his supporters will likely flock to Santorum (where as Santorum supporters are evenly split between Romney and Newt as their backup choices), and that Newt is much more favorably disposed to Santorum than Romney, I would imagine that Newt will not stay in the race if he has another pair of fourth place finishes.
That being said, if National Review wants Gingrich out of the race the last thing it should have done is publish an editorial making this feeling public.  Republican primary voters in general, and Gingrich supporters in particular have, to a large extent, been driven by spite.  It's practically impossible to read a screed written by a Gingrich supporter that doesn't mention the "Establishment" once or a dozen times.  Throw in the fact that National Review is already reviled with a special kind of intensity in camp Gingrich – and with good reason – and I can envision Gingrich supporters doubling down.  Newt himself has shown that he is prone to fits of spite, so National Review may have just guaranteed that Newt will stay in the race longer than intended.  In fact I'd submit that if National Review wanted Newt out of the race the best thing it could do is endorse the man.
Interesting.  I had assumed that National Review was in the tank for Romney.  However, this morning the editors have called for Gingrich to drop out and endorse Santorum.  They follow this up with a blast at Romney:
We hope so. Gingrich's verbal and intellectual talents should make him a resource for any future Republican president. But it would be a grave mistake for the party to make someone with such poor judgment and persistent unpopularity its presidential nominee. It is not clear whether Gingrich remains in the race because he still believes he could become president next year or because he wants to avenge his wounded pride: an ambiguity that suggests the problem with him as a leader. When he led Santorum in the polls, he urged the Pennsylvanian to leave the race. On his own arguments the proper course for him now is to endorse Santorum and exit.
We hope so. Gingrich's verbal and intellectual talents should make him a resource for any future Republican president. But it would be a grave mistake for the party to make someone with such poor judgment and persistent unpopularity its presidential nominee. It is not clear whether Gingrich remains in the race because he still believes he could become president next year or because he wants to avenge his wounded pride: an ambiguity that suggests the problem with him as a leader. When he led Santorum in the polls, he urged the Pennsylvanian to leave the race. On his own arguments the proper course for him now is to endorse Santorum and exit.
Santorum has been conducting himself rather impressively in his moments of triumph and avoiding characteristic temptations. He is doing his best to keep the press from dismissing him as merely a "social-issues candidate." His recent remark that losing his Senate seat in 2006 taught him the importance of humility suggests an appealing self-awareness. And he has rightly identified the declining stability of middle-class families as a threat to the American experiment, even if his proposed solutions are poorly designed. But sensible policies, important as they are, are not the immediate challenge for his candidacy. Proving he can run a national campaign is.
Romney remains the undramatic figure at the center of the primaries' drama. Lack of enthusiasm for him has set it all in motion. Romney is trying to win the nomination by pulverizing his rivals. His hope is that enthusiasm will follow when he takes on Obama in the summer and fall. But his attacks on Santorum have been lame, perhaps because they are patently insincere. (Does anyone believe that Romney truly thinks poorly of Santorum's votes to raise the debt ceiling?) Continue reading →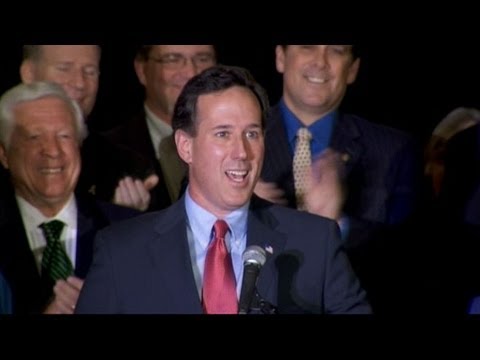 Last night in Missouri Rick Santorum finally got to go one on one against Romney, since Gingrich did not bother to get on the ballot, and the results were devastating to the Weathervane.  Santorum won two to one, garnering 55% of the vote to 25% for Romney, with Ron Paul bringing up the rear with 12%.  Santorum won every county in the state.  The Romney camp will claim that since this was a non-binding beauty contest and that Romney did little campaigning in the state, this is meaningless.  Rubbish!  What does it say about the Romney campaign and its appeal to Republican voters that they lost this badly in a state that has been a bellweather of the nation in most Presidential elections?
However, Missouri was not the end of the bad news for Romney last night.  In the Minnesota caucuses Santorum came in first with a stunning 45% and second was, wait for it, Ron Paul with 27%.  Romney, who won the caucuses by 20 points in 2008, came in third  at 17% with Gingrich being Tail-end-Newt with 11%
To complete the trifecta of woe for the Weathervane last night, we turn to Colorado, a state Romney was supposed to win according to the polls.  In the caucuses, Santorum came in first with 40%, Romney took second at 35%, Gingrich a very distant third at 13%, just edging out Paul at 12%.
So, the night couldn't have been better for Santorum or worse for Romney, but what does it all mean? Continue reading →
You want to know why Republicans are possibly going to lose the White House this year, despite an environment in which the GOP nominee should be all but guaranteed victory?  Republican voters have become incapable of comprehending the larger picture, and have swallowed media narratives hook, line, and sinker.  The perfect distillation of this is evidenced on this thread on the blog Legal Insurrection.  Professor William Jacobson is a Gingrich supporter, so he has reason to take down Ann Coulter's idiotic "Three Cheers for Romneycare" column.  Of course Jacobson un-ironically accuses Coulter of deflection, a curious charge for someone who himself has twisted logic in order to boost Gingrich.  But that's neither here nor there.
What really struck me was this exchange in the comment section.
Here is a Santorum supporter speaking up:
I admit that Mitt is sub-standard. What I dont get is (aside from the several here with clearly anti-Mormon bigotry) why sub-standard Newt should be the overwhelming favorite.

When I caucus next Tuesday (Colorado) – unless the Paulbots are out in force – I will vote for Santorum… because both Romney and Gingrich have huge non-conservative faults. This site has seemingly become dedicated to taking down Romney for the sake of Gingrich. I've yet to hear a persuasive argument why I should overlook Gingrich's equally glaring faults.
A very good question.  Here is the response he received:
Oh for God's sake, Bain, I like Santorum too, but look at the numbers. He's just NOT going to rise.
Period.
This is the weaning, and Santorum doesn't cut it.
Love the guy, but move on.
Please.
It's like picking players on a team: You WEAN.
Well that's a really convincing argument.  Shockingly, bains ain't buying it.
Let me see if I have this right…

You want me to not vote for a candidate that I like… in favor of a candidate that I don't like, so that the candidate that you hate will fail (well aside from Ron Paul).
The only argument in favor of Romney is his electability. His supporters really have nothing else to fall back on.  Well, Gingrich supporters are really not much better.  Their only argument is that Gingrich is the only person that can take down Romney.  They seem willing to concede that Santorum is the superior candidate – he just can't win.  Well, that's a self-fulfilling prophecy.  If you deem that a candidate cannot win and refuse to vote for him, well guess what?  He can't win.
It's a strange game that GOP voters are playing.  They are basing their voting decisions not on who they deem to be the best candidate, but rather are voting for people who they think other people will be voting for.  So I actually have to take back a bit of my opening premise.  It's not that Republican voters aren't trying to look at the big picture, they're just doing a terrible job of it.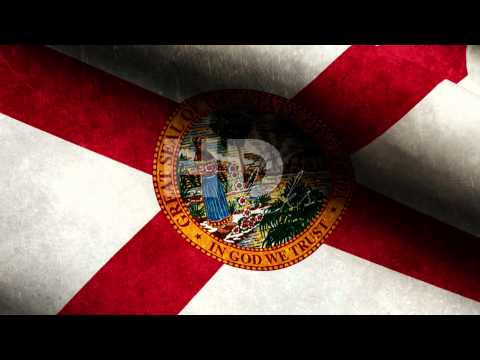 Coming out of his strong victory in South Carolina, Newt Gingrich had a golden opportunity in the Sunshine State to deal a deathblow to the Romney campaign.  Defeat Romney a/k/a the Weathervane in a large state like Florida, and the main rationale of the Romney campaign, electability, would be shattered.  If Gingrich had won the state he would  haven been the clear frontrunner and Romney would have been wondering whether he would be too old to try again in 2016.  Instead, Romney has won, and appears to have won strongly.  What happened? Continue reading →
The most recent poll by Gallup matching Newt Gingrich against Obama has Obama up by a whopping two points:  48-50.   This, after a week when Gingrich has had a concerted attack by ABC to take him out as a candidate after the Marianne Gingrich non-revelation that Newt cheated on her, as she had cheated with Newt while he was married to his first wife.  Gingrich has gained 4 points in the trial heat.
Of course polls of the general election at this point in a presidential election year don't mean spit, as President Carter could attest, as he led Ronald Reagan, often by vast margins, in the trial heat polls almost all of the year in 1980.  I bring up this poll now to counter-act some of the "woe is us" commentary too often seen in GOP circles currently.  Obama has presided over a disastrous first term, and will likely go down to defeat in the fall.  All the signs are there.  To listen to some of the Republican caterwauling at the present time, one would think that Obama was a shoo-in for a second term.  He isn't and I am getting tired of the doom and pessimism brought on by a perfectly normal contested presidential nomination race.  This reminds me of an event in the Battle of the Wilderness in May of 1864: Continue reading →
I haven't written much of anything about the GOP primary contest, despite the fact I have been following it closely, in part because I found myself so incredibly dissatisfied with all the candidates. However, as the field narrows and appears to be actually competitive, and various people I respect line up behind candidates, it seemed like it was time to come out of the closet as something I'm not very enthusiastic about being: a Romney supporter.
This is not because I'm particularly fond of Romney. I don't trust him a great deal, I'm not clear how solid any of his principles are other than his conviction that he should be president, and I don't find him particularly inspiring. As various candidates have had their five minutes of popularity for the achievement of not being Romney, I kept hoping that one of them would manage to pull ahead and show some stature. I was particularly hopeful about Rick Perry, but he just didn't seem able to run a campaign.
So why support Romney?
I'll start with the positive. While I'm not enthusiastic about Romney, I think that most of what the GOP needs in order to oust Obama this year is simply a credible alternative who doesn't scare people too much. Given how bad the economy is and how unpopular some elements of his policy have been, "not Obama" can be a solidly popular candidate by that virtue alone. Continue reading →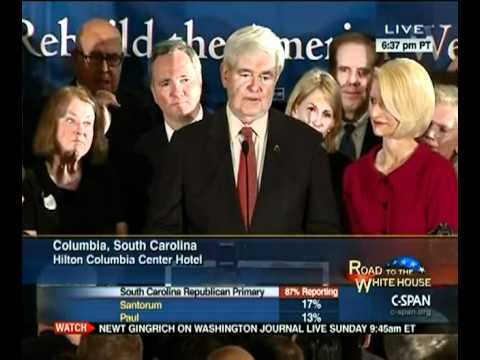 The South Carolina victory speech of Newt Gingrich last night.  Most such primary victory speeches are fairly forgettable efforts and the Gingrich speech was largely no exception except at one point in the speech.  Go to 12: 30 on the video, and watch Gingrich lambaste many elites in our society for their anti-religious bigotry.  Gingrich has raised the issue of anti-Catholic bigotry in particular, and anti-Christian bigotry  in general, before in this campaign, go here to read his earlier comments, and he may have hit on the sleeper issue of the year in this campaign.  With the words of Pope Benedict, go here to read them, warning last week about the lessening of religious freedom in this country, this is a message whose time is now upon us. Continue reading →