New York Times
Pure and unadulterated evil.
Attorney Jeffrey Anderson of Saint Paul, Minnesota, has had success in winning millions of dollars[1] from homosexual pedophile abuse cases against the American Catholic Church over the years.
He has stated many times that he will not be satisfied until he sues the Vatican in federal court with Pope Benedict in tow [2].
"We're chasing them. We're taking bites out of their a@#," said the lawyer. "All the roads lead to Rome. What we're doing is getting us closer every single day."
He may have been driven in the past in pursuit of justice for many victims of homosexual pedophiles, but what was a mission to bring justice is apparently now driven by diabolical forces to take down the Catholic Church Herself at all costs and with prejudice.
Nicholas D. Kristof wrote another New York Times editorial condemning the Church. It's not worth reading; it's the same stuff about the Vatican is not the Church, but the real Church are the ones helping the needy (i.e. the ones doing what Kristof likes-except for obviously Mother Teresa b/c she didn't like contraception) and the Church needs to expand its ideas on women and contraception in order to avoid the sex abuse crisis. For example
That story comes to mind as the Vatican wrestles with the consequences of a patriarchal premodern mind-set: scandal, cover-up and the clumsiest self-defense since Watergate. That's what happens with old boys' clubs
That's not interesting. We've heard it before. What is interesting is his blog. He himself comments on the article.
One question that I'm still puzzling over is this: how much difference would it make if the Vatican did admit women as deacons, or ordain them? It's certainly true that women can be abusers as well as men. The painful report of the Irish Commission of Inquiry last year made that clear, with accounts of nuns brutally mistreating children and in some cases raping them. Likewise, ordination of women is no guarantee of popular support: mainline Christian denominations have been ordaining women, and still losing ground to more conservative Evangelical denominations.
Tax day is a day when all Americans are reminded about the importance of politics and think about the importance of the political future so they can adjust their budgets accordingly. Most of the time in politics we have a reasonably good idea of what's going on: what the issues are going to be, who the favorites in the next election are, who are the main blocs, etc. Of course, there are always surprises and upsets.
In some ways, we shouldn't be surprised at all concerning the attacks on Pope Benedict XVI. The Holy Father was never one of the "chosen religious people" loved by the dying group called progressive Christians, or by the mainstream media; that distinctions falls to the National Catholic Reporter, Maureen Dowd, Episcopal Bishop Katharine Jefferts Schori, or the openly gay Episcopal Bishop of New Hampshire, Gene Robinson.
(Point of personal privilege. In my mind, there are two schools of liberals, one is the utopian view, and while I disagree with their unrealistic views of the world, they are in their heart of hearts not nefarious. This group truly believes the world would be a better place if their views were followed. A couple examples of their spiritual gurus would be Jerry Brown and Jerry Garcia.  However the other form of liberalism, which is much more prevalent, is a virulent strain that masquerades as a protector of the less fortunate and a conduit of all things intellectual. Their goal is nothing less than absolute societal control; their godfathers are Voltaire, Nietztche, Karl Marx, Saul Alinksy etc.)
When the Abuse Crisis came to Europe, the mainstream media, and the many within religious reporting circles who despise the conservative social teachings of the Catholic Church, were licking their chops to take a shot at Pope Benedict. Never mind, the huge number of abuse cases coming out of big government circles, or the fact that an overwhelming majority of abusers who were priests were those with views of changing the Church and not respecting her teachings, the mainstream media smelled blood in the water and feeding frenzy was on.
The New York Times article, basically saying then Cardinal Ratzinger looked the other way during the abuse scandal, was so shoddy that even writers from the liberal Jesuit America magazine took note of it. It might behoove those who have fallen for the Old Gray Lady's hysterical rantings to read the quotes of some in the mainstream media praising then Cardinal Ratzinger's handling of the crisis during the later stages of the pontificate of Pope John Paul II.
Why the attack on the Catholic Church one might ask? The Catholic Church is the only Church who is universal, can speak with one voice and has conservative based social views. This coupled with the fact, that she unlike far too many Christian churches, has never lost her belief in the mystical i.e. the Eucharist, miracles, apparitions etc. However, the biggest reason some in the mainstream media attack the Holy Father is that despite all of these "non modern" views, the Catholic Church continues to grow. Adding insult to injury for these modern day Pontius Pilates (what is truth?) the Church continues to grow, young people in particular are draw to devotions like the Rosary and Eucharistic Adoration. Continue reading →
With the vilification that the political left has done to the right, we Catholics also suffer from the same abuse.  Take point in fact that U.S. Conference of Catholic Bishops spokesperson Sister Mary Ann Walsh demonized Pro-Life Catholics by regurgitating uncorroborated reports of racism against ObamaCare proponents and attributed them to Pro-Life Catholics with her blog entry.
Such blatant disregard for facts in order to advance your personal agenda has become the norm in the mainstream media as well.  The Media Research Center has provided the following synopsis to clarify this point: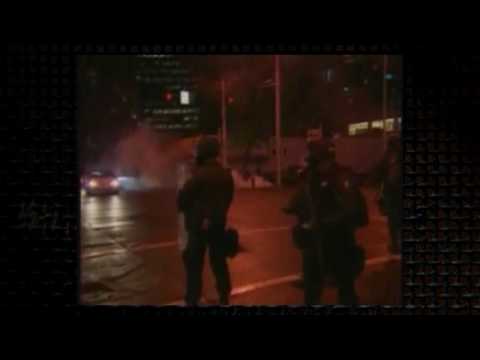 Update I (4:12pm CST): Prominent Republican Gets Actual Death Threat, NYT Suddenly Drops Concern Over Threatening.  To read the entire story by Clay Waters of NewsBusters click here.
Update II (4:21pm CST): A video was tracked down showing Representative John Lewis of Georgia, whom Sister Mary Ann Walsh referenced in her blog post showing absolutely no evidence whatsoever of any racial epithets being thrown around.  Again, the uncorroborated evidence that Sister Mary Ann Walsh referenced is a fabricated lie and she willfully used this to smear Pro-Lifers in her less than charitable blog posting.
The video is here: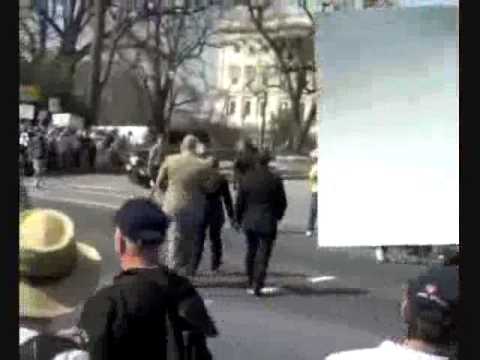 Update III (6:26pm CST): Representative John Lewis of Georgia, the very man who lied that there were racist remarks yelled at him at the Tea Party protests is known to be very hyperbolic himself.  Jeff Poor of NewsBusters recounts the time back in 1995 how Representaive Lewis defamed Republicans by painting them as 'Nazis'.
Representative Lewis has shown himself to be nothing more than a political hack that lashes out when he doesn't get his way.
The passage of Obamacare has qualitatively transformed the political polarization of Americans. For the 1/5th of the American people that describe themselves as liberal or very liberal – and for people from other countries, that means leftist – Obamacare is a triumph. Of course it is not as glorious a triumph as some would have liked, since leftists with consistent principles are dismayed by what amounts to a massive handout to the private insurance cartel. These, however, became a voiceless minority when Dennis Kucinich kissed Obama's ring on Air Force One.
For the rest of America, identifying as centrist, conservative, or very conservative, the passage of Obamacare is a qualitative marker on what has been a long and often terrifying journey of government expansion. With the full acknowledgment that they could have been, and should have been, louder about these matters under Bush Jr. than they actually were, the rise of the tea party movement suggests that growing numbers of conservatives are no longer satisfied with the performance of the GOP. They will of course vote for GOP candidates come November – at the same time, many of those candidates my find themselves on the ballot because of this movement.
For our nation's "political class", a construct that shouldn't even exist in the self-governing republic envisioned by the Founding Fathers, these developments are viewed with some alarm. This is not surprising, given what recent polls have discovered about the gap between this class, and mainstream America:
By a 62% to 12% margin, Mainstream Americans say the Tea Party is closer to their views. By a 90% to one percent (1%) margin, the Political Class feels closer to Congress.
The left side of the punditry and political establishment view the populist movement as something dangerous and irrational, and do their best to make sure that the handful of racists who show up with inflammatory signs are portrayed as it's vanguard. Then they insinuate, with little to no evidence, that various figures such as Dick Armey or Sarah Palin are controlling the entire movement, though tea parties inspired by Ron Paul were taking place long before either of them arrived on the scene.
The right wing of the political class has viewed the tea party in two ways: with the same level of contempt as their liberal counterparts (isn't it nice when they can agree?), or, on different occasions, with put-on enthusiasm in the hopes of co-opting and controlling the movement. That is, until David Brooks' piece in the New York Times, titled "The Broken Society."
A movie which has just debuted caught my attention this morning. It is called To Save a Life, and it is purported to be a film for teens, dealing with teen issues, with an underlying but not-too-subtle Christian message. Here it is in a nutshell: a popular high school athlete's life is changed forever when his former best friend, ditched because he wasn't cool enough to remain friends with, commits suicide in front of everyone.  The popular athlete begins to question everything, and everyone – encouraged by a hip youth pastor, he leaves behind a hedonistic life for one of Christian fellowship, and makes it a special task to prevent the next rejected loner from following in the footsteps of his deceased friend.
A few clips from the movie I've seen floating around on the Web initially left me with mixed feelings. The brand of Christianity being promoted in this film seems, at times, to be a world apart from my own traditional Catholicism. We hear the typical speeches in some instances about how "church" is "judgmental" and "hypocritical" – which are two words often thrown around by people who want to rationalize their own rotten behavior without having to think about it. We ought to be chastised, and another person's hypocrisy has nothing to do with the objective truth or falsehood of their chastisement.
That being said, it dawned on me that among today's teenagers, this Christianity-lite is radically good compared to what they are typically exposed to in the purely materialist-hedonist culture that surrounds them like a choking fog 24-7. What really sort of sealed the deal for me though, and prompted me to write this defense of a film I haven't yet seen, were the reviews that the - yes – liberal media were saying about it. The reviews, as you might guess, are almost unanimously negative: The Village Voice, the NY Times, NPR, and the list could go on for some time, have all panned the movie. Wikipedia states that the reception has been "generally negative to mixed."
Continue reading →
Trading Women's Rights for Political Power
By KATE MICHELMAN and FRANCES KISSLING
A grim reality sits behind the joyful press statements from Washington Democrats. [The health care bill passed. What is so grim?] To secure passage of health care legislation in the House, the party chose a course that risks the well-being of millions of women for generations to come. [Are women not being allowed to have health care coverage or something?]
The New York Times rejected an op-ed article submitted by Archbishop Timothy Dolan of the Archdiocese of New York.  Why may I ask would the New York Times reject an article from His Excellency?  Probably because Archbishop Dolan called out the New York Times for their yellow journalism.
Of course those not familiar will Colonial American history will "poo poo" this particular article.  But as early as A.D. 1642 there were laws in the books that required test oaths administered to keep Catholics out of office, legislation that barred Catholics from entering certain professions (such as Law), and measures enacted to make Catholics incapable of inheriting or purchasing land.