Nazi Germany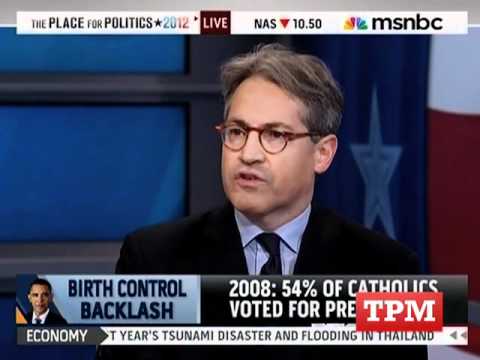 Hattip to Matthew Archbold at Creative Minority Report.  Eric Metaxas, biographer of Dietrich Bonhoeffer, a Protestant minister and theologian martyred by the Nazis, compares the contraceptive mandate to steps taken by the Nazis against the churches in the thirties.
"I met the president. I gave him a copy of my book on Dietrich Bonhoeffer, which he said he's going to read," Metaxas said during the interview. "In that book, you read about what happened to an amazingly great country called Germany…"
"In the beginning, it always starts really, really small. We need to understand as Americans — if we do not see this as a bright line in the sand — if you're not a Catholic, if you use contraception — doesn't matter. Because eventually, this kind of government overreach will affect you." Continue reading →
 It is time to awaken from sleep. It is time for a waking up to begin somewhere. It is time to put things back where God the Lord put them.
Father Alfred Delp, SJ
During Advent 1944 Father Alfred Delp, a Jesuit, wrote a reflection on Advent.  Go here to read it.  It is a fine Advent meditation.  The circumstances of its writing demonstrate that the light of Christ, which I have always felt most strongly during Advent, can permeate any darkness.  Father Delp wrote it while he was a prisoner of the Gestapo in Nazi Germany.
Alfred Delp first saw the light of this world on September 15, 1907 in Mannheim Germany.  The son of a Catholic mother and a Protestant father, he was raised as a Protestant although he was baptized as a Catholic.  He was confirmed in the Lutheran church in 1921.  Following a bitter argument with his Lutheran pastor, he embraced Catholicism, made his first communion and was confirmed.  His Catholic pastor, seeing rare intelligence in the boy, arranged for him to continue his studies.
In 1926 he joined the Jesuits.  In 1937 he was ordained as a priest.  His further philosophical studies curtailed at  the University of Munich due to his anti-Nazi beliefs, Father Delp worked on a Jesuit publication until it was suppressed by the Nazis in April 1941.  He was then assigned as rector of Saint Georg church in Munich.  All the while he was helping Jews escape into Switzerland.  Father Delp's Jesuit provincial Augustin Rosch was active in the anti-Nazi underground.  He introduced Father Delp to the Kreisau Circle of anti-Nazi activists.  Father Delp taught Catholic social teaching to the Circle and arranged contacts between them and  Catholic leaders. Continue reading →