Natural Law

In 1883, William Graham Sumner published an essay titled "The Forgotten Man" (originally titled "On the Case of a Certain Man Who Is Never Thought Of" – not quite as catchy) which is as relevant today as it was when it was written. The essay is a great exposition of the laissez-faire understanding and approach to social problems and articulates what I believe many on the libertarian right and within the Tea Party believe today. From a Catholic point of view, there is much I find agreeable within it, though there are certain tangents, unnecessary to the main argument, that I would take issue with.
Rick Santorum is taking some heat in various places for some remarks he made about the failure of the Left to understand where our rights come from. In this case, as in so many other positions Santorum expounds on throughout his campaign, his views are informed by a belief about human nature that was shared by America's Founding Fathers and by all who believe man was Created by a loving God. First, let's listen to what Santorum said that he is being criticized for, in some circles. Then, I'll explain the main disconnect between those who agree with the views Santorum is expressing here and those who disagree with them .
Transcript excerpt:
When you marginalize faith in America, when you remove the pillar of God-given rights, then what's left is the French Revolution. You are a bigot and a hater because there's no rational reason. What's left is a government that gives you rights. What's left are no inalienable rights. What's left is a government that will tell you who you are, what you'll do, and when you'll do it…and France became the guillotine. Ladies and gentlemen, we're a long way from that, but, if we do, and follow the path of President Obama and his overt hostility to faith in America, that we are headed down that road.
The criticism is that Rick Santorum is using a "slippery slope fallacy" either to intentionally scare people or because of ignorance on his part. The slippery slope fallacy is also referred to as the Camel's Nose:
When the camel's nose enters the tent, can the rest of the camel be far behind?
In order for a slippery slope argument to be a fallacy, it must lack an argument for inevitability. Most people probably understand that the Camel's Nose proverb is indeed a fallacy because most of us probably know that a camel may very well stick his nose into a tent without ever entering the tent. We might say it's common sense. It does take some awareness of camel behavior to know whether or not this is a fallacy, and enough information is known by most people for them to recognize that the argument fails. The "nature of the camel" is something that one must know in order for the Camel's Nose argument to be recognized as a fallacy. So it is with Rick Santorum's argument about the HHS mandate. One must know something about human nature in order to understand that evil actions do set one's feet on a path toward even more seriously evil actions.
If you do not have a good understanding of human nature, you will probably believe Rick Santorum's argument is a fallacy. Naturally, you will come up with alternative explanations for his claim, such as that he is either ignorant or willfully scaring people. Logically speaking, if human nature is not at all what Rick Santorum believes it to be, then it would mean that he is ignorant. But if Rick Santorum is "ignorant" about human nature, then so is the Catholic Church and so are America's Founding Fathers because his view is in keeping with both.
From the Declaration of  Independence, we have a reference to human nature in the quote about Natural Law [Emphasis mine]:
When in the Course of human events it becomes necessary for one people to dissolve the political bands which have connected them with another and to assume among the powers of the earth, the separate and equal station to which the Laws of Nature and of Nature's God entitle them, a decent respect to the opinions of mankind requires that they should declare the causes which impel them to the separation.
From the Catholic Church we can look to the Summa Theologica in which St. Thomas Aquinas explained that when man commits evil acts, he will develop a habit of evil, and when he practices virtuous things, he will develop virtuous habits. Certainly, we Catholics believe also that God's grace is both necessary and available to us in this process, but most parents, Catholic or not, can tell you that letting a child get away with bad behavior will result in the child developing bad habits. So it is for each of us because we all have human nature. We should hope and pray that this is still common sense, because if it is not, America is in deep trouble.
As for Rick Santorum's reference to the French Revolution, I have heard him make this case many times on the campaign trail. He underscores the difference between the American Revolution and the French Revolution in the context of each country's claim about where rights come from. As previously noted, the American Founders stated that our rights come from God by virtue of our being created by Him. Not so, with the French.
From the Declaration of the Rights of Man and of the Citizen, 1789:
The principle of all sovereignty resides essentially in the nation. No body nor individual may exercise any authority which does not proceed directly from the nation.
It is the above principle that Rick Santorum claims, and rightly so, that the Left in America believes in, as opposed to the American Founders' contention that the fact that we have rights (our sovereignty) resides in the fact that we were created by God and that no nation may legitimately usurp those rights.
The claim of the Left is that it is important for the Obama Administration to force the Catholic Church to pay (through healthcare coverage) for contraceptives, including abortifacients, as a matter of "fairness" to women. This is generally what the Left in America claims to be about: "Fairness". In this, they are claiming that they are "fair" and the Catholic Church is "not fair." As such, they are claiming that Catholic teaching is unjust. They believe that they decide what is "just" and what is "unjust" and have decreed that the Church is opposed to their view of justice. If such a precedent were allowed to remain in "good standing" in American law, that the Catholic Church is unjust and must be oppressed wherever the state determines it to be unjust, could the guillotine really be so far away as Rick Santorum claims? This would be my only criticism of Santorum's claim, that we are "a long way" from the guillotine.
It is precisely because so many in America, and certainly Santorum's political opponents, fail to understand human nature and apply their erroneous understanding to their positions on the law that he will face a challenge in making the argument to the American people that the Left is not about "fairness" at all. Rather, they are about deciding for us what our rights are even though they are incompetent on the matter of human nature which was so clearly understood by those who Founded our country and penned the Bill of Rights based on that understanding.
We really do have a choice now, in this election, to choose the Constitution and the reasoning behind the rights it delineates, or to choose a view of rights that history has already shown us will lead to the guillotine.
I choose Rick Santorum.
There are a slew of politically based TV talk shows on network and cable television. Have you ever had the desire to see a conservative oriented talk show that wasn't full of gimmicks, one that brought in guests from the conservative and liberal sides? Sadly the current state of affairs seems geared for conservatives to either engage in name calling, a tactic often used by liberals, or worse yet negotiate away the conservative truths in which we believe. There is a better way; announcing the television program Non Negotiable; a new type of political program hosted by Dave Hartline and Damon Owens.
Both Hartline and Owens have appeared on various national television and talk radio programs. In addition they have written national and web based articles.  Non Negotiable was  created and will be produced by television and movie producer Christian Peschken who himself hosted Radio & TV talk shows in Germany , before he came to America some twenty years ago. Peschken has produced a variety of television programs and feature films. In addition, he has produced a number of programs for EWTN.
Non Negotiable will have seven truths rooted in the ideas of the US Constitution and Natural Law. The hosts of the show will discuss what can and cannot be negotiated with regard to these seven time honored principals. If after a discussion the idea proposed doesn't fit the 7 Point Criteria, the hosts will simply announce; "This Non Negotiable." The program will debut in 2012. Currently Peschken is in negotiations with several cable networks with regard to purchasing airtime to reach 90 million potential households nationwide.   
In 1996 the fledging Fox News Channel and their CEO Roger Ailes was laughed at by conservatives for putting Bill O'Reilly the host of a TV tabloid Show called Inside Edition as their number one Prime Time focus. Fifteen years later most political talk shows still try to copy O'Reilly's The Factor. The point being that Ailes didn't use conventional wisdom, his gut told him that Americans wanted something different, and so it is today with Producer Christian Peschken.
In 2012 the new political oriented TV talk show Non Negotiable will air in this pivotal election year. However, it is not just any election year but an election that comes against the backdrop of the most serious economic crisis since the Depression. Add to that a growing political movement called the Tea Party juxtaposed against a resurgent but as of late crestfallen liberal revival that first surfaced in 2006. These combustible ingredients parlay themselves into an attentive television audience the likes of which has never been seen in the modern, internet, social media age.
As this show's production ramps up, there certainly are some of you out there, and you know who you are, who could help the investors get this show immediately up and running.  Investors are being sought now to procure the necessary funds for this program series.  Please keep this show in your prayers and look for updates as the fall of 2011 turns to winter.
To Contact Christian Peschken e-mail to Pesckenmedia@aol.com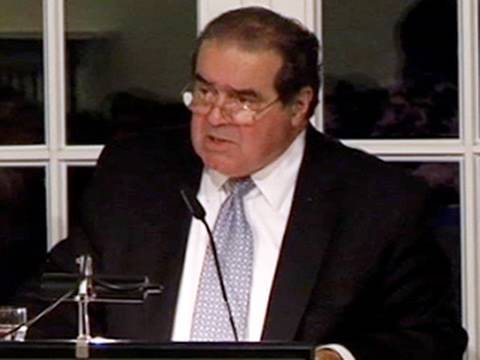 I think Justice Scalia is right on target regarding his comments on the difficulty inherent in judges attempting to apply natural law in this country.  Natural law, as a legal concept to be used day to day by judges in the cases before them, only works if people are in agreement on basic morality.  Then a law writ by God on the hearts and minds of men and true for all times and true for all places is possible of discernment in application to particular cases.  Such a civilization Western Europe enjoyed from around 1000 AD to the time of the Reformation.  Our time bears little relationship to that period in history.  Now we live in a time of moral chaos, where even the right to life of an unborn child is denied by law.  In such a time of moral collapse, giving to judges the power to make determinations based on natural law is simply giving them the power to make it up as they go along, even more than they not infrequently do currently.  Bad enough results obtain when judges are supposedly bound by the text of written constitutions.  Give them a warrant to use something as vague and amorphous as natural law, and the results are completely predictable. Continue reading →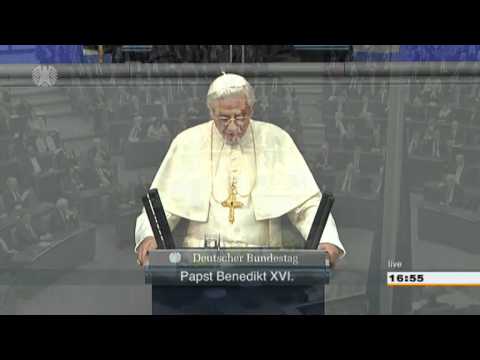 In the history of the Church we have had brilliant Popes, and not so brilliant Popes, an agile mind not necessarily being first on the list of priorities of the Holy Spirit when it comes to choosing Pontiffs.  Without a doubt, our current Pope is brilliant, his acute intelligence shining through his writings and his speeches.  This attribute of Pope Benedict was on full display when the Pope addressed the German Bundestag (national parliament) this week.  He gave a truly fascinating lecture on how what we mean by law has changed in modern times.  I suspect it went over the heads of most of his immediate audience, but it deserves study by all Catholics, and particularly those Catholics who, as I am, are connected with the law professionally.  Here is the speech of the Pope, interspersed with color commentary by me: Continue reading →
Stacy McCain writes about an incest case that is all over the conservative political blogosphere: Palin-Hating Columbia Professor, Huffington Post Blogger, Busted for Incest
This quote from an article at Salon on the matter caught my attention.
Most courts are concerned about parents preying on their children, [University of Akron law professor J. Dean Carro] said. "Regardless of the age of the child, there's still a theory that a parent is always a parent, a child is always a child and, as a result, there truly can't be a consensual sexual act."
One might just as well say that a man is always a man and a woman is always a woman….right?
When two adults have an incestuous relationship, "consent" isn't the issue. Natural Law is the issue here.
From the Catholic Encyclopedia entry on Natural Law:
[T]he natural law is the rule of conduct which is prescribed to us by the Creator in the constitution of the nature with which He has endowed us.
In other words, God has put into all human beings a nature that is actually the reason for this quote from Stacy McCain in his article:
All together now: Eeeeewww! Yuck!
Yes, all of us together can say "Eeeeewww! Yuck!" because God has instilled in us a natural revulsion to such things. Deep down, we all know that incest is wrong, even if the two engaged in it are consenting adults. So, you see, 'consent' isn't what makes something 'moral'.
'Natural Law' is the basis for the claim that we have "inherent rights". Any claim of validity for incest (or gay marriage, or other things contradictory to Natural Law) is a claim that Natural Law is invalid, hence it is a claim that the whole idea of "inherent rights" is invalid. (Watch Birth of Freedom for a better understanding of where the idea of "human rights" actually came from.)
Despite the fact that incest and homosexuality naturally cause most of us to say, "Eeeeewww", there are a few holdouts who insist on engaging in behavior that is morally abhorrent. Some people do immoral things 'because' they are immoral. Also, Satan does exist and he does tempt us to do immoral things. He lies and tells us they are 'okay' or even that they are 'good'. It has ever been so.
Though we are all full of holes, God will fill the holes with Himself if we will allow Him to. We are all connected to the past, to the future, to God, and to each other. Natural Law is a part of that connection…but the full truth is far bigger and far more beautiful than anyone (even myself) can imagine. I've decided to learn all I can about it and to grow into a better understanding of these Truths on my journey. I hope everyone will at least take a moment to consider "the big picture"…and not merely what makes us say "Eeeeewww". It's a lot deeper (and more important) than you might think.
Here's an example of what I'm talking about.
Some questions have been raised in the discussion on my posts on Locke & Catholic political thought about the extent to which Locke's political theory conforms to or detracts from natural law. This follow-up post, which will be relatively brief, should serve to answer such questions at least in part.
by Joe Hargrave
In the previous part I showed how Locke's argument for government by consent was similar to, and may have even been influenced by, that of St. Robert Bellarmine. I also showed how some of the more well-known early-modern political theorists who dreamed of powerful authoritarian regimes also dreamed of obliterating the Church as an obstacle to their fruition. Now I will argue that there is a clear overlap between the political theory of John Locke, and that of Pope Leo XIII, the pope who is responsible for Catholic social teaching as we know it today. In the final part of this series I will address why these overlaps are important, and what they mean in our contemporary political situation.
On Blogging Heads TV, Robert Wright discusses how we reason about the human good with Robert P. George of Princeton University, a leading scholar of modern natural law theory (with whom readers are no doubt familiar).
Subjects discussed:
Chapter 1: Natural law vs. utilitarianism (12:01)
Chapter 2: Why exactly is friendship good? (14:03)
Chapter 3: Euthanasia and human dignity (7:22)
Chapter 4: Natural law and conservativism (5:02)
Chapter 5: What can be done in the name of the greater good? (12:28)
Chapter 6: Just war theory (6:17)
Robert Wright is the author of The Moral Animal: Why We Are, the Way We Are,
Nonzero: The Logic of Human Destiny,
and The Evolution of God.
Robert P. George is McCormick Professor of Jurisprudence at Princeton University and a member of the Task Force on the Virtues of a Free Society of the Hoover Institution at Stanford University. His books include In Defense of Natural Law
and Clash Of Orthodoxies: Law Religion & Morality In Crisis.
I've watched a few episodes of 'BloggingHeads' — video debates between leading bloggers/authors — but this was the first with Dr. George, who is very adept at getting right to the point and crystallizing the respective positions of each side. Likewise this may serve as a good introduction to viewers who aren't generally accustomed to analyzing moral situations from a (Catholic) natural law perspective.
I am an alum of the U of I.  I obtained my BA in 79 and my JD in 82.  My wife is also an alum of the U of I, obtaining her MA in Spanish in 82.  Our eldest son will be entering the U of I as a freshman in August.  I therefore found the news that  Professor Kenneth Howell, an adjunct Professor at the University of Illinois, has been fired for teaching in a course about Catholicism  basic Catholic doctrine on homosexuality quite alarming: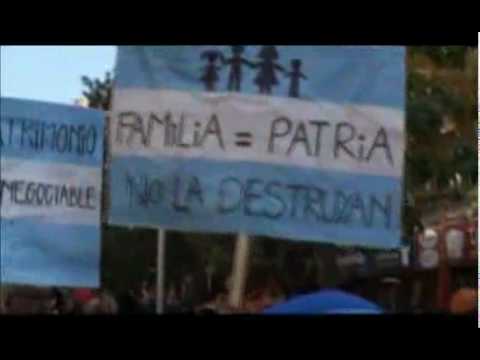 Police estimated 15,000 peaceful marchers came out in defense of the family and marriage against militant gay activists in Argentina on June 19, 2010 rallying Argentinians to vote "in favor of matrimony between one man and one woman."
Archbishop José Maria Arancibi marched along these peaceful protesters in defense of children.
The King's Men is an organization for Men to (re)discover what it means to be a man, a real man, a Catholic man as well as a manly Catholic.
As men we lead and protect the family.
We need to be active in the life of the Church.
We need to learn more about our Catholic faith and much, much more.
In today's society and culture the role of men have been degraded, feminized, or ridiculed.  Our roles as men have been degraded to eliminate 'gender bias' by militant secularist humanists.  We have been feminized to the point of denying our natural gifts of being a leader, provider, and protector.  And we have been ridiculed by being attacked as misogynists.
This has taken such a toll on our role as men, we have forgotten what it means to be a husband, father, and a leader in the Church.
Mark Houck and Damian Wargo of The King's Men apostolate explain this and much more in a 35 minute segment of EWTN's Life on the Rock.
Part 1 of 4: