Nancy Pelosi
[Updates at the bottom of this posting.  Most recent update at 7:41 pm CST]
On Thursday, August 6, the White House call to arms by Deputy Chief of Staff David Axelrod, "punch back twice as hard", at the growing grass roots movement opposing government single-payer health care produced the first violent incident later in the day.  During a Town Hall Meeting with U.S. Rep. Russ Carnahan at Bernard Middle School gym in south St. Louis County, Service Employees International Union (SEIU) members dressed in dark purple shirts, though they look blue in the video below, attacked a black American protester by savagely beating him.  The protester ended up in the Emergency Room of St. John's Mercy Medical Center.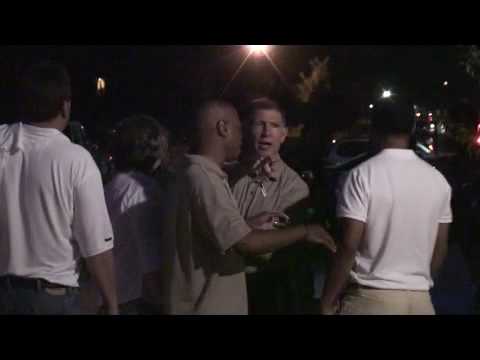 [Updates at the bottom of this story]
While the Democrats continue to dig holes big enough for their smarter-than-thou heads to plant in and ignore the rising public outrage of government intrusion, regular Americans continue to raise their voices of displeasure to President Obama's health care "reform".
On August 4, 2009, an A.A.R.P. Town Hall meeting was being conducted for members when a group of well-dressed Nazi's carrying swastika banners sabotaged the meeting.
That's the Nancy Pelosi/CNN version of events, here is what actually happened: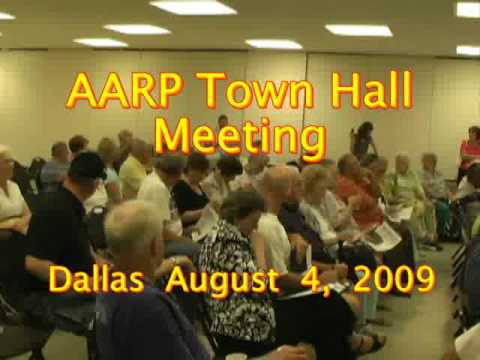 Here are some highlights from the above video:
1.  Spokesperson: "I think we can agree that health care is in need of reform…".
AARP Attendee's: "No, we don't agree!"
I must say, although I have never been a fan of the Lying Worthless Political Hack, I was surprised at this latest example of the depths of her political ineptitude and detachment from reality.  As to her comment about "astroturfing" ( creating a fake, rather than a real, grassroots movement), David Axlerod, the campaign manager of Obama, built a large fortune by mastering the techniques of astroturfing as this article here relates.  Alas for the Lying Worthless Political Hack, as the polls amply indicate, the opposition to ObamaCare is real and growing.
Update: The indispensable Iowahawk has the White House Under Minister for Truth, former ABC and CBS reporter Linda Douglass, explaining here all about those evil townhall mob agitators!
Reflecting on Nancy Pelosi and the torture controversies, E.D. Kain makes the following prediction:
To me, Pelosi's denial (and accusation against the CIA) lays bare a deeper truth about the Democrats.  Without Obama they'd be nearly as big a mess as the Republicans.  Most of them are complicit in the Bush torture program and the wars.  The party is almost headless without Obama – led by the fickle and hardly inspiring Reid/Pelosi duo.  After Obama, if conservatives learn anything over the next eight years – yes, I'm predicting it will be eight – unless the Democrats get some sort of order and discipline and more importantly, some grander vision, then I think the GOP should have no trouble at all coming in and cleaning up.
I have thought for a while that the Republicans will be out of power for a significant period of time, both because of the Bush administration's failures, and because the current Republican attempts to rebuild (e.g. constant infighting, unconvincing narratives about the role of fiscal excesses in Bush's unpopularity, rallying around Rush, and Michael Steele's various embarrassments) seem woefully ill-suited to the current political environment. I still think E.D. overstates things considerably when he says that Republicans "should have no trouble at all coming in and cleaning up," but the idea that Obama is a sui generis figure  is worth entertaining. The gap in charisma between Obama and Nancy Pelosi or Henry Reid, for instance, is substantial, and Obama is significantly more popular than many of his policies. Will the Democrats still look as relatively desirable once Obama is no longer the spokesperson of the party? And will Obama's popularity wane significantly as his Presidency progresses?
Worthless Political Hack Nancy Pelosi, in defiance of the teaching of the Catholic Church of which she is purportedly a member, said on Friday embryonic stem cell research is the answer to our prayers.  She is quoted as saying , "We need science, science, science, science, science. " I agree with the  Worthless Political Hack.  She might consider this little factoid:  number of cures and treatments from adult stemcell research:  72;  number of cures and treatments from embryonic stemcell research:  00.00.  If the Worthless Political Hack ever wishes to read the actual science on the subject a good place to start is here.
You've done so much to advance the Culture of Death.
(Biretta Tip: St. John's Valdosta Blog)
Hattip to Jay Anderson at Pro Ecclesia.  The Pope reminded Speaker Pelosi in their meeting of the Church teaching on life.
"The Vatican released the pope's remarks to Pelosi, saying Benedict spoke of the church's teaching "on the dignity of human life from conception to natural death." That is an expression often used by the pope when expressing opposition to abortion."
The 15 minute meeting was closed to reporters and photographers.
"The Vatican said it was not issuing a photo of the meeting — as it usually does when the pope meets world leaders — saying the encounter was private. The statement said the pope "briefly greeted" Pelosi and did not mention any other subject they may have discussed."
I wonder if Pelosi is bright enough to realize the snub that the Pope just gave to her pro-abort self?
Update I: Ed Morrissey at Hot Air reminds us of why the Pope felt it necessary to repeat Church teaching on abortion to Speaker Pelosi since,  judging from her own words, she is woefully ignorant of it.
Update II: The ever perceptive George Weigel wonders if the Pope and the clueless Speaker were at the same meeting.
Speaker Nancy Pelosi, renowned (by herself) as an "ardent, practicing Catholic" will be meeting with Pope Benedict XVI in the Vatican tomorrow. Given her latest blunder during a press conference, stating that "500 million Americans lose their job every month" (talking about why the economic stimulus plan had to pass) despite the fact that there are only 300 Americans living in this country and less than 150 million of them working, if that, one might suspect that she'll inform the Holy Father that "500 million clergyman will lose their jobs if abortion is not promoted worldwide."
I have no doubt in my mind that the Holy Father is going to bring up abortion, embryonic stem cell research, contraception, gay marriage and attempt to correct her.
Thoughts? Will the Speaker of the House be formally excommunicated?