Nancy Pelosi
I have to tip my blogging cap to the Lying Worthless Political Hack, aka Nancy Pelosi, Speaker of the House.  Everytime I think she has hit bottom, she somehow manages to dig down a bit further.    On May 6 she made this statement in a speech to the Catholic Community Conference:
"They ask me all the time, 'What is your favorite this? What is your favorite that? What is your favorite that?' And one time, 'What is your favorite word?' And I said, 'My favorite word? That is really easy. My favorite word is the Word, is the Word. And that is everything. It says it all for us. And you know the biblical reference, you know the Gospel reference of the Word."
 
"And that Word," Pelosi said, "is, we have to give voice to what that means in terms of public policy that would be in keeping with the values of the Word. The Word. Isn't it a beautiful word when you think of it? It just covers everything. The Word.
 
"Fill it in with anything you want. But, of course, we know it means: 'The Word was made flesh and dwelt amongst us.' And that's the great mystery of our faith. He will come again. He will come again. So, we have to make sure we're prepared to answer in this life, or otherwise, as to how we have measured up."
The Lying Worthless Poltical Hack, a\k\a Nancy Pelosi, Speaker of the House, tells Priests and Bishops to speak out on immigration from the pulpit based upon a biblical concern for "the dignity and worth of every person".
The respect that the Lying Worthless Political Hack has "for the dignity and worth" of the smallest and most helpless among us was well demonstrated by this quote from Naral Pro-Choice America in 2007 after Pelosi became speaker of the House:
"Americans who value freedom and privacy have many reasons to celebrate as Nancy Pelosi takes the Speaker's gavel to make this historic move forward for our country.  For her nearly 20 years in office, Speaker Pelosi has been an effective advocate for women's health and has championed her pro-choice values by consistently voting to protect a woman's right to choose.  In November, voters across this country endorsed Speaker Pelosi's call for a change and new direction by electing 23 new pro-choice members to the U.S. House of Representatives.  Today, we celebrate as Speaker Pelosi takes the reins; under her leadership Americans can expect a new focus on commonsense solutions, not the divisive attacks that marred the previous Congresses."
While pro-lifers, conservatives, and conservative pro-lifers all have different reasons for not being very pleased with Stupak and his fellow pro-life Democrats at the moment, because of their caving in to the Senate Bill abortion language and Obama's vaporware executive order, I think it's worth keeping in mind that if all Democrats were of the Obama/Pelosi persuasion in regards to abortion, we would undoubtedly have a "health care reform" bill which provided complete subsidies for abortion on demand for poor women, if not all women. The Senate language is not nearly as good as Stupak's, and even with Stupak's language included I think that the bill would have been deeply irresponsible for financial reasons. But let's face it, the Democrats have a solid majority in the House and had until Brown's election a filibuster-proof majority in the Senate. Without some Democrats breaking ranks with their party's hard core pro-abortion platform, there would have been no way for the pro-life movement to keep the most extreme support for abortion possible out of the bill.
And while Stupak's last minute flake-out is disappointing from a pro-life perspective (if he'd stuck to his guns, I would have happily donated to his re-election fund, simple because I admire steadfastness to pro-life principle, even in someone I disagree with on other issues) let's also be honest about this: Those of us who retain a belief in fiscal responsibility and oppose statism would have been disappointed in the health care bill passing even with Stupak's language. So while I admired his apparent steadfastness to pro-life principle, I like many other conservatives also appreciated that fact that his principle (had he stuck to it) would have resulted in the bill not passing. We can hardly be surprised that he didn't share such a hope.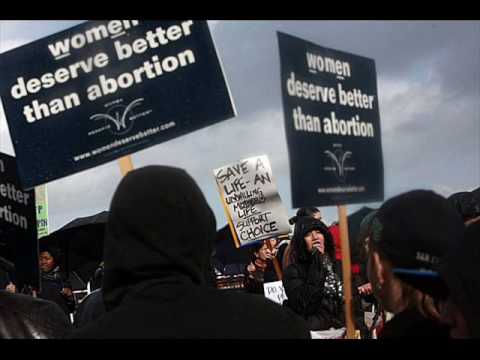 Recently the City of San Francisco got to experience a peaceful and powerful Pro-Life march on January 23.  In what is being billed as the largest gathering of Pro-Lifers in San Francisco ever, an estimated 40,000 volunteers from all ages, cultures, and nations descended on what is known to be the most egregious community of new Carthaginians in the country.
There is a undercurrent in American society that somehow believes that if the mafia ran things, the country would be better off. There was one city (Newark, New Jersey) where the mafia once controlled much of the city. When their grip on power was done, the city was in tatters. The same could be said for liberals running religion.
A few weeks ago I had posted my thoughts on Nancy Pelosi's scadalous Newsweek interview, in which she chalked up her disagreements with the Bishops on Catholic moral teaching as a "difference of opinion." At the time I had expressed my curiosity (and honest frustration) as to when her local bishop, George H. Niederauer, would be moved to respond.
He has, and I am thankful for it:
Archbishop George H. Niederauer of San Francisco addressed on January 13, 2010 a free will defense of abortion by Nancy Pelosi, Speaker of the House:
In a recent interview with Eleanor Clift in Newsweek magazine (Dec. 21, 2009), House Speaker Nancy Pelosi was asked about her disagreements with the United States Catholic bishops concerning Church teaching. Speaker Pelosi replied, in part: "I practically mourn this difference of opinion because I feel what I was raised to believe is consistent with what I profess, and that we are all endowed with a free will and a responsibility to answer for our actions. And that women should have the opportunity to exercise their free will."
Embodied in that statement are some fundamental misconceptions about Catholic teaching on human freedom. These misconceptions are widespread both within the Catholic community and beyond. For this reason I believe it is important for me as Archbishop of San Francisco to make clear what the Catholic Church teaches about free will, conscience, and moral choice.
Catholic teaching on free will recognizes that God has given men and women the capacity to choose good or evil in their lives. The bishops at the Second Vatican Council declared that the human person, endowed with freedom, is "an outstanding manifestation of the divine image." (Gaudium et Spes, No. 17) As the parable of the Grand Inquisitor in Dostoevsky's novel, The Brothers Karamazov, makes so beautifully clear, God did not want humanity to be mere automatons, but to have the dignity of freedom, even recognizing that with that freedom comes the cost of many evil choices.
Last week I posted a reaction to House Speaker Pelosi's interview in Newsweek (cross-posted to First Things' "First Thoughts"). Perusing the comments, I discovered that the author of No Hidden Magenta — a blog with the daunting task of "bridging the gap between 'Red and Blue State' groupthink" — has responded with fury and dismay:
At least one reason why neither the Pope nor the Archbishop have denied Pelosi Holy Communion–despite having ample opportunity to do so–is because prudential judgments about how best to reflect a moral principle in public policy involved technical considerations of practical reason that do not go to the heart of what it means to be a Roman Catholic; in other words, they are not about the central value at stake. If Speaker Pelosi believes that abortion is a positive good that should be promoted by the state (rather than as a privacy right for all women) that is one thing (and her recent actions with regard to Stupak suggest that she doesn't think this), but there are any number of good reasons for supporting less-than-perfect public policy as she claims to be doing in trying to reduce the number of abortions while not supporting an abortion ban. …

Now, we can and should have debate about this question–and I think Pelosi is profoundly mistaken in her position on public policy–but let's be clear: both the Pope and her Archbishop do not think such a position puts her status as a Roman Catholic or as a communicant in jeopardy. And those who think it does would do well to follow their example in distinguishing between 'moral principle' and 'public policy.'
I'm relieved that the author believes Pelosi is "profoundly mistaken" in her position on public policy. I'm less convinced, however, that "the Pope and her Archbishop do not think such a position puts her status as a Roman Catholic or as a communicant in jeopardy", and the author's explanation for why they allegedly do not think so.
When Cardinal George requested that pro-life Republicans vote for the Stupak amendment to the health care bill, he was shaming conservative American legislators that they need to stand up for what they claim in public.  Cardinal George discounted reasonable Republican objections  that this was just a ploy by Nancy Pelosi to get pro-life Democrats on board knowing full well that all pro-life language would be stripped in the joint chambers conference committee.
Was Cardinal George this naive to fall for this parliamentary trick?  Can we assume he isn't this naive?
No, Cardinal George is not this naive because why would the Vatican choose him to lead a diocese?  The Vatican certainly takes its time to make wise and knowledgeable decisions don't they?  The Holy Spirit guides them in their work, granted that this is done primarily through the teachings of the Church.  Though we can be reasonable enough knowing that the Vatican wouldn't choose someone who is incompetent to be a shepherd to his flock.