Mitt Romney
Back in graduate school a professor of mine discussed the 1984 campaign. One of the national nightly news telecasts (I believe it was ABC) ran a segment basically running down the Reagan economy. It was one of those voiceover features that had a lot of stock footage of Reagan in various places: the Rockies, Mount Rushmore, and other locations featuring Reagan speaking. It was meant to be a devastating piece, but one of the members of Reagan's campaign team called ABC afterwards and thanked them for the feature. Why? Because the visuals were all of Reagan in these fabulous settings, and in a visual world what appears on screen often trumps the content of the spoken word behind it.
That all crossed my mind when I saw this Barack Obama ad attacking Mitt Romney. Watch this video with the sound down first:

The content of course is absurd. "Partisan experts on our payroll say that Mitt Romney will raise taxes on the middle class to pay for the tax cut for the rich he's not proposing." Whatever. It's par for the course for the Obama administration, and it's an attack that is resonating less and less each day.
What struck me were the visuals. It shows an authoritative Mitt Romney at the debate. He's talking in what appears to be a very passionate and confident manner. Meanwhile, President Obama is nodding along with his head down. It just seems like such a bizarre image to portray to the electorate. It's an almost submissive, timid looking Obama being lectured by Mitt Romney. Considering how people drown out the content of these ads, it's a visual that essentially reaffirms the post-debate sentiment that Mitt Romney took Barack Obama to school. No matter what was actually said in the ad, the voter is left with a visual image of a beaten-looking president being shown up by an energetic challenger.
Obama may have had a very successful fundraising month, but he might want to reconsider how is money is being used.
Update: Just saw this from Aaron Goldstein where he also ponders why Obama keeps running ads that seem to help Romney.
(AoftheAP)  As the first presidential debate of the 2012 election nears, scheduled for Wednesday October 3 at the University of Denver, each campaign continues to lower their candidate's performance expectations, issuing counter statements that oddly seem to flatter their opponent while downplaying any notion that their own candidate will do well.
"If these expectations get lowered any further," an unnamed pollster said, speaking on condition of anonymity to AoftheA News, "any minute now, they're going to look up and see the Great Wall of China."
Members of President Obama's campaign began the narrative in mid-September, explaining that "the structured — and time-limited — nature of the debates isn't a natural fit for Obama, who often is long-winded when answering questions during news conferences or town hall-style meetings." In addition, the Obama camp admitted that Romney's recent participation in the Republican primary debates could give him an edge heading into the presidential debates.
These statements prompted a reply the Romney campaign, where senior adviser Beth Myers issued a letter stating, in part, that "President Obama is a uniquely gifted speaker, and is widely regarded as one of the most talented political communicators in modern history."    Thus, Romney's expectations in doing well against the president are fairly low.
Not long after seeing the letter, members of the Obama campaign responded by saying that while they appreciate Governor Romney's kind words, their expectations were still lower, because the president has not had the sort of time to prepare that his contender has enjoyed.  Jen Paski, a White House spokesperson, told reporters on Air Force One: "I will just take this opportunity to say that Mitt Romney on the other hand has been preparing earlier and with more focus than any presidential candidate in modern history: Not John F. Kennedy, not President Bill Clinton, not President George Bush, not Ronald Reagan has prepared as much as he has."  She went on to cite that "the president has 'been doing some studying' but cited his travel schedule, unfolding events in the Middle East, and 'just the constraints of governing' as preventing Obama from focusing more time on it." Continue reading →
A couple of posts at Breitbart's "Big Government" site have resulted in thousands of comments  and intense debate between libertarians and conservatives, and between libertarians themselves over the merits of supporting a third-party/independent alternative to Mitt Romney. Having been involved in third-party politics myself at one point in my life, I am sympathetic to the cause. But given the stakes this November, I've decided to hold my nose and vote for Romney, as I've already posted here at TAC.
I must say, however, in response Kurt Schlichter (the author of the aforelinked pieces) that I regard this as a highly personal choice, and not one that I am willing to guilt others into making. On many of the issues that matter to me and other Ron Paul supporters, Romney is absolutely abysmal and nearly indistinguishable from Obama, whether we are talking about civil liberties, constitutional protection of the lives of American citizens (even the bad ones), foreign policy, monetary policy, and a host of related issues. Those who prioritize such issues cannot be expected to give Romney their vote. There was also the disgraceful treatment of Ron Paul and his delegates by the GOP at the RNC this year. Schlichter would have us basically forget all about it.
With that said, however, when Ron Paul stopped actively campaigning for the GOP nomination, his candidacy in effect came to an end. There certainly is something bizarre about a pledge to vote for a man who by the looks of things would like to settle into a well-deserved, hard-earned retirement from public life. I always suspected that Paul didn't really want to be president. Some see this as a positive trait, and it can be in certain contexts, but men also need leaders. If that makes me sound fascistic, so be it. Human nature is what it is.
So people who accept the reality that Paul is unable or unwilling to capture the nomination and the Presidency are then faced with other options. I've explained my choice, but many others are considering Gary Johnson, and Schlichter is addressing them as well (as well as Virgil Goode, the Constitution Party candidate's supporters). Aside from the fact that Johnson is pro-choice and therefore unsupportable for Catholics, I don't begrudge anyone the right to support either of these men as an alternative to Romney.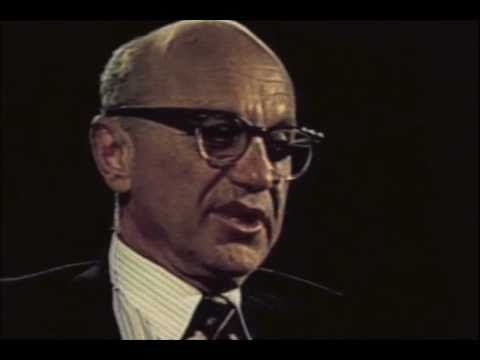 In light of the 47% (oops, where did those one to two minutes of recording go?) non-controversy, I thought that a game of guess who said the quote would be fun.  Use of a search engine is verboten!
1.  A democracy cannot exist as a permanent form of government. It can only exist until the voters discover that they can vote themselves largesse from the public treasury. From that moment on, the majority always votes for the candidates promising the most benefits from the public treasury with the result that a democracy always collapses over loose fiscal policy, always followed by a dictatorship.
2.  The budget should be balanced, the Treasury should be refilled. Public debt should be reduced. The arrogance of officialdom should be tempered and controlled. The assistance to foreign lands should be curtailed lest Rome become bankrupt. People must again learn to work, instead of living on public assistance.
3.  I accuse the present Administration of being the greatest spending Administration in peacetime in all American history – one which piled bureau on bureau, commission on commission, and has failed to anticipate the dire needs or reduced earning power of the people. Bureaus and bureaucrats have been retained at the expense of the taxpayer. We are spending altogether too much money for government services which are neither practical nor necessary. In addition to this, we are attempting too many functions and we need a simplification of what the Federal government is giving the people.
4.  Some see private enterprise as a predatory target to be shot, others as a cow to be milked, but few are those who see it as a sturdy horse pulling the wagon.
5.  It is an injustice, a grave evil and a disturbance of the right order, for a larger and higher organisation, to arrogate to itself functions which can be performed efficiently by smaller and lower bodies. Continue reading →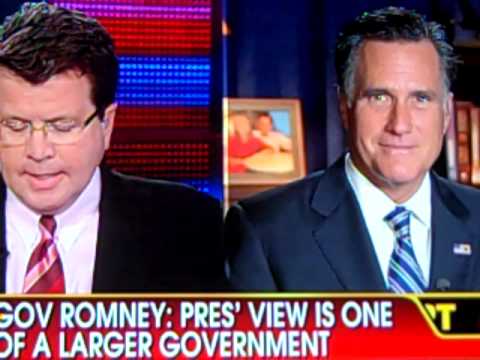 Mitt Romney being interviewed in regard to the 47% remark by Neil Cavuto yesterday.  (Go here to read Darwin's brilliant post on the 47% controversy.)  I have never been a fan of Mitt Romney, who I have nicknamed the Weathervane.  I have always planned to vote for him, but almost entirely in order to get Obama out;  Mitt Romney becoming President being merely a necessary by-product of ending the Age of Obama.  However, I found this interview impressive.  Romney ably presented his view that ever-increasing dependence on government is a terrible thing and is a result of the miserable failure of Obama's economic policies.  Romney is taking what is widely assumed by the Obama press agents the Mainstream Media and turning it around by standing his ground.  People tend to admire politicians who have convictions they are willing to fight for, even if they do not entirely share the convictions themselves.  The rap against Romney has always been that he has no such convictions, nothing that he is willing to do battle for.  This is Romney's opportunity to demonstrate that he does have core beliefs that he will defend, no matter what the chattering heads on television say.  Not bad Mitt.
It seems like leftist pundits have decided that remarks by Romney at a fundraiser that were secretly taped and distributed by Mother Jones constitute the latest "now Romney has lost the election" moment. In the video, Romney tells supporters that Obama starts out with a huge base of 47-49% of voters who pay no income taxes, are dependent on government, and thus cannot be reached by Romney's low tax message.
Of course, for those whose memories go back further than the most recent "Romney is finished" moment declared by Andrew Sullivan and Co., the obvious comparison to this is when Obama famously announced back in 2008 that the big difficulty for his campaign was that it was difficult to reach people who are see no evidence of progress in their daily lives and so they become bitter and cling to their guns and their religion.
Both comments spring from a degree of party mythology. It's not the case that all 47% of people who don't pay income taxes are Democrat supporters. Because our tax code is so progressive and because of the hefty child tax credit and earned income tax credit (both of which are things Republicans generally support) a lot of middle income families do not pay taxes. That certainly doesn't make them default Obama supporters. Many of them are in fact die-hard Republicans, because they don't participate in the modern Democratic Party's vision of government dependence and social engineering as the solution to their problems.
That said, I think this particular media tizzy is particularly silly, and the pundits declaring Romney to be badly hurt by this are mostly reflecting the beliefs of a bubble in which the GOP is already hated.
Obama's remarks were, if anything, far more offensive to potential swing voters. He categorized whole sections of the country, demographically, as being given over to bitterness because they hadn't seen progress and explained that this bitterness came out in their becoming attached to guns, religion, hating minorities and immigrants, etc. There are a lot of small town people who like to hunt and go to church and don't think of themselves as racist who nonetheless were potential Obama swing voters in 2008.
By contrast, Romney's analysis may be off (and I don't think that does him any credit) but it's really hard for me, at least, to picture someone saying, "Gee, I was really thinking Romney might have some answers on the economy, but now I heard this clip where he says that people who don't pay taxes and want to be dependent on the government are in the bag for Obama, and I'm proud of the fact that I don't pay taxes and depend on the government, so forget about him! I'm supporting Obama."
A lot of people who don't, on net, pay taxes don't really think of themselves as not paying taxes. The tax code is complex enough to make it tricky to tell in some ways. (And they pay other taxes even if they don't pay federal income tax.) Nor do many people who are potential GOP voters think of themselves as dependent on government. If anything, the argument that Obama already has a huge advantage because he's bribing voters with lots of government handouts seems to fit with Romney's overall campaign message. Whether that's a winning message I don't know (I hope it is) but it's hard for me to see how this is actually all that damaging.
Thoughts?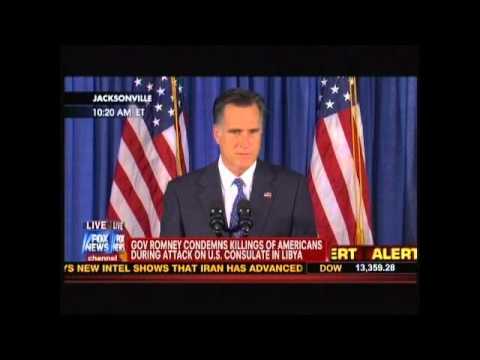 William Saletan is a Leftist who writes a political column for Slate.  His prescience at predicting the future was amply demonstrated on September 14, 2000 when, based on then current polls, he stated that the election was over and Gore was a sure winner.  Go here to read that masterpiece of prognostication.  Now he has a piece attacking Romney for standing up for American freedom of speech as opposed to the craven apology for our freedom issued by the Cairo embassy.  Christopher Johnson, a Protestant who has taken up the cudgels so frequently for the Church that I have named him Defender of the Faith, gives Saletan a fisking to remember at Midwest Conservative Journal:
to Slate's William Saletan, freely expressing your opinion can be an abuse of your right to freely express your opinion:
Mitt Romney says the U.S. Embassy in Cairo has betrayed "American values." He's wrong. The embassy is standing for American values. It's Romney who's betraying them.
How's that, Sally?
The fight began brewing Tuesday morning as Egyptian protesters gathered outside the embassy. They were furious at a sophomoric American-made movie that ridiculed the prophet Mohammed. In response, the embassy issued a statement saying that it "condemns the continuing efforts by misguided individuals to hurt the religious feelings of Muslims—as we condemn efforts to offend believers of all religions." The statement added: "We firmly reject the actions by those who abuse the universal right of free speech to hurt the religious beliefs of others."
Quick observation.  If the universal right of free speech can be "abused," then the universal right of free speech is not universal at all but has definite limits.  Saletan most emphatically agrees.
When you read the tweets alongside the initial statement, the message is clear. Free speech is a universal right. The Muslim-baiting movie is an abuse of that right. The embassy rejects the movie but defends free speech and condemns the invasion of its compound.
You keep using the word "universal," Sally.  I do not think that word means what you think it means.
At his press conference, Romney accused Obama of "having that embassy reiterate a statement effectively apologizing for the right of free speech." Romney claimed that the embassy had said, in his paraphrase, "We stand by our comments that suggest that there's something wrong with the right of free speech." This, too, was a Romney lie. The embassy had declared five times in writing that free speech was a universal right.
In other words, everyone has, or should have, the right to free speech.  But there are some things that you shouldn't be allowed to say.
What made Romney's statement and press conference disturbing, however, was his repeated use of the words sympathize and apology to conflate three issues the Cairo embassy had carefully separated: bigotry, free speech, and violence. The embassy had stipulated that expressions of bigotry, while wrong, were protected by freedom of speech and didn't warrant retaliatory violence.
Then why did the embassy grovelingly apologize for them?
Romney, by accusing the embassy of "sympathizing with those who had breached" the compound, equated moral criticism of the Mohammed movie with support for violence. In so doing, Romney embraced the illiberal Islamist mindset that led to the embassy invasion: To declare a movie offensive is to authorize its suppression.
Um..what?!!  Project much, Sally?  It was the embassy that declared that movie "offensive," idiot.  Why else would they have apologized for it and prattled on about some alleged hurt feelings Muslims may or may not have actually had?
"The Embassy of the United States issued what appeared to be an apology for American principles," Romney asserted at the press conference. "It's a terrible course for America to stand in apology for our values. … An apology for America's values is never the right course." Lest anyone miss his buzzwords, Romney called the embassy's comments "a disgraceful statement on the part of our administration to apologize for American values."
One of the foremost of which is basically unrestricted freedom of speech.
What, exactly, does Romney mean by "American values"? The embassy never apologized for free speech or diplomatic sovereignty. The only American offense it criticized was the movie's "bigotry" and "efforts by misguided individuals to hurt the religious feelings of Muslims." Does Romney regard this criticism as an "apology for American values"? Is bigotry an American value? Is it weak or un-American to repudiate slurs against Muslims?
National Review will have none of "yes, but" attitudes like Sally's.
Nobody in the U.S. government, least of all the chairman of the Joint Chiefs of Staff acting in his official capacity, should be calling Terry Jones or any other American citizen about the Mohammed spoof. Not only does that elevate Jones to some sort of semi-official status, but spoofs of deities are entirely within our rights and absolutely no business of the government's. The U.S. government should not be taking an official position on the Mohammed spoof.  It is entirely outside the official competence of United States military to be calling private citizens asking them be quiet, especially when they are exercising a constitutional right. Offending people is not an incitement to violence. Otherwise I could get everyone who wears a Che Guevara t-shirt brought up on charges of incitement.
Do I enjoy it when some work of "art," some movie or some television show blasphemes Jesus Christ or insults and belittles Christians?  Of course not.  But unlike adherents of the Islamic religion, I've figured out a civilized way to deal with it.  I simply don't patronize or stop patronizing those businesses who produce or support such works.
Conversely, if a work of art exalts Christ or displays Christians as they truly are, that work of art, whatever it is, will receive whatever support I can give it.  So what William Saletan is essentially saying here is that speech should be suppressed if someone anywhere is angry enough about that speech to kill people and burn things.
Saletan's mindset basiclly gives the savages editorial control over all forms of expression everywhere which means that my opinions must perfectly accord with theirs or my expression of my opinion is an "abuse" of free speech.  I don't know if Saletan realizes this or not but that is precisely why so many of us made a point of patronizing Chick-fil-A's during that recent controversy. Continue reading →
Brace yourself for the latest meme to hit the politosphere: the word is now that Paul Ryan has "softened" his views on abortion. Ryan has long opposed abortion in all cases save in a few cases where he believes it may be necessary to save the life of the mother. This means that he has opposed abortion in the case of rape. But in this post-Akin political environment, so the narrative goes, Ryan, in the interests of being a team player, is renouncing his opposition to rape exceptions.
What set this off? First there was the statement made by various Romney campaign spokespeople in the aftermath of Akin's blunder:
"Gov. Romney and Congressman Ryan disagree with Mr. Akin's statement, and a Romney-Ryan administration would not oppose abortion in instances of rape"
Then there were Ryan's responses to some reporters who were pressing him on the abortion/rape issue, and focusing particularly on some legislation he previously supported which made distinctions between different types of rape. Ryan said to the reporters:
"I'm proud of my record. Mitt Romney is going to be president and the president sets policy. His policy is exceptions for rape, incest and life of the mother. I'm comfortable with it because it's a good step in the right direction."
One the basis of one or both of these statements, major news outlets and some in the Catholic blogosphere are claiming that Ryan has "softened" his views on abortion. Or, to put it in Mark Shea's words, Ryan has "partly renounce[d]" his position. In response to a comment I made on Mark's blog, he elaborated further:
 I just don't see how anybody can regard movement from "It is always gravely evil to deliberately kill innocent human life" to "I am opposed to the murder of innocent, unborn children except in cases my boss tells me not to be opposed," or, "unless I feel it jeopardizes my chances of becoming VP" and maintain that Ryan is not compromising.
It is quite obvious to me that Paul Ryan has not said or done a thing to warrant the attribution of such cynical and selfish motives to him – though I do believe he, like most pro-life politicians and even people such as myself, is willing to compromise on a few points to make significant gains, a point I will elaborate on below. In any case, Mr. Shea goes too far. Because I often find his commentary to be fair-minded (even when I disagree), I am surprised at this rather unjustifiable attack on Ryan's character but also willing to grant the benefit of the doubt. So I will offer my take on these comments and Mark can reply if he feels it's worth his time.