Michael Voris
Agreeing with something Mark wrote in criticizing Michael Voris?  This might just be my last post at The American Catholic.
All kidding aside, I second Mark's concerns regarding Vorris's association with E. Michael Jones.  As Shea details:
Let us be clear about what is happening here. Marc Brammer and Michael Voris, Folk Hero to the Utterly Undiscerning, will be working hard to mainstream somebody

Jim Stone shows Israel Behind Fukashima Disaster
The European Jewish Union Exonerating Everything Jewish
Jewish Child Molesters
Mossad Involvement in 9/11
Jewry's push for War with Iran
Jewish Atzmon Says Merah Was a Mossad False Flag Agent
and, last but not least, E. Michael Jones: Who is the World's Real Enemy?(Guess who?)

(For a full catalog of Sungenis' vast corpus of crazy statements about the Jews, 

go here

.)
I'll be the first to admit that sometimes Mark can exaggerate (I'm being charitable here) others' viewpoints, but I don't believe he is doing so here.  Jones has a fairly extensive record of what can only be described by any reasonable person as anti-Semitism, and yet Voris is happy to give the man a platform.
I'm sure there will be those that object that Voris himself does not hold these views, and that this is a game of guilt by association.  I would counter that providing an open platform to such a person as Jones is beyond reprehensible.   People should be able to engage in honest discussion with others who hold differing viewpoints, but this goes well beyond that.  There are certain lines that when crossed should disqualify individuals from ever being taken seriously again.  When you willingly not only associate yourself with such individuals, but actually provide a forum which grants a certain amount of legitimacy, then you should also be taken to task
And of course leave it to the very first commenter on Mark's post to play the "but what is anti-Semitism?" game.  It's an insipid attempt to change the discussion and avoid having to address the issue at hand.
I haven't gotten involved with previous discussions about Voris because I haven't really seen that much of his work.  And I think it's fairly well-known that I have had my share of disagreements with Mark, to say the least.  So I have no personal axe to grind with Voris.  But he should be held to account for his decision to associate with Jones.
49 And John, answering, said: Master, we saw a certain man casting out devils in thy name, and we forbade him, because he followeth not with us.
50 And Jesus said to him: Forbid him not; for he that is not against you, is for you.
Luke 9:49-50
On December 15, 2011, the Archdiocese of Detroit stated that Real Catholic TV could not use the term "Catholic".
In a Dec. 15, 2011 statement addressing the organization's name, the archdiocese clarified that the Church encourages its members "to promote or sustain a variety of apostolic undertakings," but forbids them "from claiming the name Catholic without the consent of the competent ecclesiastical authority."   The archdiocese added that it has been communicating with Voris as well as his media partner at Real Catholic TV on the issue for "some time."
Last month's announcement also referenced Canon 216 of the Roman Catholic Church's current Code of Canon Law, which holds that "no undertaking is to claim the name 'Catholic'" without authorization.   According to the archdiocese, Real Catholic TV's programming is "disseminated from the enterprise's production facility in Ferndale, Michigan," within the jurisdiction of Detroit's Archbishop Allen H. Vigneron.   But Voris maintains that Archbishop Vigneron is not the "competent ecclesiastical authority" over Real Catholic TV, which is owned by Indiana resident Marc Brammer.   "I don't have ownership over the name of the organization. It's not my organization. The headquarters are outside of the diocese," Voris told LifeSiteNews in a Dec. 23 article. "It's the wrong person, and the wrong outfit asking the wrong person the wrong question."
Go here to read the rest at LifeSiteNews.  As for Real Catholic TV, I have no great feeling one way or another.  I have watched very little of it, but what I have seen I have not found very impressive.  The heart of Mr. Voris appears to be in the right place, but his head often doesn't seem to be fully engaged.  Having said that, considering all the faith destroying drek that I have seen promoted under the name "Catholic" in this country over the past four decades, I find it amusing, although completely unsurprising,  that it was the traditionalist Real Catholic TV that was chosen for this rare application of Canon 216. Continue reading →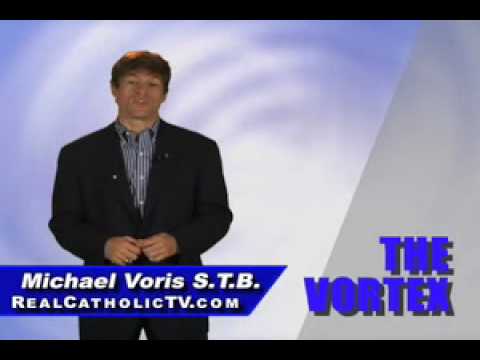 An interesting spat has developed between Catholic blogger Mark Shea of Catholic and Enjoying It and Michael Voris of RealCatholic TV.  In the above video Mr. Voris attacks the use of the Protestant hymn Amazing Grace at Mass.    Amazing Grace was composed by John Newton, an eighteenth century captain of a slaver, who converted to Christianity, was ordained in the Anglican Church and became an abolitionist.  The song is used frequently at Mass in my parish.
Mark Shea, who has never had any use for Mr. Voris as far as I can tell, attacked the video in a post at his blog:
Voris' sole message is "I am the measure of Real Catholicism and those who agree with me have the right to call themselves Catholic, while those who disagree are liars and lukewarm fake Catholics".
RealCatholicTV has created controversy among dissident Catholics for it's orthodoxy and frankl fidelity to the Magisterium.  For some unfathomable reason even some faithful Catholics are put off by this blunt and direct approach.
I for one don't agree with some of those faithful Catholics because what may seem blunt and direct is actually honest and refreshing.
Souls are at stake and no amount of hang-wringing causes me any lost sleep because Michael Voris states only the Truth.
Those that are uncomfortable with the Truth being spoken should only go back to the Holy Bible and what Jesus says about watering down the Truth:
but whoever causes one of these little ones who believe in me to sin, it would be better for him to have a great millstone fastened round his neck and to be drowned in the depth of the sea.
– the Holy Gospel of Saint Matthew 18:6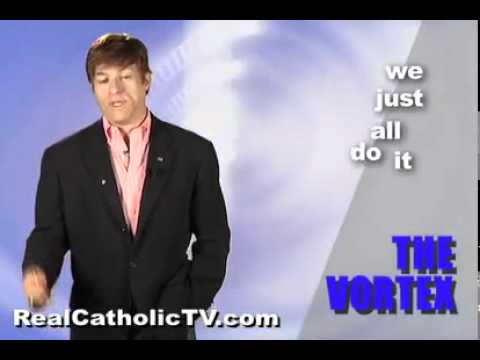 For RealCatholicTV click here.

Michael Voris in the Vortex addresses the problems and opportunities lost by American bishops following the conclusion of the Second Vatican Council which finished in the cultural upheaval of 60s dissent and disobedience within the Church in America.
Souls are at stake and our bishops seem more concerned about the next fundraiser or not leading with boldness and the Truth.  Instead they grovel to political correctness and stand quite on society's most contentious issues such as abortion and same sex marriage.
Bishop Athanasius Schneider gave an important speech recently where he constructively and critically examined these issues of episcopal disregard.  Especially in the education of the laity with proper catechesis and the lack of defense against modernism and dissent, which have infested chanceries with "yes"-men in which the Pope calls, "professional Catholics".
Watch this segment of the Vortex to get the full story: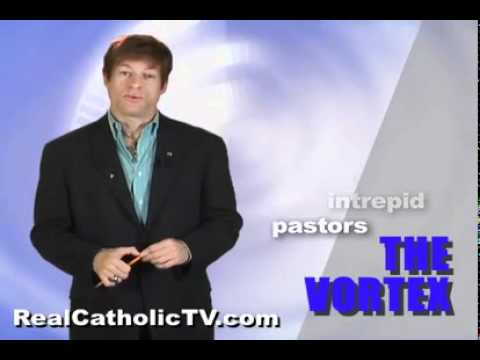 Cross posted at CVSTOS FIDEI.
National Public Radio's ludicrous firing of Juan Williams and a subsequent mainstream media article on Catholic bloggers may seem to be two separate issues. Some may say what does the overwhelmingly conservative leaning Catholic blogosphere have in common with the liberal leaning Juan Williams? The answer is quite simple; both scare the mainstream media because Juan Williams and the majority of the Catholic blogosphere put forth interesting solutions to often discussed questions.
The modus operadi of some in the mainstream media is to find a couple of unnamed fringe Catholic bloggers, who few read, and then make them become bigger players than they really are. Combine this with a Juan Williams quote which most of America agrees with and voila you have it; the ultimate straw man from which you can tear apart any minority who appears on Fox News or any Catholic blogger who faithfully defends the teachings of the 2,000 year old Catholic Church.
In this Associated Press article on the Catholic blogosphere, the piece mentions Thomas Peters and Michael Voris (who is known for his videos not his blogging,) but focuses on harsh unnamed Catholic bloggers. The article quotes John Allen who calls elements of the Catholic blogosphere "Taliban Catholicism." The highly respected Mr. Allen, who though working for the dissident leaning National Catholic Reporter, is often known for his many high ranking Church contacts and his fairness. He should have know better than to give the quote that he did. To take a few bloggers from the right (or even from the left) and call them the Catholic blogosphere is the type of journalism that would not pass muster for a high school paper, let alone the AP. This would be akin to taking the worst rated college or pro football team and telling the world this is the best of American football, or perhaps watching the Walla Walla Community theater production of Hamlet and saying this is Hamlet at its finest. John Allen should have realized where this article was going and chosen his words more carefully.
The AP article continues by naming a Church official who seems worried about the Catholic blogosphere. One wonders if the Church official would know the difference between Father John Zuhlsdorf from Father Richard McBrien, Amy Welborn from Aimee Semple McPherson, Mark Shea from Mark Sanford, Rocco Palmo from Rocco Mediate, or Tito Edwards from Tito Santana. I worked for years in a diocesan office and I have yet to meet, even in my travels, a diocesan official who is well versed in the blogosphere. It seems to be a generational thing and most diocesan officials are not to be confused with the younger, more conservative seminarians or young priests being ordained.
While some in the mainstream media snicker at the Pope and Magisterium (the teaching authority of the Catholic Church) they in reality have their own magisterium. In their secular magisterium anyone who believes in the Catholic Church's authority is hopelessly outdated, because according to gatekeepers in the mainstream media, true thinkers are those in the dying liberal churches who don't know what they believe. Sadly, GK Chesterton prophetically predicted this would happen. He said, "It's not that atheists and agnostics believe in nothing, they believe in everything." In modern parlance, "It's all good." How sad that some who proclaim to be "open minded" can't see the obvious; liberal Christianity is dying on the vine." Continue reading →
[Update:  RealCatholicTV is back online!]
Salvete TAC readers!
Here are my observations and opinions on the Catholic Church in the Internet:
1. A RealCatholicTV (RCTV) representative is reporting that they have been experiencing technical difficulties and should be up and running by Tuesday evening at the latest.
The RCTV Facebook page reports that they could be up as early as this evening!
2. Last nights Sunday Night Live on EWTN had Father Benedict Groeschel interviewing Archbishop Timothy Dolan and
I have to say that the good archbishop is very impressive.
He has a strong presence and speaks well with authority.  Outside of dodging a question on female altar servers, he looks to be the leading archbishop and the unofficial primate of the United States of America for the foreseeable future.
His Excellency posited that the severe drop in receiving the Sacrament of Penance may have contributed to the vocational crisis since 1968.  Most of the interview though was on the recent increase in vocations though.
Another theory that His Excellency suggested was the loss of grandmothers within the home.  He truly believes that grandmothers have a significant impact in passing on the faith which leads to vocations to the priesthood.  But with more and more families sending their dear grandmothers to retirement "homes", the family is losing a great advocate for vocations to the priesthood.
Cardinal's hat within five years or less.
RealCatholicTV.com will have special programming this Sunday, June 27 at 5:00 pm CST titled, "Obama's Counterfeit Catholics".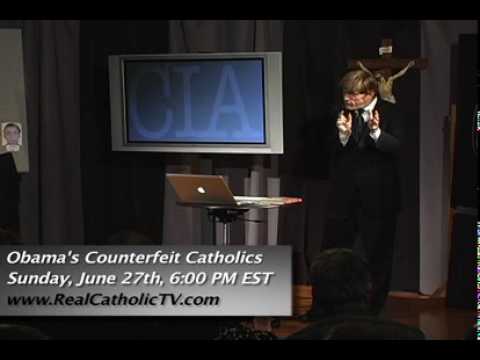 For RealCatholicTV.com click here.