Media Bias
Breaking News: The USA Today is reporting that Helen Thomas has retired following her anti-Semitic comments from last week (Biretta tip to TAC reader Phillip)
The Hearst Corporation, which owns Hearst Newspapers, continues to stand behind their 'news reporter' the anti-Semite Helen Thomas despite video evidence of her anti-Semitic remarks.
In her anti-Semitic remarks she called on Jews in the Middle-East to 'get the hell out of Palestine' and go back home to 'Germany' and 'Poland'.  Apparently forgetting that they have been inhabiting the Holy Land for several thousands of years.
The Hearst Corporation, Helen Thomas' employer, continues to stand behind her, but are saying her comments do not represent the values of the Hearst Corporation.
185 news articles, blurbs, blogs, columns, and other scraps of Internet. 185, as of 11:40 p.m. Arizona time today. 185 pieces of electronic information posted on what is perhaps the most asinine news item of the day: Arizona governor Jan Brewer's statement about her father. This is what Brewer said:
"Knowing that my father died fighting the Nazi regime in Germany, that I lost him when I was 11 because of that… and then to have them call me Hitler's daughter. It hurts. It's ugliness beyond anything I've ever experienced"
The governor was of course responding to the tiresome and blatantly unfair criticism directed at her and most of the state of Arizona over SB 1070, a bill that several Obama regime hacks can't even be bothered to read before resorting to vilification. This is not to say that legitimate criticism of the bill isn't possible, of course, but that isn't what caused Brewer personal harm.
Archbishop John Nienstedt of St. Paul-Minneapolis has defended Pope Benedict in his column in the archdiocesan weekly newspaper.
In reporting on the column, the Associated Press closed their story with this:
Critics of the church's handling of abuse cases are citing Benedict's tenure as head of the Vatican office charged with disciplining clergy. The office halted a mid-1990s investigation into a Wisconsin priest accused of molesting some 200 deaf boys.
Dear Associated Press: the CDF did not stop the investigation. If you'd actually do some journalism you'd know that.
From the Anchoress:
MSNBC ran a headline on their website:
"Pope Describes Touching Boys: I Went Too Far."
NBC has apologized (the linked story had absolutely nothing to do with the headline, or with the pope, for that matter).
Really? Will heads roll, too? They should, but I doubt they will.
Channel surfing the other night, I came across a slew of 1980s "coming of age" movies on cable television. With all of their flaws (too much sexual innuendo, which is mild by today's comparisons,) one can easily see a positive theme of a bright future and endless possibilities running through this genre of films. I had almost forgotten that in the 1983 film Valley Girl, Julie played by Deborah Foreman actually chastises her hippy parents for their suggestion that if she and her new boyfriend Randy, played by Nicholas Cage, want to explore their sexuality it would be alright by them.  Julie rebukes her parents for having such beliefs as well as the nostalgia surrounding their involvement in the 1960s anti war movement; after all it was the era of Ronald Reagan. Everything seemed possible; it was Morning in America again. Many of these movies were set in California which at the time exuded excitement for those of us growing up in colder, Midwest climates. Economically, California was booming and it was also the heart of a growing and diverse music scene.
Fast forward some 25+ years later and many of today's films have a dark undercurrent with more than a little subtle leftwing political and cultural propaganda running through them. While there are certainly hopeful signs in Hollywood, especially with the advent of stars like Eduardo Verastegi and his movie Bella and associated Metanoia Films, (Click here for my interview with Eduardo Verastegui,) the secular film industry has fallen even farther into the cesspool. Sadly the Golden State's economic boom seems but a distant memory, which was bound to occur when California's Big Government mentality rivaled that of Sweden or the Canadian province of Quebec. The bigger question remains; is California setting the trend once again for the nation and the western world, and if it is what hope is there? The hope remains as it always has not in mortal man and the latest left wing hypothesis about the world's failings, but in the teachings of the Catholic Church.
The New York Times rejected an op-ed article submitted by Archbishop Timothy Dolan of the Archdiocese of New York.  Why may I ask would the New York Times reject an article from His Excellency?  Probably because Archbishop Dolan called out the New York Times for their yellow journalism.
Of course those not familiar will Colonial American history will "poo poo" this particular article.  But as early as A.D. 1642 there were laws in the books that required test oaths administered to keep Catholics out of office, legislation that barred Catholics from entering certain professions (such as Law), and measures enacted to make Catholics incapable of inheriting or purchasing land.
[Updates at the bottom of this post as of 4:21pm CDT 10-16-2009 AD]
This week there has been a whirlwind of character assassination done by the mainstream media to conservative commentator Rush Limbaugh's bid to purchase the St. Louis Rams (American) football team of the National Football League (NFL).   They have been accusing Mr. Limbaugh of saying several racist quotes without confirming their existence.  All the alleged racist quotes have been debunked by Snopes earlier this week as well as being denied by Mr. Limbaugh.  Additionally many in the mainstream media have been unable to find any evidence of these allegations.
But today there has been a sudden realization of regret when the heat turned up on their yellow journalism.  Regret that some elements of the mainstream media were involved in libel and slander.
The most prominent of the yellow journalists are liberal news anchors Anderson Cooper and Rick Sanchez of the left-of-center CNN, sports columnist Bryan Burwell of the liberal St. Louis Dispatch, and finally the liberal Huffington Post (HuffPo) blog.
It's been an interesting week in the world of American politics.  With the arrogance of congressional Democrats and the White House attempts at discrediting a grassroots movement, the passions will certainly continue to climb after the weekend is over.
Here are some highlights from these past few days:
1. At a town hall last week in Dallas, an elderly "mob" with "manufactured" outrage questioned AARP's support for nationalized health care, asking: "Do you work for us or do we work for you?"
There were no swastika-wearing grannies at Tuesday's meeting, as House Speaker Nancy Pelosi might claim. Nor were they "taking their cues from talk show hosts, Internet rumor-mongers . . . and insurance rackets," as Senate Majority Leader Harry Reid has said.
But they were mad as hell at the perception that AARP was selling them out in the name of government-run medical insurance. That perception was not helped when the AARP town hall on the subject was shut down by the seniors outfit once the members dared to ask questions. The AARP representatives did not want to hear from the members at all. Just send in your dues, granny, and be quiet.
To read the rest of this IDB Editorial click here.
2. You've heard a lot about this crazy, scary, vicious mob on some shadowy GOP payroll. By the way the DNC, Rachel Maddow, and President Obama talk, you'd think it was a motley crue of Hell's Angels.
Let me introduce you to the mob:
Lots of videos of townhalls here where members of Congress face outraged constituents.
Liberals can relax however.  The AFL-CIO is going to send out union members to restore order at the townhalls.  I look forward to the footage when a union leg breaker decides to take a swing at someone who is not enamored of ObamaCare.  In the age of cell phone videos nothing will escape being placed on video.   Conservative union members, your dues money at work.   My late father was a member of Allied Industrial Workers for 30 years, and it used to anger him intensely that his dues were used to support political causes he adamantly opposed.  If you don't like this and you are a member of a union, you might want to attend a townhall meeting!  Although maybe they won't let you in.  At the Russ Carnahan town meeting in Saint Louis over a thousand protesters were locked out and only Carnahan supporters were allowed in. Similar tactics were used at a townhall in Tampa.  That will solve the problem!  Lock people out who disagree with the person purporting to represent them in Congress!
The Left  is completely misreading this situation.  This isn't a matter of just Republicans and Conservatives.  There is a prairie fire of anger burning in this country, and it is not going to be stopped by biased media, attempts at intimidation, White House calls for informants or locking citizens out of townhall meetings.
Update: An  update here from Gateway Pundit on the violence at the Carnahan town meeting.
Although the subject of President Obama being honored by Notre Dame has quickly cooled in the fast-paced blogging universe- I wanted to weigh in with some comments because I think it is important to hold the President to account on some of the promises he made in his speech, and to offer some ideas for how Catholic universities should approach such political intersections in the future.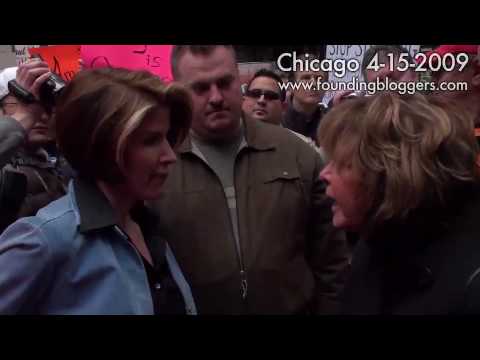 Yesterday in my Spirit of 09 post I linked to a video from CNN which depicted a clash between CNN reporter Susan Roesgen and tea party protestors in Chicago.
Salvete AC readers!
Here are today's Top Picks in the Catholic world:
1. Cardinal George had a private unscheduled 30 minute meeting with President Barack Obama yesterday afternoon.  Outside of the normal platitudes issued between the USCCB and the White House, nothing substantive of note can be reported.  Although Cardinal George issued a YouTube video warning to President Obama concerning the United State's moving towards despotism the day prior to his meeting.  President Obama seems to have responded positively to Cardinal George's proposal of "an agenda for dialogue" which was issued early this year.
2. The secular and liberal media, i.e., the mainstream media, have pretty much remained silent on Pope Benedict's visit to Africa.  Is it because they don't want to report the problem of condoms only exacerbating the issue of AIDS and not wanting to hear about the sanctity of life?  Is it beneath their elitism to do anything with Africa?  Or is it because the mainstream media could care less about Africa because of the pigment of their complexion?  Remember Rwanda and southern Sudan, the media remained silent.
Fr. John Zuhlsdorf made similar comments, for the link click here.