Lying Worthless Political Hack
Future historians may mark this vote as the day Obamacare died.   Harry Reid was unable to have the senate invoke cloture and end debate on a bill which would dump 250 billion in medicare reimbursements over 10 years from the health care bill and throw it into the general budget deficit with no hint as to how this quarter of a trillion dollars would be paid for.  In order to invoke cloture Reid needed 60 votes, he got 47.  13 Democrats joined all 40 Republicans in refusing to invoke cloture.
The whole purpose of this shell game was to improve the image of the health care bill by reducing the cost by 250 billion dollars.  I guess the senators who voted against ending debate realize that most voters would be able to see through this inept attempt to reduce the cost by shuffling a mountain of red ink into the general deficit abyss. Continue reading →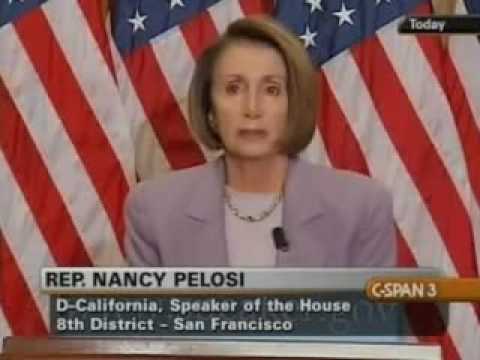 The Lying Worthless Political Hack, a/k/a Nancy Pelosi, Speaker of the House, not content to call opponents of ObamaCare Nazis,  has now raised the spectre of political violence:
"I have concerns about some of the language that is being used because I saw … I saw this myself in the late '70s in San Francisco," Pelosi said, choking up and with tears forming in her eyes. "This kind of rhetoric is just, is really frightening and it created a climate in which we, violence took place and … I wish that we would all, again, curb our enthusiasm in some of the statements that are made." Continue reading →
Worthless Political Hack Nancy Pelosi, in defiance of the teaching of the Catholic Church of which she is purportedly a member, said on Friday embryonic stem cell research is the answer to our prayers.  She is quoted as saying , "We need science, science, science, science, science. " I agree with the  Worthless Political Hack.  She might consider this little factoid:  number of cures and treatments from adult stemcell research:  72;  number of cures and treatments from embryonic stemcell research:  00.00.  If the Worthless Political Hack ever wishes to read the actual science on the subject a good place to start is here.