Libertarianism
Hello TAC. I haven't been posting here as often as I once was since a) I wanted to get a new blog up and running and b) I am also going to be writing for Catholic Stand, and my first piece is appearing tomorrow.
My new blog is called "Liberty & Dignity." It is not an explicitly Catholic blog, but it is devoted to a natural law/rights version of libertarianism called "paleo-libertarianism." I distinguish paleo-libertarianism from other kinds of libertarianism in the following way: the paleo brand explicitly recognizes that liberty is a historical and cultural product as much as it is an abstract ideal, that it requires certain institutional prerequisites and supports, and that taken out of its proper context – like anything else – it can self-destruct. It is close to but not identical with paleo-conservatism.
My first article for Catholic Stand will explain how I believe all of this as a Catholic.
Now, onto the Ron Paul business. Obviously I don't agree with many of the comments left on Paul Zummo's post about Ron Paul being an inherently malicious person. At the same time, I found his comments to be wildly inappropriate and politically destructive, much like Todd Akin's rape comments. His subsequent statements on his Facebook page really didn't improve the situation either.
I am not too happy with his son either, for much different reasons, but you can read my blog to learn more about that.
Here at TAC and Catholic Stand I am going to continue focusing on the two issues that pose the greatest threat to religious liberty in our time: the HHS mandate and the "marriage equality" movement. I expect it will also be necessary to continue defending free markets and private property as our social democratic government continues its assault on both. Many Catholics still believe that they have a religious obligation to support a welfare state and open borders. These beliefs are toxic even if well-intended.
Well, that's all for now. Let the comments roll.
The search for an economic and political "third way" between socialism and capitalism has been underway since the early 20th century, if not sooner. In Catholic circles, Distributism is a third way that many are eager to discuss. I suspect many of the people reading this blog have heard of Distributism by now.
I was once attracted to the idea of Distributism, until I came to the vital question of who would be doing the "distributing" of the private property that everyone was supposed to own and how it would be done. To be vague or silent on this question is completely unacceptable. And yet there are really only two possible answers. Either people will be persuaded via reasonable argument and successful example to get together with like-minded people and distribute property in various ways, or people will be forced to do it at gunpoint.
It didn't take me long to realize that there was really no "middle ground" between these two options, just as there is really no middle ground between free will and determinism (even if various factors can influence person's will). If you haven't persuaded someone to do what you want, the only other way is force. So the question becomes: is it legitimate to use force to impose an ideology on society? Is it legitimate for a band of political visionaries to come together and either use the power of the existing state or establish a new state to drag the unwilling or apathetic masses along? And does a system which is supposedly in man's best interests need to be established at gunpoint, as if it weren't?
So we've been discussing the proper role of the state on this blog recently, particularly as it relates to the legalization of marijuana. This discussion, in all of its unfortunate snarkiness and nastiness (to which I freely admit having contributed, not that I'm proud of it) is really a discussion on the proper role of the state.
I think it is rather uncontroversial to assert that America was basically founded upon the Lockean social contract theory. We begin with the proposition that everyone has basic natural rights: to life, liberty, and property. In a hypothetical scenario in which there is no coercive authority (the state/government), we must also act as our own judge, jury and executioner. In this anarchic situation, our rights to life, liberty and property are unsecured. In order to secure them, we collectively renounce our right to be our own personal government and transfer that right to a government we establish by contract. Our property – life, liberty and estate – is more valuable and necessary for life than our "right" to do as we please, when we please, to whomever we please.
The terms of the contract are rather simple. They are stated very simply in the Declaration of Independence. Governments exist to protect our natural rights. They don't exist to make us "better people" – that's what the Church is for. They don't exist in order to achieve "social justice" – that is what private charity and free markets are for. The individual American states were founded by people of like-minds who wanted to establish communities that reflected their religious values - Pennsylvania for Quakers, Maryland for Catholics, and so on. The Constitution was created by the states mostly for the purposes of common security.
Government is not a positive good. It is an evil necessary to prevent the greater evils that would result from total anarchy. As such, it must be kept on the tightest of all possible leashes, which is why so many Americans demanded a Bill of Rights as a condition for the ratification of the Constitution. If men in a state of anarchy would be evil, they don't suddenly become angels because we give them titles, badges, and offices. The evil in our hearts is the evil in their hearts, and the greater the scope and depth of the powers we give to governments, the greater potential for evil we establish.
One of the more annoying memes I am often confronted with is the automatic assumption that libertarians must be for "gay marriage."I can understand why some people automatically assume such things in good faith, but I can also tell when the leftist media is attempting to exploit an apparent rift between libertarians and conservatives on the right. Whenever I read somewhere that there may be tension between different wings of the American right on an issue such as "gay marriage", it is almost never a conservative or a libertarian writing it.
Is it consistent with libertarianism to be an uncritical and loud advocate of "gay marriage"? In my view, the answer is no. In fact, it is more consistent with libertarianism, at least in the current political climate and given the way the issue is currently framed, to be opposed to the "marriage equality" movement. The word "equality" ought to be the first indication to a libertarian that something may be amiss, since egalitarian movements are often statist, sometimes outright totalitarian movements that seek to achieve an ideal of equality by sheer force. Communism is the most obvious example, but what feminist and certain racial groups have achieved on college campuses is only a microcosm of what they would like to see in society at large: free speech utterly silenced, opposing views ostracized, careers denied or ruined over the utterance of a heterodox opinion (just view the archives of The Foundation for Individual Rights in Education for countless examples). To some extent this already does happen in society at large, but only selectively – for now.
In articles, interviews and addresses, U.S. Representative Paul Ryan is defending — not without controversy — his 2013 budget proposal (see "The Path to Prosperity: A Blueprint for American Renewal") as an application of Catholic social teaching, inspired by his Catholic faith.
In an April 10 interview with CBN News, Ryan responded:

To me, the principle of subsidiarity, which is really federalism, meaning government closest to the people governs best, having a civil society of the principal of solidarity where we, through our civic organizations, through our churches, through our charities, through all of our different groups where we interact with people as a community, that's how we advance the common good. By not having big government crowd out civic society, but by having enough space in our communities so that we can interact with each other, and take care of people who are down and out in our communities.

Those principles are very very important, and the preferential option for the poor, which is one of the primary tenants of Catholic social teaching, means don't keep people poor, don't make people dependent on government so that they stay stuck at their station in life. Help people get out of poverty out onto life of independence.
U.S. Rep. Paul Ryan, R-Wis. , Chairman of the House Budget Committee speaks to a meeting of the Wisconsin Faith & Freedom Coalition. 3/31/12. Source:
AP
The U.S. Bishops Conference conveyed their thoughts on the FY2013 Budget and spending bills, which in their words "repeated and reinforced the bishops' ongoing call to create a "circle of protection" around poor and vulnerable people and programs that meet their basic needs and protect their lives and dignity.":

Bishops Blaire [chairman of the bishops' Committee on Domestic Justice and Human Development] and Pates reaffirmed the "moral criteria to guide these difficult budget decisions" outlined in their March 6 budget letter:

1.Every budget decision should be assessed by whether it protects or threatens human life and dignity.

2.A central moral measure of any budget proposal is how it affects "the least of these" (Matthew 25). The needs of those who are hungry and homeless, without work or in poverty should come first.

3.Government and other institutions have a shared responsibility to promote the common good of all, especially ordinary workers and families who struggle to live in dignity in difficult economic times…

Just solutions, however, must require shared sacrifice by all, including raising adequate revenues, eliminating unnecessary military and other spending, and fairly addressing the long-term costs of health insurance and retirement programs.

In April 16 and April 17 letters to the House Agriculture Committee and the House Ways and Means Committee addressing cuts required by the budget resolution, Bishop Blaire said "The House-passed budget resolution fails to meet these moral criteria."
Marc Thiessen defended the congressman from "a bishop's unjust attack" (Washington Post, 4/23/12) along with (Fr. Robert Sirico (of the Acton Institute) — the latter, however, disagreeting with Ryan's equasion of subsidiarity with federalism.
This past week, U.S. Representative Paul Ryan further presented his case in a column for the National Catholic Register: Applying Our Enduring Truths to Our Defining Challenge, April 25, 2012):

As a congressman and Catholic layman, I am persuaded that Catholic social truths are in accord with the "self-evident truths" our Founders bequeathed to us in the founding ideas of America: independence, limited government and the dignity and freedom of every human person. As chairman of the House Budget Committee, I am tasked with applying these enduring principles to the urgent social problems of our time: an economy that is not providing enough opportunities for our citizens, a safety net that is failing our most vulnerable populations, and a crushing burden of debt that is threatening our children and grandchildren with a diminished future. … [read more]
On April 26th, Paul Ryan gave a lecture at Georgetown University, entitled "America's Enduring Promise", in which he once again addressed the challenge of America's exploding federal debt, which he characterized as "the overarching threat to our society today":

The Holy Father, Pope Benedict, has charged that governments, communities, and individuals running up high debt levels are "living at the expense of future generations" and "living in untruth."

We in this country still have a window of time before a debt-fueled economic crisis becomes inevitable. We can still take control before our own needy suffer the fate of Greece. How we do this is a question for prudential judgment, about which people of good will can differ.

If there was ever a time for serious but respectful discussion, among Catholics as well as those who don't share our faith, that time is now.
Ryan's appearance at Georgetown was prefaced by a scathing letter from some 80 members of the faculty irate over his alleged "continuing misuse of Catholic teaching to defend a budget plan that decimates food programs for struggling families, radically weakens protections for the elderly and sick, and gives more tax breaks to the wealthiest few." An organized protest of Ryan on the actual day of the event was distinguished by a notable lack of participation. Continue reading →
I recently completed Rick Santorum's It Takes A Family.  I quipped on Twitter that had I read this before the campaign started then Santorum would have been my top Rick pick before that other Rick entered the race (though I still maintain that Governor Perry would have been an outstanding nominee, but no need to go there).  At times Santorum slips into politician speak – you know, those occasions when politicians feel compelled to tell stories of individual people in order to justify some larger agenda.  And some of the book is a little plodding, especially when he gets into wonkish mode (which fortunately is not all that often).  Those quibbles asides, there are large chunks of this book that could very well have been written by yours truly.  That isn't meant to be a commentary on my own genius, but rather a way of saying I agree with just about everything this man has to say.
The book title really says it all.  The heart of Rick Santorum's political philosophy is the family, meaning that to him strong families are the heart of any functioning society.  The family has been undermined both by big government programs and by the culture at large.  Santorum mocks the "village elders" who view more government programs as the solution to all problems.  Santorum acknowledges that many of the problems we face don't have quick and easy fixes, and often no legislative action can be taken.  Santorum offers a series of small policy proposals that are aimed at giving parents and individuals in tough economic circumstances some tools to help, but he also emphasizes the doctrine of subsidiarity.  Ultimately we must rely principally on local institutions, starting with the family.
Santorum understands what even some on the right fail to appreciate, and that is we can't divorce social issues from economics.  The breakdown of the family coincides directly with economic hardship.  If we want a healthier economy, we need healthier families.  It's a central tenet of conservatism that is somehow ignored by large swathes of the political right.
His approach to politics can be summarized in a passage on page 341 of the hardback edition: Continue reading →
I'm going to need to recant my placement of RedState at the top of my favorite blogs list.  Now that Rick Santorum has emerged as probably the leading not-Mitt candidate in the GOP presidential sweepstakes, they, along with a few other conservative websites, have gone absolutely bananas over the prospect of Santorum becoming a leading candidate.  Sure, they all hate Mitt Romney, but can we truly tolerate a candidate who says extremist things like this:
This whole idea of personal autonomy, well I don't think most conservatives hold that point of view. Some do. They have this idea that people should be left alone, be able to do whatever they want to do, government should keep our taxes down and keep our regulations low, that we shouldn't get involved in the bedroom, we shouldn't get involved in cultural issues. You know, people should do whatever they want. Well, that is not how traditional conservatives view the world and I think most conservatives understand that individuals can't go it alone.
My goodness.  I can just see Santorum delivering these remarks on a balcony with a hammer and sickle proudly displayed behind him.  Did he also poound a shoe on the podium, because the man must surely be just shy of being an out and out Communist.
Jeff Emanuel has unearthed two more shocking quotes that reveal Santorum's obvious Stalinist tendencies. Continue reading →
Now that Rick Santorum has basically tied Mitt Romney in the Iowa caucus, the knives are really out for Rick.  On the one hand, he will undoubtedly experience a surge in the polls and in fundraising.  On the other hand, as every conservative who has ascended in the polls has before, he will face a firestorm of criticism from both left and right.  I discussed this in my post yesterday, and now things have only gone into overdrive.  As someone who reads secular conservative blogs, there is a lot of concern that Santorum is some kind of "big government" conservative.  I think this is absurd, as does a pretty famous conservative figure not known for particularly liking big government types: Rush Limbaugh.  Here's what he had to say about the big government charge on his program today: Continue reading →
Yesterday, I was having a discussion with some of my fellow Catholics about the presidential election, and there arose a brief debate about the concept of libertarianism. It never ceases to amaze me when I see committed Catholics embracing libertarianism…but then, I remember, most of them probably were not catechized very well. Also, we should take into consideration that for years many of us have been rightly troubled by a far-reaching government engaged in what the Catholic faithful invariably see as injustice. I suppose I can understand why many Catholics might think that libertarianism is a legitimate way to put that unjust government in check. Though well-intentioned, they have fallen into a snare.
Stephen Metcalf writes at Slate today about what he calls 'The Liberty Scam'. His article is essentially a rebuke of libertarianism, at least as he believes it was defined by Robert Nozik. David Boaz at CATO Institute takes issue with him on that point.
It's interesting that Boaz makes a couple of arguments against Metcalf's article that I've grown accustomed to hearing from libertarians in response to criticisms of their ideology. In a nutshell, first, we who are opposed to libertarianism are apparently not allowed to claim that one of their heroes can be said to have defined it with any certainty. We find this in Boaz's seeming annoyance with those who believe they have "grappled with libertarian ideas" if they have read Nozik. Secondly, if we disagree with the libertarian ideas set forth, it automatically means that we are misunderstanding it, hence Boaz's headline 'Misunderstanding Nozik, Again'.
Unfortunately, again, the libertarian runs up against the wall of reality and finds himself stunned.
As for Metcalf's final complaint that advocates of a more expansive state have been "hectored into silence" by the vast libertarian power structure, well, I am, if not hectored, at least stunned into silence.
Libertarians frequently cannot see the forest because the trees get in their way. How dare we think that libertarians have a shared value system that results in any kind of society that has power! Hence we see a self-refuting principle in libertarianism. Human beings are "social animals", if you will. They will, invariably, join together with like-minded people to bring about political change that reflects their views of justice. All such associations are "societies", whether or not they are governmental or political. One need look no further than one of the infamous episodes of astro-turfing for Ron Paul in straw polls and the various Campaign for Liberty rallies to see a libertarian act of "social justice", per se. The very act of joining a campaign is an act of joining a power structure to bring about one's sense of "justice". Granted, libertarian "social justice" is nothing like the Left's "social justice", but that is neither here nor there.
Metcalf paraphrases Nozik, the libertarian who apparently either doesn't speak for libertarianism or is misunderstood?:
To the entire left, Nozick, in effect, said: Your social justice comes at an unacceptable cost, namely, to my personal liberty…
This is, to be sure, the libertarians' basic argument. Ironically, the libertarian movement's social justice is similarly problematic in that it so frequently promotes license over liberty. As Mortimer Adler has written:
Herein lies the distinction between liberty and license. Liberty is freedom exercised under the restraints of justice so that its exercise results in injury to no one. In contrast license is freedom exempt from the restraints of justice and. therefore, injurious to others in infringing their freedom as well as violating other rights. When no distinction is made between liberty and license, the freedom of the strong an destroy the freedom of the weak.
Most Catholics still understand on some level that abortion and same-sex "marriage" are opposed to true justice. As such, they are opposed to authentic liberty. Just as we know that the word "choice" is misused in the abortion debate to preserve a license to kill, we should also understand that the word "liberty" is used by libertarians to preserve license on any number of issues, including abortion and the re-definition of marriage.
If you take nothing else away from this article, know this. There is a libertarian movement. It exists. It has arisen as its own society, a social group being made up of individuals who share a common definition of "justice". Their common view of "justice" is the act of joining together in a society to oppose those who would seek to bring about "social justice" which they view as a monster because the Left's version of "social justice" is, in fact, a monster. In other words, the libertarians have engaged themselves in an exercise in hypocrisy.
What's a Catholic to do? Well, we can begin by helping people to understand what authentic social justice is. (Sorry, libertarian Catholics, but that's the way it is.) Certainly, all Americans are able to make a decision to either be complacent (that is, to be the "sleeping giant") or to actively work through the political process to bring about a society that reflects our view of justice. Catholics are not free to be complacent. We each have a duty to be politically involved….to enter into associations with others to work for authentic social justice. It is my hope and prayer that we can do so as One Body. The more we talk about these issues in peace with each other, the better.
Hat-tip, Memeorandum.
This video is dedicated to Drs. Rand and Ron Paul!
(With all due respect to my libertarian colleagues, I couldn't resist posting this video)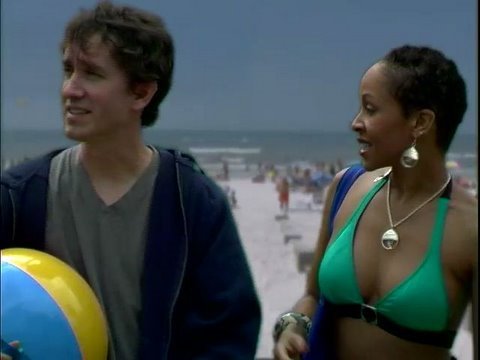 Hat Tip: Lisa Graas
I'm never going to be excited about major party politics. When we come to the finish line, I will hold my nose and vote for the lesser evil, since I don't see the harm in using my vote. But I'm not going to sit around and speculate about which mainstream GOP or Democratic politician is going to be the frontrunner for 2012. I'll let others worry about that.
I'd rather focus on the men of principle who sometimes get involved in these races, even though they have no chance of winning. Independent or "outsider" candidates and their campaigns serve a couple of vital functions: they bring viewpoints delegitimized and mocked by the main news sources on the left and right to the forefront, which in turn reminds us that we still live in a relatively free country and haven't become a fascist dictatorship like China. They can also put some pressure on the major party candidates to take certain issues more seriously.
Recently Judge Andrew Napolitano, the only man on the major networks I can bear to listen to for more than a few minutes, invited Ron Paul and Ralph Nader on his show to discuss the issues and discover the extent to which "progressives" such as Nader and libertarians such as Paul can agree on them. I wasn't surprised to discover that they agree on quite a bit, as you will see if you watch the video above.
There's been a bit of discussion about the nature of libertarianism on the blog recently, and as the resident pseudo-libertarian, I thought I would re-state where I come down on the matter (this is based largely on an older post I did on the subject, which sadly is now lost in the cyber-ether).
To understand where I am coming from, one needs to make a distinction between political positions held as a matter of moral principle, and those held as a matter of prudence. Take the issue of torture. One might oppose the use of torture on the grounds that it's not a good way to get information from suspects, or because by using torture on the enemy you risk retaliation by the enemy on your people, etc. Alternatively one might believe that torture is just immoral, and you should do it regardless of whether or not it is effective.
Call the first type of objection to torture "pragmatic" and the second "principled." (A person might object to torture on both pragmatic and principled grounds, in which case the opposition would be principled, though buttressed by pragmatic considerations). Dividing the justifications for various political positions into principled or pragmatic can be sometimes tricky, but the basic idea is, I hope, intuitive enough.
A principled libertarian, as I use the term, is someone who holds libertarian political beliefs for principled reasons. Taxation is theft, my body, my business, etc. In my experience, when you say libertarian this is what people think of. Continue reading →