Liberation Theology
Over at Vox Nova, Henry Karlson draws our attention to a video of Bono, expounding on why U2 felt compelled to cover Woody Guthrie's song "Jesus Christ". In short, "it's more relevant today than when he wrote it."
But why is it more relevant? — For Bono, "we decided to do it because of the line, "the bankers and the preachers, they nailed him in the air."
Curiousity provoked, I took a look at the complete lyrics:
This fall all of the hopes and dreams of those who have detested Middle American values stands in the balance. Those values are best exemplified in religious beliefs shared by many faith traditions. However, Catholics, Evangelicals, Orthodox Christians and Orthodox Jews are those to which the angry Professional Left, to use Robert Gibbs (President Obama's Press Secretary's) term, will most turn their anger.  Some may say this seems a little far-fetched, after all aren't some of those people from the "Professional Left" religious themselves? Yes, some on the "Professional Left" are religious, but they often go to great pains to say they are not affiliated with any faith tradition. They often classify themselves as "spiritual."
During the 2008 Presidential Campaign, then Senator Obama made by his own admission his biggest gaffe. The future President, speaking in  San Francisco, called those middle Americans of western Pennsylvania, "bitter clingers." In his own words, the future President described western Pennsylvania residents as hard working salt of the earth folks who clung to "their guns and religion," presumably because they weren't enlightened enough to understand the modern world.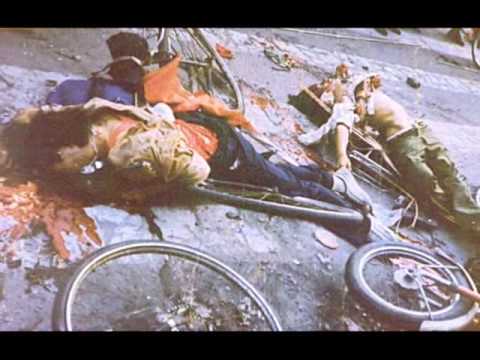 Yesterday, June 4, was the twenty-first anniversary of the brutal suppression of the pro-Democracy protests in Tiananmen Square in Beijing.  Over 3000 of the protestors were murdered by the Communist government of China.  Tyranny won that round, but I have absolutely no doubt that Democracy will ultimately prevail in the Middle Kingdom.  When it does, the heroes and heroines of Tiananmen Square will be remembered and their murderers forgotten.
"The bravest are surely those who have the clearest vision of what is before them, glory and danger alike, and yet notwithstanding, go out to meet it."
–Thucydides
This weekend, February 7-10, the U.S. Conference of Catholic Bishops (USCCB) is sponsoring the "Catholic Social Gathering" where prominent anti-Catholic bigots and progressives speak about social justice issues.
All this being sponsored by the USCCB and advertised as a Catholic event.
Here are some highlights by PewSitter.com:
-Fr. Thomas Reese, who was forced to resign as editor of America Magazine by the Vatican for his refusal to stop publishing articles which question church orthodoxy on issues like contraception, human embryonic stem-cell research, same-sex marriage, homosexual priests, mandatory clerical celibacy, and whether Catholic politicians who support abortion rights should be given communion

-Diana Hayes, professor of systematic theology at Georgetown University and noted speaker for Call to Action, the "Catholic" dissident group. Hayes is a homosexuality activist who wrote a book espousing liberation theology, calls for women's ordination and promotes same-sex "marriage."

- Page six of the official "Catholic Social Gathering" program gives a schedule for the Catholic Labor Network Gathering. USCCB exec John Carr is scheduled to join Paul Booth on a panel discussion. Paul Booth and his wife Heather Booth (another prominent pro-abortion activist with ties to the National Organization for Women, who helped organize a group called "JANE" in 1965 which helped young women obtain illegal abortions) founded the Midwest Academy a training institute for progressive activists.

-Paul Booth and his wife have served as host committee members for the National Organization for Women's Intrepid Awards Gala.

-Currently Paul Booth is executive assistant to the president of the American Federation of State, County and Municipal Employees. The AFSCME endorsed the pro-abortion March for Freedom of Choice, held in Washington, D.C. in 2004.
Michael Voris of RealCatholicTV.com has been doing yeoman's work, uncovering and shining a bright spotlight on the many anti-Catholic activities and persons that are done inside the USCCB.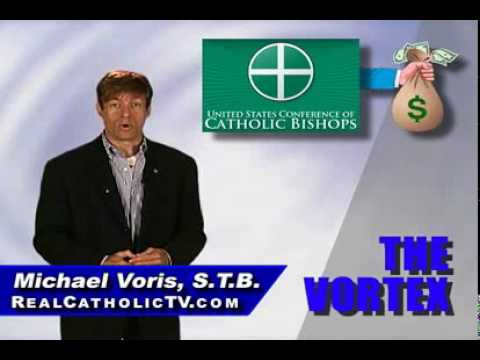 For more information on continuing developments in the growing scandals from the USCCB click here.
I was very struck by a comment which was made on another post on this blog by a defender of liberation theology. I'm not going to attempt to speak in this post to what liberation theology is and whether or not it represents a correct understanding of Christ's message, but what does interest me a great deal is this response to the concerns expressed by Benedict XVI at the time that he was the head of the CDF about liberation theology, and the similar concerns expressed by John Paul II. As has been observed elsewhere on this blog, liberation theology has not been officially condemend by the Church.
However, a number of aspects of liberation theology have been criticized by the Church, and in reponse to the mention of these criticisms, we are given this defense:
I don't dismiss what they say. If the version of liberation theology that they critique actually exists, then they are right about those versions. But they cite NO ONE and in my studies I have seen no evidence of the distortions that they claim exist. Here they are not distinguishing between the practice of various Christians and liberation theologians. When they critique something called "liberation theology" I assume they mean the latter. But the image that they critique is just that: an image with little reality. In fact many liberation theologians have actually praised the CDF statements on liberation theology, saying that if such a theology existed it should rightly be criticized, but that what they are doing bears little resemblance to those caricatures.
This defense reminded me very strongly of some reading that I did a while back on the Jansenist heresy. Continue reading →
We here at TAC are sometimes accused of the sins of being Calvinists, militarists, and even Americans. Someone already dealt with the Calvinist charge, but what about militarism? Is it right for us to be castigated for using the word "citadel" to describe a monastery?
What I want to know is this: why should we listen to people who, to make a grand public showing of their deeply-felt moral opposition to militarism and war, constantly nitpick others, question their faith, and inevitably conclude that they worship a different (and presumably better) God while apologizing for a tradition that has never been shy of using militaristic symbols and rhetoric in pursuit of its own goals? I am of course talking about people who apologize for Liberation Theology, which made images such as these popular in Latin America:
Undoubtedly this too would be a "tendency" that one ought to condemn – if one wants to be consistent with the pacifism one tries to push on everyone else. But wait, there's more!
In a recent post to Vox Nova, Michael Iafrate (aka. "The Catholic Anarchist") offers a welcome reminder concerning Pope Benedict's admonishment to the Brazilian bishops of "more or less visible consequences, of rebellion, division, dissent, offense, anarchy are still being felt, creating amidst your diocesan communities great pain and a grave loss of living strength", stemming from "he non-critical import, made by some theologians, of theses and methodologies originating from Marxism." To which Michael replies:
No where in this document, nor in either of the Vatican's other two documents on liberation theology, does the Church condemn liberation theology as a whole. Nor does the Church even condemn all of the ideas of Marxism. John Paul II in fact used Marx very clearly in his encyclical Laborem Exercens. Anyone with even the most basic knowledge of Marxian themes can see Marx's influence on John Paul II. Paul VI affirmed the compatibility of some forms of socialism with Catholicism and used Marxian terminology in his encyclical Populorum Progressio. In fact, by warning against "a-critical" uses of Marxism, the Church implies that critical use of Marxism is in fact acceptable, and this is what most liberation theologians in fact do. Indeed this is what official Catholic social teaching has done since the Second Vatican Council.

Once again, this is not a condemnation of liberation theology. It is merely a warning against certain tendencies. The only way one would know this, though, is to know the history of the disputes and to know the Vatican's two previous texts on liberation theology neither of which condemn liberation theology in toto.

Finally, it is important to consider not only this message to the Brazilian bishops, but a message to the same bishops delivered by the Venerable John Paul II who insisted that liberation theology is "both useful and necessary."
Michael is certainly right that the Church has never condemned liberation theology in toto. (Nor has it condemned capitalism or capital punishment or sexual relations in toto, howbeit that is the impression one often receives reading the rantings of the fringe left and/or right, or even many presentations within the mainstream press which abandon, for the sake of a catchy headline or a cheap soundbyte, the carefully-nuanced position of the Catholic Church.
At any rate, as Michael wisely suggests, on the matter of "liberation theology" the remedy here would be a close study of the texts. For our readers' benefit, a compilation of texts by Pope John Paul II himself.
With the recent scandals rocking the Catholic Church here in America as in President Obama receiving an honorary degree at the University of Notre Shame to House Speaker Nancy Pelosi claiming that abortion is an open-ended issue in the Church, we have seen a reemergence of ecclesial leadership on behalf of our shepherds.  Many bishops have awoken to the fact that being "pastoral[1]" has been a remarkable failure in resolving the deviancy emanating from Catholics and Catholic institutions.
The upsurge of young adults rediscovering their faith to the excellent parenting of Catholic families in raising fine orthodox Christian children, we have seen what is only the beginning of a Catholic renaissance here in America.  And let us not forgot the ever faithful cradle Catholics among us that have contributed in keeping the faith in the tumult arising from the Second Vatican Council to today.
Salvete TAC readers!
Here are today's Top Picks in the world of Catholicism:
1. Today is the twenty year anniversary of the fall of the Berlin Wall.  Pope John Paul II, Ronald Reagan, and Margaret Thatcher all played pivotal roles in bringing down Communism and discredited all socialistic and atheistic systems the world over.  Pope John Paul II played the most important role of the three, providing the moral backbone that is needed when confronting these manifestations of evil.
Newt Gingrich, Callista Gingrich, and Vince Haley wrote a timely article concerning this important anniversary titled The Victory of the Cross: How spiritual renewal helped bring down the Berlin Wall.  For this article click here.
2. Dave Hartline has already posted three articles here with us.  His latest is titled, Following the 2009 Election Results which Way is the Tide Turning toward Truth or Relativism?
For the article click here.
For all of Dave Hartline's articles on The American Catholic click here.
3. Catholic Culture has changed their look again.  Unlike the last time I mentioned their new look, I have to say it is a major improvement.  It's much easier to find Diogenes of Off the Record (under Commentary).  Blue has replaced what I think was the color pink as it's primary color and the fonts are much stronger.
For the Catholic Culture link click here.
For Diogenes, which is under Commentary, click here.
Over at Vox Nova, Henry Karlson offers some thoughtul reflections on eschatology (Part I | Part II | Part III), or rather — those who employ the catch phrase "Don't immanentize the eschaton!" as a cudgel against those "doing the work of Christ":

How many times do we find these words repeated, time and again, since Voegelin has suggested to do so is Gnostic? How ironic is this claim, when authentic Christian theology believes that the eschaton has been immanetized in Christ. Voegelin, and many of his followers like Buckley, became critical of anyone who would try to connect the supernatural with the natural in a way which understood the eschatological ramifications of Christ have any this-worldly implications. But this is exactly what Christian theology proposes. God became man; the eschaton has been revealed; the world and all that is in it has been affected by the immanentizing of the eschaton that history can never be the same. Christians are called to live out their lives in and through Christ, bringing the eschatological implications of Pascha to the world itself. The world is meant to be transformed and brought to its perfection, and we are to be Christ's workers in helping to bring this about; of course, our work is not on the same level of Christ's, but, if we truly become one with Christ in his body, we must understand this is exactly what we are called to do. Anything else is a rejection of the incarnation, anything else which tries to establish an absolute duality between the immanent and transcendent is what really qualifies as gnostic!
In response, I'd like to say a little bit about why I find myself sympathetic to Buckley and company. Continue reading →
To continue with the building up of a genuine Catholic worldview regarding the nature and purpose of the Political Community- we move on with the authoritative teachings from the Compendium of the Social Doctrine of the Church Chapter 8.