Liberalism
In light of Zach's stellar posting which generated over 240 comments ranging from anarchism to Oscar Romero and which inspired a posting by Michael Denton.  These comments, although informative to a certain extent, may have detracted from the original intent of the posting.  Henceforth in regards to said activities being done on Zach's posting concerning Representative Chris Smith, I am starting a new tradition here at American Catholic, the open thread.
So feel free to comment to your hearts delight that isn't related to any other postings on this website.
The comments policy is still in place so don't forget to treat each other as brothers and sisters in Christ.
Enjoy.
A few days ago I was speaking with a good friend of mine about Margaret Sanger, the founder of the American Birth Control League, which was renamed Planned Parenthood. The conversation shifted to Sanger as my friend, who is pro-choice, and I debated the issue of abortion. Sanger was quite relevant because we're both African American and the founder of Planned Parenthood was, as is often pointed out by the right-to-life movement, an unequivocal white supremacist who saw eugenics as the means to weed out less "desirable" populations.
I forwarded my friend information about Sanger and the woman's own words about a variety of matters. That is not why I'm writing this, however. Certain statements by Sanger are absolutely striking because they were statements I did not expect. Continue reading →
I saw the movie with Liam Neeson entitled "Taken", the other night. It is the ultimate 'Dads protecting daughters' fantasy. It plays on a whole lot of primal emotions- particularly the temptation to give oneself over to extreme violence to protect the lives and sanctity of one's children. Every father wants to imagine himself capable of defending his beloved children from any and all threats- and the father in "Taken" was that ultimate fatherly force. He represented more of a divine Angelic father who slays spiritually evil forces, than a realistic earthly dad- and as such I was able to excuse the incredible violence as something of a parable of ultimate accountability for those humans who perpetrate the evils of human trafficking and slavery.
I wasn't sure whether or not to post this as an update to my earlier post on John Holdren, but I thought it was interesting enough to warrant its own posting.
I've read some of the scanned pages of Ecoscience, the 1977 book co-authored by Holdren that calls for horrifying coercive measures for population control. Interestingly, Holdren & Co. felt the need to address pro-life arguments in their book. Their moral reasoning only proves, yet again, how dangerous (not to mention illogical) some 'scientists' can become when they venture into moral philosophy. This provides us an opportunity to take a tour through the inhuman humanism condemned by Pope Benedict in Caritas in Veritate.
I do not believe I was morally wrong or politically naive to personally give President Obama the benefit of the doubt and, until he proved otherwise, accept his claims of wanting to 'work with' pro-lifers at face value. I believe prudent and ethical politics, as well as the requirements of Christian charity, placed such an obligation on me, though I understood why some Catholics strongly disagreed. Even just recently I wrote a blog suggesting that we should not engage in nasty rhetoric against the president – and for the most part, I still believe that.
But with Obama's selection of Dr. John P. Holdren to "Director of the White House Office of Science and Technology Policy", among a few other high positions – and with the recent revelations of what this man, along with his co-authors, advocated in a 1977 book called Ecoscience (of which I was entirely ignorant), I believe the benefit of the doubt has just been cut.
This gave me a chuckle as our President Obama continues to blame America for every ill in the world.
Listening to this week's EconTalk interview with Alan Wolfe, author of the recently released The Future of Liberalism
, I was struck by the following quote from the book, "Modern liberalism promises equality through what [Isaiah] Berlin calls a positive conception of liberty. It is not sufficient for me merely to be left alone [which is negative liberty]. I must also have the capacity to realize the goals that I choose for myself. If this requires an active role for government, then modern liberals are prepared to accept state intervention into the economy in order to give large numbers of people the sense of mastery that free market capitalism gives only to the few."
In discussion with host Russell Roberts, himself quite libertarian, Wolfe says that liberals do and should concede that at times empirical evidence will show that such government intervention actually reduces personal autonomy, in which case he advocates changing one's position. He cites school choice and welfare reform as to examples of traditionally conservative positions he has adopted because he considers that these were both cases of alleviating dependence created by government programs.
But the examples that Wolfe provided of intervention to assure positive freedom struck me as interesting, and provided me with some insight into how thoughtful liberals view the world.
With the announced retirement of Supreme Court Justice David Souter President Obama wasted no time in addressing the issue of what he's looking for to fill this vacancy.  In so many words he clearly stated his desire for an activist judge with an eye towards reengineering America [emphasis and comments mine].
"It is also about how our laws affect the daily realities of people's lives [meaning he wants a Justice who holds fast to the Living Constitution Theory,ie, an activist judge finding invisible law where none existed], whether they can make a living and care for their families, whether they feel safe in their homes and welcome in their own nation."
The following excerpt clearly reveals President Obama's contempt for legislative history in effect eliminating a potential nominee that adheres to the theory of original intent.
"I will seek someone who understands that justice is not about some abstract legal theory or footnote in a casebook."
One thing is for sure, it will be an extremist liberal and pro-abortion nominee.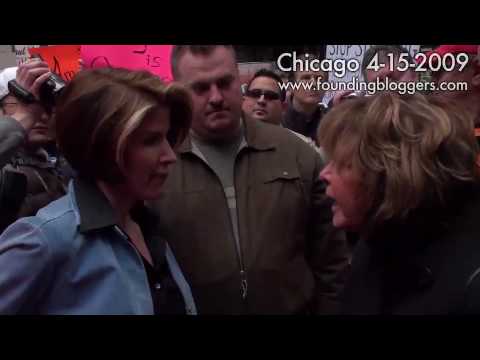 Yesterday in my Spirit of 09 post I linked to a video from CNN which depicted a clash between CNN reporter Susan Roesgen and tea party protestors in Chicago.
[I'm aware we have just entered into the Lenten season and should be reflecting on more serious matters, but this was too good to pass up -- bear with me.]
Last week a group of "student-empowering, social-justice-minded" students and assorted ragamuffins and rabblerousers from neighboring colleges (many affiliated with TakeBackNYU) had the stunningly-brilliant idea of barricading themselves in a food court in New York University's Kimmell Center, "in a historic effort to bring pressure on NYU for its administrative and ethical failings regarding transparency, democracy and protection of human rights."
Robert Stacy McCain has a brilliant column here on the death of the idea of a liberal and libertarian alliance.  Libertarian sites are noted for their scorn of traditional conservatives.  It will be amusing to see how much their economic and small government ideas need to be trashed before they decide that government sanctioned hedonism is not satisfactory compensation for paying for the socialization of America.
Goodness knows, there are lots of ways that liberals and conservatives manage to annoy each other. Still, one that has struck me recently is an odd sort of bragging rights.
One of the main divisions between these groups at this point in time is over how the less vulnerable in society are best provided with care. The liberal view is generally that comprehensive government programs should be set up to assure that everyone in society has a certain basic level of food, income, medical care, housing, babysitting, rice pudding, etc. The conservative view is generally that guaranteed government handouts create dependency and hurt people in the long run, and that short term help for those in trouble is generally better provided by family, church or private charity.
The problem comes when members of these two groups get together and start arguing about how to help others.