Liberalism
In his encyclical Aeterni Patris, Pope Leo XIII sought to advance the restoration of Christian philosophy against the modern trends of secular philosophy, emerging from Enlightenment rationalism. The critique of modern intellectual errors and the way in which such false thinking manifests itself in the world has deeply shaded my personal reflection on the tragedy of legal abortion.
Throughout the last few years and specifically the last decade or so, the voluminous number of kooky quotes and statements coming from religious believers (heterodox Catholics included) and non believers alike is mind boggling. It can't but help push the reasonable minded into the Catholic Church. Most casual observers are familiar with the number of high profile converts and reverts to the Catholic Church in the last 25 years or so. They range from theological luminaries like Dr Scott Hahn and Dr Francis Beckwith to political figures like Deal Hudson, Laura Ingraham and former Speaker of the House Newt Gingrich. Many like them have come to the Church after years of study and reason, but many also have come to the Church after years of seeing their particular religious denomination become unrecognizable.
The latest world calamity has given us two examples of sheer kookery coming from a religious leader and a secular voice. After the horrific earthquake that left the western world's most impoverished nation in tatters, the Reverend Pat Robertson chimed in with a quote that was not only tragically insensitive but historically inaccurate. The onetime presidential candidate (who actually came in second in the 1988 GOP Iowa Caucus) and a leading voice of the Evangelical world blamed the earthquake on Voodoo, a cult that sadly far too many people practice in Haiti.  Robertson voiced his opinion on his popular 700 Club television program. Robertson repeated the fundamentalist canard that in the early 1800s the leaders of a slave revolt fighting against French colonial forces forged a pact with the Satan to thrown off the chains of their oppressors.
Michael McConnell, a Law Professor at Stanford, offers this in a First Things review of Philip Hamburger's new book titled Law and Judicial Duty:
Hamburger traces the development of modern conceptions of the law to the realization, in Europe and especially Britain, that human reason rarely provided clear answers to moral questions and therefore that an attempt to ground law in divine will, or a search for abstract reason and justice, would inevitably lead to discord. As a result, "Europeans increasingly located the obligation of law in the authority of the lawmaker rather than the reason or justice of his laws." The task of judges, then, was not to seek after elusive notions of justice and right reason but to enforce the law of the land. Natural law shifted in emphasis from moral content to legitimacy and authority, and increasingly to an understanding of authority based on the will of the people.
This seems to me a profound explanation of how and why we understand law today the way we do. It simultaneously shows you what is wrong with the modern conception of the law and what is right.
[Updates at the bottom of this posting as of 3:03am CDT on AD 9-10-2009]
President Obama's speech covered many topics, lets first layout our President's plan:
I. Keep the health insurance you have now.
1.  Pre-existing symptoms or disabilities no longer will disqualify anyone from coverage.
2.  No spending caps set by insurance companies.
3.  No drop in coverage in the middle of an illness.
4.  Limit on out of pocket expense.
5.  Minimal requirements of coverage.
II. Public Option & Exchange

1.  When losing your job you have the Public Option if you can't afford insurance.
2.  Insurance exchange markets will be required for insurance companies to participate in.
3.  Tax credits for small businesses.
4.  In theory this will not lead to a government take over.
[Updates at the bottom of this post as of 5:52am CDT on AD 9-9-2009]
News is emanating from the White House that President Obama's monumental speech will push for the infamous public option.  It is well known that most Republicans will call this a deal breaker but at the same time liberal Democrats will say the opposite that no Health Care bill will get through if it doesn't contain a public option.
Jonathan Weisman and Janet Adamy have reported in the Wall Street Journal that President Obama will be pushing for the public option.  It is also being reported that there will be penalties imposed to those that are not paying for Health Care, regardless of the reasons.
White House aides acknowledged they expect little Republican support if any.
Darwin Catholic's post about the educational system and the possible benefits of promoting a myth of equality got me thinking about the essential differences between liberals and at least the kind of conservative I think I am becoming.
That is, a kind of conservative that is opposed to excessively concentrated wealth in private hands, for the following reasons: 1) it can easily lead to concentrated political power that is less accountable, 2) in the midst of poverty – even if one wishes to argue that it is not a cause of poverty – it inspires class envy and hatred, 3) it has the potential to be terribly and sinfully wasted on frivolities instead of charity and/or social investment.
People at various points in the ideological spectrum have pointed out it's a little odd to see conservatives objecting to the idea of the government deciding what medical procedures ought not to be covered, when they're apparently okay with insurance companies deciding what procedures ought not be covered, or with people not being able to afford procedures because they lack good insurance. However, it strikes me this difference may actually make a fair amount of sense, both for some pragmatic reasons and some emotional/ideological ones.
[Update at the bottom as of 7:39 pm CST for 8-21-2009 AD]
President Obama's Health Care push has suffered a couple of setbacks.  First they removed the end-of-life provision and
now the President has removed the public option.
The Democrat and Liberal attempts at demonizing the American people having failed, President Obama could be beginning to understand that we don't want socialized medicine.
Now come reports that the Obama Joker poster artist is a left-wing extremist, and a Dennis Kucinich supporter to boot.  Not the white, conservative, racist that the mainstream media was accusing the artist of being.
In other news CBS News has reported that the liberal-oriented A.A.R.P. has lost approximately 60,000 members since the video showing an A.A.R.P. representative belittling members at a town hall meeting.  The American Seniors Association has gained 5,000 new members, a rival organization to the A.A.R.P. and significantly less liberal.
CBS News reported that the A.A.R.P. response to the exodus of members as 'with 40 million members that adds hundreds of thousands each month, losing 60 thousand is just a drop in the bucket.'
Update I:  I forgot to place the American Seniors Association weblink here.
Update II: The 60 Plus Association is experiencing a spike in members following A.A.R.P.'s endorsement of ObamaCare.
Isn't it obvious that most of our American ancestors came over from Europe because they wanted life, liberty, and the pursuit of happiness?  They fled totalitarian regimes, socialist governments, and anti-Christian repression for the freedom that is afforded all Americans.
We have the best health care in the world precisely because it is not operated by the government.  Private industry drives innovation, government regulation or government-run health care eliminates innovation, awards bureaucrats, and ultimately leads to marginal health care in the long run.
We are Americans, not Europeans.  Yet President Obama, Congressional Democrats, and well-meaning liberals and progressives want to emulate European health care programs.  What Europeans have is not necessarily right nor good.
Today Senator Chuck Grassley, the top Republican on the Senate Finance Committee, said that senators are excluding a provision on end-of-life care from the House bill.  This is a major victory for ordinary Americans.
As senior citizens voice their displeasure with "death-panels" and other provisions in the House bill, the Democrat leaders are grudgingly realizing that maybe, just maybe, some provisions in their House bill will not pass with the American public.
The most recent polls show that the demonizing tactics of President Obama and Speaker Pelosi have failed to cover the growing grassroots activism that is rising among ordinary Americans.
The American Association of Retired Persons, A.A.R.P., Vice-President Drew Nannis refused to apologize for how his organization treated their members in a recent town hall meeting.  In that town hall meeting, the A.A.R.P. representative refused to listen to the members and abruptly ended the meeting after what seemed to me as frustration on her part.
Drew Nannis referred to those A.A.R.P. members that voiced their disagreement with A.A.R.P.'s support of ObamaCare as "a bunch of people yelling."
If you take Mr. Nannis' word, he did say that they recently had another town hall meeting, which he refers to as a listening tour, in Dallas where the same moderator and many of the same members did meet and have a much more cordial exchange of views and ideas.
Philip Klein of The American Spectator noted A.A.R.P.'s cozy relationship with President Obama:
Its CEO, Barry Rand, who was a major Obama donor, has gotten cozy with the administration, and along with the rest of the top brass at the Washington headquarters, has decided to support liberal policies.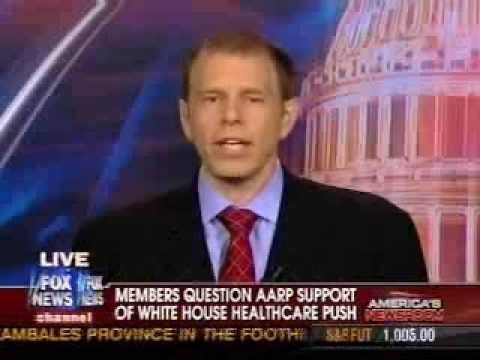 It's been an interesting week in the world of American politics.  With the arrogance of congressional Democrats and the White House attempts at discrediting a grassroots movement, the passions will certainly continue to climb after the weekend is over.
Here are some highlights from these past few days:
1. At a town hall last week in Dallas, an elderly "mob" with "manufactured" outrage questioned AARP's support for nationalized health care, asking: "Do you work for us or do we work for you?"
There were no swastika-wearing grannies at Tuesday's meeting, as House Speaker Nancy Pelosi might claim. Nor were they "taking their cues from talk show hosts, Internet rumor-mongers . . . and insurance rackets," as Senate Majority Leader Harry Reid has said.
But they were mad as hell at the perception that AARP was selling them out in the name of government-run medical insurance. That perception was not helped when the AARP town hall on the subject was shut down by the seniors outfit once the members dared to ask questions. The AARP representatives did not want to hear from the members at all. Just send in your dues, granny, and be quiet.
To read the rest of this IDB Editorial click here.
2. You've heard a lot about this crazy, scary, vicious mob on some shadowy GOP payroll. By the way the DNC, Rachel Maddow, and President Obama talk, you'd think it was a motley crue of Hell's Angels.
Let me introduce you to the mob: