Liberal Extremists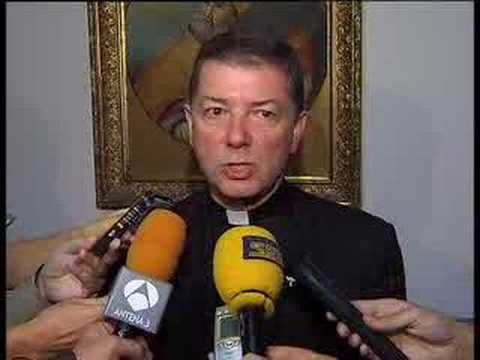 On Sunday I received a request from a Catholic blogger for my suggestions for readings in regard to the Spanish Civil War, a subject which I have always found fascinating.  Here is my response:
The go to man on the Spanish Civil War is Stanley Payne.  He has been writing on the conflict since the Fifties.  He interviewed many of the leaders of the various factions in the Fifties, Sixties and Seventies.  Originally a man of the Left, I think it would be fair now to call him a conservative, but what he is above all is a first class historian.
Helen Thomas, the Deaness of the Washington Press Corps, delivered the above charming sentiments at a Jewish Heritage Celebration at the White House on May 27.  Thomas has been a left wing loon forever, and has always been hostile to Israel, but here she let the mask slip to reveal the bigot within.  She later made a perfunctory apology for saying what she obviously believes with all her heart.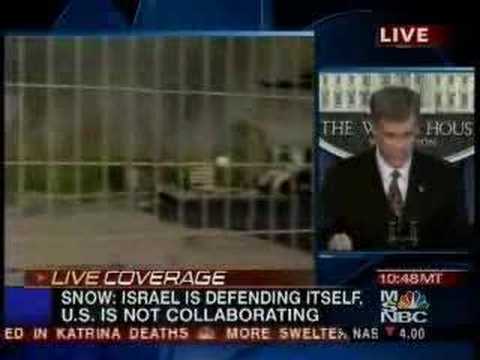 185 news articles, blurbs, blogs, columns, and other scraps of Internet. 185, as of 11:40 p.m. Arizona time today. 185 pieces of electronic information posted on what is perhaps the most asinine news item of the day: Arizona governor Jan Brewer's statement about her father. This is what Brewer said:
"Knowing that my father died fighting the Nazi regime in Germany, that I lost him when I was 11 because of that… and then to have them call me Hitler's daughter. It hurts. It's ugliness beyond anything I've ever experienced"
The governor was of course responding to the tiresome and blatantly unfair criticism directed at her and most of the state of Arizona over SB 1070, a bill that several Obama regime hacks can't even be bothered to read before resorting to vilification. This is not to say that legitimate criticism of the bill isn't possible, of course, but that isn't what caused Brewer personal harm.
It's fairly common for advocates of more liberal social policies to point out that "red states" tend to have higher rates of divorce, teen pregnancy, etc than "blue states". This is taken to suggest that, however much conservatives may go on about "family values", it is actually more liberal social values which are best for families. Ross Douthat does a good job of addressing this mentality in his column from last Sunday, in which he takes a closer look at some of these "family values" statistics.
Today, couples with college and (especially) graduate degrees tend to cohabit early and marry late, delaying childbirth and raising smaller families than their parents, while enjoying low divorce rates and bearing relatively few children out of wedlock.

For the rest of the country, this comfortable equilibrium remains out of reach. In the underclass (black, white and Hispanic alike), intact families are now an endangered species. For middle America, the ideal of the two-parent family endures, but the reality is much more chaotic: early marriages coexist with frequent divorces, and the out-of-wedlock birth rate keeps inching upward.
Continue reading →
I'm not sure I ever expected to wake up to read the New York Times coverage of a new nominee to the Supreme Court and find myself in agreement.
Of course, they think she'll be a fine justice and I think she's a pro-abort and could do without her. I also think she looks like Ursula from "A Little Mermaid," which is less a comment on her than it is a comment on how many Disney movies I watch with my wife (curse you, Disney movie club!). That's not what we agree on.
What we agree on is that she is a stealth candidate and that just by itself makes us uncomfortable. The official editorial reads:
President Obama may know that his new nominee to the Supreme Court, Elena Kagan, shares his thinking on the multitude of issues that face the court and the nation, but the public knows nothing of the kind. Whether by ambitious design or by habit of mind, Ms. Kagan has spent decades carefully husbanding her thoughts and shielding her philosophy from view. Her lack of a clear record on certain issues makes it hard to know whether Mr. Obama has nominated a full-throated counterweight to the court's increasingly aggressive conservative wing.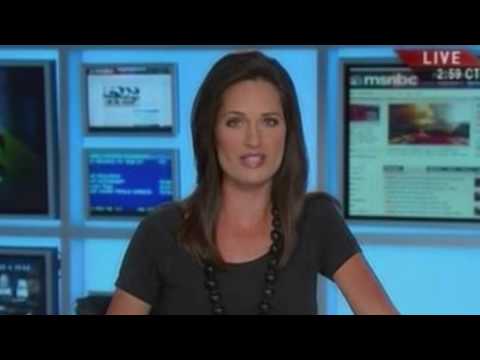 A round up of various political items of interest:
1. We lead off with the above video.  Contessa Brewer, MSNBC's representative journalist for the empty-headed bimbo demographic, is just so darned ticked off that the Time's Square Would Be Bomber turned out to be a jihadist and not, presumably, some more politically correct villain.  This perhaps is of limited political significance, other than to demonstrate yet again that MSNBC should only be viewed for purposes of unintentional humor.
2. David Obey (D. WI.) announced his surprise retirement.  When Obey was first elected to Congress in 1968 I was 11 years old.  Needless to say, it is long past time for him to be moving on to other things after 42 years, but his retirement this late in the campaign season indicates to me that this was not planned far in advance, and probably was due to the fact that he was facing a tough race and the prospect of the House flipping to the Republicans. This is bad news for the Democrats as it puts one more Democrat seat in play and is yet another sign of the political disaster awaiting the Democrats in November.
Brilliantly, smashingly, in this column.
My favorite part:
That's Arizona. To the coastal commentariat, "undocumented immigrants" are the people who mow your lawn while you're at work and clean your office while you're at home. (That, for the benefit of The New York Times' Linda Greenhouse, is the real apartheid: the acceptance of a permanent "undocumented" servant class by far too many "documented" Americans who assuage their guilt by pathetic sentimentalization of immigration.) But in border states, illegal immigration is life and death. I spoke to a lady this week who has a camp of illegals on the edge of her land. She lies awake at night, fearful for her children and alert to strange noises in the yard.
I could add a lot more, and I may in the days to come. For now, Steyn and others are saying what needs to be said in defense of AZ. Even if you disagree with the law, the way the far-left, and sadly, certain Catholic bishops, are now treating AZ is despicable.
There can be no friendship and no discussion with such people.
In 2010 the Catholic Church in particular and Christianity in general are under attack because age old truths are being abandoned for the Dictatorship of Relativism. One might ask; how did we get here? It didn't happen overnight; as a matter of fact many of those doing the rebelling actually think they are doing us all a favor.  Centuries and millennium evolved into a construct of rebellion where self appointed leaders who thought knew better than the Church and society itself tried to change all that was sacred and holy into something, they but most importantly their friends in the intelligentsia, could accept. Too many cooks in the kitchen can be bad for your acquired culinary tastes, but when truth is watered down it is something entirely different and far more serious. In this instance, we are talking about souls, not taste buds.  If this is so then how could the thesis of my book, The Tide is Turning Toward Catholicism be true? The answer is simple because the world is getting closer and closer to the precipice. Some may chose to jump but thankfully more will chose to come back from ledge into the world of reality and when they do they will see the many positive developments happening in the Church. One's own mortality has a way of causing self preservation.
Diane Francis, a columnist with the Financial Post, a Canadian newspaper, has a column here calling for a global one child policy.
A planetary law, such as China's one-child policy, is the only way to reverse the disastrous global birthrate currently, which is one million births every four days.
The world's other species, vegetation, resources, oceans, arable land, water supplies and atmosphere are being destroyed and pushed out of existence as a result of humanity's soaring reproduction rate.
Ironically, China, despite its dirty coal plants, is the world's leader in terms of fashioning policy to combat environmental degradation, thanks to its one-child-only edict.
The intelligence behind this is the following:
-If only one child per female was born as of now, the world's population would drop from its current 6.5 billion to 5.5 billion by 2050, according to a study done for scientific academy Vienna Institute of Demography.
-By 2075, there would be 3.43 billion humans on the planet. This would have immediate positive effects on the world's forests, other species, the oceans, atmospheric quality and living standards.
-Doing nothing, by contrast, will result in an unsustainable population of nine billion by 2050.
Although I think this proposal of Ms. Francis is both evil and insane, I do give her props for saying out loud what many environmental hysterics only hint at:  Man is the problem.  Eliminate as many humans as possible and the environment can by saved to be enjoyed by the anointed few like Ms. Francis.