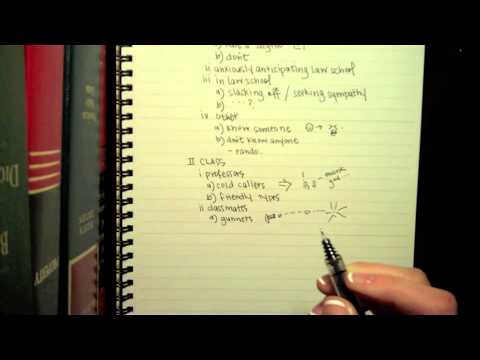 Yesterday, when I should have been working on a myriad of tasks piled high on my desk, I took time out for about an hour to take part of an LSAT, Law School Admission Test, practice test on-line.  My son, who is half way through his junior year at the University of Illinois, and who wants to be an attorney in spite of my warnings, has begun preparation for taking the LSAT next year.  Go here to read, or if you are a masochist take, parts of an LSAT sample test.  After an hour or so of this I was overjoyed at the fact that I am a third of a century beyond having to take the LSAT!  When I took the LSAT for the first time in the fall of 1979 I bombed it, which is unsurprising since I had done almost no prep for it.  I took it again and jumped a hundred points, the test used a different grading scale back then, which was not supposed to be possible.  I assume that I must have learned something from the first attempt to take the test.  All I recall is that after my second attempt I was certain that I probably had done far worse than my first attempt.  This trip down memory lane has caused me to recall some aspects of law school that I have not thought much about, or repressed, lo these three decades.  Here are some of them.
1.  Law School Taught Me Little About Being a Lawyer-  Considering that I spent three years of my life doing it, it is astounding to me how little I learned in law school about actually being a lawyer.  Actually it is not astounding.  Most law school professors have very little experience in being attorneys.  Take them out of their little niche of knowledge as to the law and most of them have little to impart, except moth-eaten stories about their halcyon days as young clerks to Justices so and so.  I often heard them say that they assumed that we could find our way to the court-house door.  Well sure, but what to do after I got there took me, literally, five years of trial and error, and a rugged five years it was for me and my clients.  There is something wrong about a system of professional education that teaches you little about the profession.
2.  Moot court-the exception-The only class in law school where I learned something about the nuts and bolts of the profession was moot court which was run by actual attorneys and judges.  That gave me an inkling that law school and the practice of law were like comparing a movie about flying to actual flying.
3.  The first year-Most law students regard their first year as a hellish experience and mine certainly was.  I routinely stayed up until 1:00 AM reading cases.  The boredom and tedium were unbelievable.  Classroom was somewhat better, as I enjoyed the Socratic method at least by those professors able enough to do it well.  Alas that was not the case with most of my professors, quite a few of whom who would ask a few perfunctory questions and then lecture non-stop.  However, some were quite good at it.  The standout for me was Wayne LaFave who taught Criminal Procedure.  Although I didn't think at the time I would do any criminal law, I took every course he taught, a fortuitous event since I did end up doing a fair amount of criminal defense and he was the go to expert in the field of search and seizure.  Professor LaFave has retired from full-time teaching and I regret that my son will not be able to have the same experience that I did.  His class my first year was a bright spot in a bleak landscape.
4.  Social Life-What's That?-My undergrad girlfriend went off to SIU to go to law school.  She did not really want to go to law school and she flunked out.  That was probably fortunate for me, as a first year law student had little time for socializing if they were not going to flunk out.  I dated little in my first year or my second year.  In my third year I met my wife and the rest has been a happy thirty years for me.  Some law students dated each other which I always thought was a mistake.  The last thing I wanted to think or talk about on a date was the law, and law students, like lawyers, will usually talk about the law when they get together. Continue reading →