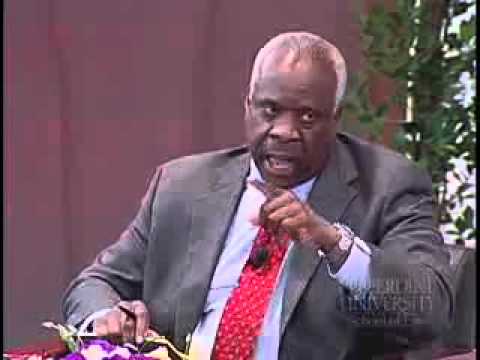 One of the more interesting figures in American public life is Justice Clarence Thomas:
Thomas spent his childhood in a place and time in which businesses and government services were legally segregated. In his 2007 memoir, "My Grandfather's Son," he described his experience growing up as an African-American Catholic in Georgia during the Jim Crow era. "I was a two-fer for the Klan," he said.
Thomas moved north from Georgia and graduated from Yale Law School in 1974. He went on to a successful judicial career that took him all the way to the Supreme Court. Thomas' views on constitutional issues usually put him on the conservative side of the court, where he has penned opinions intended to rein in affirmative-action laws and overhaul a section of the Civil Rights Act that requires states with histories of discrimination to seek approval from the federal government before altering voting policies.
Throughout his career, Thomas said, he has experienced more instances of discrimination and poor treatment in the North than the South.
"The worst I have been treated was by northern liberal elites. The absolute worst I have ever been treated," Thomas said. "The worst things that have been done to me, the worst things that have been said about me, by northern liberal elites, not by the people of Savannah, Georgia."
As one of six Catholics on the court, Thomas also addressed the role his faith plays in his work as a justice.
"I quite frankly don't know how you do these hard jobs without some faith. I don't know. Other people can come to you and explain it to you. I have no idea," he said. "I don't know how an oath becomes meaningful unless you have faith. Because at the end you say, 'So help me God.' And a promise to God is different from a promise to anyone else."
Go here to read the rest.  Thomas was raised by his cantankerous maternal grandfather Myers Anderson, a man with little education but who through hard work built a thriving business selling fuel oil and ice.  He worked Clarence and his brother liked rented mules, and imprinted on them the value of hard work, promising them that if they worked hard enough, and got an education, they could be anything they wanted to be, having nothing but scorn for the idea that white racism could stop them.  Thomas has said simply that his grandfather is the greatest man he has ever known. →']);" class="more-link">Continue reading →