Joseph Cardinal Ratzinger
"You all remember," said the Controller, in his strong deep voice, "you all remember, I suppose, that beautiful and inspired saying of Our Ford's: History is bunk. History," he repeated slowly, "is bunk."
             
 He waved his hand; and it was as though, with an invisible feather wisk, he had brushed away a little dust, and the dust was Harappa, was Ur of the Chaldees; some spider-webs, and they were Thebes and Babylon and Cnossos and Mycenae. Whisk. Whisk–and where was Odysseus, where was Job, where were Jupiter and Gotama and Jesus? Whisk–and those specks of antique dirt called Athens and Rome, Jerusalem and the Middle Kingdom–all were gone. Whisk–the place where Italy had been was empty. Whisk, the cathedrals; whisk, whisk, King Lear and the Thoughts of Pascal. Whisk, Passion; whisk, Requiem; whisk, Symphony; whisk …
 
Aldous Huxley, Brave New World
As a parting "gift" to the nation, the lame duck Democrat controlled 111th Congress passed legislation yesterday repealing "Don't Ask, Don't Tell", and now homosexuals may serve openly in the military.  The interesting secret about "Don't Ask, Don't Tell" is that it tended to be an escape mechanism out of the military for homosexuals, and those claiming to be homosexuals.  In recent years about 500 individuals have on average been discharged annually with about 80% announcing their homosexuality in order to be released from service.  I quote Melissa, a lesbian and a former medic, on how "Don't Ask, Don't Tell" has worked in practice:
Many people used the "Im gay" tactic to get out of BCT (Basic Combat Training), or AIT (Advanced Individual Training) when I first enlisted. If the dont ask dont tell policy is repealed, this will help to stop "cowards" from enlisting. DADT was a cop out beyond recognition that people used to escape the military life, pre-deployment/assignment, and post-deployment.
 I assume that the number of homosexuals in the military is relatively small, probably as a fraction of the military less than the percentage of the adult population that is homosexual.  The impact of the change in policy is difficult to say since no militaries that actually fight wars, as opposed to the militaries of most European powers that are now largely ceremonial in nature, have long track records of homosexuals openly serving. 
I fear that the military will now come under pressure to make  the military a "welcoming environment" for homosexuals, and that troops who hold to a moral code that regards homosexual conduct as morally abhorent, the overwhelming consensus in Western culture from the triumph of Christianity until around 1970, will find themselves under increasing pressure to conform to the belief that, in Jerry Seinfeld's phrase, "there is nothing wrong with that" in regard to homosexuality. 
 Of course that is the whole purpose for this farce, just as with "gay marriage":  to put the imprimatur of the State on the idea that homosexuality and heterosexuality are morally equivalent and that only benighted bigots think otherwise.  This of course is directly contrary to the teaching of the Church as clearly pointed out by then Cardinal Ratzinger in 1986:
7. The Church, obedient to the Lord who founded her and gave to her the sacramental life, celebrates the divine plan of the loving and live-giving union of men and women in the sacrament of marriage. It is only in the marital relationship that the use of the sexual faculty can be morally good. A person engaging in homosexual behaviour therefore acts immorally.
To chose someone of the same sex for one's sexual activity is to annul the rich symbolism and meaning, not to mention the goals, of the Creator's sexual design. Homosexual activity is not a complementary union, able to transmit life; and so it thwarts the call to a life of that form of self-giving which the Gospel says is the essence of Christian living. This does not mean that homosexual persons are not often generous and giving of themselves; but when they engage in homosexual activity they confirm within themselves a disordered sexual inclination which is essentially self-indulgent.
As in every moral disorder, homosexual activity prevents one's own fulfillment and happiness by acting contrary to the creative wisdom of God. The Church, in rejecting erroneous opinions regarding homosexuality, does not limit but rather defends personal freedom and dignity realistically and authentically understood. Continue reading →
[Updated Below]
Wikileaks information has been disclosed by Rome Reports that the U.S. intelligence services were completely caught off guard and surprised at the election of then Joseph Cardinal Ratzinger, now Pope Benedict XVI.
[Found another YouTube video that works]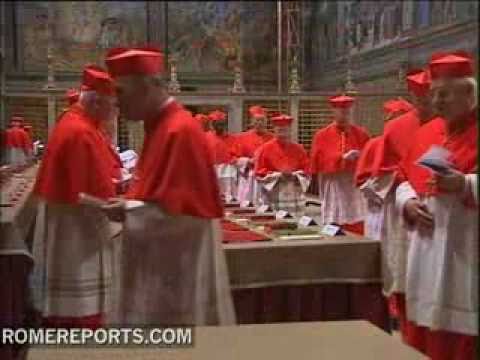 Updated as of 10:40am Central time, 11-30-2010 AD:
U.S. intelligence was expecting a Latin American as the next pope, and predicted that then Joseph Cardinal Ratzinger would have lost in the first round voting.
The rest from Father Zuhlsdorf:
Before the election the staff of the US embassy to the Holy See sent speculations to Washington about the one to be elected.
"The first factor will be age, the cardinals will seek someone who is neither too young nor too old, because they don't want to have another funeral and conclave quickly" but "they also want to avoid having a long pontificate like that of John Paul II."  Furthermore, "it will be a person in reasonably good health".  Another element will be "linguistic ability" and he will have to know Italian.
My second favorite living historian, Michael Burleigh, who has written stunningly original works on subjects as diverse as Nazi Germany, religion and politics in the last two centuries,  terrorism, and morality and World War II,  has taken up the cudgels against the despicable attitude of many Brits of the chattering classes regarding the visit of the Pope to the Island next to Ireland.
Under normal circumstances, one might say "welcome" rather than "receive". But the multiple sexual scandals that have afflicted parts of the Catholic Church have created a window of opportunity for sundry chasers of limelight – including human rights militants, crusading gays, Islamist fanatics, and celebrity God-botherers – to band together to "arrest" the Pope under laws so obscure that few knew they existed. Because child abuse is involved, rather than the more widespread phenomenon of homosexual predation on young men, these manifestations will receive much media attention, especially from the BBC, to the guaranteed perplexity of a less involved general public in a nominally Protestant country. It will require some effort of mind to tune out this noise to hear what the Pope will be saying.
In our world today we are living in what I would refer to as the Liberal Dystopia of Political Correctness.  This thing that our current Holy Father warned us about.
As secular humanism continues its march towards a Dictatorship of Relativism we innocent bystanders suffer the consequences of its fruits when prejudice is rewarded and common sense rejected.
Five years ago this month, in the Mass prior to the Conclave of 2005 A.D., then Joseph Cardinal Ratzinger warned us in his homily that:
"We are building a dictatorship of relativism that does not recognize anything as definitive and whose ultimate goal consists solely of one's own ego and desires."
An excellent example of this dictatorship of relativism or as I would name it, liberal dystopia, is the United Kingdom's Foreign Office anti-Catholic memo on the preparation of Pope Benedict's visit to Britain.
In this event Anjoum Noorani, another Oxford educated civil servant* of the U.K. Foreign Office, who headed the Papal Visit Team that was planning the Pope's visit to Britain was only verbally reprimanded for his part in approving and distributing the anti-Catholic memo.
What makes this worse is that the Foreign Office advertised the requirements for the position to lead the Papal Visit Team as "Prior knowledge of the Catholic church is not necessary".
To add some irony the advertisement also stated, "High levels of tact and diplomacy will be required."
I've been asking myself that question as I've read the discussions about the sex abuse scandal and asked it again while I read Ross Douthat's editorial at the NYT this morning. The most pertinent part is this:
But there's another story to be told about John Paul II and his besieged successor. The last pope was a great man, but he was also a weak administrator, a poor delegator, and sometimes a dreadful judge of character.

The church's dilatory response to the sex abuse scandals was a testament to these weaknesses. So was John Paul's friendship with the Rev. Marcial Maciel Degollado, the founder of the Legionaries of Christ. The last pope loved him and defended him. But we know now that Father Maciel was a sexually voracious sociopath. And thanks to a recent exposé by The National Catholic Reporter's Jason Berry, we know the secret of Maciel's Vatican success: He was an extraordinary fund-raiser, and those funds often flowed to members of John Paul's inner circle.

Only one churchman comes out of Berry's story looking good: Joseph Ratzinger. Berry recounts how Ratzinger lectured to a group of Legionary priests, and was subsequently handed an envelope of money "for his charitable use." The cardinal "was tough as nails in a very cordial way," a witness said, and turned the money down.

This isn't an isolated case. In the 1990s, it was Ratzinger who pushed for a full investigation of Hans Hermann Groer, the Vienna cardinal accused of pedophilia, only to have his efforts blocked in the Vatican. It was Ratzinger who persuaded John Paul, in 2001, to centralize the church's haphazard system for handling sex abuse allegations in his office. It was Ratzinger who re-opened the long-dormant investigation into Maciel's conduct in 2004, just days after John Paul II had honored the Legionaries in a Vatican ceremony. It was Ratzinger, as Pope Benedict, who banished Maciel to a monastery and ordered a comprehensive inquiry into his order.

So the high-flying John Paul let scandals spread beneath his feet, and the uncharismatic Ratzinger was left to clean them up. This pattern extends to other fraught issues that the last pope tended to avoid — the debasement of the Catholic liturgy, or the rise of Islam in once-Christian Europe. And it extends to the caliber of the church's bishops, where Benedict's appointments are widely viewed as an improvement over the choices John Paul made. It isn't a coincidence that some of the most forthright ecclesiastical responses to the abuse scandal have come from friends and protégés of the current pope.
Douthat is not alone here; most have pointed out (including Rod Dreher, who left the Church b/c of his disappointment w/ the abuse scandals) that Benedict has gone to great lengths to clean up the mess that his predecessor made. But does a "great" make that kind of mess?
Now I certainly think that JPII is a saint. I don't think that's in question. Interestingly enough, I have not gathered from the media's coverage that they would disagree with that. In fact, I would say that he probably merits very serious consideration as a doctor of the Church for Fides et Ratio and "man and Woman He Created Them: a theology of the body" Heck, I even have a poster of him in my living room (which is useful for showing to Mormon missionaries when they ask if I'm religious).
But having the title of "the great" means something extra than sainthood, doesn't it?
Of course, this is difficult b/c "the great" title has no requirements, no set guidelines. This can be a big deal, as often the rules determine the result (for example: the importance you attach to Superbowl wins affects whether you think Manning or Brady is superior. of course this question is irrelevant b/c Brees is better than both of them but I digress).
Adding further difficulty is determining how significant this scandal is. While I'm sure this has profoundly affected those who have suffered from child abuse, I'm not sure if this will be a big deal thirty, fifty, a hundred years down the road. Right now of course it seems huge but how many people will be aware of it in the coming generations?
For JPII to not be determined great, it would have to be that the sex abuse scandal made enough of a dent in his legacy. This is not a minor feat, as JPII deserves significant credit for stabilizing the Church following Vatican II (setting the stage for the current traditonalist revival), excellent contributions to theology (including Fides et Ratio and Theology of the Body), an excellent charismatic approach that changed the nature of the papacy, and-oh yeah-helping to peacefully bring down the Soviet Union.
I tend to think that in the end, he will be deemed great though for the moment I hesitate to use the term. In the end, I think this storm will pass and we'll be left with the memories of a great man with great accomplishments. But I think it's possible that in reflecting on the failures of JPII's papacy that perhaps we'll choose not to use the term, and that's not a possibility many were entertaining 5 years ago when JPII came into eternal life.
I would really like to know how other people are approaching this problem. Please leave comments.
Of course, one has to think that if Benedict is doing better than JPII, and JPII is "the great", ought perhaps Benedict be up for the term? Food for thought.
Justice exalteth a nation: but sin maketh nations miserable. – Proverbs 13:34
Is there such a thing as a "social sin"? It is out of a respect for my friend Brendan/Darwin that I want to examine and critique his rejection of the idea of social sin, with which I partially agree, but which I believe also leaves out some crucial facts. This is not a point against Brendan/Darwin, since I don't believe he intended his post to be a treatise on the issue. It is rather a point in his favor, since his general considerations give us the opportunity to explore the question in greater detail.
It must be said at the outset that there are obviously different things that one might mean by "social sin." Brendan/Darwin begins his argument with the observation that there are those who become "frustrated" with the emphasis many Christians place on individual failings to the neglect of "social or political sin." There is a significant difference, however, between social and political behavior. My intention is not to split-hairs in order to undermine a valid point (which it is), but rather to highlight the extent to which society and the body politic have become indistinguishable from one another. In my recent essay on the social effects of abortion, I make a distinction between organic and artificial social bonds; the former are those that necessarily follow from man's social nature, while the latter are those created through politics, i.e. laws. Because we are imperfect and often malicious beings, some artificial authority will always be required for men to attain "the highest good." But human laws are not foundational – they are supplemental to natural and divine laws, or at least they were in most places in the Western world until the 19th century.
In some ways, we shouldn't be surprised at all concerning the attacks on Pope Benedict XVI. The Holy Father was never one of the "chosen religious people" loved by the dying group called progressive Christians, or by the mainstream media; that distinctions falls to the National Catholic Reporter, Maureen Dowd, Episcopal Bishop Katharine Jefferts Schori, or the openly gay Episcopal Bishop of New Hampshire, Gene Robinson.
(Point of personal privilege. In my mind, there are two schools of liberals, one is the utopian view, and while I disagree with their unrealistic views of the world, they are in their heart of hearts not nefarious. This group truly believes the world would be a better place if their views were followed. A couple examples of their spiritual gurus would be Jerry Brown and Jerry Garcia.  However the other form of liberalism, which is much more prevalent, is a virulent strain that masquerades as a protector of the less fortunate and a conduit of all things intellectual. Their goal is nothing less than absolute societal control; their godfathers are Voltaire, Nietztche, Karl Marx, Saul Alinksy etc.)
When the Abuse Crisis came to Europe, the mainstream media, and the many within religious reporting circles who despise the conservative social teachings of the Catholic Church, were licking their chops to take a shot at Pope Benedict. Never mind, the huge number of abuse cases coming out of big government circles, or the fact that an overwhelming majority of abusers who were priests were those with views of changing the Church and not respecting her teachings, the mainstream media smelled blood in the water and feeding frenzy was on.
The New York Times article, basically saying then Cardinal Ratzinger looked the other way during the abuse scandal, was so shoddy that even writers from the liberal Jesuit America magazine took note of it. It might behoove those who have fallen for the Old Gray Lady's hysterical rantings to read the quotes of some in the mainstream media praising then Cardinal Ratzinger's handling of the crisis during the later stages of the pontificate of Pope John Paul II.
Why the attack on the Catholic Church one might ask? The Catholic Church is the only Church who is universal, can speak with one voice and has conservative based social views. This coupled with the fact, that she unlike far too many Christian churches, has never lost her belief in the mystical i.e. the Eucharist, miracles, apparitions etc. However, the biggest reason some in the mainstream media attack the Holy Father is that despite all of these "non modern" views, the Catholic Church continues to grow. Adding insult to injury for these modern day Pontius Pilates (what is truth?) the Church continues to grow, young people in particular are draw to devotions like the Rosary and Eucharistic Adoration. Continue reading →
I was inspired to transfer my brain goo to the computer screen over the last couple of hours. Here are the results.  Here's to a more fruitful discussion.
I haven't talked extensively about why I rejected atheistic communism and made my way back to Catholicism. There were a number of reasons; being shown the logical and moral bankruptcy of materialism, the corruption I personally witnessed in the movement, the fact that I could never bring myself to really embrace any of the tenants of the cultural agenda, and so on. The idea of fighting for anything in a universe that did not, and could not care about the outcome of human events could no longer captivate me. I suppose some people are able to convince themselves of the possibility, even the certainty, of "goodness" in a reality that owes nothing to consciousness and will; to me, such a belief, no matter how comforting, would be a lie. And I cannot live a lie.