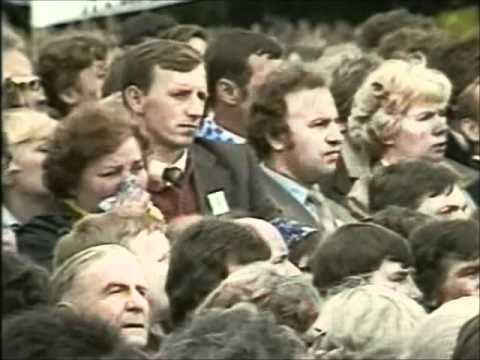 Sometimes a great historical figure is not as recognized as such during his lifetime.  Other historical figures are recognized as monumentally important even while they live.  John Paul II, who was beatified yesterday, was definitely in the latter category.  He was the most important Pope of the last century, and the first pope I think of what will be viewed by future historians as a great Catholic resurgence.  It will take centuries for historians to fully assess his almost 27 year long papacy, but here are some of the factors that I think they will note.
1.  He largely stopped the post Vatican II chaos-After Vatican II the impulse to transform the Church into an institution fully reflecting the current views of cultural elites in the West wreaked much havoc.  Paul VI, a good and holy man, drew a line in the sand with Humanae Vitae, but he lacked the stomach and the will to fight it out with those who would have transformed the Catholic Church into what the Anglican Church is now:  a dying institution, adrift from any allegiance to traditional Christianity, and fully in accord with the mores and beliefs of the secular elite of the West.  Many were rubbing their hands with glee after the death of Pope Paul, in confident assurance that a new liberal pope would complete the transformation of the Church into something akin to Unitarianism with fancy dress.  Instead they got John Paul II, a Polish fighter who had stood toe to toe with the atheist rulers of Poland and was not the least frightened or impressed by the forces that sought to neuter Christ's Church.  The chaos and low morale of the Church could not be completely reversed in one papacy, but John Paul II began the process and made a huge amount of progress.
2.  Presiding at the Funeral of Communism-During World War II, both the Nazis and the Communists slaughtered a huge number of Polish priests, viewing them as deadly enemies.  How very right they were!  The Polish Church, in the midst of one of the worst persecutions sustained by the Catholic Church in the last century, never lost faith that the Church and Poland would both ultimately outlast the totalitarian regimes and emerge triumphant.  John Paul II was the embodiment of this robust confidence that Communism, like Nazism, was merely a brief historical abberation that could and would be defeated.  The rise of Solidarity was completely predictable to him, and his embrace of it made a crackdown by the Polish Communist regime, and its Kremlin puppet masters, impossible.  John Paul II and Ronald Reagan in the Eighties brought about the largely peaceful collapse of Communism in Eastern Europe and laid the groundwork for its collapse in the former Soviet Union.  The heirs of Joseph Stalin learned to their sorrow that the type of power wielded by a skillful and determined pope cannot be counted in divisions but rather in human hearts.
3.  Culture of Life-In the teeth of an overwhelming movement among Western elites to jettison the belief that human life is sacred, John Paul II rededicated the Church to that proposition and waged a long uphill struggle throughout his papacy against abortion and euthanasia.  Like Moses, John Paul II did not live to see the victory in this fight, but ultimately we will win, and his brave stand at a crucial moment in history will be one of the reasons why. Continue reading →