Joe Biden
Joe Biden gives dating advice to the daughters of new members of the Senate.  This video is a prime example of why Biden has always been a figure of fun to me rather than a figure that gets me angry.  Joe Biden is none too bright, as he has demonstrated by his endless gaffes, and a few instances of plagiarism, and I regard his policy positions, notably his pro-abortion position, as appalling.  However, the man does have a certain daffy charm, rather like a sweet old uncle who, at every family reunion, confuses the names of most of his nieces and nephews, specializes in non-sequiturs, and invariably will end up passed out on the pile of coats in the spare bedroom.  Of course, the dazed and confused sweet old Uncle isn't a heartbeat away from the presidency, Heaven help us all, as Joe is.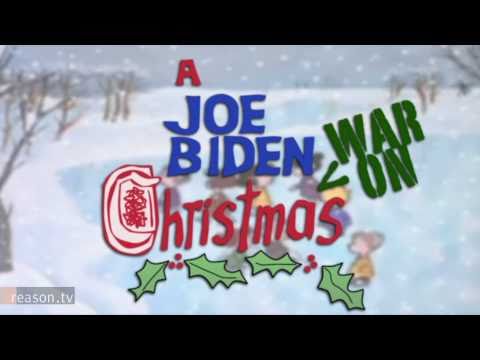 Reason TV has fun with recent statements by Veep and National Clown Joe Biden that the lame duck Democrat 111th  Congress should stay in session up to Christmas in order to pass legislation now that would not have  a prayer of passing after the 112th Congress is sworn in next month.  I think Reason TV is being unfair to Jolly Joe.  I think  he loves Christmas with all of its bright lights, colorful presents and good food, not to mention the day off.  Joe has always been up for a good party, and to say otherwise is simply not true. Continue reading →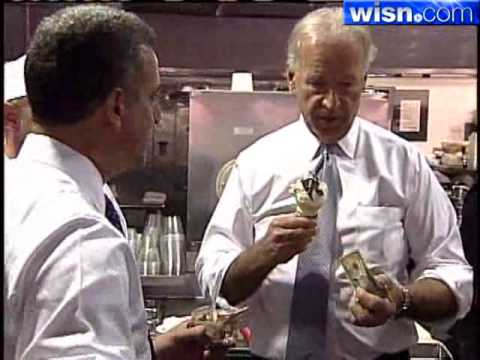 Assuming the polls are correct, obviously a big assumption, the Democrats are in for a very long election night tomorrow.  In the face of devastating election losses, the Dems can rely upon Veep and beloved national clown Joe Biden!  First, we should understand why the Democrats are looking at the electoral equivalent of a wheat farm in Death Valley.  My favorite living historian Victor Davis Hanson explains what went wrong:
Barack Obama entered office; nationalized health care; ran up record $1 trillion deficits; promised to hike taxes on the rich; pushed cap and trade through the House; took over large chunks of banks, insurance companies, and auto corporations; made hard-left appointments from Van Jones to Sonia Sotomayor — and in 21 months saw his positives crash from near 70% in January 2009 to little above 40%, with the specter of near record Democratic losses in the Congress just two years after the anti-Bush/anti-Iraq sweep of 2008.
All the polls of independents and moderates show radical shifts and express unhappiness with higher taxes, larger deficits, a poor economy, and too much government. In other words, the electorate is not angry that Obama has moved too far to the right or stayed in the center or borrowed too little money. A Barney Frank or Dennis Kucinich is looking at an unusually tight race in a very liberal district not because liberals have had it with them, but because large numbers of moderates and independents most surely have.
Yet if one were to read mainstream Democratic analysis, there is almost no acknowledgment that the party has become far too liberal. Indeed, they fault Obama for not being liberal enough, or, in the case of the Paul Krugman school, for not borrowing another trillion dollars for even more stimulus, despite the failure of the earlier borrowing. In fact, Obamaites offer three unhinged exegeses for the looming defeat: a) there is no looming defeat: the Democrats will still keep the House; or b) Obama did not prove to be the radical as promised; or c) the American people are clueless and can't follow science and logic and therefore do not know what is good for them.
Do liberals really believe that had they rammed down cap and trade, borrowed $6 trillion instead of $3 trillion the last 21 months, and obtained blanket amnesty their candidates would be posed to ward off Republican attacks this election year? The problem right now with Greece is that it borrows too little, hires too few, and spends not enough? Continue reading →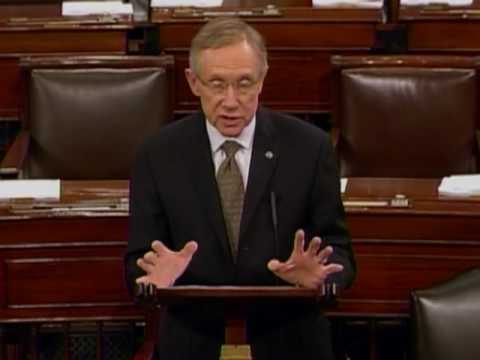 As faithful readers of this blog know, I am Joe Biden's number one fan.  Not for his meaningless job as Veep, which does suit Joe like a velvet nose warmer as long as Obama, please God!, remains in good health.  I am of course referring to his real job:  beloved National Clown.  In these dark days of the Obamacession, he has lightened the national mood with his verbal pratfalls, non-sequiturs, theater of the absurd behavior, inability to think first and talk later and, in general, his heroic willingness to be a fool 24/7 to put a smile on our faces as we stare into the economic abyss.  A tear almost comes to my eye when I think of Joe's unflappable dedication to a comic idiocy which no doubt is being loudly applauded by the  Three Stooges and the Marx Brothers in that land which knows only laughter.  We love ya Joe!
Therefore I can only view with complete alarm the ongoing campaign being waged by Senate Majority Leader Harry Reid to take away from Jolly Joe his status as our National Fool.  True, Harry Reid has always been given to saying wacky things.  For example, in 2008 he referred to Obama as a light skinned negro who didn't speak with a negro dialect unless he wanted to have one.  In 2008 he gave his opinion of tourists in Washington:  "You can always tell when it is summertime because you can smell the visitors. The visitors stand out in the high humidity, heat, and they sweat."  In 2009 he referred to tea-party members as "evil-mongers".  So a certain level of daffiness is standard operating procedure for Reid. Continue reading →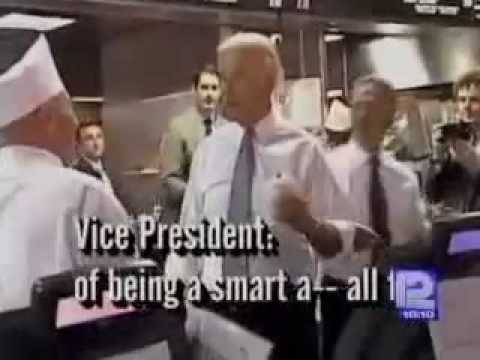 The antics of our unofficial national clown continues.  Thank you for always being willing to create comedic situations to lighten our mood Mr. Vice President in these dire economic times.  Additionally, rest assured that no one will ever call you a smart "donkey". Continue reading →
[Update below]
It's Ash Wednesday and comic relief has arrived with our illustrious Vice-President Joe Biden!
Biretta tip to Thomas Peters of the American Papist.
Update I: Curiously funny video clip of U.K. Sky News host and self-identified Catholic Kay Burley mistakenly thinks the ashes on Biden's is a bruise.
0:29 minute mark of the video clip – Kay Burley makes above remark.
…you can skip the intermittent video of VP Biden bloviating about the successful stimulus package until the…
3:06 minute mark of the video clip – Kay Burley's mea culpa.
On Sunday Harry Thermal of Delaware Online ran a story that said he had the following conversation with the Veep:
Now, one year later, he is dismayed by what has happened to the Senate, and he is trying to convince a reluctant son to run for his former seat.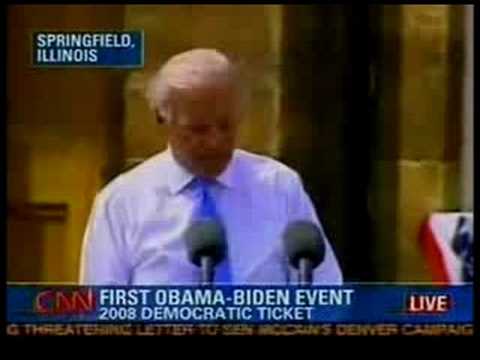 Well what do you know?  Who knew that this Saturday Night Live skit during the campaign accurately reflected Obama's fears?  Apparently Obama was greatly alarmed during the Fall in 08 at his running mate's unending propensity to open his mouth and say something stupid.
The relationship between Barack Obama and Joe Biden grew so strained during the 2008 campaign, according to a new book, that the two rarely spoke and aides not only kept Biden off internal conference calls but refused to even tell him they existed…
[W]hen Biden, at an October fund-raiser in Seattle, famously predicted that Obama would be tested with an international crisis, the then-Illinois senator had had enough.
'How many times is Biden gonna say something stupid?' he demanded of his advisers on a conference call, a moment at which most people on the call said the candidate was as angry as they had ever heard him…
Speaking to his own staff, Biden insisted that it hadn't really been a gaffe. And feeling a bit defensive, he invoked one of the worst memories of Obama's primary campaign.
'I guess it's a good thing I didn't say anything about bitter people who cling to their guns and religion,' Biden cracked, the authors paraphrase. Continue reading →
Tareq Salahi and Michaele Salahi decided to go to  a White House state dinner on November 24.   In a stunning revelation of how lax White House security is, the fact that they were not invited proved to be no hindrance.  Our ever alert Veep and national clown Joe Biden immediately swung into action and had his picture taken with them.
Note to terrorists:  if you want to gain access to a private party at the White House, and the Veep will be there, a good looking blonde gal should prove helpful.  Keep 'em coming Joe!  Your antics are a bright spot during these dark economic days!