Jesus Christ
The song is called Magnificent by the musical group U2.  It was a minor hit in both the United Kingdom and the United States in A.D. 2009 (and a major hit in Greece).
Some entrepreneurial YouTuber recreated the music video and turned it into a pretty decent contemporary 'Christian' music video.  The music video now celebrates the Triune God, the Eucharist, of course the love of God all coupled within a strong Pro-Life message.  There's even a guest appearance of His Holiness, Pope Benedict XVI!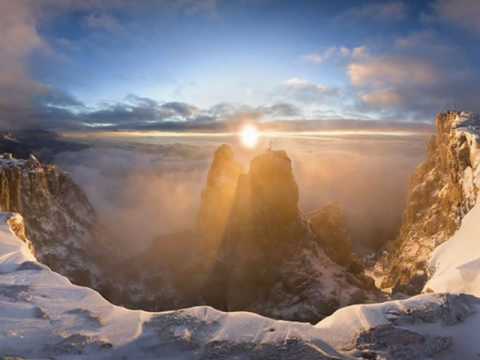 (Biretta Tip: Meg)
Chivalry to me is the call for men/boys to respect women/girls even if they apparently don't respect themselves, or even aggressively market themselves as mere sex objects. The visual hardwiring for males is tough to short-circuit since it is there for some very excellent reasons- but a boy in-training to become a good man, must develop the capacity to say "No" the same as for the girls- and he must learn to divert his eyes rather than feasting on the nearly ubiquitous female forms in various stages of undress parading by our senses. It is no wonder that St.Paul said it was better to marry than to burn, and Jesus laid out some very high standards when He said that lusting for a woman in your mind was adultery- pretty clear advice from someone whose opinions form my own.
I know that girls who don't have close and affectionate relationships with their own fathers will act out sexually at earlier ages to try to fill in a spiritual hole in their hearts. I hope that with my own girls I can reinforce their beauty and worth in the world by showering them with my attentions, my hugs and kisses, and all the verbal and non-verbal affirmations of their excellence and my love for them- with the added bonus of giving all praise and glory to God for them as gifts to me and their mother and the world. They should never have to feel that they "need" some sexually-charged teen to give them the idea that they are special and deserve physical and spiritual affection from a male in their life. I hope and pray that this gives them some invisible support to make the correct choice to wait until marriage for the very special gift of their physical selves to another.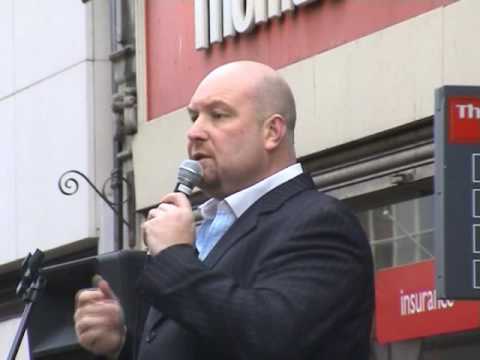 Today is the feast day of the Forty Martyrs of England and Wales, canonized by Pope Paul VI on October 25, 1970.  These very brave men and women were martyred for the True Faith in England and Wales between 1535 and 1679, and they are representative of hundreds of Catholics in these countries who went to their death rather than to renounce their Catholicism.
John Pridmore, a reformed gangster from England, talks elquently about Saint Margaret Clitherow in the above video, and her life is typical of these brave champions of Christ.
Archbishop Charles Chaput writing in First Things this month:
We need to rededicate ourselves to the work of Christian charity and the Catholic soul of our institutions. Charity is a duty for the whole believing community. But is also an obligation and privilege for every individual member of the Church, flowing from our personal encounter with the mercy of Jesus Christ. Government cannot love. It has no soul and no heart. The greatest danger of the modern secularist state is this: In the name of humanity, under the banner of serving human needs and easing human suffering, it ultimately, ironically – and too often tragically – lacks humanity. As Benedict foresees in his encyclical, Deus Caritas Est: Continue reading →
The Transfiguration of the Lord can sound embarrassingly magical. Jesus goes up onto a mountain and his clothes become dazzlingly white. Prophets appear and talk to him. And then it is all over and Jesus tells his disciples to say nothing.

We should hold on to the absurdity of the incident. There is simply no reason for all this to have happened. In particular, there is no reason to put it into a gospel – the evangelist makes no capital out of it, it is simply there.

And this is the strength of the Transfiguration as an historical incident. There is no reason for anyone to have invented it. It is not central to the Christian case. It is not used to win arguments. There is only one reason to put it into the Gospel, and that is because it happened. It is one of those cases of the evangelists writing things down without knowing why they were important, and their very puzzlement is what makes the story so convincing.

Why, then, did it happen? Surely so that we could see and understand that Jesus is at once one of the prophets and the one that was prophesied by them; and that he is God, and lives for all eternity in a blaze of dazzling and unapproachable light.

The true miracle of the Transfiguration is not the shining face or the white garments, but the fact that for the rest of the time Jesus hid his glory so well.
[Reflection courtesy of Universalis.com]
"At that time the disciples approached Jesus and said, 'Who is the greatest in the kingdom of heaven?' He called a child over, placed it in their midst, and said, 'Amen, I say to you, unless you turn and become like children, you will not enter the kingdom of heaven. Whoever humbles himself like this child is the greatest in the kingdom of heaven. And whoever receives one child such as this in my name receives me. Whoever causes one of these little ones who believe in me to sin, it would be better for him to have a great millstone hung around his neck and to be drowned in the depths of the sea.'" (Matthew 18:1-6)
Here is a blog I wrote for fladems4life.org- this is the website for Florida Democrats for Life organization- If you are a Democrat and pro-life you should seriously consider joining the National and State chapters for Democrats for Life. There is a lot of freedom for you to bring your ideals and ideas into these growing organizations. I believe it is mostly a waste of time trying to turn Democrats into Republicans or vice versa- there is a philosophy of governance that pulls deeper than individual issues- even big issues like abortion.
To continue with the building up of a genuine Catholic worldview regarding the nature and purpose of the Political Community- we move on with the authoritative teachings from the Compendium of the Social Doctrine of the Church Chapter 8.
Here I continue with the slow build-up of an authentic Catholic worldview on the true nature of the Political Community- as outlined by the authoritative Compendium of the Social Doctrine of the Church (Chapter 8). This second paragraph contains more of the Old Testament outlook on Kingship, with the earthly kings of Israel finding their deepest fulfillment in Christ the King. But there is more to be said about the political community and responsibilities of citizen(s) and ruler(s). We will see the development in the social doctrine as we go forward through the Compendium's teachings. We cannot point to one specific epoch in the history of the Church and the Chosen People, and make final assertions about things- we must look closely at how the current doctrines of the Church have developed, so we can see the consistent core principles. Here goes with paragraph 378:
Here is an announcement I wrote for my Facebook Cause "Dads Protecting Daughters"):
In creating this cause (Dads Protecting Daughters) to protect my daughters (and son), I thought of it as primarily addressing the threats from the outside- the political/cultural/economic ones. But recently I had a skin cancer scare (should be ok- surgery is June 17 appreciate your prayers).
The zeal for living that my 1 year old son exhibits inspires me. He wants to explore everywhere, he is so quick to find something hilarious, he loves craziness, and he cries with passion whenever he sees his sister crying. One word keeps coming to my mind when I just look at the faces of my kids- Miracle. They keep growing and changing, but this thought keeps coming at me- they weren't even in existence just a few short years ago- but now I can't imagine the universe without them. They started off life as something so tiny they couldn't be seen without a microscope- now they are undeniably eternally significant forces of life and love.
The perpetual virginity of Mary has always been reconciled with biblical references to Jesus' brethren by a proper understanding of the meaning of the term "brethren." The predominant view in Latin Christianity is the "cousins theory" mentioned by Eusebius of Caesarea as a belief of some Christians, but more widely supported by St. Jerome in De Viris Illustribus in the 4th century, as he sought to defend the doctrine of Mary as Ever-Virgin.  This biblical interpretation found favor with the Pope at the time and became widely promulgated, eventually becoming the non-official, but majority view of the Roman church.
With great respect and love of St. Jerome, a celebrated saint and Father of the Church, dare I say, I would like to boldly make a theological argument against his position and that of the majority of Catholics and delineate a just as valid, but arguably more reasonable theological opinion.