Iran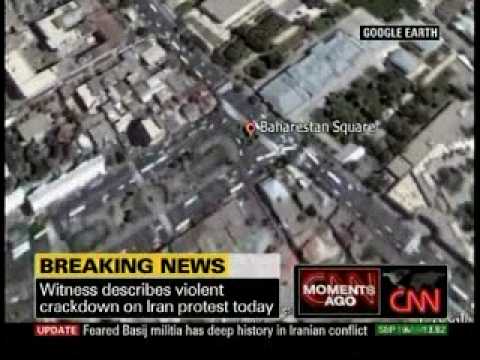 On June 24, the Iranian regime learned a, to them ominous, lesson.  The protests continued in the face of savage brutality from the ruling mullahs.  Atlas Shrugs has first rate coverage here. Gateway Pundit here has been on top of this story from day one.  Ed Morrissey has coverage here of what happened when protesters march on the Parliament building in Tehran today:
Well maybe not, but he is getting closer.  President Obama spoke out strongly yesterday against the attack by the Iranian regime on the Iranian protestors crying out against the transparently  rigged presidential election in Iran.
Aristotle taught that the purpose of tragedy is to inspire pity and fear in the audience, thence causing catharsis, a purging of emotion. I've always found his explanation of tragedy compelling, but as I get older (queue laughter at the thirty-year-old getting "older") I find that I want to achieve catharsis much less than I used to. Not that my life is layered in tragedy or anything, indeed, far from it. But somehow, one just doesn't feel as much like seeking out pity and fear at thirty as at twenty.
This has been running through my head as I've been reading about The Stoning of Soraya M.
In a Death Seen Around the World, a Symbol of Iranian Protests, by Nazila Fathi (New York Times):


Only scraps of information are known about Ms. Agha-Soltan. Her friends and relatives were mostly afraid to speak, and the government broke up public attempts to mourn her. She studied philosophy and took underground singing lessons — women are barred from singing publicly in Iran. Her name means voice in Persian, and many are now calling her the voice of Iran.Her fiancé, Caspian Makan, contributed to a Persian Wikipedia entry. He said she never supported any particular presidential candidate. "She wanted freedom, freedom for everybody," the entry read.

Family, friends mourn Neda Agha-Soltan, Iranian woman whose death was caught on video, by Borzou Daragahi (Los Angeles Times). Neda Agha-Soltan, 26, 'was a beam of light' and not an activist, friends say. The video footage of her bleeding to death on the street has turned her into an international symbol of the protest movement.
In Iran, One Woman's Death May Have Many Consequences, by Robin Wright. (Time) – Neda is already being hailed as a martyr, a second important concept in Shi'ism. With the reported deaths of 19 people on June 20, martyrdom provides a potent force that could further deepen public anger at Iran's regime.
On the protests in Iran, see also From Tehran's Streets: Hope and Rage – A Photo essay from LIFE Magazine. (NOTE: The Tehran-based photojournalist who made these pictures is now missing).
Rioting in Tehran Saturday is shown in the above video.  Protests are quickly developing into an insurrection.  The Iranian government is using brutal force to suppress the dissidents, but reports from Iran clearly indicate that the situation is moving well beyond the ability of the government to suppress it without massive bloodshed.  The Guardian has an hour by hour account of the events yesterday here.  Nico Pitney here has been doing yeoman work in covering the crackdown at the Huffington Post.  Ed Morrissey here has been doing his usual fine work covering breaking events at Hot Air.
The above picture says it all regarding the attempt by Ahmadinejad and his mullah puppet-masters to steal the Presidential election in Iran.  Thus far the dithering statements by Obama on this matter are well-parodied by the indispensable Iowahawk here.
In the proud tradition of news photos of beautiful women protesting against political oppression, the Boston Globe provides a series of photos of the protests over Iran's apparently rigged presidential election, but the first is this one:

(In all seriousness, this is some of the best photo journalism I've seen in a long time, go check it out.)
There's some reasonable dispute as to whether it would help or hurt the protestors for the Obama Administration to break silence on the issue and speak in support of the protestors. Given Iran's history and the fierce national pride across the political spectrum, if Obama openly supported the protestors it might give Ahmadinejad the ability to paint Mousavi's supporters as stooges of the US. However, the US and the rest of the world should make it clear that a violent crackdown ala Tiananmen Square would be absolutely unacceptable.
Well, somewhat to my chagrin I have to use the phrase "Biden was right" again.   With North Korea launching a missle that traveled 1900 miles before it crashed into the Pacific, Biden's prediction of an international crisis early in the Obama administration is coming true again, and this time I doubt if doing nothing will probably work either short term or long term.