Illegal Immigration
Some Democrats think that the Arizona law cracking down on illegal aliens will save them from electoral disaster in November.  They think this will rile up the Hispanics, and to fan the flames a few Democrats are making free with their favorite epithet against those who oppose them, Nazi.
I think that these Democrats are pursuing a losing hand on this issue.  Illegal immigration is extremely unpopular in this country and overheated epithets will simply further energize the conservative base.  More to the point, this election is going to be fought on the economy and government spending, and the Democrats are in dire shape on both those issues.  In regard to the immigration issue, I think there is evidence that some Democrats understand that rather than a gift this could be an electoral landmine.  This AP story here indicates that Obama concedes that Congress may not have the political appetite for immigration reform anytime soon, and notes the type of legislation that the Democrats propose eventually may ostensibly put enforcement before amnesty:  "An immigration proposal by three Democratic senators calls for more federal enforcement agents and other border security-tightening benchmarks before illegal immigrants could become legal U.S. residents, according to a draft of the legislation obtained Wednesday by The Associated Press. The bill is being developed by Reid of Nevada, Chuck Schumer of New York and Robert Menendez of New Jersey."
In an earlier post this week I quoted my favorite living historian Victor Davis Hanson on the issue of illegal immigration.  Here are his current thoughts on immigration as a political issue in the Fall:
A Losing Political Issue
The politics of illegal immigration are a losing proposition for liberals (one can see that in the resort to euphemism), even if they don't quite see it that way. Here are ten considerations why.
Law?—What Law?
First, there is the simplicity of the argument. One either wishes or does not wish existing law to be enforced. If the answer is no, and citizens can pick and chose which laws they would like to obey, in theory why should we have to pay taxes or respect the speed limit? Note that liberal Democrats do not suggest that we overturn immigration law and de jure open the border — only that we continue to do that de facto. Confusion between legal and illegal immigration is essential for the open borders argument, since  a proper distinction between the two makes the present policy  indefensible—especially since it discriminates against those waiting in line to come to America legally (e.g., somehow our attention is turned to the illegal alien's plight and not the burdensome paperwork and government obstacles that the dutiful legal immigrant must face).
Why Wave the Flag of the Country I Don't Wish to Return To?
Second, often the protests against enforcement of immigration law are strangely couched within a general climate of anger at the U.S. government (and/or the American people) for some such illiberal transgression (review the placards, flags, etc. at May Day immigration rallies). Fairly or not, the anger at the U.S. and the nostalgia for Mexico distill into the absurd, something like either "I am furious at the country I insist on staying in, and fond of the country I most certainly do not wish to return to" or "I am angry at you so you better let angry me stay with you!" Such mixed messages confuse the electorate. As in the case with the Palestinians, there is an effort to graft a foreign policy issue (protecting an international border) onto domestic identity politics, to inject an inflammatory race/class element into the debate by creating oppressors, victims, and grievances along racial divides.
Big Brother Mexico?
Third, Mexico is no help. Now it weighs in with all sorts of moral censure for Arizonians — this from a corrupt government whose very policies are predicated on exporting a million indigenous people a year, while it seeks to lure wealthy "gringos" to invest in second-homes in Baja. The absence of millions from Oaxaca or Chiapas ensures billions in remittances, less expenditures for social services, and fewer dissident citizens. But the construct of Mexico as the concerned parent of its own lost children is by now so implausible that even its sympathizers do not take it seriously. Mexico has lost all credibility on these issues, expressing concern for its own citizens only when they seem to have crossed the border — and left Mexico.
It's Not a Race Issue
Fourth, there really is a new popular groundswell to close the borders. Most against illegal immigration, especially in the case of minorities and Mexican-American citizens, keep rather mum about their feelings. But that silence should not be interpreted as antagonism to enforcing the law. Many minorities realize that the greatest hindrance to a natural rise in wages for entry level jobs has been the option for an employer to hire illegal aliens, who, at least in their 20s and 30s, will work harder for less pay with fewer complaints (when sick, or disabled, or elderly, the worker is directed by the employer to the social services agencies and replaced by someone younger as a new cycle of exploitation begins). In this context, the old race card is less effective. The general population is beginning to see not that Americans (of all races who oppose illegal immigration) are racist, but that the open borders movement has itself a racially chauvinistic theme to it, albeit articulated honestly only on university campuses and in Chicano-Latino departments, as a sort of "payback" for the Mexican War, where redress for "lost" land is finally to be had through demography.
I am a pretty big fan of the Catholic Worker movement and Dorothy Day. I see strengths in both liberal and conservative tendencies, and find both indications in my reading of the official documents and speeches/letters of our Catholic Hierarchy on political matters.
The following article is one that was published in the Houston Catholic Worker Newspaper back in 2008.  The author, Dawn McCarty is a frequent writer and volunteer at the Worker House in Houston. She seems to combine the head and heart in her approach to the issue of illegal Mexican immigration into the U.S. I offer her analysis for your commentary: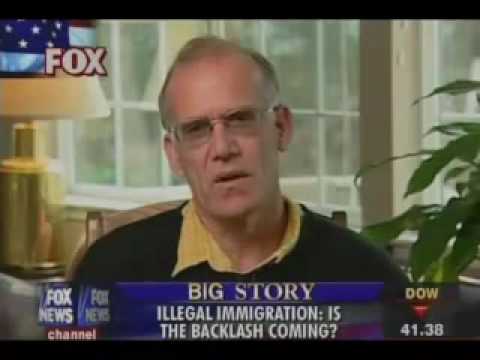 Immigration seems to be a hot topic these days at American Catholic.  The author who best represents my views is Victor Davis Hanson, one of my favorite living historians,  in his book Mexifornia:  A State of Becoming.  In that book Hanson turned his gaze to a subject he is personally familiar with: the transformation of his native California by massive illegal immigration from Mexico. Hanson is not anti-Mexican. He has several Mexican relatives, his daughters are dating Mexican-Americans and most of the people he grew up with are Mexican-American or Mexican. What Hanson is opposed to is our feckless non-policy on immigration which allows steady waves of illegals to flood our border states and does not give us time to allow us to assimilate the Mexican immigrants here. Hanson believes strongly that the vast majority of immigrants, given time and opportunity, will assimilate and become good citizens.   That is my view also.   However it is impossible for this to be accomplished unless we gain control of our southern border and curb most illegal immigration.   A good book on a major issue that both the Republican and Democrat parties have steadfastly ignored, until the passage of the Arizona law. 
 Mexifornia came out in 2003.  Hanson wrote an article in 2007 for City Journal reviewing what had happened in the intervening years, which may be read here.  I find his class analysis of the immigration question interesting:
Since Mexifornia appeared, the debate also no longer splits along liberal/conservative, Republican/Democrat, or even white/brown fault lines. Instead, class considerations more often divide Americans on the issue. The majority of middle-class and poor whites, Asians, African-Americans, and Hispanics wish to close the borders. They see few advantages to cheap service labor, since they are not so likely to need it to mow their lawns, watch their kids, or clean their houses. Because the less well-off eat out less often, use hotels infrequently, and don't periodically remodel their homes, the advantages to the economy of inexpensive, off-the-books illegal-alien labor again are not so apparent.
But the downside surely is apparent. Truck drivers, carpenters, janitors, and gardeners— unlike lawyers, doctors, actors, writers, and professors—correctly feel that their jobs are threatened, or at least their wages lowered, by cheaper rival workers from Oaxaca or Jalisco. And Americans who live in communities where thousands of illegal aliens have arrived en masse more likely lack the money to move when Spanish-speaking students flood the schools and gangs proliferate. Poorer Americans of all ethnic backgrounds take for granted that poverty provides no exemption from mastering English, so they wonder why the same is not true for incoming Mexican nationals. Less than a mile from my home is a former farmhouse whose new owner moved in several stationary Winnebagos, propane tanks, and outdoor cooking facilities—and apparently four or five entire families rent such facilities right outside his back door. Dozens live where a single family used to—a common sight in rural California that reifies illegal immigration in a way that books and essays do not.
The problem with all this is that our now-spurned laws were originally intended to ensure an (admittedly thin) veneer of civilization over innate chaos—roads full of drivers who have passed a minimum test to ensure that they are not a threat to others; single-family residence zoning to ensure that there are adequate sewer, garbage, and water services for all; periodic county inspections to ensure that untethered dogs are licensed and free of disease and that housing is wired and plumbed properly to prevent mayhem; and a consensus on school taxes to ensure that there are enough teachers and classrooms for such sudden spikes in student populations.
All these now-neglected or forgotten rules proved costly to the taxpayer. In my own experience, the slow progress made in rural California since the 1950s of my youth—in which the county inspected our farm's rural dwellings, eliminated the once-ubiquitous rural outhouse, shut down substandard housing, and fined violators in hopes of providing a uniform humane standard of residence for all rural residents—has been abandoned in just a few years of laissez-faire policy toward illegal aliens. My own neighborhood is reverting to conditions common about 1950, but with the insult of far higher tax rates added to the injury of nonexistent enforcement of once-comprehensive statutes. The government's attitude at all levels is to punish the dutiful citizen's misdemeanors while ignoring the alien's felony, on the logic that the former will at least comply while the latter either cannot or will not.
Fairness about who is allowed into the United States is another issue that reflects class divides—especially when almost 70 percent of all immigrants, legal and illegal, arrive from Mexico alone. Asians, for example, are puzzled as to why their relatives wait years for official approval to enter the United States, while Mexican nationals come across the border illegally, counting on serial amnesties to obtain citizenship.
These class divisions cut both ways, and they help explain the anomaly of the Wall Street Journal op-ed page mandarins echoing the arguments of the elite Chicano studies professors. Both tend to ridicule the far less affluent Minutemen and English-only activists, in part because they do not experience firsthand the problems associated with illegal immigration but instead find millions of aliens grist for their own contrasting agendas. Indeed, every time an alien crosses the border legally, fluent in English and with a high school diploma, the La Raza industry and the corporate farm or construction company alike most likely lose a constituent. Continue reading →
When I first heard of the controversy swirling around Arizona's "draconian" new immigration law, I'll admit I was skeptical. It's not that I thought I would approve of the Arizona law (I tend to be of the view that immigration is a net benefit to America). But hyperbole is an all too common feature of political discourse, and I had to wonder whether the bill was really as harsh and wrongheaded as its critics were making out.
After reading the text of the bill, however, I have to say that, yes, it really is that bad. The bill would criminalize charitable activities directed at illegal immigrants, would making it a crime for an illegal immigrant to try to get a legitimate job, and, in an Orwellian twist, would make illegal immigrants guilty of trespassing for being on private property even with the owner's permission.
The law also requires state officials to enforce federal immigration laws, effectively turning every Arizona cop into a part time border patrol agent. Arizona's politicians may like the idea of having cops enforce the immigration code because it makes them look tough, but actual police tend to hate the idea, as it makes their job more difficult and forces them to take resources away from actual police work. (During the debate on the Bush immigration bill back in 2006, for example, the Major Cities Chiefs Associations came out against a requirement for state police to enforce immigration laws, arguing that doing so "undermines trust and cooperation with immigrant communities, which are essential elements of community oriented policing," and would require scarce resources to be devoted to immigration enforcement rather than other, higher priorities). Continue reading →
The last time I wrote about immigration here at TAC – hard to imagine it was only a year ago, maybe longer – I had what I was fairly certain was an informed Catholic view of immigration.
I really haven't deviated much at all from my original view, which was hardly radical – that nations have a right to regulate immigration and police their boarders, and that Christians have an obligation to treat all people in their midst, regardless of their legal status, with dignity and respect, with charity and love.
But there are a number of issues that knee-jerk opponents of immigration law enforcement simply don't talk about, for a myriad of reasons. For some on the left, opposition to illegal immigration is reducible to racism. This is undoubtedly true in some cases. To apply it to ALL opponents of illegal immigration is a hateful, vicious smear – especially when one of the most active Hispanic advocacy groups in the United States has a name that translates to "The Race" (La Raza). Racism is not unknown on the other side of this issue.
Recently I engaged in a debate with John Zmirak on Inside Catholic regarding the status of Catholicism in modern America. Those who want to try and sort out the back and forth can go here to follow the exchange.
Particularly we disagree on the issue of immigration, but it seems there is a more fundamental disagreement as well. John was originally going to indirectly reply to some of my comments with another article on IC, but instead published his thoughts in Taki's Magazine. Although he doesn't mention me by name, he did say that our exchanged inspired him to write what he did.
The charges he levels against me, or at least those he assumes think like me, are amusing in their wild inaccuracy. The reader can examine for him or herself their specifics; the primary purpose of the second half of this polemic is to portray us as those who would sacrifice our children's future out of a desire to extend mercy and charity to the undocumented workers that have come to our country seeking to support their own families.
My hope is that his final screed against the "modern American liberal" was intended for the faithless, a group distinct from those such as myself who are openly devout Catholics who simply disagree with his hierarchy of values.
This is good news, and probably smart politics:
While acknowledging that the recession makes the political battle more difficult, President Obama plans to begin addressing the country's immigration system this year, including looking for a path for illegal immigrants to become legal, a senior administration official said on Wednesday.

Mr. Obama plans to speak publicly about the issue in May, administration officials said, and over the summer he will convene working groups, including lawmakers from both parties and a range of immigration groups, to begin discussing possible legislation for as early as this fall.