Homosexuality
Father Edward L. Beck, a Passionist Priest, and a contributor to ABC, wrote a column for ABC in which he calls for Vatican III.  I think the article is worth a fisking.
April 2, 2010 —Surely this was originally intended for April 1?
As Christians begin their celebration of the Easter season, the Catholic  church seems stuck in Good Friday. No Father, the Catholic Church is always "stuck" in Easter. Just when some would like to turn  their attention to the profound mysteries of their faith, they are  instead mystified by yet another round of horrendous sex abuse storiesmaking headlines. Yeah, totally by accident, and too bad Father doesn't spend time mentioning how spurious this piece of tripe by the New York Times was.
Most Catholics in the United States were convinced that the issue of  sexual abuse by priests had been adequately dealt with after the last go round more than eight years ago.   I do not think this is the case.  Most Catholics in this country are still fuming about predator priests and the bishops who protected them. Many are also outraged by the ambulance chasing attorneys and the suspicion that some of the victims are merely cashing in on flimsy evidence.  There is still a lot of outrage about this whole mess. In many ways, it has been. U.S. bishops adopted strict policies of zero-tolerance after the abuse scandal exploded in 2002. Bishops are now required to comply with state laws for reporting abuse and to cooperate fully with authorities.   For the most  part the stories once again generating news in the United States concern old cases and the previous negligence of bishops to deal effectively and  justly with the crisis. New to the controversy has been the suggestion by some that the Pope himself bears responsibility for lapses. Actually such accusations have been flying around for years.  They have gotten nowhere because they lack substance.
The recent reports indicate this is not — and never has been — a distinctly American church problem.  I doubt if many Catholics in this country thought that it was. The European Catholic Church is now  experiencing what the U.S. Catholic Church did nearly a decade ago. Once reports from Pope Benedict's native Germany emerged that boys had been abused in a church-run school there, hundreds more from other European countries came forward admitting that they too had been victims of abuse decades ago. We have not heard the last of these stories. Africa and  Latin America have yet to weigh in, but they will. Reports from those parts of the world will eventually emerge to increase the dismay of those who expected more diligence and, indeed, holiness, from religious institutions.
What is readily observable from the avalanche of reports is that the sexual abuse of minors is a systemic, worldwide problem. But it is not exclusively a Catholic or ecclesial one. True. It cuts across all faiths, institutions and family systems. Presently, however, it is the Catholic church in the spotlight, so it must take the lead in dealing with this issue in a transparent, effective and ultimately transformative way. Though its halo has been dimmed by past negligence, if only the scandal of the criminal protection afforded by bishops to predator priests had been limited to mere negligence the church can still be a beacon of light to lead the way if it now proceeds with haste and unwavering conviction. We might start by ordaining only those who believe what the Church teaches when it comes to sexual morality.  We must also understand that a fair number of the people who attack the Church on this issue are motivated much more by raw hatred of the Church than concern for the victims.  The evil from our ranks must be excised, but let us not assume we will receive plaudits from the World for doing so.
So then, what is the best way for the church to move forward? Dramatic failure requires a dramatic solution. Nothing gets the attention of the church and, perhaps the world, like a Vatican Council. Here we get to the purpose behind this article. The last one, of course, ended more than 45 years ago in 1965. While some would maintain that we have yet to fully execute the decrees of that Council, the world and the church have changed dramatically in the interim.  When has the World not been changing?  As to Vatican II, all the turmoil in the Church since that Council should cause us to hesitate before calling the next one. The current crisis in the church can serve as the impetus for once again calling together the worldwide church community in pursuit of modernization, reform and spiritual integration for a new time and world.  Always be alarmed when anyone proposes a radical step for the sake of vague terms like modernization, reform and spiritual integration.
What issues might this Council address?  The death of the Faith in Europe?  Rampant immorality?  The failure of the Novus Ordo Mass to inspire many Catholics? Many to be sure, but chief among  them could be the current crisis confronting the priesthood.  Homosexuality?  Lack of fidelity to their vows?  A desire for a life of ease? Certainly the issue of sexual abuse and the devastating toll it has taken in the church might be examined and addressed definitively, once and for all. In addition, while pedophilia and the sexual abuse of minors and priestly celibacy are not organically related, the abuse crisis has once again raised the issue of the necessity and relevancy of mandatory celibacy for diocesan priests.  How long has celibacy been bugging you Father?  Wasn't that particular requirement spelled out clearly enough for you when you were ordained? The majority of Catholics and priests want an open discussion about this issue, but up to this point, that has not been permitted.  Rubbish.  This " issue" isn't even on the radarscope for most priests and laity.
The title of this article almost sounds surreal. At first one could be forgiven for thinking it was some sort of low budget End Times movie seen on some local cable access channel. However, the information contained within this article is real, fortunately, as believers and specifically those of us who are Catholic we know that Jesus promised that His Church would not fall despite the attempts of those working for the evil one. God is the truth and God is love, but the mere fact that He is both has caused many rebellions against him literally from day one. Sadly, those who often claim to be the smartest act the most childish, by at first claiming God doesn't exist and then claiming if He does exist, He doesn't make sense at least to them. This article will look at this behavior from the world's earliest moments, but will mainly focus on what has happened in the last few years, right up until this very moment.
This weekend, February 7-10, the U.S. Conference of Catholic Bishops (USCCB) is sponsoring the "Catholic Social Gathering" where prominent anti-Catholic bigots and progressives speak about social justice issues.
All this being sponsored by the USCCB and advertised as a Catholic event.
Here are some highlights by PewSitter.com:
-Fr. Thomas Reese, who was forced to resign as editor of America Magazine by the Vatican for his refusal to stop publishing articles which question church orthodoxy on issues like contraception, human embryonic stem-cell research, same-sex marriage, homosexual priests, mandatory clerical celibacy, and whether Catholic politicians who support abortion rights should be given communion

-Diana Hayes, professor of systematic theology at Georgetown University and noted speaker for Call to Action, the "Catholic" dissident group. Hayes is a homosexuality activist who wrote a book espousing liberation theology, calls for women's ordination and promotes same-sex "marriage."

- Page six of the official "Catholic Social Gathering" program gives a schedule for the Catholic Labor Network Gathering. USCCB exec John Carr is scheduled to join Paul Booth on a panel discussion. Paul Booth and his wife Heather Booth (another prominent pro-abortion activist with ties to the National Organization for Women, who helped organize a group called "JANE" in 1965 which helped young women obtain illegal abortions) founded the Midwest Academy a training institute for progressive activists.

-Paul Booth and his wife have served as host committee members for the National Organization for Women's Intrepid Awards Gala.

-Currently Paul Booth is executive assistant to the president of the American Federation of State, County and Municipal Employees. The AFSCME endorsed the pro-abortion March for Freedom of Choice, held in Washington, D.C. in 2004.
Michael Voris of RealCatholicTV.com has been doing yeoman's work, uncovering and shining a bright spotlight on the many anti-Catholic activities and persons that are done inside the USCCB.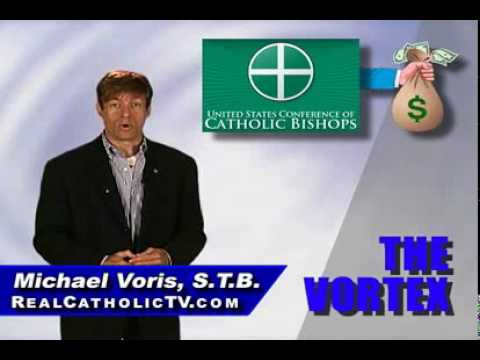 For more information on continuing developments in the growing scandals from the USCCB click here.
After the breaking news that showed direct links between John Carr, a top executive of the U.S. Conference of Catholic Bishops, with pro-abortion groups dating back 30 years, John Carr has denied any wrong doing.
Below watch the full eight minutes for the most current update of this USCCB scandal on RealCatholicTV.com's Daily Catholic News Roundup and The Vortex.  Vic Faust and Michael Voris will report how both the USCCB and the pro-abortion group scrubbed their websites simultaneously to hide any connection they had with each other plus much more.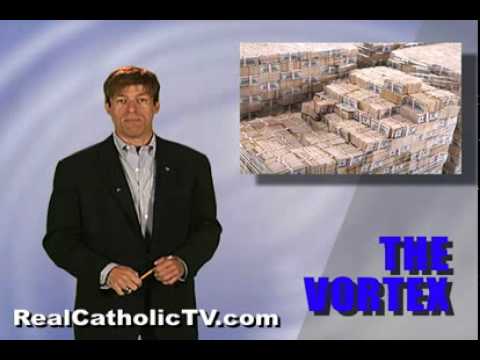 Throughout the last few years and specifically the last decade or so, the voluminous number of kooky quotes and statements coming from religious believers (heterodox Catholics included) and non believers alike is mind boggling. It can't but help push the reasonable minded into the Catholic Church. Most casual observers are familiar with the number of high profile converts and reverts to the Catholic Church in the last 25 years or so. They range from theological luminaries like Dr Scott Hahn and Dr Francis Beckwith to political figures like Deal Hudson, Laura Ingraham and former Speaker of the House Newt Gingrich. Many like them have come to the Church after years of study and reason, but many also have come to the Church after years of seeing their particular religious denomination become unrecognizable.
The latest world calamity has given us two examples of sheer kookery coming from a religious leader and a secular voice. After the horrific earthquake that left the western world's most impoverished nation in tatters, the Reverend Pat Robertson chimed in with a quote that was not only tragically insensitive but historically inaccurate. The onetime presidential candidate (who actually came in second in the 1988 GOP Iowa Caucus) and a leading voice of the Evangelical world blamed the earthquake on Voodoo, a cult that sadly far too many people practice in Haiti.  Robertson voiced his opinion on his popular 700 Club television program. Robertson repeated the fundamentalist canard that in the early 1800s the leaders of a slave revolt fighting against French colonial forces forged a pact with the Satan to thrown off the chains of their oppressors.
House Speaker Nancy Pelosi was interviewed in a recent edition of Newsweek, in which she had the opportunity to set the bishops straight on the participation of Catholics in public life.
I think you have had some brushes with [church] hierarchy.

I have some concerns about the church's position respecting a woman's right to choose. I have some concerns about the church's position on gay rights. I am a practicing Catholic, although they're probably not too happy about that. But it is my faith. I practically mourn this difference of opinion because I feel what I was raised to believe is consistent with what I profess, and that is that we are all endowed with a free will and a responsibility to answer for our actions. And that women should have that opportunity to exercise their free will.

Is it difficult for you to reconcile your faith with the role you have in public life?

You know, I had five children in six years. The day I brought my fifth baby home, that week my daughter turned 6. So I appreciate and value all that they want to talk about in terms of family and the rest. When I speak to my archbishop in San Francisco and his role is to try to change my mind on the subject, well then he is exercising his pastoral duty to me as one of his flock. When they call me on the phone here to talk about, or come to see me about an issue, that's a different story. Then they are advocates, and I am a public official, and I have a different responsibility.
Fr. John Zuhlsdorf applies the necessary fisking and muses: "I cannot fathom why she hasn't been told she must not receive Holy Communion. How much more public scandal does she have to give before the bishops of the places where she resides take concrete action?"
My thoughts exactly. Note that she has already received an admonishment from the Holy See and an invitation to "converse" from San Francisco Archbishop George H. Niederauer.
Witnessing the continued implosion of the Anglicans and the ELCA over matters of Christian morality, I am intrigued by the way present circumstances have inspired renewed consideration of tradition, authority and obedience.
As I wrote a few months ago ("On the troubles within the ELCA" American Catholic September 7, 2009): "What is interesting, at least from this Catholic perspective, is the extent to which the critics of recent decisions recognize the seeds of their present troubles woven into the very fabric of their tradition."
In a recent post to First Things' "On the Square", Rusty Reno described the crisis of those experiencing "the agony of mainline Protestantism" thus:
One either recommits oneself to the troubled world of mainline Protestantism with articulate criticisms, but also with a spirit of sacrifice, as he so powerfully evokes. Or one stumbles forward-who can see in advance by what uncertain steps?-and abandons oneself, not to "orthodoxy" or "true doctrine" or "good theology," but to the tender care of Mother Church.
As Joe Carter (First Things) noted, as with the Anglicans, so a faction of Lutherans have chosen a third route — forming a new Lutheran church body separate from the Evangelical Lutheran Church in America.
Meanwhile, it appears that the homosexuality debate is fanning faculty and student protests at Calvin College — the furor instigated by a memo reminding faculty that they were bound to the confessional documents of the Christian Reformed Church: Continue reading →
Today most of your parishes will be collecting for the Catholic Campaign for Human Development (CCHD).  Donald, Christopher, and I have written over and over again of where the money actually goes to, funding for abortions being the most grevious of the lot.
So think twice before donating anything.
(Biretta Tip: Paul Nichols)
Today Christians, Catholic, Evangelical and Orthodox,  came together in the Manhattan Declaration to put the Obama administration and the Congress on notice:
". . . We will not comply with any edict that purports to compel our institutions to participate in abortions, embryo-destructive research, assisted suicide and euthanasia or any other anti-life act; nor will we bend to any rule purporting to force us to bless immoral sexual partnerships, treat them as marriage or the equivalent or refrain from proclaiming the truth, as we know it, about morality and immorality and marriage and the family."
Here is the text of the Manhattan Declaration:
The Washington Post has a poll out on whether or not Washington D.C. should require the Church to follow a law it considers immoral?
This is in regards to whether Catholic Charities should be forced to go against the Catholic Church teachings because they receive funding from the Washington D.C. city council.
In previous TAC posts we wrote about DC Bigotry and about Setting the Record Straight on the Church in D.C. (by Donald R. McClarey and Joe Hargrave respectively).
Of course not, but the Know-Nothings are in force and are skewing the numbers so go to the poll to vote!
To vote click here.
So far as of November 15, 6:15pm CST:
D.C. Council vs. the Catholic Church

The D.C. Council is considering a law forbidding discrimination against those in gay marriages. The law would apply to all groups that have contracts with the District, including Catholic Charities, one of the city's largest social services providers. The Archdiocese of Washington says that because of the Church's opposition to same-sex marriage, it would have to suspend its social services to the poor, the homeless and others rather than provide employee benefits to same-sex married couples or allow them to adopt.

Should the city require the Church to follow a law it considers immoral?

Father John Zuhlsdorf and I voted "NO".
As Joe in his brilliant post here notes, various organs of the Left are in a tizzy because the Archdiocese of Washington has stood up to the attempt by secular bigots to force the Archdiocese to act contrary to Catholic teaching regarding homosexuality.  Here is the statement of the Archdiocese: Continue reading →